At a Glance
Expert's Rating
Pros
Solid performance
Fan noise is moderate and low-pitched
Good looks and small footprint
Cons
Could be soon superseded by competition with newer components
Our Verdict
Gigabyte's Brix Gaming UHD has an elegant design and is powerful for its size, but it may soon have to compete with rivals featuring newer hardware.
Best Prices Today: Brix Gaming UHD
Believe it or not, the gamer who buys Gigabyte's latest Brix Gaming mini-PC has a lot in common with the gamer who rolls a full-sized tower stuffed with overclocked parts. Both have the same hunger for power.
It's a quest to maximize what you can get out of the space available, and given just how small this ultra-compact tower is, the Brix Gaming UHD does a pretty bang-up job. It looks good on a shelf or a desk, it isn't too loud, and it offers better performance than a traditional gaming console (while having a much smaller footprint).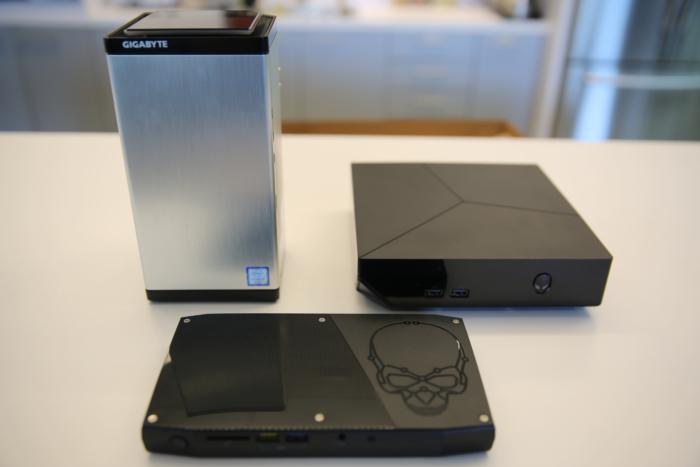 That said, the Gaming UHD adds to the solid options for tiny gaming PCs rather than overthrowing the existing top dogs. Other systems might have slightly better graphics or be more compact, but this one's a well-balanced experience across the board.
Specs and Cost
A $1,000 ante gets you the bare-bones system, which sports a quad-core Skylake Core i7-6700HQ processor and a Nvidia GTX 950 desktop part with 4GB of RAM. A Core i5 version of the Brix UHD exists, but Gigabyte says it has no current plans to sell it in North America.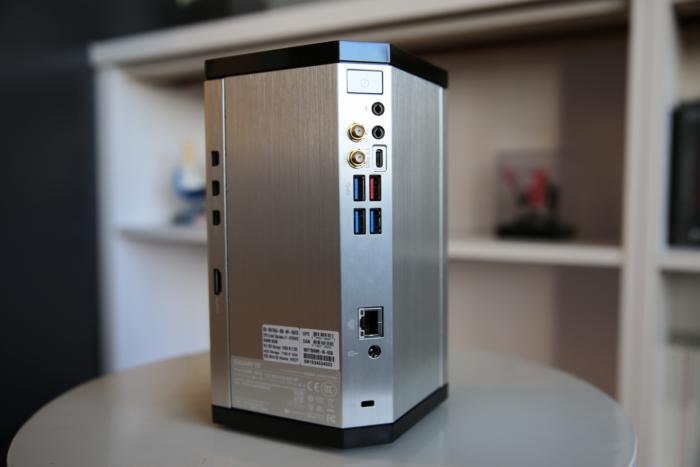 That initial outlay also nets you an Intel Wireless-AC 8260 card featuring 802.11ac 2×2 Wi-Fi and Bluetooth 4.2, and a set of ports that include three mini DisplayPort, gigabit ethernet, full-sized HDMI, two USB 3.0 Type A, two USB 3.1 10Gbps ports (one Type A, the other Type C), separate headphone and microphone jacks, and a Kensington lock slot. Both the HDMI port and all three of the mini DisplayPorts support up to 4K resolution (hence the "UHD" reference in this Brix's name) at 60Hz.
Of course, you'll spend more than that, since you still have to add your own storage and memory. Our review unit, which arrived equipped with a Transcend 128GB SATA III M.2 SSD, Western Digital Blue 1TB 2.5-inch HDD, and 8GB of DDR4/2133MHz RAM, runs about $1,165 at current street prices. Expect to shell out about $1,285 if you plan to run a retail copy of Windows.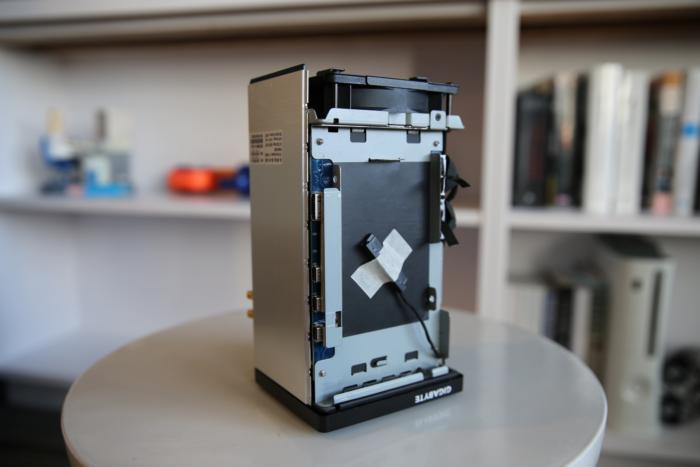 You can pony up even more cash, though, if you really want to go all out. The Brix Gaming UHD has four slots for storage: two PCIe-NVMe M.2 (one also supports SATA 6Gbps), and two 2.5-inch SATA 6Gbps. There are also two SO-DIMM slots that can take up to 32GB of DDR4/2133 RAM.
So, for example, if you wanted to put in a 512GB PCIe-NVMe SSD and 16GB of DDR4/2133 RAM to match the same configuration as the Intel Skull Canyon NUC we reviewed earlier this year, the Brix Gaming UHD would be about $1,400. Max out the RAM at 32GB and toss in two 1TB 2.5-inch hard drives (because why let that space go to waste?), and you're looking at $1,615.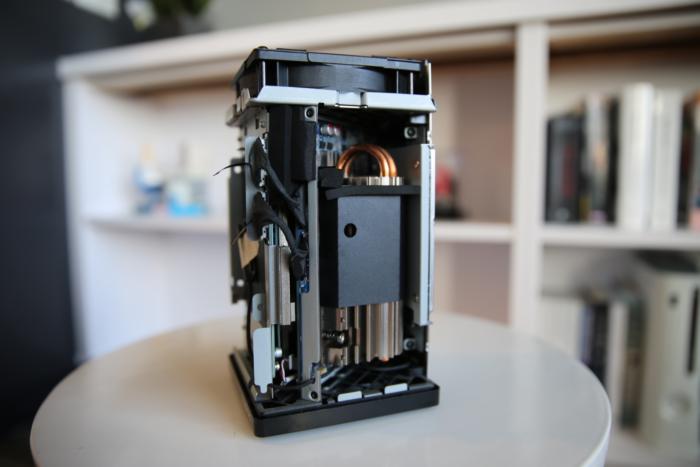 Performance
Price isn't the whole story, of course. Sure, that Skull Canyon NUC starts at $650 for the bare-bones system and is a lot more portable, but it also lacks discrete graphics. You can (in theory) add an external video card to the system using a Thunderbolt 3 cabinet like the Razer Core, but that'll start running you as much as a Brix with a lot of storage. Plus, you know, you'll actually have to get your hands on such a dock.
Then there's the $950 Core i7 version of the Alienware Alpha R2, which offers better gaming performance for about $200 less than this Brix. However, it gets pretty loud. As in, "put on some headphones to drown out those shrill fans" loud. That alone can be a deal-breaker for some people. Also, with its wider footprint, the R2 is also more of an ultra small-form-factor PC than a mini-PC.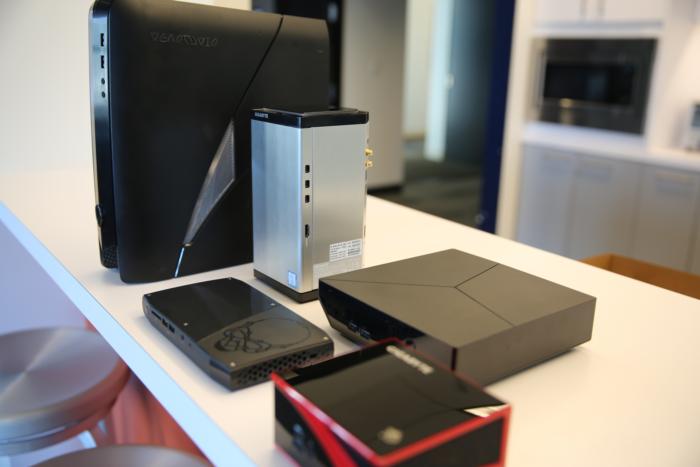 The Brix Gaming UHD experience falls between those two, but not exactly in the middle. On the one hand, its discrete GTX 950 creamed the Skull Canyon's integrated Iris Pro 580 by as much as 227 percent in our gaming benchmarks. On the other, that same GPU has a 10- to 18-percent drop in gaming performance relative to the Alpha R2's GTX 960. The Brix UHD's fan noise is softer and lower-pitched than the R2's, though.
Let's dig into the numbers:
3DMark Fire Strike
3DMark's Fire Strike benchmark simulates DirectX 11 gaming on ultra-high settings at 1080p. These numbers primarily reflect GPU performance, so the CPU in each system doesn't have as much effect as it might in real-world games.
I've included results from our PCWorld Zero Point desktop (which runs a GTX 980) to show a fuller range, but the key data points are those of the Alienware X51, Alienware Alpha R2, and the Brix Gaming UHD. The X51 runs a full desktop version of the GTX 960, while the Alpha R2 sports a custom GTX 960—both belong to the grade above the Brix Gaming UHD's GTX 950 in the Nvidia GTX 9-series lineup.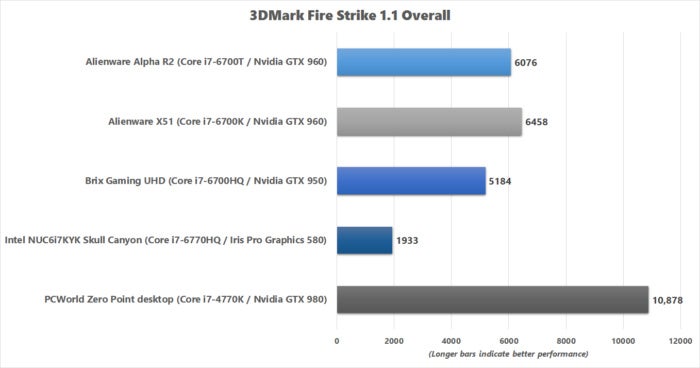 The X51 does only a bit better than the R2 here, which you'll see repeated again to varying degrees in the next set of benchmarks. The real comparison here, however, is between the R2 and the Gaming UHD, because the X51 is not a mini-PC. (Plus, it's discontinued.) Opting for the Brix Gaming UHD instead of the Alpha R2 means a drop of about 14.6 percent in performance. As you'll see below, that usually works out to about 10 frames per second or so in actual games.
If you're curious about how the Brix Gaming UHD's GTX 950 would do against the desktop counterpart, I unfortunately didn't have one on hand during testing. All I can share is that Gigabyte has said this GTX 950 is a custom part, and its specs look very similar to that of the GTX 965M.
(For reference, the desktop GTX 950 has 768 CUDA cores with a base clock of 1,024MHz and a boost clock of 1,188MHz, while the Gaming UHD's 950 has 1,024 CUDA cores with a slower base clock of 935MHz and a boost clock of 1,150MHz.)
It's pretty much a given, though, that the desktop GTX 950 will outperform the Brix. Larger parts in bigger chassis can run hotter, so thermal constraints on performance won't be as severe. You can look at the difference between the X51 and the Alpha R2 for a very rough idea of what that delta would be.
Tomb Raider
At this point, Tomb Raider is an aging game, but all the better to see how the Brix Gaming UHD will handle a backlog of older titles purchased during Steam sales. This particular game leans a bit more on the CPU, so if you somehow get your hands on the Core i5 version of the Brix UHD, performance won't be exactly same as with this model.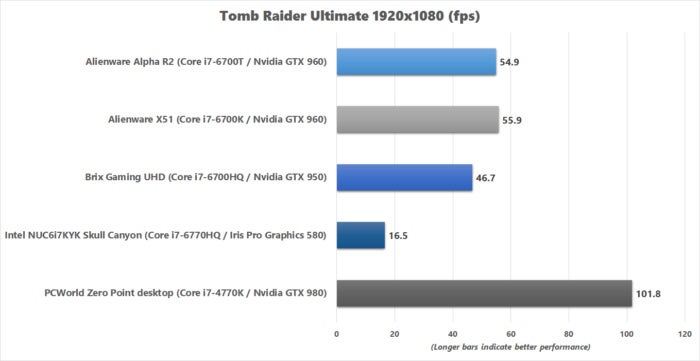 With the settings cranked to Ultimate, the Brix Gaming UHD falls under the golden minimum of 60 fps, though 46.7 fps is still fairly playable. If you don't mind dropping down to Ultra, the framerate jumps up to about 68 fps. The Alpha R2 also can't quite make it to 60 fps on Ultimate, but it's much closer at 54.9 fps.
BioShock Infinite
This three-year-old game can still give the GTX 950 and GTX 960 a run for their money on Ultra settings with DDoF turned on.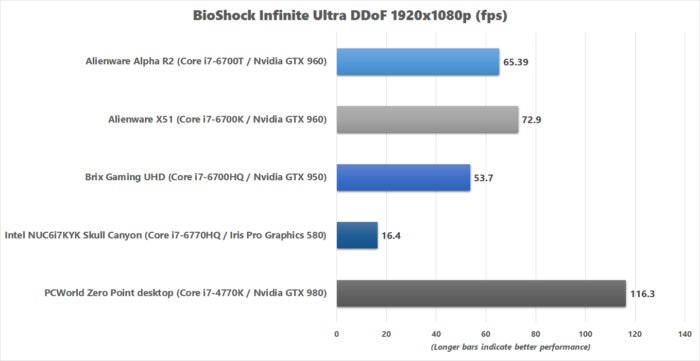 The Alpha R2 just manages to hit over 60 fps, while the Brix Gaming UHD manages a little over 50 fps. While that extra 10 frames per second might sound like the better deal, don't forget about the piercing sound of the Alpha R2's fans under load.
For its part, the Skull Canyon NUC gives an old college try with 16.4 fps. We still have to wait before integrated graphics can manage even 30 fps in three-year-old games with everything cranked up. It'll be interesting to see how AMD's Zen APUs manage.
Middle-earth: Shadow of Mordor
Here we begin to see the limits of the GTX 950 and GTX 960. With the 4K texture pack installed, this newer title can ask a fair amount of a GPU.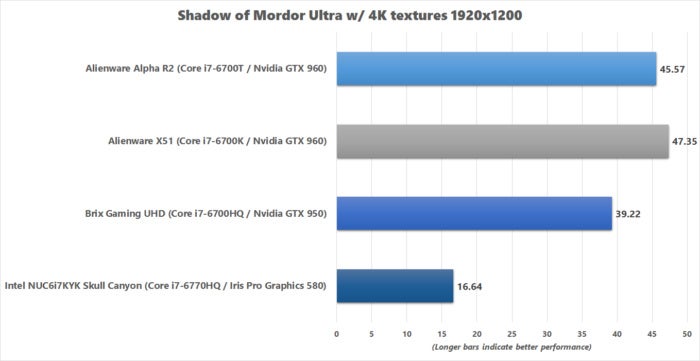 What's most surprising is that the Skull Canyon NUC's Iris Pro manages about the same level of performance here as in BioShock Infinite and Tomb Raider. The step down for the Alpha R2 to the mid-40-fps range, and the Brix Gaming UHD to just under 40 fps, is less startling, but it does begin to show the trade-off of performance for size. The newer the game, the more you'll have to dial down graphics settings to get smooth gameplay at tolerable framerates.
Grand Theft Auto V
That trend is clearest in GTA 5. For this benchmark, I cranked down all the settings, then used FRAPS to capture the framerate as I played the first mission. It's not the prettiest, but it's playable. The Skull Canyon NUC manages 50 fps, while the Brix Gaming UHD steams along at over 100 fps.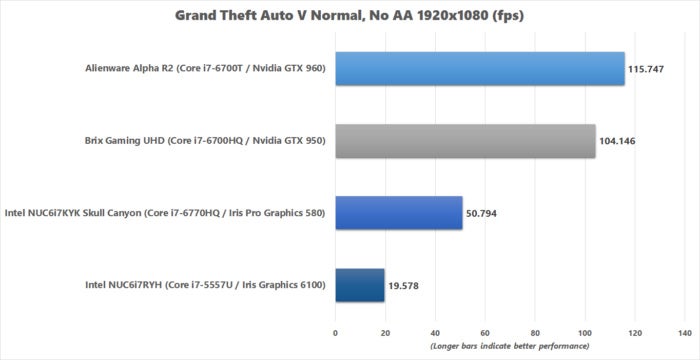 However, if you step up the graphics one notch on all settings and turn on MSAA to a factor of x2, the Brix Gaming UHD's framerate drops in half to an average of about 52 fps. That's not bad at all, but I'd be a lot more enthusiastic if I weren't spending so much time with the new mobile versions of Nvidia's 10-series parts. This system could pack a much stronger punch with a GTX 1050 or even 1050 Ti—if Nvidia ever makes mobile equivalents of those parts.
General Performance
You won't find any surprises on the CPU side of performance. The Brix Gaming UHD's Core i7-6700HQ spars comfortably with the socketed 35W Core i7-6700T in the Alpha R2 as well with the Core i7-6770HQ in the Skull Canyon, which is almost the same chip but with better integrated graphics along with a large embedded DRAM cache.
In PCMark 8's Work Conventional benchmark, which simulates everyday tasks like web browsing, video chat, word processing, and light spreadsheet use, the Brix Gaming UHD fell slightly below the Skull Canyon NUC and the X51 (the latter of which uses a socketed Core i7-6700K processor), and slightly edged out the Alpha R2's 6700T. With about 100 points between the UHD and its competitors, it's too small of a difference to matter much. All of these systems will feel snappy during basic work.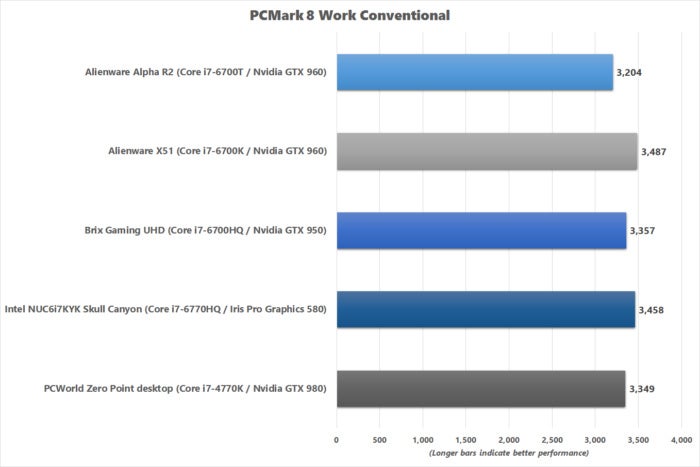 The gulf widens predictably when you lean more on the CPU. In Cinebench R15's 3D rendering test, which takes just a few minutes, the 91-watt Core i7-6700K in the X51 takes a clear, dominating lead over the lower-watt parts. Here, the Brix slips slightly behind the Alpha R2, which is likely due to its lower clock speeds. The 6700T has a base speed of 2.8GHz and a Turbo speed of 3.6GHz, while the 6700HQ has a base speed of 2.6GHz and a Turbo speed of 3.5GHz.
Under longer CPU loads, though, things flip. In our Handbrake benchmark, which involves converting a 30GB MKV file into a smaller MP4 using the Android Tablet preset, the Brix repeatedly edged out the Alpha R2. It's a small margin—barely a minute—so it implies that the 6700T's higher clock speeds count more only during short bursts of intense activity. Unfortunately, I sent the Brix back to Gigabyte before I had a chance to look at the clock speeds under load and how long they held. I'll hazard a guess that the 6700T might not hold that peak of 3.6GHz for long before dropping down to just a hair below the Brix's 6700HQ.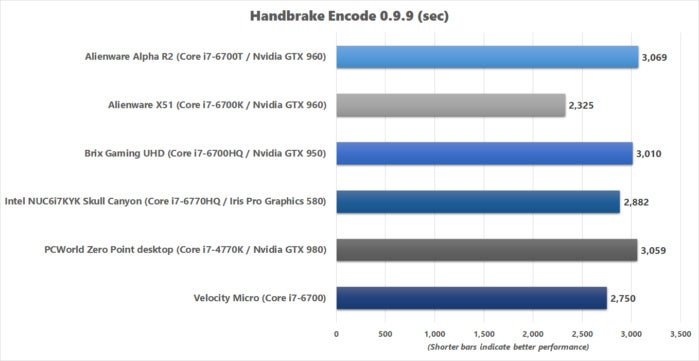 Finally, to round out our benchmarks, I looked at the maximum power draw. One of the appeals of having a mini-PC instead of a larger system is the lower power consumption. That may be of no concern to someone whose rig could function as a boat in the event of a cataclysmic flood, but it does matter to those of us who like to plug everything in the house into a Watts Up meter and make a spreadsheet of the resulting data. (Ahem.)
Measuring max power draw is an inexact science. To get these results, I ran two different torture tests: Furmark, which pounds on the GPU, and Prime95, which hammers on the CPU. For the systems with discrete GPUs, running Furmark drew the most power, but the Skull Canyon NUC was the opposite. Its result in the chart is from running Prime95.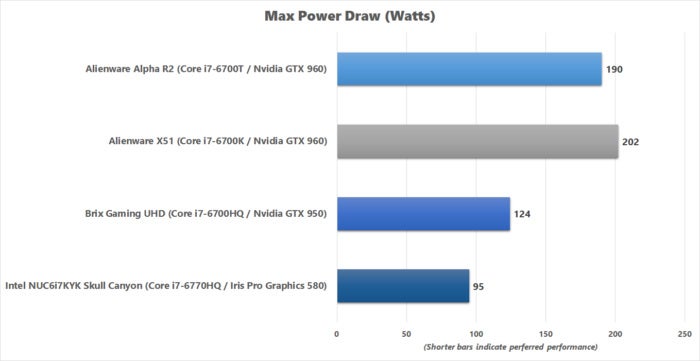 It's impressive that the Brix Gaming UHD consumes just 30 watts more than the Skull Canyon NUC but can push out so many more frames while gaming. Thing is, newer parts could probably do better. The GTX 1050 desktop part is rated at 75W, which is already lower than the 950, which was rated at 90W. A custom 1050 likely would have a lower TDP than the GTX 950 as well.
Final thoughts
If you've picked up on a recurring comment—that this mini-PC could be more amazing with an Nvidia 10-series GPU—then you already know the lone thing I could point to as an issue. Buying the Brix Gaming UHD now might not give you the most bang for your buck. For example, if you're willing to go bigger, Zotac has launched GTX 1060 and 1070 versions of E series bare-bones systems, with a GTX 1080 model on the way.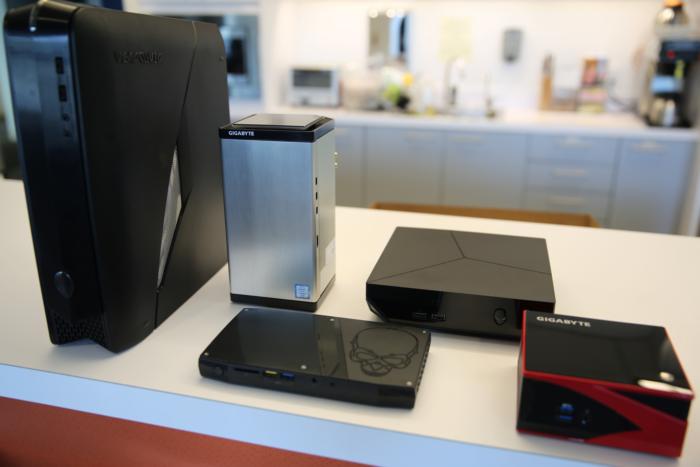 Granted, the GTX 1060 and 1070 Zotac machines are only equipped with Core i5 processors, and all of them are about the size of the Alienware Alpha. Still, those systems reinforce the idea that newer components are already available to make a just-right mix of performance, size, and acoustics even better. Hopefully, Gigabyte will release a successor to this Brix Gaming UHD sooner rather than later—with a Kaby Lake processor and a GTX 1050.
Best Prices Today: Brix Gaming UHD