At a Glance
Expert's Rating
Pros
Actual Cherry MX RGB switches under the hood
Volume roller, dedicated media keys, macro keys, mouse cable holder
Decent detachable wrist rest
Cons
Software is convoluted
"Industrial" design relegates this keyboard to home use only
No RGB LEDs under the volume display
Our Verdict
G.Skill "borrows" some of the best features from its competition, repackages them, and turns out an incredible RGB keyboard—our new favorite.
I never thought G.Skill would be the peripherals company to watch. However, after testing last year's debut MX780 mouse and now spending some time with its KM780 keyboard (currently available for $115 on Amazon), I might just be convinced. This is one of the best, most feature-rich keyboards I've ever used—though the design could use tightening up.
Note: This review is part of our best gaming keyboards roundup. Go there for details about competing products and how we tested them.
Exposed
Like G.Skill's MX780 mouse and SR910 headset, the KM780 goes for an eye-catching, "gamer-friendly" look. Unfortunately, I think the keyboard market (or at least my own keyboard preferences) is better served by more conservative designs, as compared to headsets and mice.
As a result, I can't say I'm a huge fan of the extraneous decorative elements on the KM780. Rather than running the bezel all the way to the edges, G.Skill opts for an exposed metal bar set off from the outer rim—similar to the superfluous cutout on Logitech's G410. It's showy and decidedly game-y, something I wouldn't use in an office.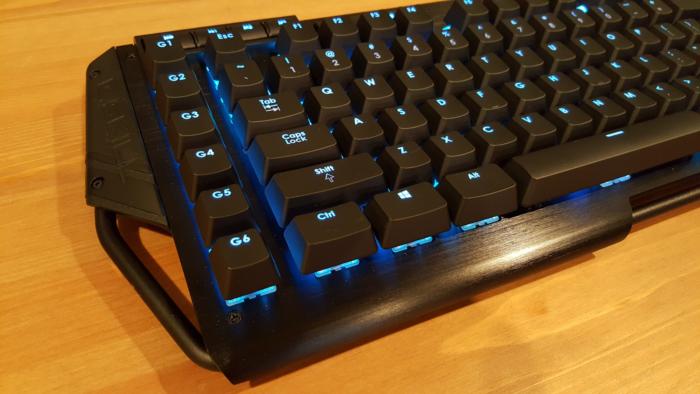 It's a shame, because other aspects of the KM780 are incredibly attractive. The black brushed-metal backplate, similar to that on Razer's BlackWidow X or the Corsair K70, gives the KM780 a sleek and futuristic look. The detachable wrist rest is lightly textured and fairly comfortable.
Best of all, the keycaps are emblazoned in Futura, a beautiful choice. It's legible even when small, and gives the KM780 that clean, classic sci-fi look.
And for a board festooned with extra buttons, the KM780 does a good job laying out its extras—borrowing liberally from Logitech's G910, I might add. The top-left corner features an on-the-fly Macro Record button plus M1 through M3 for easily accessible macro sets. These macros are stored on the G1 through G6 buttons running vertically down the left side of the board. Also in the top left: a button for locking the Windows key, one for cycling brightness, and a built-in timer.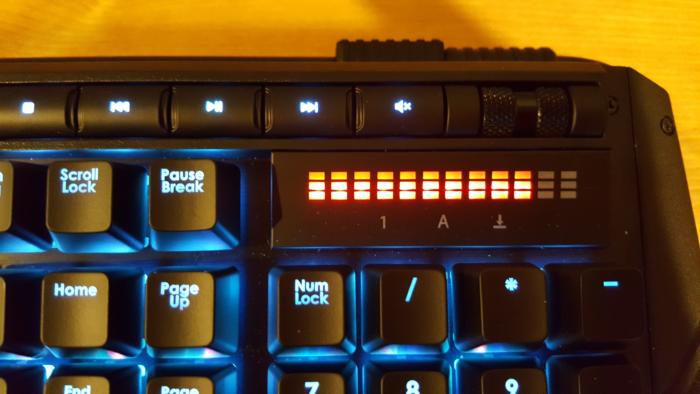 The media keys in the top-right are also borrowed wholesale from the G910: stout little rectangles for Stop, Rewind, Play/Pause, Fast Forward, and Mute, plus the always-welcome volume roller (which is more accessible than stand-alone volume keys, in my opinion).
But the standout feature of the KM780 is a digital display for your volume. Broken up into 12 individually lit columns of LEDs, the readout looks like something you'd find on an analogue mixing board. It's beautiful, and probably my favorite feature of the KM780. Below it, you'll find your Caps/Num/Scroll Lock indicators.
Some final high-end features to round it all out: a spare set of contoured red keycaps for WASD and other gaming-centric keys, a keycap removal tool, audio pass-through, a USB 2.0 port, and a sliding bit of plastic on the aforementioned metal bar meant to hold your mouse cable in place and prevent tangles.
Half-lit, but it's Cherry
This board does it all, but it's not without issues. Chief among them is the ol' Cherry RGB design. Cherry's RGB switches, as well as knockoffs like Razer's, place the LED near the top of each key. They have to, because the Cherry switch uses a "stem" in the center of the key.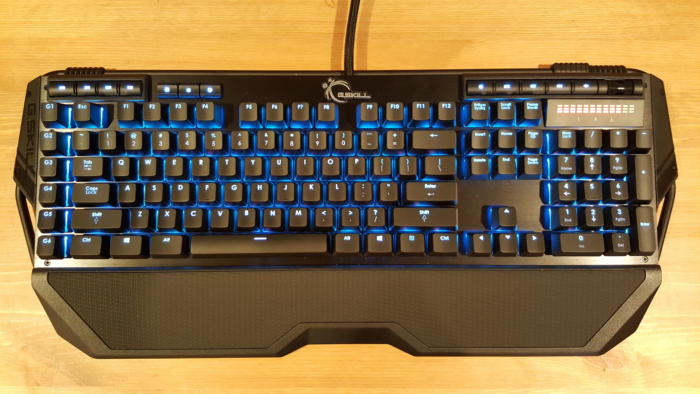 The resulting problem is that the lighting on each key is stronger at the top than the bottom. You'll see this on G.Skill's board, on Razer's boards, on Corsair's boards—it's an innate design issue, and manufacturers typically compensate by shifting the text on each key towards the top. In contrast, Logitech and SteelSeries use a custom switch with a centered LED, which is why they put text square in the middle of each key.
G.Skill follows the pack and shifts text on the KM780 towards the top, but you'll still notice the uneven lighting on certain keys. The arrow on the Shift key is barely lit for instance, and the same goes for all secondary functions on the numpad and (weirdly) the actual numbers in the top row. Even at peak brightness, the dim areas are disappointing.
The KM780 also has quite a bit of light leakage, on par with Corsair's boards. The culprit there is the Cherry RGB design, which uses clear plastic around the whole outer edge. This leaves quite a bit of light spilling back towards the user, which can be distracting in dark environments.
The upshot, though? These are actual Cherry switches. G.Skill is one of the few keyboard manufacturers other than Corsair to use genuine Cherry MX switches instead of a custom-built design or Cherry knockoffs.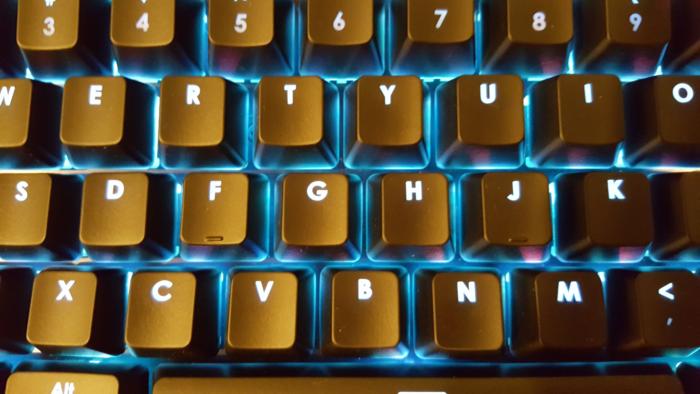 That means your favorite switch is here, be it Blue, Black, Brown, or Red. (Hopefully one of those is your favorite. They're the defaults, at least.) I'm partial to Blues myself, but you can't go wrong with Cherry switches as far as durability, consistency, and quality.
As for software, G.Skill's setup is pretty similar to Corsair's CUE—very powerful, very complicated, and maybe a bit too confusing. Setting a single background color isn't too hard, but creating a decent effect takes way more clicks than in Razer or Logitech's software. The good news is you can create very precise, detailed effects. The bad news is it takes some work to figure out G.Skill's layer system and get everything set the way you want it. Also, the volume dial is always red, which is a shame. No RGB LEDs exist under that one single element of the keyboard.
Bottom line
This might be my favorite RGB-enabled keyboard. Previously I would've gone with the K70 because of its Cherry switches, and I still think Corsair has a few advantages over G.Skill—a less flashy design, better software.
But G.Skill borrows some of the K70's best aspects, mixes them with some of Logitech's better designs, and rounds out the KM780 with a few eye-catching treats of its own (that volume display).
It's an all-round winner, and catapults G.Skill into the realm of elite peripherals.