Password manager LastPass is taking a big leap forward for all its free users. The company announced that its service is now free to use across all devices at the same time.
LastPass' switch to a free model for multi-device access comes one year after the password management service gave up on its PC-first policy. Originally, LastPass free was only available on the PC, while mobile devices were only supported for premium subscribers. That changed in August 2015 when LastPass decided free users would be restricted to a single device type of their choice, including PCs, smartphones, or tablets. Now, multiple devices are open to free users.
All the devices, all the time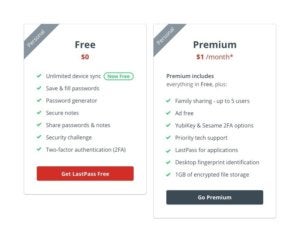 Anyone who's already using the free version of LastPass can download the company's mobile apps or the browser extensions to get the service everywhere. LastPass will work the same way across all devices including the ability to save and fill out passwords, a password generator, secure notes, and two-factor authentication.
Premium users may not be too impressed with this news. The whole point of paying $12 a year for LastPass was that you could use it across all your devices. Now that feature is free.
Nevertheless, LastPass is hoping premium users will stick around for the other paid benefits, including priority tech support, the ability to share folders with up to five users, 1GB of encrypted file storage, advanced 2FA functionality for devices like the YubiKey, the ability to save desktop application passwords, and an ad-free experience.
The impact on you at home: If you're a premium user of LastPass right now you might take a hard look at whether it's worth it to continue paying. Sure, $12 per year isn't a ton of money, but what's the point of paying that fee if you're not going to use any of the premium features? If all you wanted from LastPass was multi-device access you can now get that for no cost.
Note: When you purchase something after clicking links in our articles, we may earn a small commission. Read our affiliate link policy for more details.
Ian is an independent writer based in Israel who has never met a tech subject he didn't like. He primarily covers Windows, PC and gaming hardware, video and music streaming services, social networks, and browsers. When he's not covering the news he's working on how-to tips for PC users, or tuning his eGPU setup.