Zotac's newest VR-capable mini PC kit should fulfill the dreams of AMD fans everywhere. In what appears to be a first, the new Magnus ERX480 comes packing an AMD Radeon RX 480 Polaris-based GPU.
Zotac's selling the new mini PC in three models: barebones, Plus, and Windows 10. The barebones version is what you'd expect in a kit like this. It comes with a 2.2GHz Intel "Skylake" Core i5-6400T CPU and the aforementioned Radeon RX 480, but lacks RAM, storage, and an operating system.
The Magnus ERX480 packs two memory slots that can take up to 32GB of DDR4 RAM in 1866 or 2133MHz flavors. For storage, the ERX480 provides a 2.5-inch SATA 3.0 bay and an M.2 SATA SSD slot.
The Plus version, meanwhile, might be a good choice for Linux fans who don't want the hassle of inserting their own storage and RAM. It includes 8GB of DDR4 RAM, a 1TB 2.5-inch hard drive, and a 120GB M.2 SSD. The Windows 10 version is simply the Plus version with Windows 10 Home 64-bit preinstalled.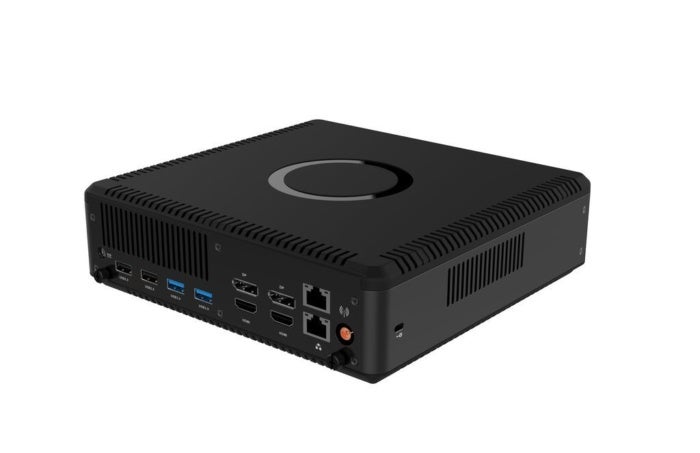 All three versions of the ERX480 come packing a veritable smorgasbord of USB ports, with two USB 2.0 ports, two USB 3.0 ports, and singular USB 3.1 Type-A and USB 3.1 Type-C connections. The USB 3.1 ports are both gen. 2.
The Magnus ERX480 can power four displays at once and comes with two HDMI 2.0 and two DisplayPort 1.3 ports. Zotac says the mini PC can do 4K at 60Hz.
Beyond those highlights the ERX480 offers the usual niceties, including 802.11ac/b/g/n Wi-Fi, Bluetooth 4.2, and an SD/SDHC/SDXC card reader. The ERX480 measures 8.27 inches by 8 inches and has depth of 2.45 inches. Zotac did not announce pricing or a specific release date for the ERX480.
Why this matters: Until now, mini-PC kits with built-in GPUs mostly stuck with Nvidia's GeForce parts, owing to poor power efficiency on the AMD side. That changed with AMD's new Polaris-based Radeon GPUs, which are far more power efficient than their predecessors. Power efficiency in a small rig like the Magnus ERX480 is paramount since more power equals more heat, and more heat makes cooling—which is already handicapped by the smaller space—that much harder to deal with.