At a Glance
Expert's Rating
Pros
Quiet at all times
Handles basic tasks with ease
Thin frame is a unique look
Cons
Lacks Thunderbolt 3
Ability to handle more intensive tasks is constrained
It's thin…but it's also large
Our Verdict
A slender laptop certainly turns heads—but with an MSRP of $1,100, the Swift 7's constrained performance and lack of Thunderbolt 3 make HP's Spectre 13.3 (which is almost equally thin) seem like a better deal.
Acer boasts that its Swift 7 is the "world's thinnest notebook PC." While technically true, that marketing angle sells only one aspect of the machine—and it's not the most important one.
PC vendors love to sell the idea of thin, and for good reason. Thin implies light, portable, and attractive. But a notebook can end up spreading outward (making it larger and more difficult to pack) or sacrificing performance in the quest to be the thinnest. The Acer Swift 7 does both.
So while this $1,100 13-inch notebook (available at Amazon) is slender and quiet, it's bigger and slower than similarly priced ultrabooks. Rivals like the barely thicker HP Spectre 13.3 and smaller-but-heftier Dell XPS 13 easily outpace the Swift 7.
It is a good-looking laptop, though.
Measurements and ports
At 12.8 x 9 x 0.4 inches, the Swift 7 is virtually the same size as the HP Spectre 13.3 (12.8 x 9 x 0.41 inches) and almost an inch wider and deeper than the Dell XPS 13 (11.98 x 7.88 x 0.6 inches). It weighs about the same as its closest competition, though, tipping our scales at 2 pounds, 8 ounces. The Spectre 13.3 is 2 pounds, 6.8 ounces while the non-touch Kaby Lake Dell XPS 13 is 2 pounds, 11.5 ounces.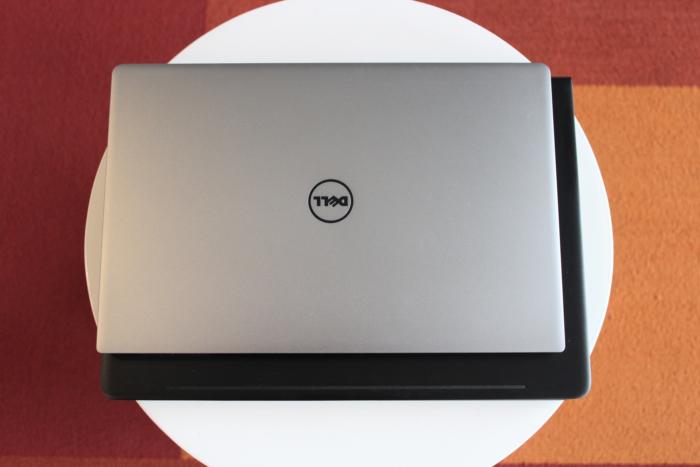 I've listed the Swift 7's official published measurements to show how this notebook assumes the "thinnest notebook PC" title by using a technicality. Pulling out our digital caliper yielded a range of measurements for the Swift 7: At its thinnest point, which was the hinge at the back of the laptop, it's 9.9mm. At its thickest point (the center of the chassis), it's 10.9mm. None of that equals Acer's given measurement of 0.4 inches (10.16mm), by the way.
That said, the Swift 7 is slimmer than the Spectre 13.3, which has a thinnest point of 10.4mm and a thickest point of 12mm. But that margin is pretty narrow. We're talking tenths of a millimeter.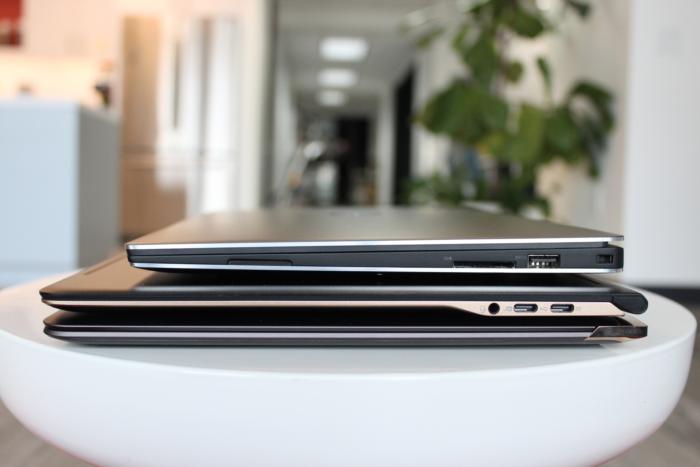 As for ports, you don't get many because this notebook is so thin. You'll find all the Swift 7's inputs on its right side: two USB 3.1 Type C Gen 1 (5Gbps) and a headset jack. One of the Type C ports supports DisplayPort over USB-C in addition to data and power, while the other supports just data and power. In a very nice touch, Acer provides two dongles with the Swift 7: one USB-C to USB-A, and one USB-C to ethernet.
Display, keyboard, and trackpad
The 13.3-inch display is a non-touch IPS panel with a native resolution of 1920×1080 and a Gorilla Glass 4 layer. Images look sharp and crisp, and aside from the general complaints I have about glossy or glass screens, the Swift 7's is pleasant to use. Just be aware that you'll encounter some glare.
The Chiclet-style keyboard feels responsive and satisfying when touch-typing, providing adequate key travel and a discrete sensation when you press down. It does lack crispness in its feedback, but the sensation is more soft than mushy. That said, for my personal taste, I prefer the Spectre 13.3's keyboard, which has a similar layout but with a firmer key press when typing.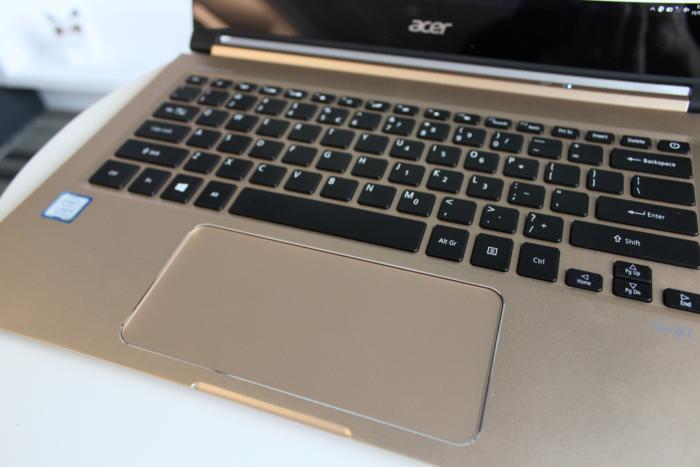 I liked the Swift 7's trackpad a little less. It's impressively huge (5.5 inches wide, a full inch over than the XPS 13's trackpad and 1.5 inches more than the Spectre 13.3's), and it offers decent palm rejection and tactile feedback. It can be frustratingly sensitive on default settings, though, and traditional right-clicking doesn't always register. You can adapt to both situations by fiddling with settings and using a double-finger tap, but it's still a little annoying.
Specs
Powering the Swift 7 is a brand-new 7th generation Kaby Lake Intel Core i5-7Y54 processor that runs at a stock clock speed of 1.2GHz, boostable to 3.2GHz. Its equivalents in previous generations were part of Intel's Core M (Broadwell) and Core m (Skylake) lines, but Intel's done away with that naming for these successors to its Skylake m5 and m7 chips. Instead, the company calls this a Core i5 part, with the stance that the performance has improved enough to warrant that designation.
Paired with that processor are 8GB of LPDDR3/1866 RAM and a 256GB Kingston SATA 6Gbps solid-state drive. Running AS SSD's storage benchmark showed sequential read speeds of 418.12MBps and sequential write speeds of 372.05MBps.
Performance
The CPU inside the Swift 7 might be brand-new, but this particular laptop doesn't showcase any of Kaby Lake's modest gains. Older machines running its previous generation equivalent, the Core m5-6Y54, outperformed it.
For the most part, though, that gap in performance extends to more intensive tasks. The Swift 7 is still fast enough for basic office work. In PCMark 8's Work Conventional benchmark, which simulates tasks like word processing, web browsing, light spreadsheet editing, and video conferencing, the Swift 7 scored a 2,719.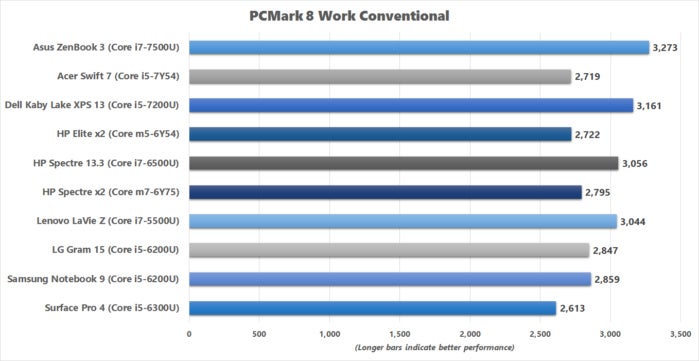 If you look at the numbers, you can see that you're getting the same level of performance as the HP Elite x2's m5-6Y54. The Swift 7 also manages to edge out the higher-wattage Core i5-6300U in the Surface Pro 4 by a hair, which is interesting given the results in our more intensive benchmarks. (More on those in just a moment.) In real-world terms, though, these tiny differences in results don't mean much. Any score above 2,000 in Work Conventional means the machine will handle basic everyday tasks just fine. You might feel a minor difference in snappiness between this i5-7Y54 and faster CPUs, but not enough to warrant a complaint.
The difference in performance begins to open up as we move to testing pure CPU performance with Maxon's Cinebench R15 benchmark. This test involves rendering a 3D scene, but because it only takes a few minutes, it's a good way to see how a laptop will handle short, CPU-intensive tasks.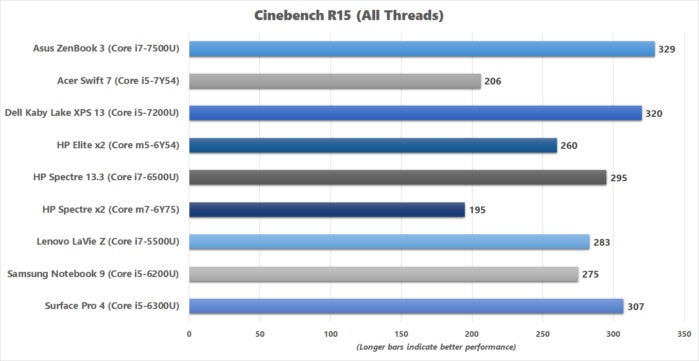 The i5-7Y54 begins to fall more dramatically behind the HP Elite x2, with a performance drop of about 20 percent. The combination of tight spacing and a fanless processor puts higher constraints on how fast the Swift 7 can perform as the CPU's core temperatures begin to rise.
The HP Spectre x2 also seems to suffer from these limitations. Despite being a step up from the Elite x2's m5, its m7-6Y75 processor performs even more slowly during this rendering test than the Swift 7.
That same pattern plays out again in our Handbrake benchmark. This encoding test involves converting a 30GB MKV file into a smaller MP4 using Handbrake's Android Tablet preset, and it hammers hard on a CPU. For thin-and-light laptops, Handbrake is a torture test—one that reveals whether a machine will maintain similar performance under extended stress as during short bursts of intense activity, or if the vendor has decided to throttle back clock speed as the notebook heats up.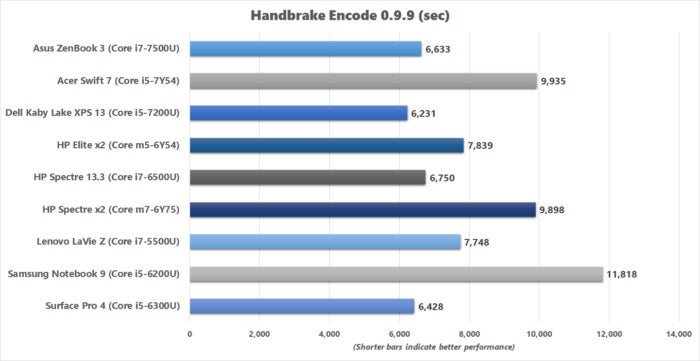 The Swift 7 throttles back pretty hard. When we fired up Intel's XTU software to look at the clock speed during Handbrake, the Core i5-7Y54 inside the notebook only managed to hit around 2.1GHz before almost immediately throttling down to about 1.83GHz. It held steady there for the rest of the test.
In contrast, the Elite x2 didn't throttle at all during the Handbrake test, and the results show the difference: The Elite x2 finished its task about 35 minutes faster. On the other end of the spectrum, you have Samsung's Notebook 9, which has a more powerful dual-core processor but throttles the CPU's clock speed so hard that it finishes slower than its Core m siblings.
Gaming performance is also fairly modest. In 3DMark's Cloud Gate benchmark, which simulates playing games at 720p, the Swift 7 scored 4,409 overall. The breakdown of its graphics score showed frame rates of 27.94 fps during the first graphics test and 23.76 fps during its second graphics test.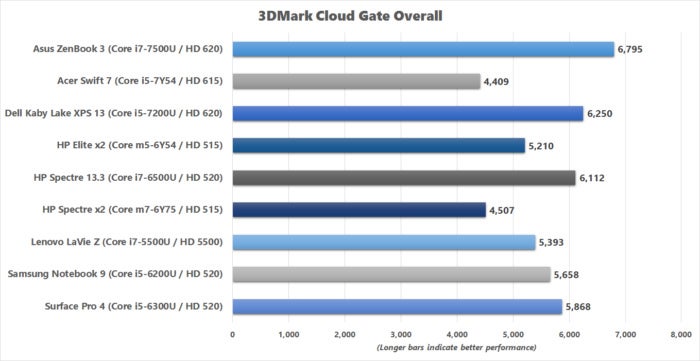 The short summary is that you can try to play very lightweight titles on the Swift 7, but don't aim much higher.
As for battery life, the Swift 7 managed about 7 hours and 20 minutes during our video rundown test, in which we play a 4K video file on repeat using Windows 10's native Movies & TV app. (The sound is left on, with earbuds plugged in.) For transcontinental and shorter international flights, that's more than enough time to get work done and binge-watch movies.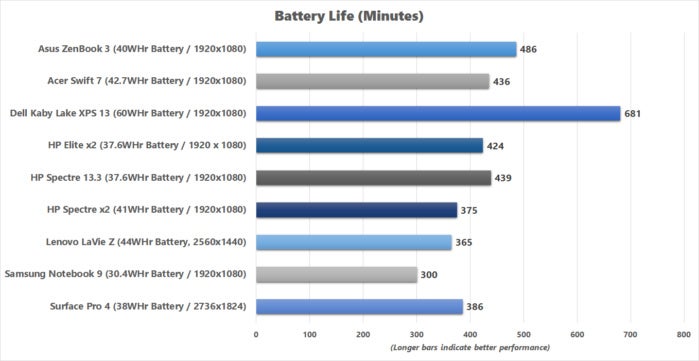 Still, given that the Swift 7 has a bigger battery and a less power-hungry processor than the Spectre 13.3, I would have expected a slightly longer runtime. Instead, these two ultra-thin machines are neck-and-neck with each other. It speaks well of HP's engineering.
Conclusion
Thin might not be a substitute for portability or performance, but it does turn heads. Acer goes beyond that gimmick, though: The Swift 7 has a premium feel, with a sturdy frame, a decent and enormous trackpad, a pleasant keyboard, and a black-and-gold finish. (Of course, tastes vary, so that inner coat of gold could be viewed as either elegant or gaudy.)
However, the Swift 7's design means that it best serves people who care about looks and silence more than performance. Your workload will need to fall within the usual, everyday range that includes web browsing, YouTube videos, and light photo editing for the trade-off to seem worthwhile.
Even then, though, I'd be hard-pressed to pick this laptop over the Spectre 13.3, its most obvious competition, and that's even with the older processor in the HP rival. It's hard to ignore a beefier chip and Thunderbolt 3 when you can get it in a notebook the same size, weight, and price as as the Swift 7. You get more performance and features in exchange for a tolerable amount of fan noise. Thin would be a lot more impressive (and the lower performance more understandable) if the Acer had kept the Swift 7's weight but matched the XPS 13's width and depth.