Skype recently added an interesting new feature that allows anyone to use the free version of the messaging app without an account. To use it without an account, you must use Skype for Web; however, account holders can still join in using a regular Skype client.
This is an extension of a feature Skype rolled out in October 2015, which allowed Skype users to add non-Skype users to their conversations.
When you use Skype's account-free options, you're considered a guest. All conversations are based on a unique link that you can share with anyone you want to talk to over Skype. Guest conversation links last for 24 hours and allow up to 300 people to have a text chat, or up to 25 people to participate in a voice or video call.
Guest conversations have most of the features you get with a free account such as screen and file sharing. Skype Translator (the service's real-time translation tool) is out, as are paid-account features such as phone calls to landlines or mobile phones.
Getting started with account-free Skype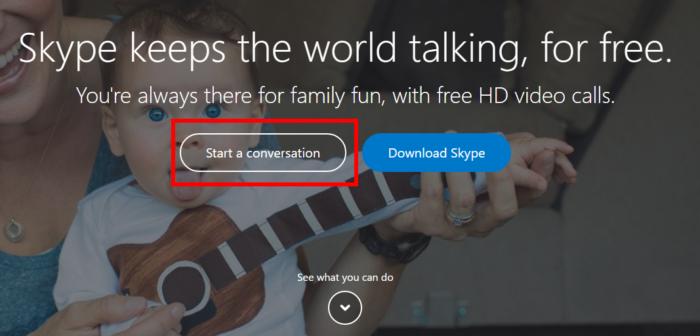 Since this is a web-based service, you start on Skype.com. When you land on the webpage you'll see a button labeled Start a conversation.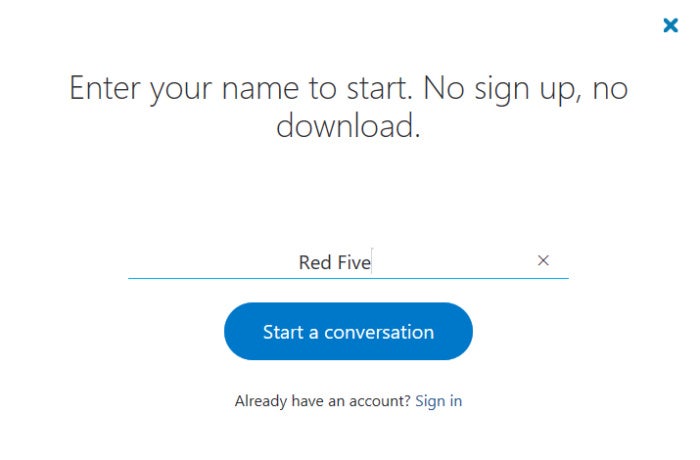 Click that and a small window will pop up asking you to enter your name. Since this is not tied to an account you can use any name you like. I wouldn't necessarily count on Skype as a way to have a sensitive, anonymous conversation. Just don't sweat it if you'd rather use a pseudonym.
Once your name is entered, click the Start a conversation button again. Once that's done, you'll eventually see a Skype loading screen as Microsoft prepares the account-free conversation.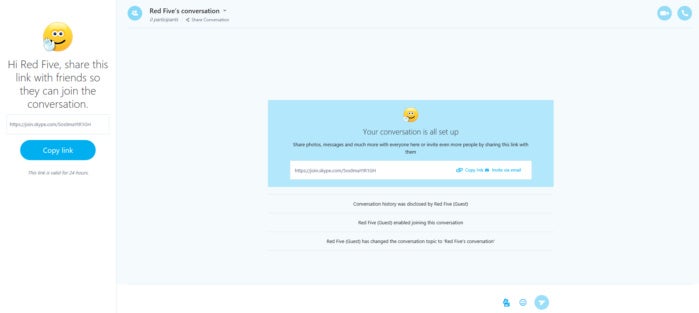 When everything is ready, a Skype for Web conversation window appears. To get other people to join, you have to share the unique web address created for your conversation. You can either copy the link in the left-hand panel or from the big blue box in the main part of the screen. Now share that link as you would any other—via email, Facebook, Twitter, SMS, WhatsApp, etc.
If you're sending the link to someone on a PC, when they click the conversation link they will have an option to open the Skype app on their PC. If they'd rather not use their account for the conversation, they can just click the Join conversation button to use Skype for Web as a guest. Mobile users can also use the Skype URL to join the conversation from their smartphone or tablet using Skype's mobile apps.
Enjoy your account-free Skype chats.