Audrey Hatten-Milholin has worked at the University of California, San Francisco for 17 years. But come February, her job in the IT department as a system architect will be taken over by a worker from India.
Even worse, Hatten-Milholin has been asked to train her replacement.
"It's horrible. Really horrible," she said on Tuesday. "You want to treat people decently. But on the other hand, I'm pretty ticked off I have to do this."
Hatten-Milholin was among about 80 laid-off IT workers who held a rally on Tuesday, calling for an end to the university's outsourcing program. The IT department workers, including permanent staff and contract employees, will be replaced by workers from an India-based IT services firm called HCL.
More than a dozen of those affected workers and their supporters attended the rally outside the UCSF Benioff Children's Hospital. They carried signs that read, "American workers, not foreign labor," and "Protect our private data."
"We need to stand up. Enough is enough," said Kurt Ho, another IT worker who is being laid off.
Experts who study IT outsourcing say the UCSF case is a rarity but could influence IT practices throughout higher education.
"CIOs at many other universities are eyeing what happens with the (University of California) case," said Ron Hira, a professor at Howard University who studies immigration and offshoring policies. If UCSF isn't pressured by the public or politicians to reverse the decision, other universities may decide the practice is acceptable, he said.
"I've never heard of a case where university workers were being forced to train replacements," Hira said.
UCSF said the outsourcing will help it save more than $30 million over five years. The school has contracted with three outside vendors, including HCL, Silicon Valley cybersecurity firm FireEye and Dell, to support its IT services.
"The vast majority of UCSF's IT services will remain in house," the university said in a statement following the rally. It has said the IT department numbers about 565 employees. "UCSF has followed all applicable laws and UC policy in determining to restructure a small portion of its IT services/operations."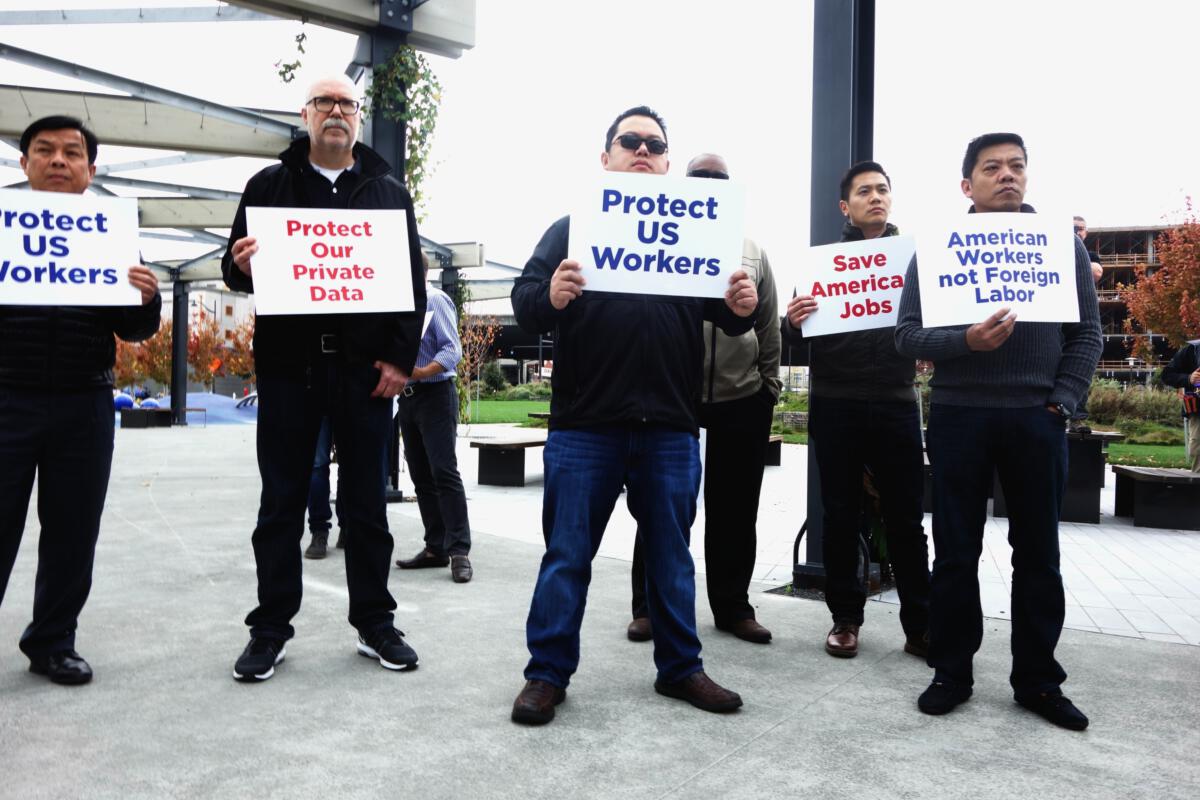 The university also says the outside contractors will improve its IT services. The workers who are being laid off don't think so. Ho, who is 57 years old, said he has been training Indian workers who are in their 20s, a shift away from the diverse staff UCSF is laying off.
"Now we're going to be replaced by a very young, inexperienced work force, from one part of the world," he said. "I don't think this is right."
The workers who attended Tuesday's rally are also concerned with the federal H-1B visa program. Allegedly, companies have been using loopholes in the program to bring in foreign IT workers to replace citizens.
"A lot of people think that jobs are being sent overseas, but outsourcing is happening right here in our country of America," said 43-year-old Vinny Tateo, another laid-off worker. He said it's been difficult for him to find a new job.
UCSF said it's working with the other University of California campuses to find jobs for the affected employees. The school also says it doesn't plan to use the H-1B visa program to bring in foreign IT workers. However, since the layoffs became public, the university has posted Labor Condition Applications notices, which are required by law when H-1B workers are being placed.
Some of the laid-off workers plan to challenge their dismissal through legal channels. About 10 of the workers are filing a formal complaint with California's Department of Fair Housing and Employment. They claim the outsourcing is discriminatory because it replaces a diverse workforce with an all-Indian staff.
IT workers at other University of California campuses are also worried about future outsourcing. Joining Tuesday's rally was 35-year-old Ryan Detert, a programmer in the IT department at the University of California, Davis.
"If UCSF thinks this is worthwhile for them, then this could very easily spread to the other campuses," he said.