We're finally starting to wind down the year. Watch Dogs 2 hits PC in a week and a half, Dead Rising 4 shortly thereafter, and…that's pretty much it for 2016. Soon it'll be time for Game of the Year discussions and then the steady drumbeat of Spring 2017.
But for now, the news rolls on. This weekend it's a bunch of free games (including a few days of Overwatch), plus Remedy teases a fresh trailer, Rainbow Six gets another year of add-ons, and Total War goes for broke. This is gaming news for November 14 through 18.
Giving thanks early
If you're one of the dozen or so people who've yet to play Overwatch, set aside some time this weekend—Blizzard's hero-based shooter is free from today through November 21 at 4 p.m. Pacific. Download Battle.net and create an account if you haven't already. You'll see Overwatch in the sidebar. All your progress from the trial carries over to the full game, if you decide to buy in once your free access runs out.
Shoot-y games not your style? You can also hop into Elder Scrolls Online for free, also through November 21. It's been a while since I played, but I've heard it's a bit better than it was at launch. It's no Morrowind, but…well, it's free this weekend.
Okay, neither of those sounds good? Well I hope you like winter sports because Ubisoft's open-world ski/snowboard/wingsuit(?)/whatever game Steep is in open beta this weekend if you can bear with Uplay.
Wake me up
Over the summer, Remedy 1) Teased two new games and 2) Said that neither of them is Alan Wake 2. So keep that in mind before you get your hopes up.
That being said, Remedy's teasing a trailer for a new game. All we've got is this 20-second video of Sam Lake saying he's Sam Lake. Good enough for me.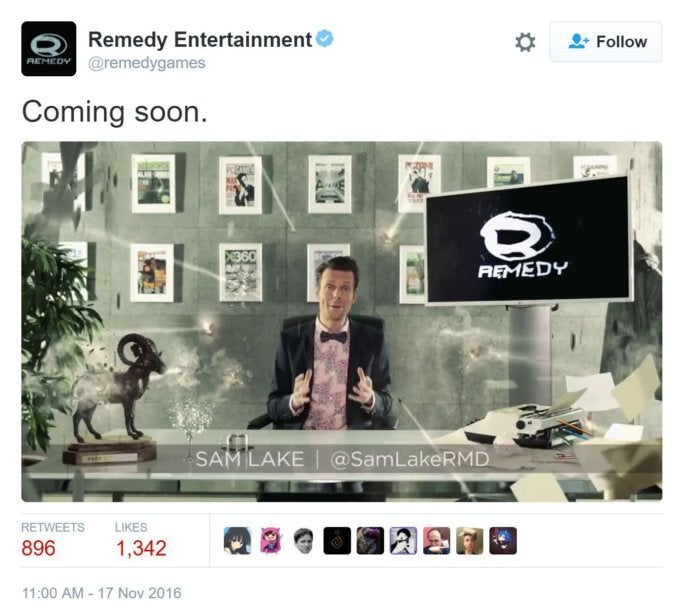 Long haul truckin'
American Truck Simulator captured the time-honored American tradition of roaring down an open road in a big rig, but it certainly didn't capture how damn big the US of A actually is. Good news, then: SCS Software went back in and redid the entire map, making it quite a bit larger in the process. The old map was 1:35 scale, the new (beta) map is 1:20. Time to load up on 7/11 taquitos.
Now if only we could somehow combine American Truck Simulator with Google Earth VR for maximum realism.
Total-er Warhammer
Total War: Warhammer is the strategy game that just keeps on giving this year, with yet another suite of DLC prepped to launch on December 6. This time it's Realm of the Wood Elves with uh…Wood Elves, believe it or not. New campaign, new units, new leaders—but unfortunately the same ridiculous $19 price as the last DLC, from which the game's Steam rating has still not recovered. Anyway, here's a trailer:
Total-est War
The Total War news doesn't stop there though. Another historical Total War is on the horizon, and according to an interview with Eurogamer the series is going to "an era we [meaning Creative Assembly] haven't tackled yet." Considering the breadth of Empire and Medieval, best bet's on something modern or something real old.
And the strange development saga of Total War: Arena continues. According to PC Gamer, publishing rights for the free-to-play multiplayer title are being handed over from Sega to Wargaming's latest subdivision, Wargaming Alliance—and there's still no release date in sight. Bizarre.
Press 0 for Operator
Rainbow Six Siege is coming up on its one-year anniversary, but the end isn't imminent yet. According to Ubisoft the game will receive at least another year of stuff—meaning four maps and eight new characters, if it's anything like 2016. Not bad.
//