As far as technical achievements go, looking at 360-degree photos in virtual reality is a pretty low bar. Hell, you can do it on Google Cardboard, the VR equivalent of a toaster oven. And yet for all its simplicity, digitally visiting places I've been before or hope to visit one day or maybe just have a fleeting interest in remains one of my favorite VR activities.
So it might not be the flashiest release of the holiday season, but I was pretty excited to see that Google Earth VR released on Steam this morning, specifically for the HTC Vive. From the description:
"Ten years ago, Google Earth began as an effort to help people everywhere explore our planet. And now, with more than two billion downloads, many have. Today, we are introducing Google Earth VR as our next step to help the world see the world. With Earth VR, you can fly over a city, stand at the top of the highest peaks, and even soar into space."
Earth VR seems to work best with large, well-known landmarks (both natural and man-made) since that's where Google put in the most work with the original program—Manhattan, Florence, the Eiffel Tower, the Matterhorn, and the Grand Canyon are specifically called out on Steam, among others.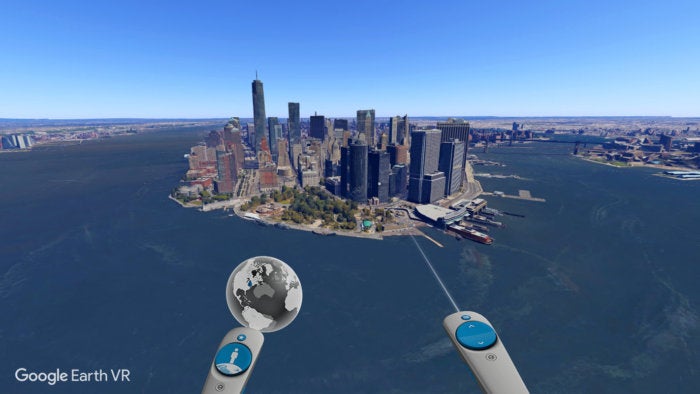 It looks impressive. The only disappointment at the moment is that Google Street View isn't included. Given that Street View utilizes 3D panoramic photos, VR seems like a natural fit. Hopefully one day it's added in.
For now though, Earth VR cements Google as one of (weirdly enough) the Vive's top developers, with both this and Tilt Brush being must-see experiences. And better yet, Earth VR is free. Get out there and explore.