Earlier in 2016 at least three PC makers revealed plans to roll out battery-powered backpack gaming PCs. Why? Virtual reality. Instead of being tethered to a desktop sitting on the floor, the idea is that users can strap on a backpack PC and walk around unfettered. Sure, there are still wires involved, but they move with you instead of restricting your movement.
Now those plans are starting to slowly become real devices. On Monday, Zotac officially announced the final specifications for the VR Go Backpack PC, which made its first appearance at Computex this summer.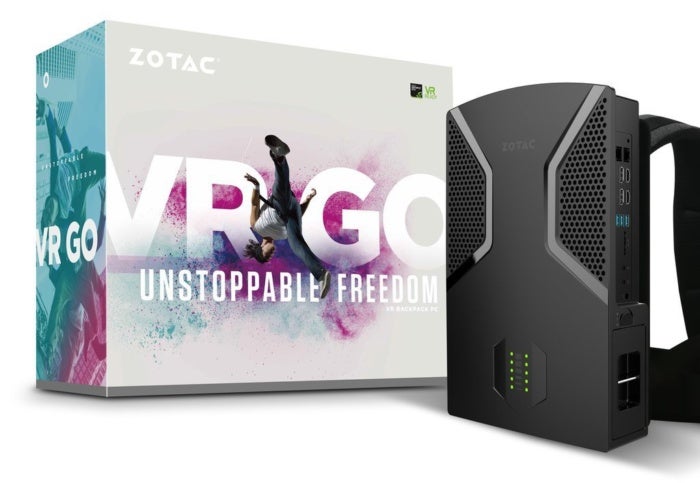 Zotac's VR Go Backpack packs some pretty sweet specs. The heart of the operation revolves around a 2.8GHz quad-core Intel Core i7-6700T processor, 16GB of DDR4 RAM, and a GeForce GTX 1070 with 8GB GDDR5 memory.
You'll find three HDMI 2.0 and two DisplayPort 1.3 connections onboard. Zotac's PC can power up to 4 displays, which doesn't really matter if you're carrying it on your back for VR. But the VR Go Backpack can also function as a mini PC for those times when you want to do some regular gaming or just fill out an Excel spreadsheet. Speaking of which, the PC case itself measures 16 inches by 10.63 inches by 3 inches.
As far as storage goes, there's a 2.5-inch bay for either an HDD or an SSD, and the PC comes with a 240GB m.2 SATA SSD installed. Connectivity-wise you'll find a 3-in-1 card reader, ethernet, 802.11ac/b/g/n Wi-Fi, and Bluetooth 4.2.
Mentioned in this article
ZOTAC VR GO Backpack PC System
Price When Reviewed:
$1999.99
The VR Go Backpack includes two hot-swappable 6,600 mAh batteries so you can keep your wireless gaming dreams alive. Battery life during gameplay is about two hours.
To keep all that heat off you, Zotac designed the backpack to channel heat away from the wearer using dedicated exhaust paths on the back support.
Oddly, Zotac doesn't say how much this base model weighs, which is a key specification if you're going to be carrying it on your back. The company does say the weight is evenly distributed to make it more comfortable. Even so, weight matters for a device you're going to be slinging around on your back regardless of how comfortable it is.
Zotac has yet to announce a price or official availability date for the new PC. Update: The VR Go Backpack PC now available to buy on Amazon for $2,000.
Zotac's backpack PC isn't the only one on the horizon either. MSI said in September that its backpack would ship before the end of the year, and HP is taking applications from developers and business partners to try out its Omen backpack PC.
The story behind the story: Zotac's backpack and those from others such as HP and MSI are just a stopgap measure until wireless technology is capable of handling intense VR gameplay—and that's already starting to happen.
HTC recently announced a $220 third-party add-on from TPCAST—initial stocks of which sold out in less than 20 minutes—that gives the HTC headset wireless capabilities. HTC says the TPCAST add-on increases latency by less than two milliseconds. There's little doubt that wireless VR is coming even if its exact timeline isn't clear. But even in a wireless world a PC backpack could still have value. Something weighing down your back would add that extra bit of immersion in a Ghostbusters VR experience, for example.