At some point in your life, you've been forced to send a massive file as an email attachment, wondering all the while if it will end up being too big to get through. Microsoft's recent Office 365 updates include a feature to address that problem.
Microsoft continually updates Office 365, and the company's November updates include a new feature that allows users to upload a file to OneDrive at the time they're writing an email. Furthermore, collaborative editing has arrived on PowerPoint, and Microsoft has begun to send notifications to your phone when documents are being worked on by your coworkers.
Why this matters: The key, of course, is that the updates apply to Office 365, the subscription service that provides access to constantly improving builds of the Office apps. To justify annual renewals, Microsoft does two things: adds new features on a regular basis, and lets consumers know about them.
Stop, collaborate, and listen
Probably the most useful feature of the new update is the just-in-time uploads to OneDrive. If you're writing an email in either Outlook's online app or the desktop app for Windows PCs, you already have the option of sending a link to a file that's presently stored in the OneDrive cloud—and you can attach permissions to it, allowing users to edit or just view it.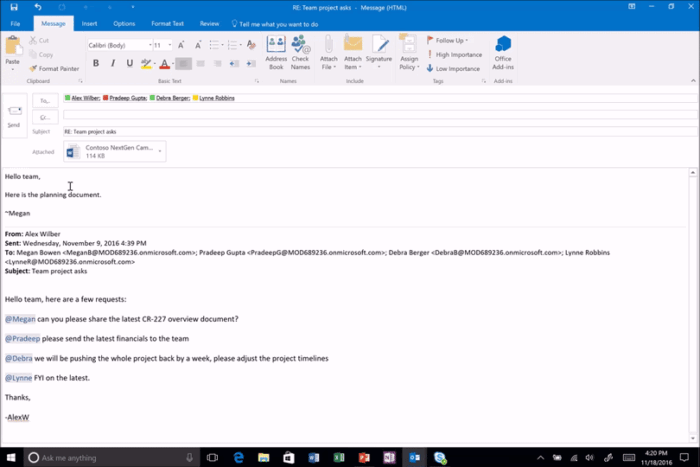 Now, if you're writing an email and discover that—oops!—that PowerPoint document you want to send the team is 250MB, you can choose to upload the file to OneDrive in the menu you'd normally use to attach a file to your email. Your colleagues will then receive a link to that file, allowing them to download it without clogging up their inbox or the Outlook server.
That's a handy little tweak that improves collaboration—the theme of most of the remaining updates. Microsoft's been promising real-time editing / collaboration for a while now, and it's finally arrived, both on Windows 10 desktops as well as the Windows Mobile apps for Windows tablets. When changes have been made in Word, PowerPoint, or Excel, Windows will send you notifications on your mobile phone. Those updates won't been seen by most Office users yet, however, as they're only available for Android or Windows Mobile if you're part of the Office Insider beta program. They'll roll out for iOS in December, and arrive on Windows desktops "in the coming months," Microsoft said.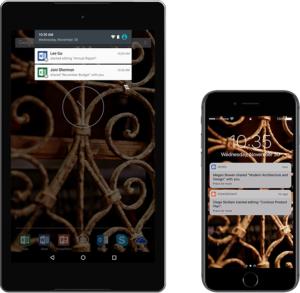 You'll also see a "Shared with Me" folder in your directory within Word, PowerPoint, and Excel apps for all platforms (Windows desktops, iOS, and Android) save for Windows Mobile. There, you'll find a list of those documents that your coworkers have shared.
What's next?
As always, Microsoft provides a public roadmap of upcoming Office features that it is both rolling out and currently developing at its Office FastTrack site. Other collaborative features that Microsoft has for its Outlook web app include Up Next, a feature that puts a snapshot of your calendar above your email; the ability to drag and drop available time slots for a proposed meeting; and the ability to swap back and forth between a user's private OneDrive and OneDrive for Business when sharing files. Different permission levels are also in the works.
All of the upcoming additions, however, are still being developed. They'll roll out as part of Outlook for the web, which, alongside the Office Insider program, has served as Microsoft's staging area for new Office improvements.