Ever wonder why they didn't just fly directly to the exhaust port instead of taking that long trench run on the Death Star? And what kind of sound military strategy was it to let the TIE fighters shoot their way through Red 3 and Red 2?
Well, now you can find out yourself by reenacting the last battle of Star Wars using Propel's new Battle Quads. These licensed Star Wars quadrocopters/drones fly and look like typical "toy" drones but they're a bit more advanced.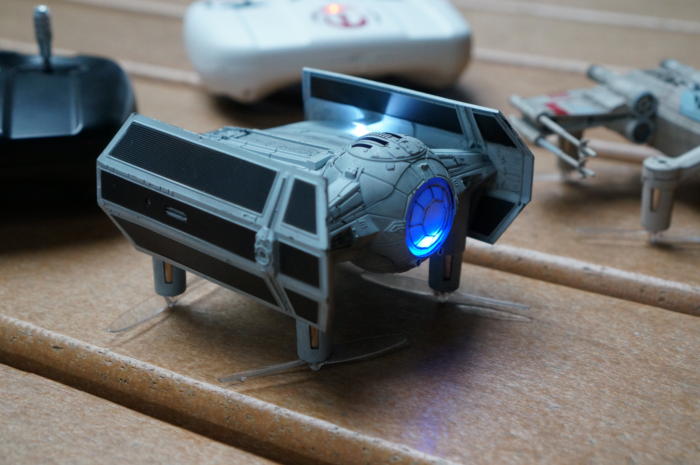 There's an on-board barometer that can sense atmospheric change. This lets the Star Wars Battle Quads almost hover on their own when set to newbie mode. The drones also have an auto take off and auto land mode for newbies.
This is the mode I flew the Battle Quad in and for someone who never made the Kessel Run or threaded Beggar's Canyon, it's surprisingly easy to fly it around the room. But good against a remote is one thing, but good against the living?
For battling, the Battle Quads are equipped with eye-safe visible light lasers that can be fired at other Battle Quads. A hit will cause the enemy fighter to wobble and three hits will cause it to crash land.
To add more realism to it, the controllers feature speakers with authentic Star Wars sounds and music. Each controller also features a pop out arm to hold your smartphone for an upcoming app that will let you track your battle stats against your friends.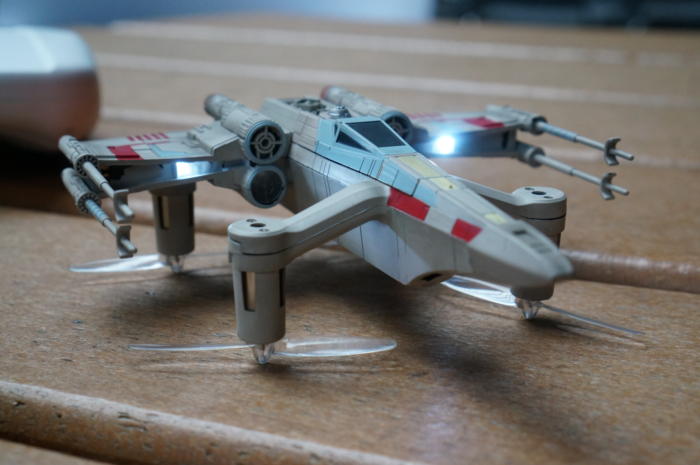 The app will also include a virtual trainer for those who want to use the actual controller to simulate flight without smashing the actual toy into the overhead fan and watching it splinter like Porkins.
You can get about 6 to 8 minutes of flight time on the Battle Quad and a full recharge takes about 30 minutes. The good news is Propel actually gives you two batteries with each drone so you can recharge the other while playing, err, flying.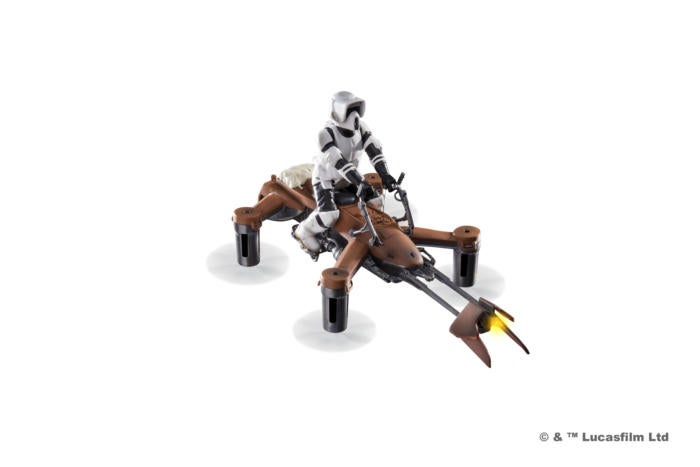 Propel is offering three models right now including the above TIE fighter and X-Wing. Not that I'm a hater, but I think the last one will be the least popular: it's a Speeder Bike with trooper mounted. It's not exactly something that makes sense to fly against a TIE fighter or X-Wing.
I suppose if you had a Teddy Ruxpin you could react the Battle of Endor and simulate just how lame Storm Troopers are against fuzzy half-meter Ewoks equipped with rocks and flint spears.
Propel has plans to offer a Millennium Falcon too, but it's not available right now so your days of smuggling a highly addictive substance that has caused intergalactic damage for organized crime will have to wait.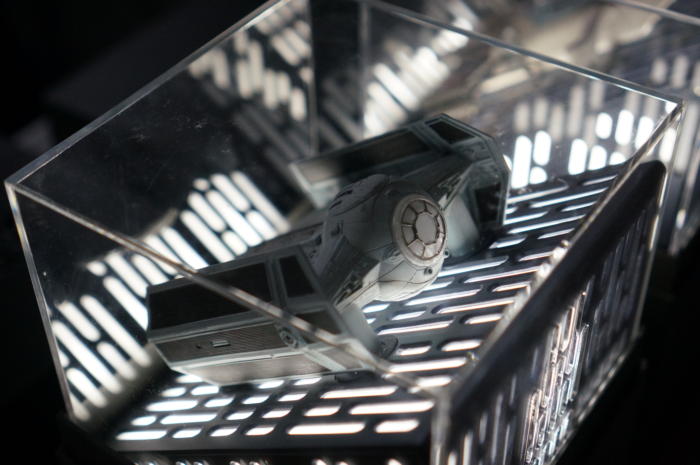 And yeah, it's not cheap.
Each Battle Quad is priced at $239. I know, you're saying you could buy your own Star Wars product license from Disney for that many credits, but the drones are highly collectible.
Each comes in a wax-sealed box that when opened, lights up and plays the appropriate John Williams music. Yes. In other words, buy two. One to put with your unopened action figures and the other to actually play with.