OneNote is a great tool for creating notes, to-do lists, and even journaling. The problem is, those are just the kind of things you want to title by date (or at least have the date as part of the title), and then organize them in descending order. OneNote does not make this process easy. You could just type the date in every time, but that's not ideal.
Here are two strategies for dealing with this problem.
Manual mode, aka the hard way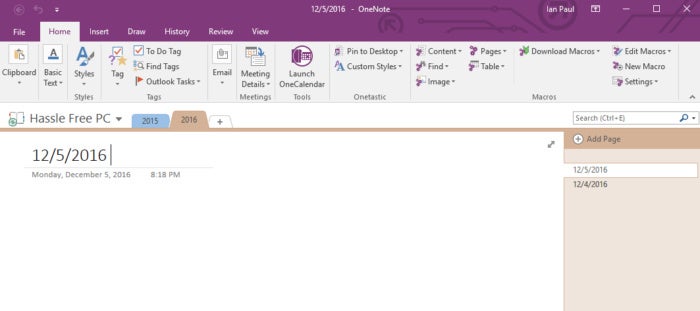 The first thing you can try is just using keyboard shortcuts. Create a new page in One Note the way you normally do, and when it comes time to title it hit Alt + Shift + D. That keyboard shortcut tells OneNote to insert the current date. If you also want the time included, hit Alt + Shift + F.
Unfortunately, OneNote's default is to put the most recent note at the bottom of the page list and there's no setting you can tweak to change this. That means the only thing to do is to click the page title in the sidebar and drag it up to the top of the list.
Not ideal or convenient, but that's why they call it the hard way.
The easy way (but it might cost you)
Another option is to use the OneNote add-in Onetastic for the desktop version of OneNote. Onetastic does not work with the Windows Store version. We've covered Onetastic before. This simple add-in allows you to add tons of customizations to your desktop OneNote experience. It does this via add-ons for Onetastic called macros—that's right, there are add-ons for the Onetastic add-in. These macros are created by the Onetastic user community and are a great way to improve you OneNote experience.
The thing with Onetastic is that the use of macros is mostly for paid users. Onetastic Pro is currently priced at $15 for use on two PCs, but Onetastic does have an open-ended free trial experience. There's no hard set date on how long the free trial lasts. Instead, it's all about how you use the macros. If you're only using one or two macros, and only occasionally, then Onetastic may never throw up a warning requiring you to pay. If you use Onetastic macros a lot, however, Onetastic will let you know when it's time to pay.
So there's a chance you might have to pay $15 to use Onetastic, but if you're a hardcore OneNote user that small fee just might be worth it.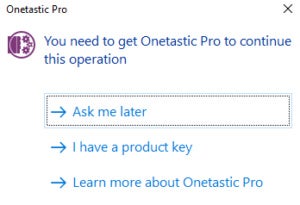 Download and install Onetastic (link above) to get started. Then once it's installed, download and install the Onetastic macro called "Inserted Dated Page at the top."
Both Onetastic and the macro are installed like any other program. First, shut down OneNote, double-click on the installation file (Onetastic arrives in a ZIP folder), and then follow the instructions to install. During the macro installation Onetastic will say you need the Pro version. At this point just click Ask me later to continue and enter the open-ended free trial period.

Once everything is installed, open the notebook section in OneNote where you'd like to add a new page. Next click Home on the OneNote Ribbon and look for a new section to the far right called Macros. In that section click Pages> Insert Dated Page at the Top and a new page will be created with just the date as the title.
At this point, if you'd like to add more information to the title, go ahead. That's all there is to it, and just like any other OneNote page it will sync with the cloud, and be available across all your devices.