Dead Rising 4 reviews appeared yesterday, but you'd be forgiven if you thought the game was a console exclusive. So far as I can tell nobody received access to the PC version until…well, yesterday morning. It does exist though, and it releases today on the Windows 10 Store. No, not Steam. Just the Windows 10 Store.
I fully expect some of you just closed out of this tab with disgust, though it's worth noting that Dead Rising is a Capcom property, not first-party Microsoft, so I wouldn't be surprised to see a full Steam release in about six months. (See also: Quantum Break.)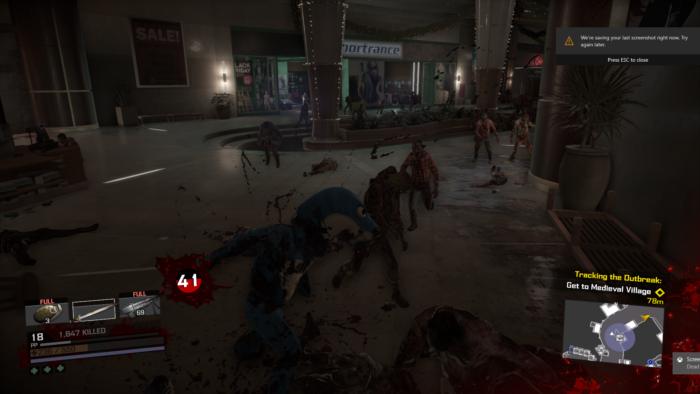 The Windows 10 version is working just fine though, for the most part. There's definitely evidence that the port is coming in hot—namely, two lines in an email that accompanied our review code:
"There is a first-launch-only crash that will occur when you boot up for the first time and we are currently working on a fix. The game will run normally after this and the rest of the gameplay experience will be unaffected."
Yeah, a bit problematic. But Capcom's right to say "The game will run normally after this," as aside from that pesky bug performance seems pretty damn solid. It's definitely better than the herky-jerky frame rate ping pong we saw with Dead Rising 3's bigger crowds of zombies. I'm admittedly running a powerful PC—a six-core Intel Core i7-5820K and an Nvidia GeForce GTX 980 Ti—but I've only noticed momentary stutters when loading into a new area and no problems at all from the undead hordes. Even this scene below, which had something like 300 zombies loaded into the same area, stayed mostly above 60 frames per second: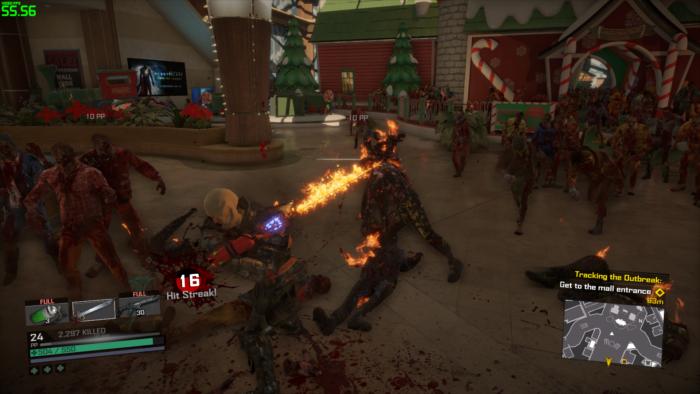 I've generally seen performance hover around 75 frames per second at 1080p resolution, with everything maxed out, and then dipping to around 63 frames per second during more chaotic moments. (I tracked my FPS using Dxtory, which is the easiest way to add a frame counter to Microsoft's UWP games.)
That's not to say that the game's bug-free. I've had a few weapons disappear through the floors of Willamette, Colorado's fancy new mall, and also encountered one issue where one press of WASD would set Frank to running forever, only stopping if he was attacking something. A bit of a pain, that one, though it was solved by a restart or by using a controller.
It's another Dead Rising though, and more importantly it's another Frank West Dead Rising. The game's about the same as ever—kill lots of zombies with goofy weapons—but I have to say that bringing back Frank and returning the game to the theme park-style confines of a shopping mall definitely give the game something that Dead Rising 3 lacked. Which is a long-form way of saying: I'm actually having a pretty decent time. Dead Rising 4 isn't an instant classic, and much of what made the original Dead Rising unique and weird has been lost, but it's not as boring and dour as its predecessor. Plus it's set at Christmas time, which means you can run around like a weird elf.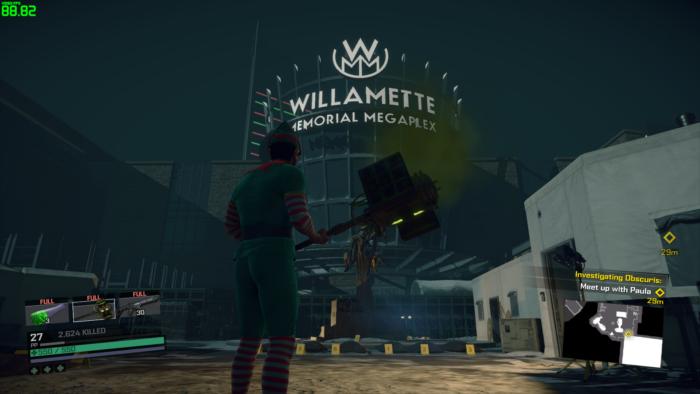 We'll (probably) have a lengthier review sometime soon, once I've made my way through most of the game. For now, suffice it to say that it runs fine—if you're willing to take the plunge into the Windows Store, of course. Otherwise, cross your fingers for that Steam release.