When Halo 5: Forge launched on PC over the summer I think many people went through the same set of events as I did: 1) Download it, excited. Free Halo multiplayer! 2) Notice it's impossible to set up a match unless your Xbox friends are also online. 3) Delete it.
It was a shame. Here was Halo multiplayer on the PC, at long last, but practically unplayable without any sort of matchmaking or server browser. And to be fair, Microsoft did tell us that Forge was more about creating custom maps than playing them. It just did so while dangling the idea of playing them in front of us.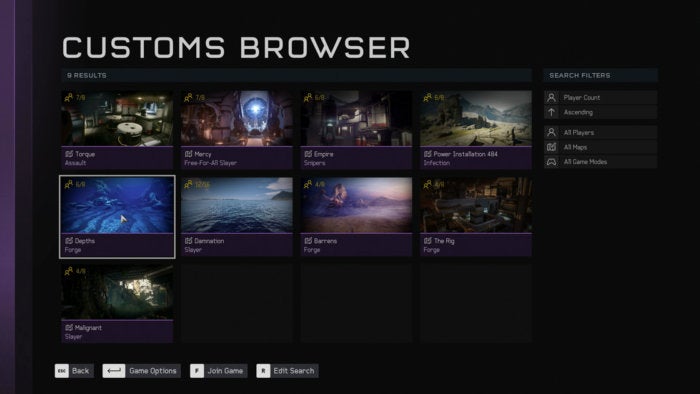 Get your Needlers ready, though. As part of a massive Halo 5 console patch releasing this week, Halo 5: Forge finally gets that much-needed custom game browser. From the patch notes:
"We know getting a full fireteam together to run customs isn't always easy, and while Looking For Group is great for appointment gaming, sometimes you just want to jump in and discover something new. The new Custom Games Browser enables you to search for in-progress games from the main menu. Games you can join are based on their privacy settings when they are created in the lobby. We've also updated the Content Browser so that if you find a map or mode that you like, you'll be able to browse for in-progress custom games from that file's options."
Okay, so it's still going to be a bit weird, because browsing for in-progress games is quite a bit different from formal matchmaking, especially in Halo where matches are often short and low-score. But you know what? It's better than nothing.
And given how amazing some of the Halo 5 custom maps are, I'm pretty damn excited. I can finally get some people together to play that toilet map. Look for the custom game browser to launch sometime on Thursday, December 8.