We've already seen how to install Edge extensions the official way, as well as an unofficial method using extensions that are normally hidden in the Windows Store. Now, let's look at the third way: sideloading.
If you're not familiar with the term sideloading, it means you're adding extensions to your browser through unofficial channels. This is something you were able to do with Chrome, but for regular users it is now more or less banned. Android devices also support sideloading.
Why sideload?
As of this writing, Microsoft is taking forever to allow new extensions to the Windows Store. Edge's library of official extensions hasn't changed much in recent months, and there's no indication it will anytime soon. Using the sideloading method, if you hear about a new extension you'd like to try, you can do it without worrying about the Windows Store.
Before we go any further, however, we have to pause for an obligatory warning. You should never, ever install extensions from a source you don't trust. Using unofficial extensions is an easy way to allow malware to creep onto your system.
Now that we've got that out of the way here's what you do.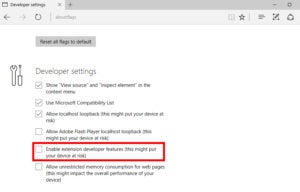 First, open Edge and type about:flags into the browser's address bar and hit Enter. (The same command can be used in Chrome, but Edge doesn't offer even half the interesting settings Chrome does.)
It may be a little slow to load, but when the flags page is up, we're interested in the Developer settings sub-heading at the top. Check the box labeled Enable extension developer features (this might put your device at risk).
Once you check that box, a warning will appear at the bottom of the Edge browser window that you need to restart the program. Close Edge and then re-open it.
Next, let's download the Edge version of uBlock Origin that's in early beta. This extension recently landed as a preview in the Windows Store. Nevertheless, we'll still use it as an example.
Go to the project's GitHub releases page and download the latest version's ZIP file. It should be the first download option you see.
Next, extract the folder with the .edge suffix, and save it somewhere, such as in your Documents folder. I have a special folder in Documents labeled "Edge Sideloads" where I save extensions like this. If you erase the .edge folder, the extension will not work so make sure you keep it somewhere safe and permanent, i.e. not your Downloads folder or the desktop.
Now it's back to Edge. Hit the three horizontal dots menu icon in the upper-right corner and select Extensions. When the extensions menu opens click the Load extension button.
A File Explorer window opens looking for a folder. Navigate to the uBlock folder you saved earlier and click Select Folder.
The extension will now appear in Edge. If you ever want to remove it, just hover over the extension in the menu and select the settings cog icon. On the next page select Remove and it's gone.
That's all there is to sideloading extensions in Edge.