At a Glance
Expert's Rating
Pros
Upgradeable
Whisper quiet
Compact
Cons
Incredibly expensive
Placement of motherboard ports and connectors is awkward
Comes with only 802.11n Wi-Fi support
Our Verdict
This Cerise desktop has a unique, compact design, but it's better when configured as a direct competitor to Apple's workstation. With standard gaming hardware inside, you can get more for your money elsewhere.
Best Prices Today: Circular
Cerise's Circular computer wants to be like Apple's Mac Pro. The company, which primarily makes Windows PCs for digital content creators, has brought the same cylindrical "hot air rises" concept to a system that's hand-built by one person, using a custom-designed, Mac Pro-like case that's made in the United States. Cerise's business model makes the Circular computer pretty unique, and pretty expensive—our test unit cost $3,339.
The puzzler is the specific configuration we tested. There's nothing wrong with it—it's just more like a gaming PC than a Mac Pro killer (unless you opt for a version with more powerful Xeon or Broadwell-E parts). Viewed from the obsessive bang-for-buck perspective of gaming builds, the Circular's boutique pricing becomes a liability.
Circular logic
The idea behind the Circular is to lift the system off the ground an inch or so, put a huge fan at the bottom, and suck cool air into the rig. As the air rises, it pulls heat up and away. That avoids situations you'll sometimes find in a standard tower, like when heat from the GPU washes over the CPU, or when warm air has nowhere to go and forms pockets of heat.
The Circular's design is so good at thermal exhaust that during testing, it actually served as an auxiliary heat source on cold days. As long as you don't mind also plugging your peripherals into the top of the computer, the concept works.
Unlike the Mac Pro, Cerise's Circular uses off-the-shelf parts and everything is upgradable—in other words, it's what the Mac Pro should have been. Though we want powerful systems, we also want the ability to upgrade them, even when they're custom designs.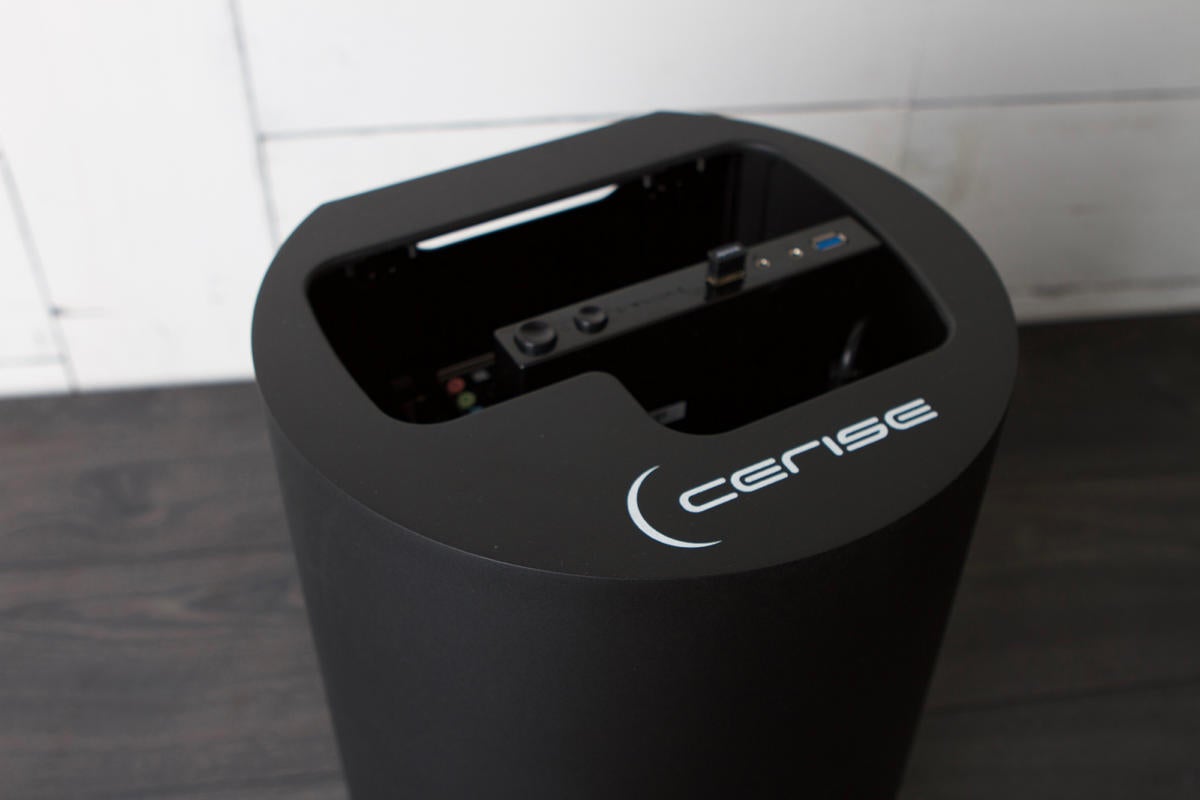 The Circular offers this flexibility, and easy accessibility. Although the case is made of steel, and thus a little heavy, up top is a handle/cable-management hole that makes lifting it simple. In a production environment that requires hauling around a computer, we'd much rather deal with this than a heavy tower.
The other benefits of the Circular's design are that it takes up less space, and runs cool and quiet with just a single fan.The cylindrical tower measures 15 inches tall and 12 inches across, and sports a single 140mm fan (plus a filter) at the very bottom.
Sitting vertically in the center of the column are all the parts: In our test unit, they were an Asus Pro Gaming Z170 motherboard, an Intel Core i7-6700K Skylake CPU with a low-profile Be Quiet! CPU cooler (the only other fan in the system), 32GB of Crucial DDR4/2133 RAM, a Gigabyte GTX 1070 GPU, a Silverstone 500W PSU, a 480GB Intel 540 series SATA boot drive, and a512GB Samsung 950 Pro M.2 PCIe NVMe drive. If you need more storage, there's room for two more SSDs and one mechanical drive, too.
Strangely, our review unit had only an 802.11n adapter, even though the motherboard supports dual-band 802.11ac MU-MIMO Wi-Fi. Cerise told us it opted for the less obtrusive USB-nub style adapter to avoid messy wiring for the motherboard's Wi-Fi. Sadly, you can't opt to use the onboard Wi-Fi card on Cerise's website and our unit didn't come with the antennas.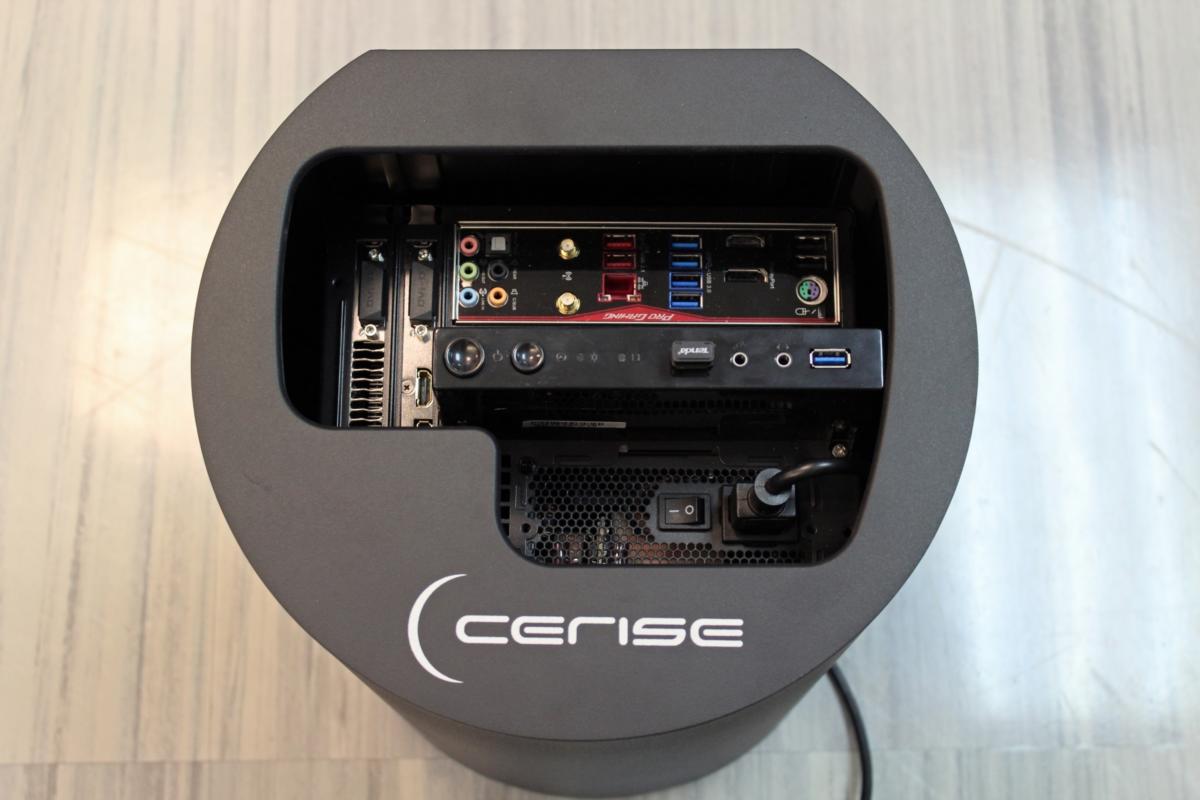 Cerise installed a riser card with the power and reset buttons. It sits flush with the top of the cylinder, making it easy to turn on. The same card also features one USB 3.0 port as well as audio jacks.
The bulk of the ports, including two USB 2.0, four USB 3.0, and two USB Type-A 3.1 ports, as well as gigabit ethernet, face upward from inside the Circular's top opening. They're accessible, but you'll need to cast your cables a few inches into the case in order to connect them—and if the Circular's sitting on your desk, you'll need to stand up to reach the ports. Though you could route the cords down the inside of the machine and out the bottom, it would still make the Circular on a desk a bit unsightly. That's especially so when compared to a traditional Mini-ITX system like a Fragbox, where the cables simply go out the back.
For the OS, Windows 10 Pro comes preinstalled. Cerise offers a skimpy one-year warranty, but the lifetime phone/email tech support for the original owner of the computer is a welcome rarity.
The upgrade path
While the Cerise Circular doesn't use any proprietary parts, an asterisk should exist next to any mention of "upgradable." Swapping parts is indeed possible, it's just not quick.This system is essentially a Mini-ITX build that's been dropped into a circular sheath, so, as you can imagine, everything's packed pretty tight. Accessing certain parts takes time.
The first step to getting at the hardware is fairly straightforward: You just undo a hinge on the bottom of the unit that holds the steel shell in place, then you lift it up and out of the way. The cube inside houses all the parts.The GPU is the most easily accessible, and arguably the most relevant for upgrading. There's even room to accommodate a larger GPU if desired—Cerise says GPUs up to 10 inches can fit. I'd recommend you not exceed nine inches, though, as you'll want a little bit of space for maneuvering.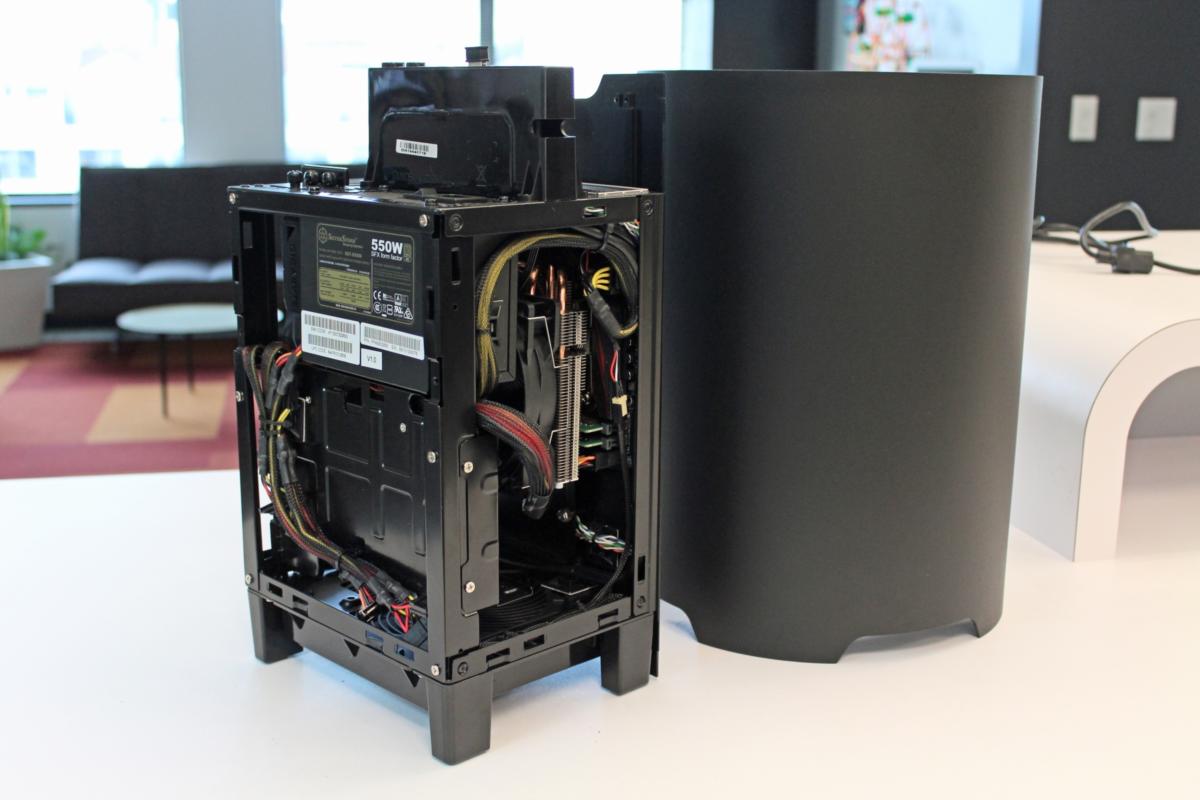 On the other hand, you have to remove the CPU cooler to eject the RAM, and storage is wedged deep inside the bowels of the machine. (I could barely see the dual SSDs.) For a compact system, this layout is par for the course, but it also demonstrates one of the drawbacks of a Mini-ITX system versus a conventional tower.
Performance
As configured, this Cerise Circular should be fast enough for any gamer, as it offers all the usual suspects. Professionals who want a Mac Pro alternative, however, will want to opt for a different mix of hardware. When I dig into the numbers, you'll quickly see how this particular configuration's strengths lean in just one direction.
3DMark Fire Strike Extreme
Given the Circular's GTX 1070, I decided to start off the benchmarking with an old favorite. 3DMark's Fire Strike Extreme is a synthetic benchmark that simulates gaming at 2560×1440, and it puts a fair amount of stress on a GPU.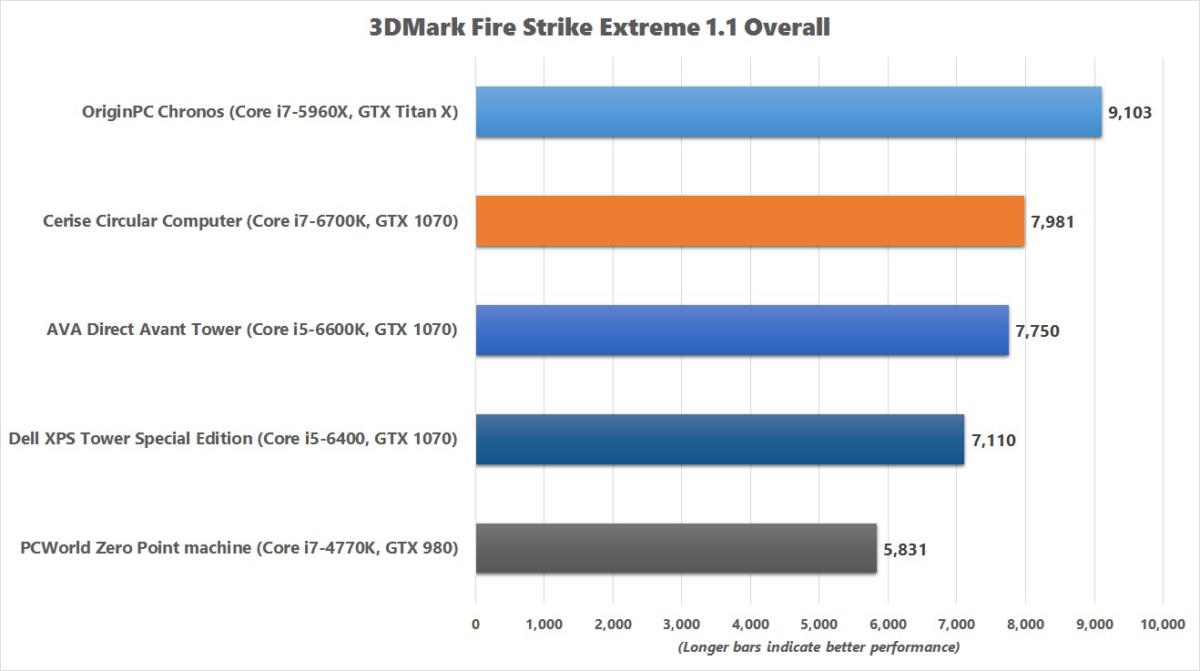 Generally, I don't expect any surprises when I run this test, and I was not surprised by the Circular. Despite the thermal limitations of its chassis, its score of 7,981 was nearly the exact same score we saw from AVADirect's Avant Tower, which is also a GTX 1070-equipped system.
Middle-earth: Shadow of Mordor 4K
Next up is Monolith's Middle-earth: Shadow of Mordor—just a little over two years old and a little less taxing now that Polaris and Pascal rule the land. Still, when you install the optional 4K texture pack and set the game to its Ultra preset, it's no slouch.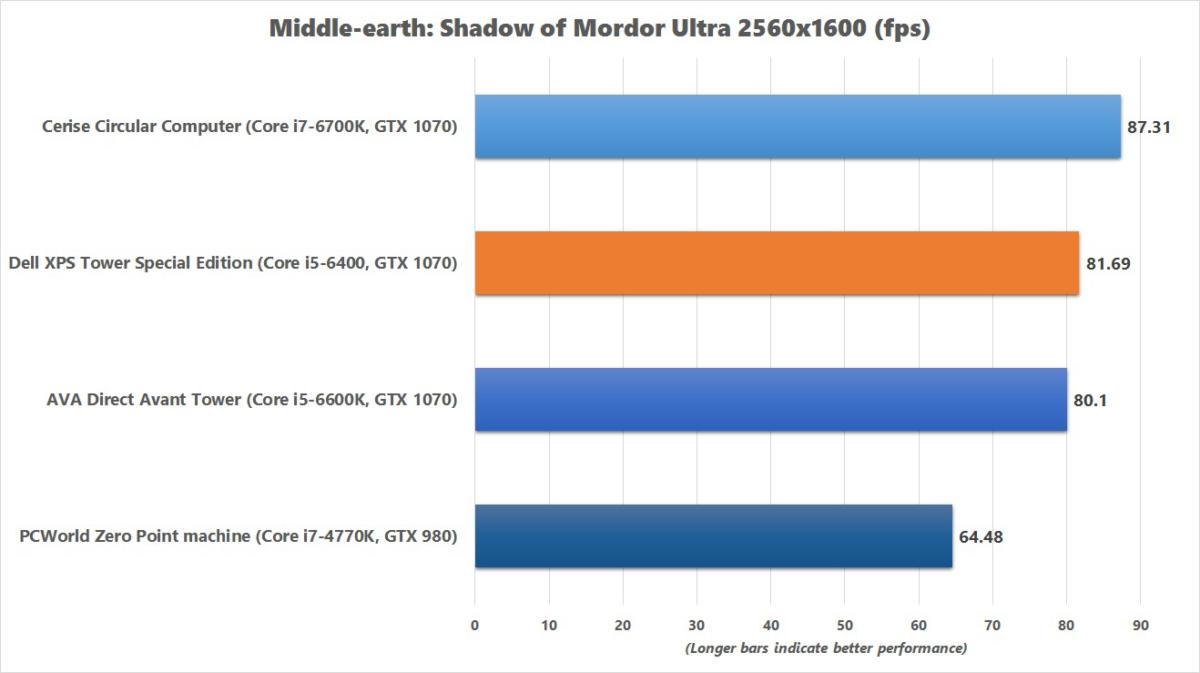 Again, that pint-sized GTX 1070 hits just as hard as full-sized equivalents. Thanks to its more powerful CPU, it even outdoes rival GTX 1070 desktops in our comparison. AVADirect's Avant Tower, for example, runs a Core i5-6600K, while the Dell XPS Tower Special Edition uses a more modest i5-6400. The Circular outdoes those cards by 6.9 percent and 9 percent, respectively.
Cinebench R15
First up in our CPU benchmarks is Cinebench R15. This brief 3D rendering test is all about the CPU, and can measure performance of one core or all cores at hand. In general, with this test, the more cores and clocks, the better.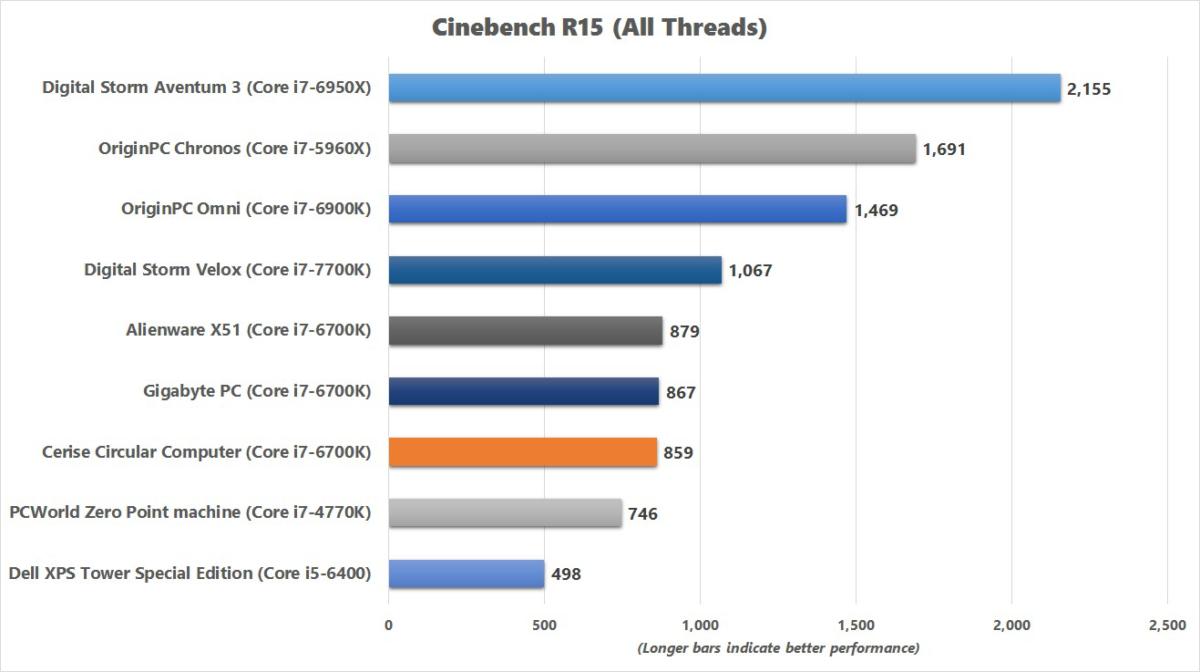 Because the Cerise Circular's a Mini-ITX system, you can't expect much more than stock performance. It hits right where you'd expect for a Core i7-6700K. Not surprisingly, it performs conservatively compared to more powerful systems we've reviewed. It's hamstrung by its core count mostly, as rendering benefits greatly from throwing as many cores as you've got at a task. The X99 rigs we've reviewed have up to 10 cores, and that just wallops the quad-core 6700K. For example, Digital Storm's decadent Aventum 3 absolutely crushes the Cerise by 151 percent.
Handbrake
Next I ran our Handbrake test, which involves converting a 30GB MKV file into an MP4 using the program's Android Tablet preset. This test scales extremely well with core count and clock speeds—for example, a 200MHz overclock might shave off three minutes. An extra core or two can do wonders as well.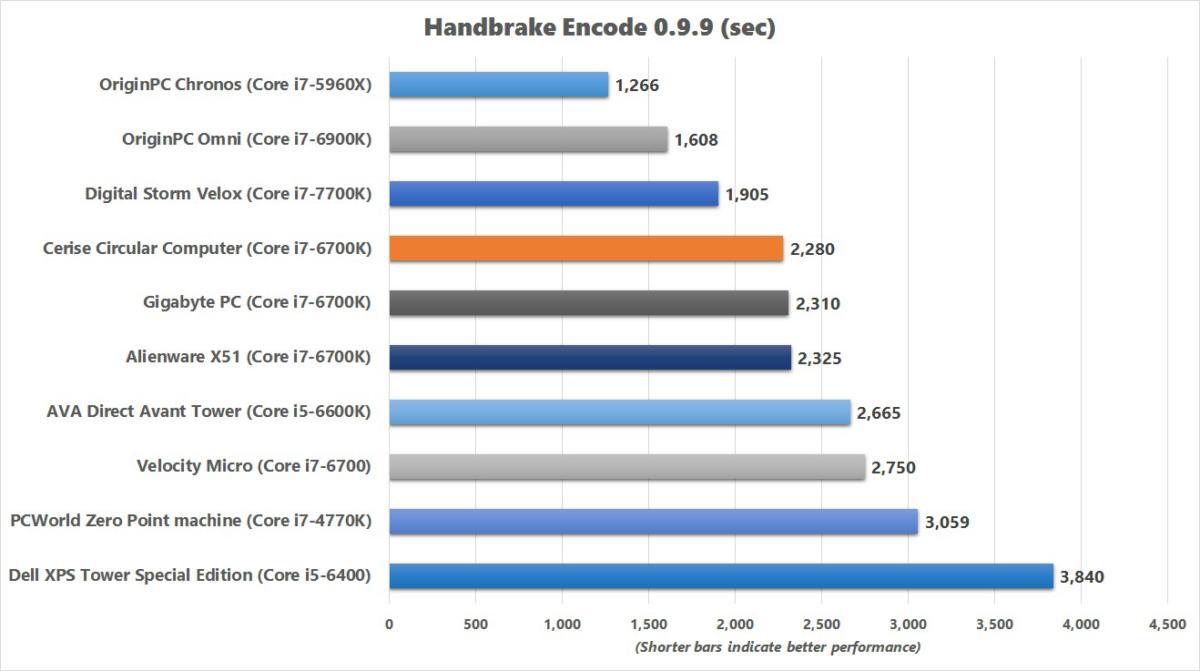 This test shouldn't produce any surprises in desktop systems. The task and CPU don't change, and cooling typically isn't an issue. So if everything is configured correctly, the time it takes to complete won't change either. In this case, that's 38 minutes, and the Cerise's i7-6700K hit it on the nose while staying at a steady 4GHz throughout.
That's nothing spectacular compared to a beefier chip—even an older one, like the Core i7-5960X in Origin's Chronos, which has a lower 3.5GHz boost clock speed but double the core count. The encoding time is cut almost in half, driving home the point that Broadwell-E and its ilk are the go-to processors for content creators. The 6700K is a great CPU overall for consumer needs, but for punishing work it can't compete with the big-dog chips.
Thermals, acoustics, and overclocking
When it comes to compact systems, most people worry they'll run too hot, and thus throttle the CPU or GPU. Because the Circular runs just one case fan and one fan for the CPU, we wondered whether it'd suffer a meltdown when pushed to the limit.
On the CPU front, we fired up Intel's Extreme Tuning Utility and ran a CPU stress test for a few hours. Doing so loads up all cores to 100 percent and reports any thermal throttling, power throttling, or funny business. You can also watch all the activity in real time, including temps, voltages, and more. The i7-6700K hummed right along at 4GHz and between 65 and 68 degrees Celsius the entire time.
I also ran Prime95 just for kicks. Temps rose to about 75 degrees Celsius, but the system stayed stable—and quiet. This circular rig was inaudible during the test, even when I stood next to it.
Cerise didn't overclock this chip at all out of the box, and given that it's an air-cooled system with a low-profile cooler to boot, we didn't expect an OC to be possible. Still, we tried. Every time we nudged up the clock speed in the BIOS using Asus's auto-tuning, the Circular wouldn't POST. (Not even at a mild 7 percent CPU overclock.) The trade-off for this limitation is a system that runs almost silently, which we're fine with.
To see how hot the system's GTX 1070 GPU would get, we fired up Unigine's Heaven 4.0 benchmark and let it loop for about an hour. Its load temp was a toasty 82 degrees Celsius, which is on the warmer side but well below the card's thermal limit of 94 degrees. Clock speeds hovered around 1,784MHz, which is still 100MHz beyond the stock specification's default Boost clock, so the card wasn't anywhere near throttling. It's also worth noting that this Gigabyte GTX 1070 Mini has only one fan to cool it down.
Conclusion
The Cerise Circular is certainly a welcome break from boxy PCs. Other than the awkward cable path, it's a unique design that makes a lot of aesthetic and space-saving sense. Though you do trade a bit of performance for such a small chassis, it's definitely one of the quietest PCs sporting such high-end components. Of course, the GPU makes some noise when it's spun up, but a single fan's not terribly loud.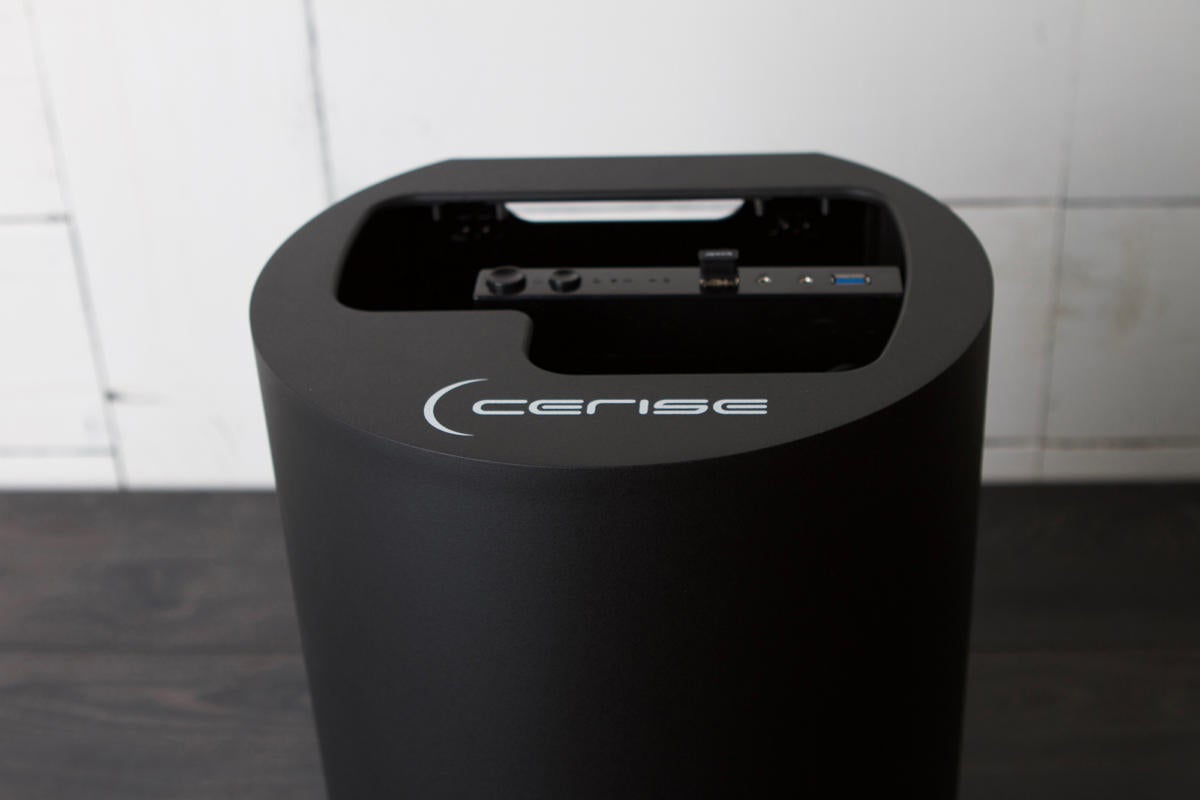 My main gripe, however, is the $3,339 asking price. For about $1,000 less, you can get a similar Mini-ITX system from a competing boutique vendor. Some, like CyberPower PC, will even throw in a closed-loop cooler for the CPU. For the same price as the Circular, you can geta Mini-ITX system with an upgraded processor (a 6-core i7-6800K) and graphics card (a GTX 1080), plus the closed-loop cooler.
Instead, the Circular desktop is best suited as a direct competitor to the computer whose design it mimics. When you instead configure it with a Xeon CPU and a 4GB Quadro GPU, it becomes a heck of a bargain compared to Apple's workstation: The price is a few hundred dollars cheaper, and it includes a lot more hardware. (Upgradable hardware, at that.)
Best Prices Today: Circular