HP's Sprout Pro is here to remind us that Microsoft's Surface Studio is not the original creativity-oriented PC, let alone the most creative. Two years ago, the original Sprout debuted with integrated cameras that could turn 3D objects into 2D or 3D digital images, and a projector that worked with a unique touch-sensitive workspace to manipulate those objects. But two years ago, the world wasn't AR- and VR-crazed yet—and we were all still suffering under Windows 8. Now, the Sprout Pro brings an upgraded set of talents to a market that may finally be ready for it.
Announced Tuesday at CES in Las Vegas, the upgraded Sprout Pro will have Intel's 7th-generation Kaby Lake desktop CPU, specifically the quad-core 2.9GHz Core i7-7700T with integrated Intel HD Graphics 630. The Entry 3D model will have Nvidia's GeForce GTX 960M mobile GPU with 2GB of GDDR5 memory. The vertical display is a generously sized 23.8-inch Full HD (1920×1080) with 10-point touch. Storage is a 1TB PCIe SSHD. Pricing isn't set yet, but the original Sprout currently starts at $1,600. The Sprout Pro is expected to ship in March.
The Sprout Pro is slightly slimmer and taller, and about five pounds lighter than the original Sprout. HP also visually trimmed its profile by using more black-clad surfaces.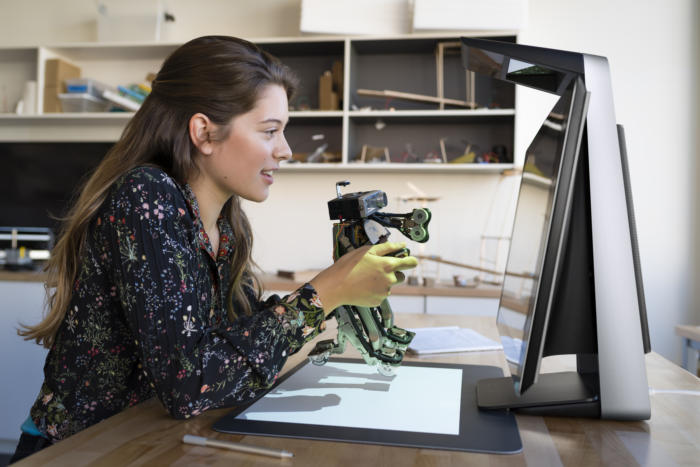 What makes the Sprout Pro unique are its Touch Mat and Sprout Illuminator. The 21.3-inch Touch Mat is the Sprout Pro's second display, which lays on your work surface. The Sprout Illuminator is an array of components cantilevered over the top of the PC, including an Full-HD DLP projector that beams the second display's image onto the Touch Mat. The Touch Mat can take 20-point touch input as well as a digital stylus, so you can write, draw, or use your hands. The display now projects in a more imaging-friendly 3:2 proportion.
You create images using the Illuminator's downward-facing 14.6MP 2D camera or 3D camera and HP's Work Tooks software. (The original Sprout had an Intel RealSense camera, which has been replaced by this new, unidentified 3D camera.) By comparison, the Surface Studio and the dual-display computer expected from Dell offer digital work surfaces but no integrated image-creation capabilities.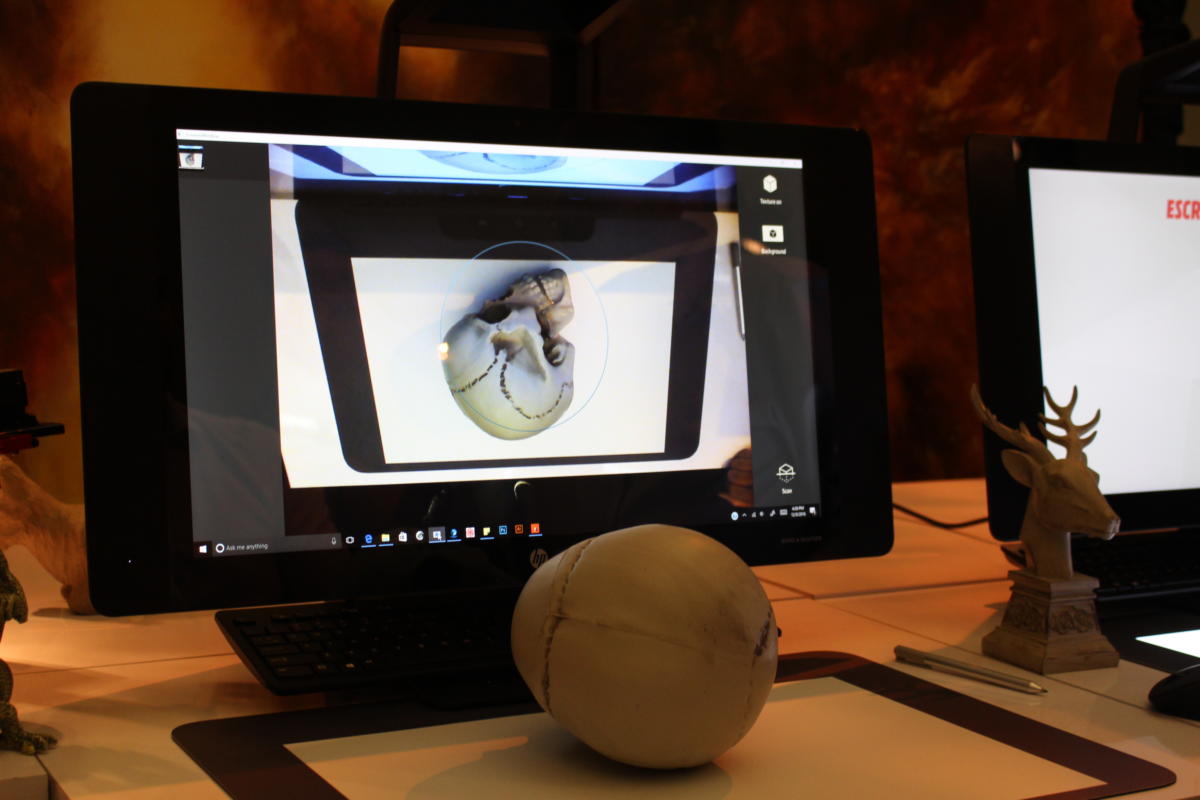 The rise of Windows 10 goes hand in hand with many of the Sprout Pro's improvements. The original Sprout had a proprietary, full-screen Workspace interface for image creation, because Windows 8.1 didn't quite offer what HP needed. But users balked at having to learn something new. "We spent a lot of time trying to hide Windows, but we found people wanted to work with it anyway," admitted HP Distinguished Technologist Brad Short, adding, "People felt trapped in the app."
The 3D capabilities coming with the Creators Update play right into the Sprout's strengths. The Sprout Pro will work with any Windows app that supports a digitizer, offering a more discreet array of WorkTools icons along the bottom of the screen. "We're exposing the features of Sprout in the apps they're familiar with," Short explained.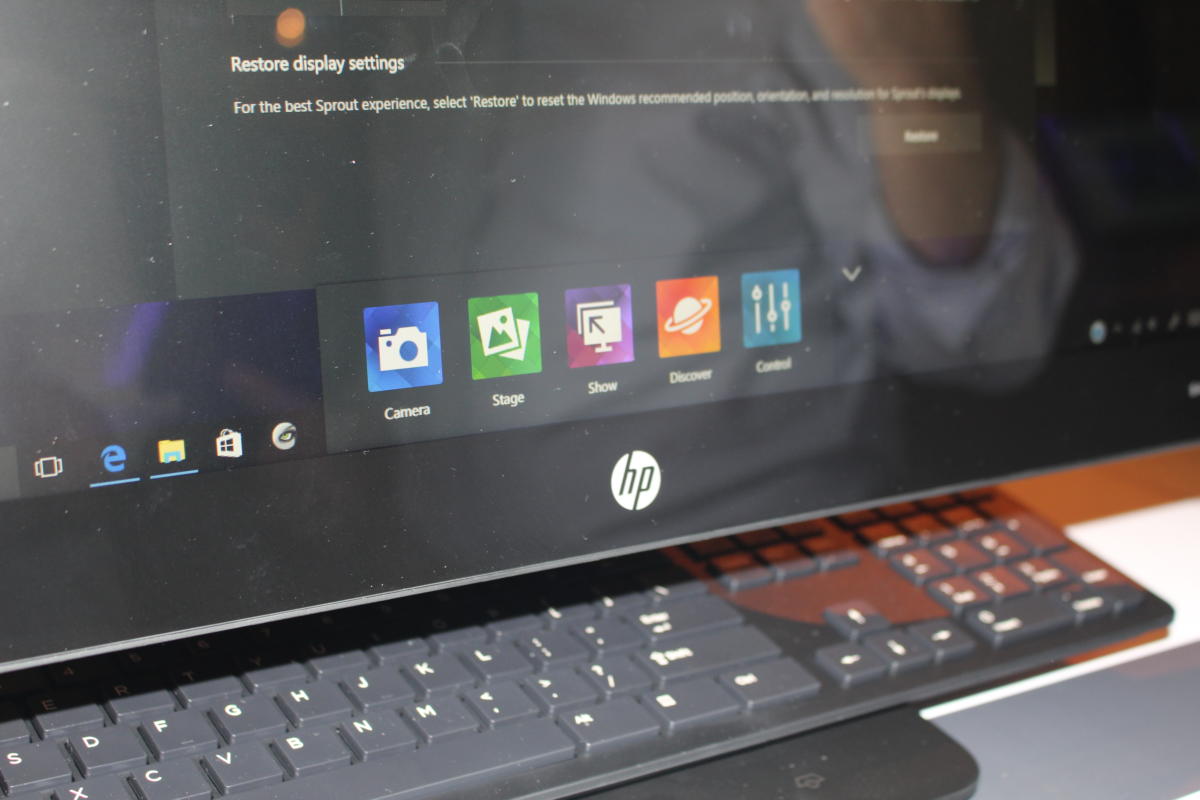 The Sprout Pro's features are resonating most in three markets, Short said: education, manufacturing, and retail. These are niches, to be sure, but large and lucrative ones. In education, where the project-based learning now in vogue has students making digital presentations and videos, "it's not just 3D printing but AR and VR," he explained. The Sprout's ability to turn any small object into a 2D or 3D image makes it "great for quick-and-dirty content creation," Short said.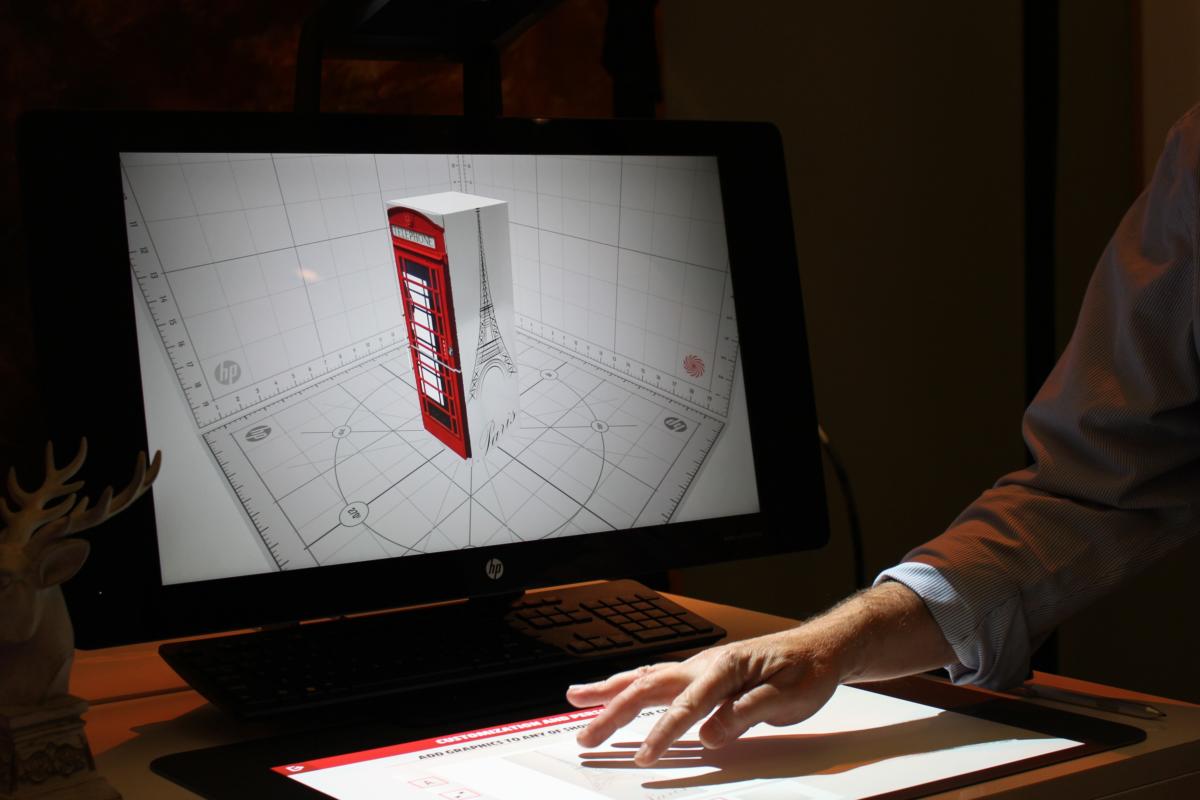 In manufacturing, the Sprout's projection capabilities are helping train workers on assembly lines, and in retail, it's an interactive tool. HP showed an example from European retail giant Media Markt, where customers use the Sprout to choose a decorative vinyl wrap for their appliances and rotate the mock-up to decide whether they like it. (So when is this coming to the United States?) "People love the large interactive surface," Short said.
You could argue that the original Sprout was before its time—most people didn't know what to do with it. Times have changed. The rise of augmented and virtual reality have made 3D imaging something people are beginning to expect in their everyday lives. As Windows 10's Creators Update moves an entire ecosystem toward 3D, it's only a matter of time before users will want to make their own AR and VR. The Sprout Pro is still the only PC that can do it all. It'll be interesting to see whether it can follow the AR and VR trend into mainstream acceptance.