One of PC gaming's greatest strengths lies in its unmatched versatility, and few gamers embrace that advantage as ferociously as sim enthusiasts. Diehard simulation enthusiasts craft elaborate battlestations with multiple monitors, beastly hardware, and specialized peripherals like flights sticks and head-tracking tools—anything to make that simulation feel even more real. Most of these jaw-dropping rigs are labors of love—DIY contraptions occasionally shared on the Simstation subreddit—but now PC builder Velocity Micro wants to make no-compromises sim stations available to all with the turn-key RennSeat Pro.
"Speed is in our blood and our heritage that dates back to our founding 20 years ago. Building a racing cockpit was a natural progression and an extension of that philosophy," Randy Copeland, president and CEO of Velocity Micro, said in a release. I don't often quote press releases, but he has a point—"Velocity" is right there in the company's name, and "Renn" means "Racing" in German.
The RennSeat Pro contains a triple monitor setup, a full-blown racing seat, racing peripherals, and (naturally) a Velocity Micro gaming PC within its adjustable steel frame. Into sims, but not racing? Don't sweat it. The RennSeat Pro's cockpit also accommodates flight and space sim controls. (Elite Dangeous with a HOTAS and VR headset will change your life, Commander.)
"Our goal is to keep the configuration options for the frame very limited for simplicity, but then offer choices of upgraded peripheral sets and, of course, PC hardware," Velocity Micro marketing director Josh Covington told me. "Pricing has not been finalized, but we'd like to have packages start around $4,000, ready to race."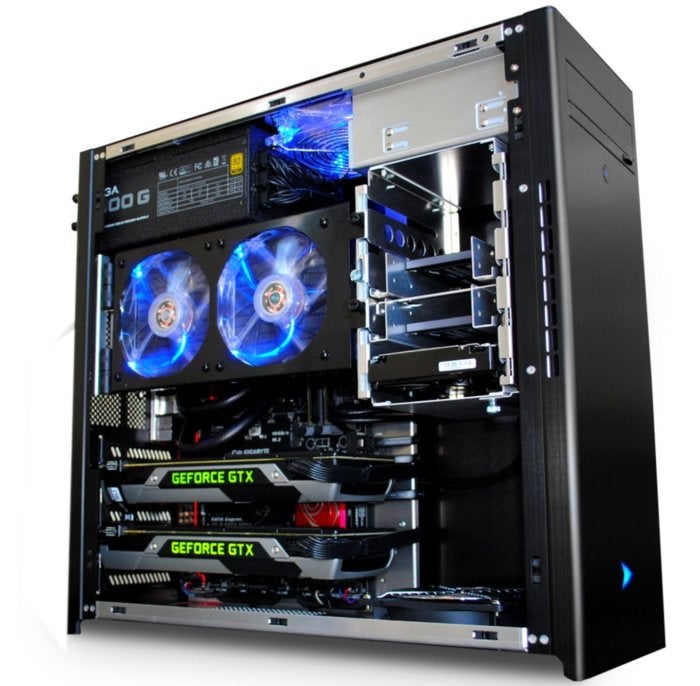 Pre-fab simstations aren't completely unprecedented, as you can snag basic cockpits from specialized vendors like RSEAT for roughly half as much as Velocity Micro's $4,000 target (or much, much more for the really high-end setups). But RSEAT's solutions don't come with displays or a PC, so they aren't ready to rock out of the box like the RennSeat Pro.
Speaking of being ready to race, the RennSeat Pro will be available directly from Velocity Micro at the end of January. When it hits the streets, the PCs powering the guts of the RennSeat Pro will pack Intel's just-announced Kaby Lake desktop processors and 200-series motherboards, as Velocity Micro is also announcing that all of its computers (including the ProMagix HD80 pictured above) are available with Intel's latest and greatest right now.