Intel's new Kaby Lake desktop processors may not be huge improvements over their Skylake predecessors in terms of raw speed, but they've got it where it counts in one enthusiast-friendly area: overclocking. Before Kaby Lake's launch, two PC makers and a motherboard vendor told us that the chips overclocked to the vaunted 5GHz milestone with shocking regularity. Now the high-end custom PC builder Origin is putting its (and your) money where its mouth is.
Origin's has offered professional overclocking as a $75 option in its systems for a while, and now the builder is touting that Kaby Lake desktops chips will go up to—and potentially over—the 5GHz barrier. Hot, hot, hot, hot damn. Intel's chips haven't hit such lofty heights since the Sandy Bridge days and the Core i7-2600K. Since then, Intel's processors usually tap out around the 4.5GHz mark.
While the current wording for Origin's professional overclocking doesn't guarantee a set frequency due to the silicon lottery—promising only that "Origin PC's award winning system integrators will overclock your processor and squeeze out every last megahertz" with every overclock "stringently tested and benchmarked for ensured stability"—the company must feel darn confident to market that 5GHz number in big, bold numbers in a press release. And that confidence is underscored by Origin's free lifetime 24/7 tech support for every system it sells.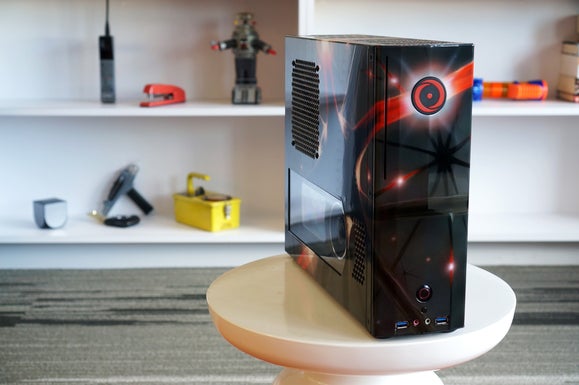 Backing up Origin's boldness, Asus separately told PCWorld that "through rigorous testing, ASUS engineers have fine-tuned a profile that allows Kaby Lake CPUs to overclock to 5GHz with an 80 percent success rate" on its motherboards. Falcon Northwest also sent us a small form-factor PC that ran rock-solid at 5GHz—which let the four-core Core i7-7700K match a six-core Broadwell-E "Extreme Edition" chip in performance in Cinebench's multi-threaded benchmark, and beat all comers in single-threaded performance.
Maybe Origin isn't so crazy after all. Kaby Lake overclocking could be the Real Deal, folks. Enthusiasts, start your engines—and grab your liquid-coolers.