As a Las Vegas native who enjoys watching boxing and has always cursed the exorbitant cost of entry to fights at the MGM Grand, when an invitation to a CES event at Top Rank Boxing Gym appeared in my email inbox, I immediately RSVPed. Top Rank is a legendary boxing promoter, and its gym is where some of the greatest fighters have trained. So I went to the gym after a day of canned press conferences from the world's biggest tech companies to see featherweight Francisco Esparza, a local champion, throw punches in the ring.
Esparza was demonstrating a new wearable device from French startup Piq Sport Intelligence, who partnered with 100-year-old boxing gear maker Everlast to develop what it calls Robot Blue. Piq's Robot Blue is a sensor-packed nanocomputer that a boxer or mixed-martial arts fighter slips into a wrap, which is then placed around the hand or the top of the glove. The sensors, which include two accelerometers, a gyroscope, and an altimeter powered by an M4 processor, collect 190,000 data points per minute on everything from punch speed and retraction, punch impact, type of punch, punches per minute, and calories burned.
Piq built an artifical intelligence program called Gaia which uses assisted machine learning, or information about boxing that Piq's team has collected from the top athletes in the world, to analyze all that data and calculate in real-time punch type and speed.
As Esparza sparred in the Top Rank ring, the punches he threw and how quickly he threw them were displayed on a giant screen. One punch was 22.3 miles per hour, which sort of feels like a plane speeding into your face.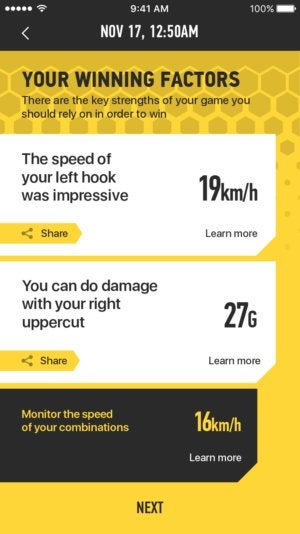 The data analysis appears in the Piq app, which gives you information on how fast and strong your moves are. It even gives you a "winning factor" by comparing your current sessions to past sessions and figuring out which punch is the key to succeeding in the ring.
Piq Robot Blue isn't just for pros, though Everlast is seeding the wearable with many of the 40 boxers and MMA fighters that promote the brand. Piq says boxing and MMA are becoming popular gym workouts, and that the $99 Robot Blue is designed for fitness, not just for professional fighting.
"Boxing hasn't had a lot of science and data to help athletes perform at their best," Cedric Mangaud, CEO of PIQ Sport Intelligence, said during the Top Rank demo.
Mangaud thinks boxing is considered basic because it doesn't require much equipment—just gloves and a sparring partner, or a heavy bag if you can't find someone to fight. But running is also a simple activity that has grown into an industry with the help of technology, and boxing could be the same.
The one downside: Piq Robot Blue ships with one device and a handwrap for $99, but you need two Robot Blues and two handwraps to get a complete overview of your boxing performance. Manguad said one device will suffice to get started, and you'll still be able to compare your personal performance to the Piq boxing community overall.
Piq Robot Blue is available to preorder now and will be available in specialty boxing shops in February.