It was only a couple of years ago that auto makers started appearing at CES touting self-driving car systems. Now those vehicles are taking to the roads in various trials around the world and on Wednesday in Las Vegas, we got a chance to ride in an autonomous version of Hyundai's Ioniq four-door sedan.
The car was capable of "level 4" autonomy, which means it can drive itself without human help. It recognized traffic signals and stopped when needed, was able to negotiate turns and slow down for other traffic and pedestrians.
At the heart of the car are three laser imaging sensors that provide a 180 degree view of the surroundings ahead. The data from the sensors is matched with a detailed 3D map that was generated ahead of time, and enables the car to figure out where it is on the road. It also picks up on visual cues like lane markings.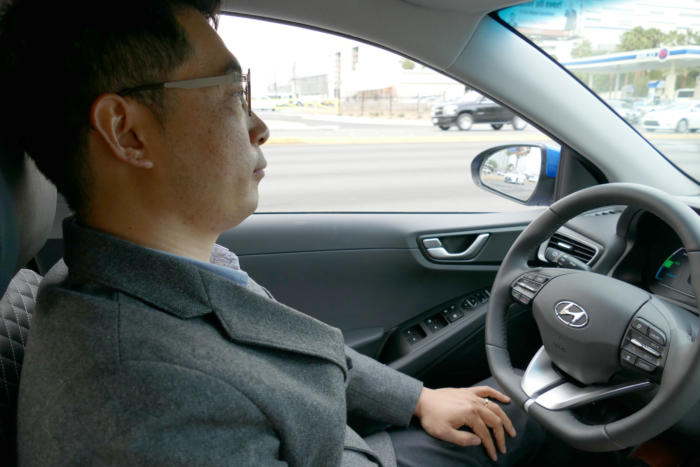 This is how most autonomous cars work these days. The road needs to have been mapped in advance because the cars can't really think and figure things out from scratch.
The ride was fairly smooth although some acceleration, braking and steering was a little bit jerky—a sign of the computer control.
Perhaps the most interesting moments came when the car encountered the many minor law violations that occur on roads everyday. Hyundai has programmed it to obey the law—it couldn't ethically do anything else—but that meant the car stuck to a sedate and legal 25 miles per hour while most other road users cruised by at faster speeds.
At at one stage, when turning right at a junction, it encountered a pedestrian who wasn't waiting on the sidewalk but in the gutter. The car sensed him in the road and slowed to an almost halt. A human driver might have simply taken the curve a little wider.
The short drive only took about 10 minutes so it was impossible to really see the car working under a number of different conditions—but then, the technology isn't production-ready yet.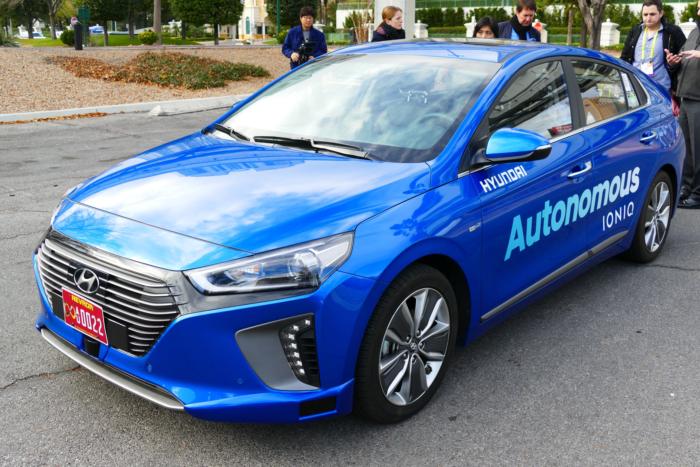 Hyundai, like many other auto companies, is researching the electronics and computer processing needed to safely and efficiently let cars take over from humans during most driving.
And when control was wanted back, the driver could resume by simply grabbing the steering wheel or placing a foot on one of the pedals.