Let's face it: The first digital assistants for the home—Amazon Echo and Google Home—often feel like simple Internet portals with thin veneers of humanity to make them feel more warm and fuzzy. But now Mattel is trying to go beyond that with Aristotle, a personality-driven hardware assistant designed just for kids.
Through a partnership with Microsoft (which will lend its Cortana digital assistance technology to the project), the $299 Aristotle straddles the line between a digital nanny for parents and a teaching companion for kids. Though it all might sound a bit hokey, the hardware's pedigree is sound: Aristotle is the brainchild of of Mattel's nabi team, which use to be known as Fuhu, the tablet company that Mattel bought in 2016.
Aristotle consists of two components: a webcam (think baby monitor) and a cylindrical speaker that chats back and forth with kids. Evoking the design of Google Home, the speaker also has colored LEDs embedded deep within. These lights can perform night light duties, as well as change colors in response to questions, or as parts of games.
Aristotle uses three artificial intelligence engines: Mattel's own, Microsoft Cognitive Services (and soon, Cortana), and a third developed by Silk Labs. There's a lot going on under the hood: Not only is Aristotle designed to identify different children by their voices, but it can also instruct them, and interact with them, as they grow from a toddler to pre-teen.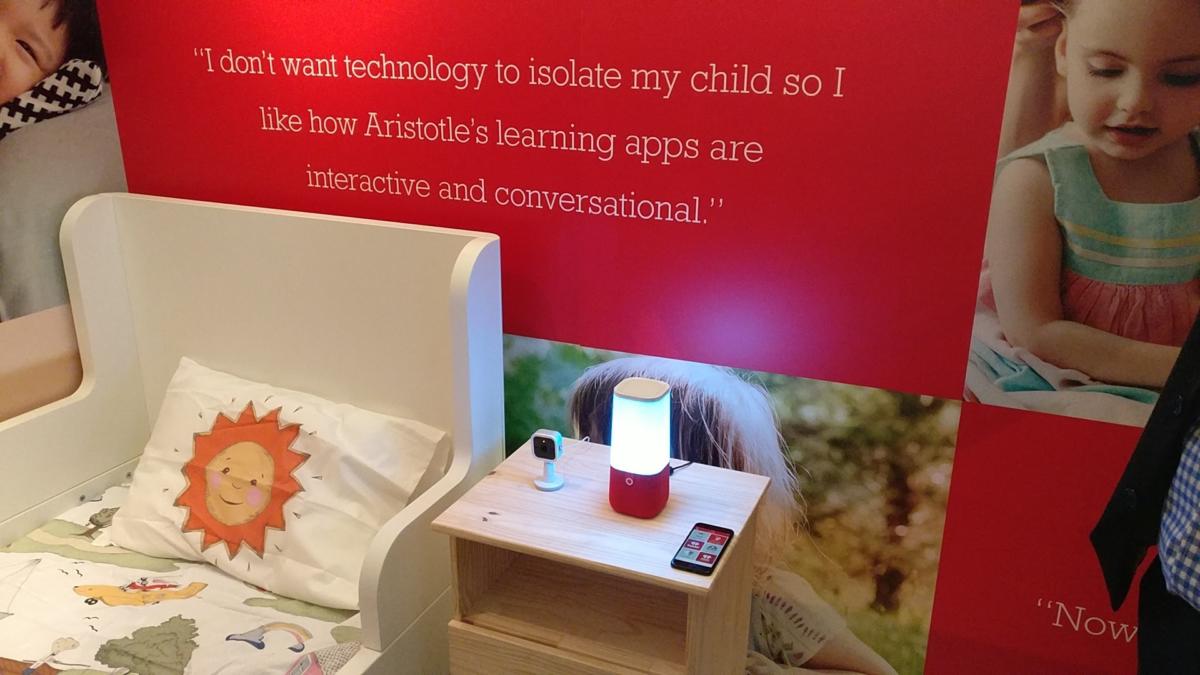 I've found Fuhu's tablets to be thoughtfully designed, with software and services tailored to the subtle shadings of child-rearing. It appears Mattel is sticking to this playbook, if my Aristotle demo at CES 2017 is an evidence. Case in point: Adults can program Aristotle to only respond if a child says "please" after the "Aristotle" trigger command. Aristotle also listens for crying, and will alert parents via a notification if it hears any.
Aristotle also features behaviors that the company describes as "do this when" protocols—Mattel's own take on the If This Then That (IFTTT) platform. Crying, for example, can trigger Aristotle to play a lullaby or a recorded message from the parent. Conversely, a child's crying can also trigger nothing at all, to let the kid settle down on his own. Parents will be able to configure these behaviors via the app.
Mattel says that as a child matures, Aristotle will be to provide more complex interactions. For example, there's language instruction. Lisa Lee, a senior manager for marketing and communications, said Aristotle can be programmed to respond only in Spanish during specific hours to help older children practice their language skills. Aristotle can also interact with and control Zigbee and Bluetooth devices (either natively, or via its own SDK), and, theoretically, restrict access to those devices until homework or chores are complete.
Executives said Aristotle has been built with COPPA compliance, ensuring a child's privacy is maintained. To prevent DDoS attacks or a random hacker spying on the child as he or she is playing, there are no default passwords. Instead, the phone and Aristotle forget their own encrypted connection via Bluetooth. All data is always encrypted, to and from devices and to the cloud.
Aristotle has her own voice (yes, it's a she) and sounds remarkably like the actor Microsoft uses for Cortana, though perhaps a bit younger. She'll answer questions about herself and (presumably) tell jokes as well.
In a demo inside Mattel's suite at a Las Vegas hotel, Aristotle didn't always recognize commands, though, and the Wi-Fi congestion typical of a crowded tech convention also prevented some aspects of the demo from working as expected.
It's unclear how "deep" Aristotle will go to educate and entertain kids that may grow bored quickly. What will happen when a five-year-old asks it to tell a fart joke? Or what about when an 11-year-old asks Aristotle about sex—with her little brother in the room? Family life has a complexity all its own, and it's going to be up to Aristotle to sort it out.
Correction: Aristotle will be priced at $299, not $249.