After making a name for itself with MacBook-like keyboard docks for iPads, Brydge is now taking on Microsoft's Surface.
The Brydge 12.3 is a Bluetooth keyboard that clips to the tablet section of a Surface Pro 3 or 4 with a pair of sturdy silicone hinges. At 1.3 pounds, the base is hefty enough to hold the Surface upright without leaning on the tablet's kickstand. In other words, it adds an element of "lapability"—Microsoft's term, not ours—to the Surface Pro line, forming a sort of makeshift Surface Book.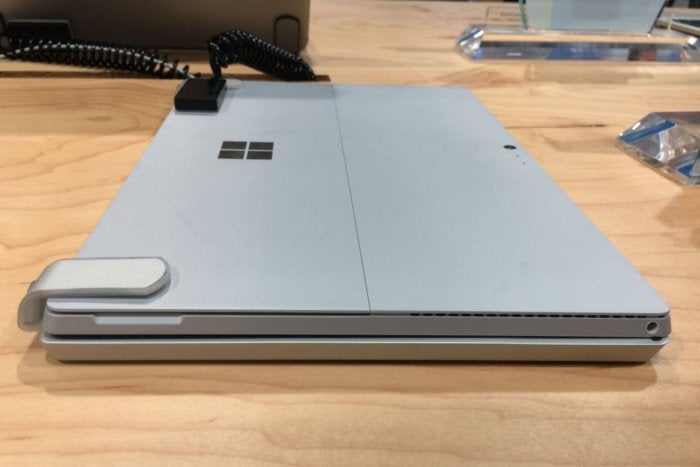 Optionally, buyers can also equip the keyboard with 128 GB of built-in solid state storage, which users can connect to the tablet via a USB cable.
The keyboard itself is meant to be an improvement over Microsoft's own Type Covers, though my brief hands-on left me with mixed feelings. While the island-style keys aren't as spongy as those of the Type Cover, the trackpad is smaller, and has a matte finish that feels tougher to manipulate than the Type Cover 4's glass trackpad. Owners of the Type Cover 3 might find the improvements more substantial. (Update: Brydge says the final design of the trackpad will change from the pre-production sample demoed at CES.)
The other issue is Brydge's use of wireless connectivity, rather than the physical connector that Microsoft's Type Cover uses. This necessitates recharging the keyboard once every few months, and carrying around a USB cable for the SSD. It also rules out the possibility of a battery dock, which would be a godsend. (My Surface Pro 3 routinely dies within four to six hours of use.)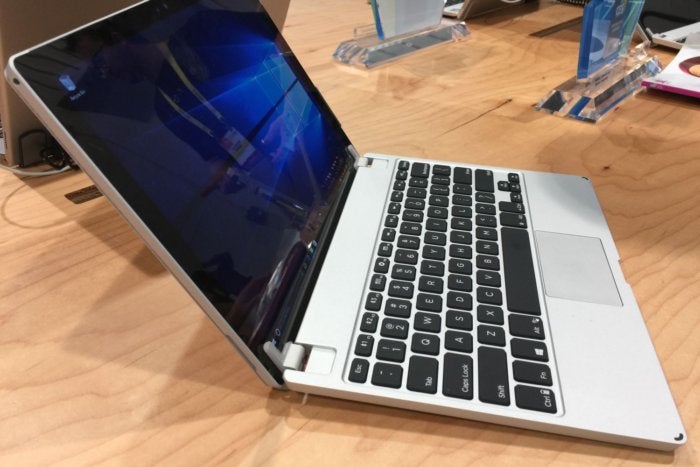 As Brydge CCO Toby Mander-Jones explains it, a physical connection would be tricky, as it would either require a fixed viewing angle for the screen, or some kind of narrow ribbon-shaped hinge that could lead to durability problems.
It's worth noting that the Brydge 12.3 units on display at CES were pre-production samples. The real thing will be available this spring for $150, or $250 with the 128GB SSD built-in. The cheaper version is available for pre-order now at a $20 discount.