Intel offered me a chance to try out its new Project Alloy mixed-reality headset prototype on Thursday. For about five minutes, I tried shooting some digital flying robots from the comfort of a replica living room inside the Las Vegas Convention Center.
Project Alloy, which was first announced at Intel's developer conference last year, is an untethered headset that blends virtual-reality content with information about the physical world around its wearer. It's designed to give people more freedom of movement when playing games, and also save people from having to buy an expensive gaming rig to play VR games.
Based on my brief experience playing the same game that Intel showed on stage Wednesday, the prototype shows a lot of potential. However, it's hard to know exactly how that will translate into what consumers will get later this year. Intel revealed Wednesday that it's working with selected manufacturing partners to make Project Alloy devices available in the fourth quarter of 2017.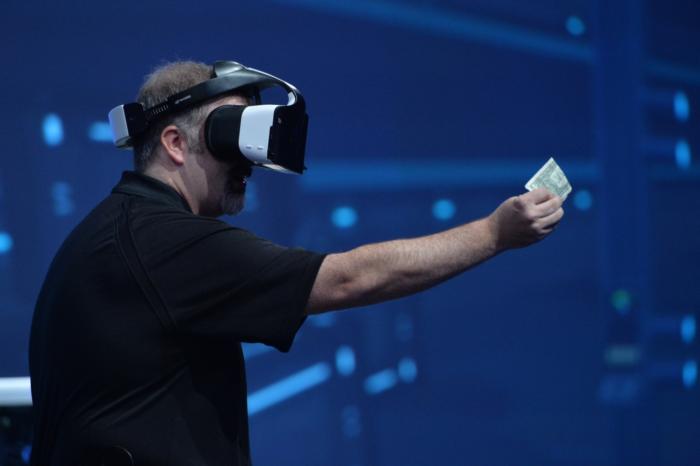 In the meantime, all we have is the Intel-made prototype. It packs in a pair of RealSense depth cameras positioned basically on either side of the user's nose, along with two RGB cameras at roughly the user's eye line, and a pair of fisheye cameras at the edge of the visor. Those sensors can be used to render the wearer's surroundings in virtual reality.
Its band design is fairly reminiscent of the PlayStation VR headset, with a curved forehead plate attached to an adjustable headband. There's a large plastic pack on the back of the headband as well. The shooter game that I played lasted only a few minutes, and the headset seemed comfortable enough at the time.
It's hard to know how comfortable the device would be for longer sessions. And again, because this is just a prototype, it's possible that the commercial versions will feel completely different.
In order to get the game up and running quickly, Intel preloaded all the objects in the room onto the Alloy headset. Unfortunately, my headset's model of the room I was in had drifted slightly relative to the actual objects in the room. That led to me slamming my shin into a coffee table in the center of the room that was supposed to be several inches away.
This problem is supposed to be fixed by using the RealSense cameras to detect the positions of objects in real time. In this case, the headset wasn't set up to do that.
There's still a lot we don't know about the final hardware, like exactly when it will be available, how much it will cost, and more.
Eli Elhadad, the Intel RealSense studio manager, said during my demo that the shipping version of Alloy will have more powerful hardware than the prototype. It will feature a Kaby Lake-based processor, a 400-series RealSense camera and a graphics processing chip from Movidius, which Intel acquired last year. In each case, those upgrades are supposed to provide better performance.
It will also be interesting to see if Intel ends up working with Microsoft. The prototype offers untethered mixed-reality experiences, which would fit nicely with Microsoft's vision for its Windows Holographic platform. The two companies previously announced that they were working together on Alloy, so it seems likely more will come of that.