Microsoft said Tuesday that it plans to simplify the privacy options in the upcoming Creators' Update, though some may see one component as limiting user choice as well.
Microsoft plans to revamp how privacy is managed in the upcoming Creators Update to Windows 10, both as part of the initial setup as well as the amount of data it collects in day-to-day diagnostics. That amount will actually decrease, if a user so chooses. But Microsoft has also eliminated an intermediary option, forcing the user to choose whether to provide Microsoft minimal or "full" access to their PC.
If that all seems somewhat confusing, Microsoft also said it has dedicated a new page to explaining what data it collects, and how to erase that data from Microsoft's service. The new privacy dashboard is available online, and accessible if you're logged in with your Microsoft account.
Why this matters: Most people aren't really sure what data the devices they use collect about them—though they rarely hunt that information down. Google provides a nicely organized page about the data it collects, including an Activity Controls page that offers data privacy controls similar to what Microsoft is launching. Apple does a much poorer job, basically tossing a ream of legalese at the user. In any event, any free service is often paid for by your private data. Google and now Microsoft are making that transaction somewhat more transparent.
Microsoft's privacy dashboard
Microsoft's new privacy dashboard isn't entirely new. The company has always allowed users to access and manage the data collected by Windows 10. Enterprises have even more control. But the new dashboard puts this all in one place, online, with simple language that explains what's going on. More importantly, users can decide to block or erase that data.
For example, here's what Microsoft showed me about my recent trip to Las Vegas to cover CES: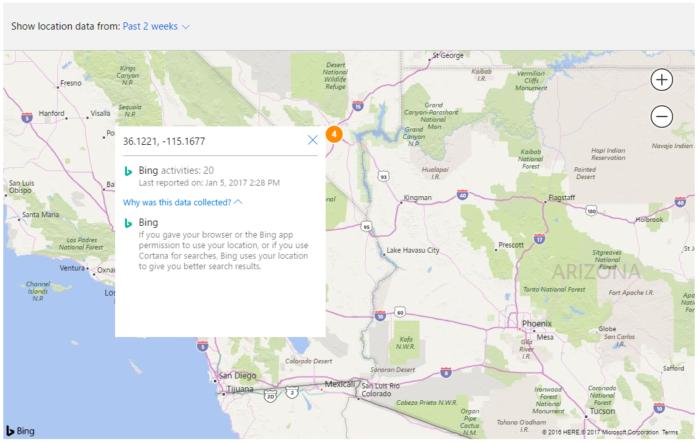 The new Web dashboard allows you to review and optionally clear access to your browsing history, Bing search history, location activity, Cortana's Notebook, and Microsoft Health, if you own one of the devices that can connect to the service. There's also a link to Microsoft's overarching privacy policy.
"At Microsoft, we believe privacy starts with putting you in control and giving you the tools and information you need to make informed choices," the company's site states. "This website is the place where you can manage your privacy settings for the Microsoft products and services you use, and where you can view and clear the data that Microsoft saves to the cloud."
Privacy changes in the Creators' Update
In a couple of months, Microsoft plans to roll out the Creator's Update, which it's slowly rolling out to Windows Insiders via a series of new builds, including a massive one this week. Every time you install Windows—or a major update like the Anniversary Update or the CU—Microsoft typically asks you to review your privacy settings. In each case, you have the option to allow Microsoft to manage them—known as Express Settings—or to customize them yourself.
With the CU, it appears, Express Settings will be replaced by a series of toggle switches (enabled by default) that will still give you the option to customize them. Each switch—governing location, for example—will briefly explain what sort of data it collects.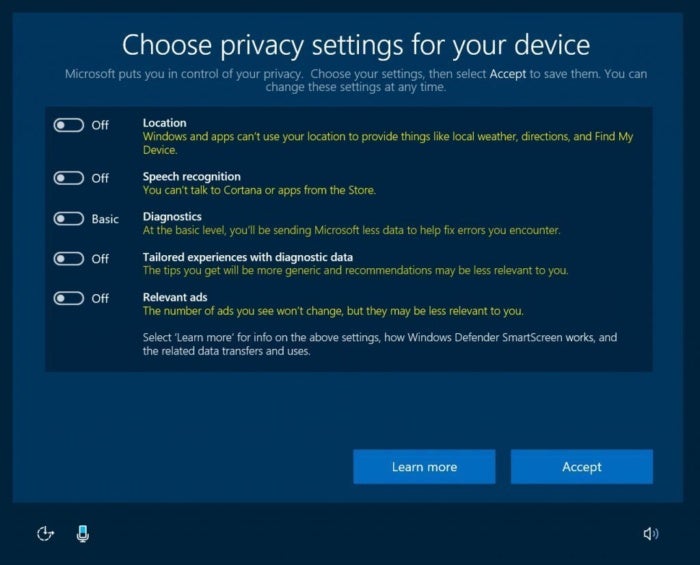 If you toggle off a privacy component, blocking the data from being sent to Microsoft, the toggle will explain the consequence of that action. Microsoft obviously wants you to leave that switch toggled on, but at least it will provide information both for and against your decision. Your privacy decision, though, is flexible. You can currently go to Settings > Privacy > Location to toggle on and off your device's location tracking. (The new online privacy dashboard also adds another option.)
But Microsoft's revamped privacy options actually strip away a choice in one key aspect of Windows 10's day-to-day operations. Under Settings > Privacy > Diagnostics and Feedback, you have three options to send Microsoft details of how you use your PC: Full (the recommended, default setting), Enhanced, and Basic. Microsoft explains what each setting does, but here's the bottom line: The middle "Enhanced" setting is going away with the Creators' Update, forcing you to choose whether to send a minimal amount of data to Microsoft, or virtually everything.
Microsoft has also stripped out some data from its Basic diagnostics tier, including application usage data. A Microsoft spokeswoman called all the data it collects "vitally important to the provision of Windows," but decided to shift some of its data collection to the "Full" tier.
"One of the most significant things we removed from Basic is application usage data," the Microsoft representative said in a statement. "How applications are performing and interact, and how that affects things like battery life and system performance, is still extremely important for us to understand in order to provide a quality operating system. Application usage data and other items we removed from Basic are now being collected at the Full level."
Whether that's of concern to you probably depends on where you stand on privacy issues. If you opt for the Basic route, Microsoft is technically collecting even less data than before. If you find yourself talking to technical support quite often, though, and provide supplementary data to troubleshoot problems, you might have more concerns.
The point that should be made, however, is that Microsoft is making this conversation public, rather than downplaying it or even generally ignoring it, as Apple does. "We are continuing this commitment to make it as easy as possible for you to make informed choices about your privacy with Windows 10," wrote Terry Myerson, executive vice president of Windows and Devices, in a blog post. That's a good thing.