Microsoft's Windows 10 Insider Preview Build 15007 dropped Thursday afternoon, a scant few days after its huge Build 15002 went live. Apparently the company wasn't quite done.
The new build, detailed in a lengthy blog post, adds three key ingredients: new Edge features, the ability to easily resume work after switching PCs, and a downloadable themes store designed to freshen up your PC. There's also a small herd of Mobile improvements (we were wondering why there was no mobile component to Build 15002), some user-facing and some under-the-hood. It's all leading toward the major Creators Update, which should begin rolling out later this spring.
Why this matters: Microsoft's typically picks up the pace of rolling out new features a couple of months before it finalizes its latest "service patch" updates, like the Anniversary Update. Two releases in a week is certainly significant, though it's likely Microsoft's in-house developers are simply releasing a flood of pent-up code that they were working on over the holiday.
Making Cortana even more helpful
The most important new feature is Cortana's ability to help you pick up where you left off. According to Microsoft, once you switch PCs, Cortana will display quick links in the Action Center notifications to point you to the Web pages you were just viewing, as well as pointers back to cloud-based files like a recent PowerPoint document saved in SharePoint. This new Cortana capability will also take advantage of "notification grouping," first introduced in this week's build 15002, which consolidates relevant notifications in the Action Center so it's not overrun with seemingly unrelated links.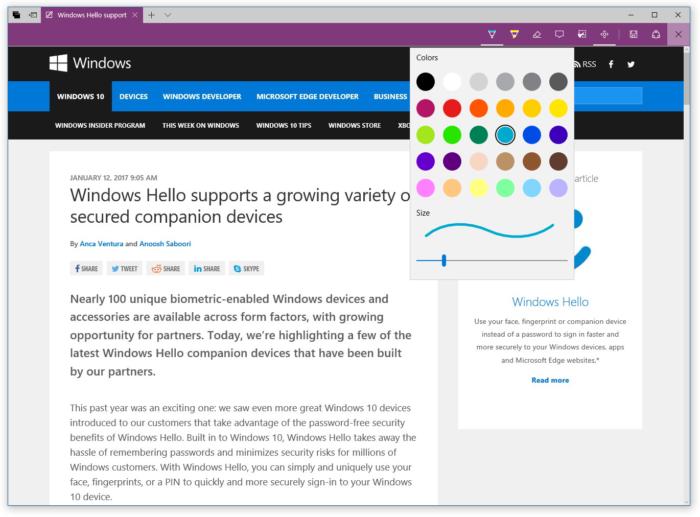 Build 15007 also adds a few smaller, functional improvements, such as an in-line "toast" progress bar for downloads, as well a scroll bar for downloads that slides out when you need it and disappears when you don't. The latter feature is similar to how you can configure your taskbar to hide itself in desktop mode, for example, then reappear when you move your mouse nearby. Bluetooth LE Peripheral role and unpaired Bluetooth LE device connectivity has also been added, though you'll have to install a separate SDK to enable them.
Windows phones also received some of their own, platform-specific improvements: app resets, better music playback controls via Cortana, and the reorganized Settings menus that the PC received in Build 15002.
Gussying up Edge and your desktop
Aesthetically, Build 15007's significant addition is the promise of future desktop themes, a feature that was much more common in the Windows XP and Windows 7 timeframes. Windows 10 users really only have a choice of a few stock backgrounds: the runner on the shoreline, the Windows logo, a swimmer, and one or two more. Now, Microsoft promises an entire section on the Windows Store will be dedicated to colorful ways to update your Windows 10 PC. (Unfortunately, that capability isn't quite built into the Store at press time, nor was a direct link to the themes collection. But it should be turned on soon, Microsoft said.)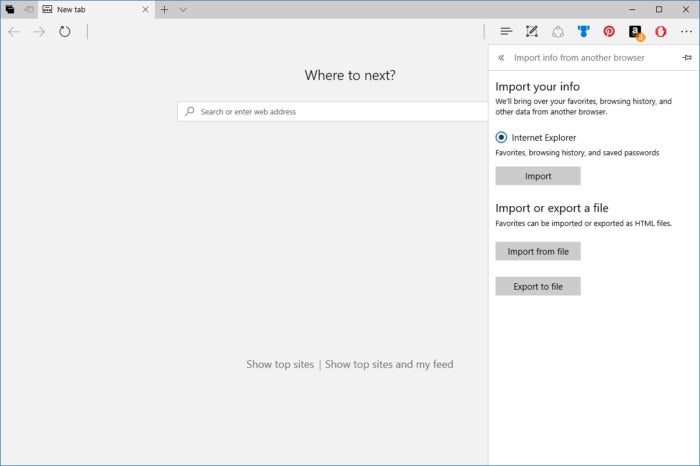 Microsoft's Edge browser gets some badly needed functionality. Hard to believe, but there hasn't been any really great way to import bookmarks and saved passwords into Edge, except by manually exporting them from another browser. With Build 15007, Microsoft solves that problem. Web-to-app linking is now present as well, so if you open a web link (to a Twitter webpage, for example), you'll have the option to launch the associated app.
Microsoft added a way to share not one but a group of Edge tabs with another user, in much the same way that webpages can be shared with any one of a number of apps. Web Notes, the ability to mark up a webpage, has also been Windows Ink-enabled.
Microsoft also promised some Windows Hello improvements. "For devices and peripherals that support Windows Hello. you'll now see visual guidance that tracks your face in real-time, shows you an improved progress indicator and gives you real-time feedback to quickly and smoothly set your face up for signing in," the company said. Still, Microsoft was a little cagey, and promised that the best way was for users to try it out themselves, at Settings > Accounts > Sign-in options > Windows Hello > Face recognition.