Voice-controlled gizmos are quickly taking over our digital lives, but an annoyance is coming with them: Why can't I personalize their wake words? Who among smart-home fans isn't tired of saying. "Hey, Google" to Google Home, for example?
There's a third-party program that aims to solve this problem for Cortana on Windows 10. MyCortana by the Sourceforge users LazyGuyz lets you change the "Hey, Cortana" wake word on your PC to anything you want.
If you're a Star Trek fan you might prefer a simple command like "computer" or "dammit, Jim." A political junkie might like a Trumpism such as "hey, failing pile of garbage." I tested these wake phrases with MyCortana and they all worked exactly as expected—even "cat" worked just fine. That said, I did get a few false positives from time to time, so be aware that words with common sound combinations may confuse the program.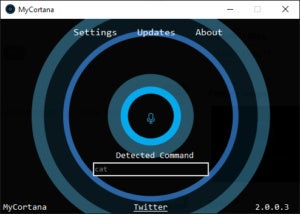 To get started, download the MyCortana .exe file from Sourceforge. MyCortana is a portable program, meaning it doesn't install on your system the way normal programs do and is not accessible from the Start menu; to use it you just double-click the .exe file.
Despite that portable nature, however, you can still set MyCortana to activate at startup: With the MyCortana window open, go to Settings, and at the bottom of the screen make sure the Run at startup option is checked.
If you do want to run MyCortana at startup make sure you don't delete the .exe file. In fact, you may want to save it to your Documents folder or somewhere a little more permanent than your downloads folder to avoid any unexpected purges when you're looking for a little extra hard drive space.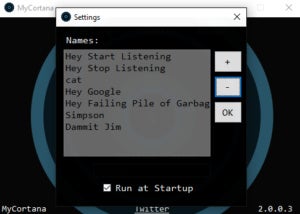 To set a wake word with MyCortana, click on Settings again, and then click the plus symbol on the right-hand side to create a new entry. Next, type in whatever name you want to use for Cortana, click OK, and then OK again, and you're ready to go. MyCortana lets you set multiple options if you'd like some variety in your wake words.
When you're done with MyCortana make sure you press the minimize-window dash and not the "x" in the top-right corner. The "x" will close the program, while the dash will make it disappear from the taskbar but keep it running. To open MyCortana again click the upward facing arrow in the notifications area of the taskbar to the far right. Then right-click on the MyCortana icon and select Open.
One thing to note about MyCortana is that it's not clear what, if any, information the developers are collecting from the program. I've queried the developers and will update this article with whatever information I receive.
In the meantime, it will be up to you to decide whether you're comfortable with the program as is.