Valve founder Gabe Newell took to Reddit yesterday for another hour-long AMA/Ask Me Anything session. Among the topics broached: Is Valve still working on singleplayer games? What are its plans for the future? And the perennial "What is up with Steam support? Why is it so bad?"
The timing is pretty fortuitous. Last week Game Informer published an interview with an alleged Valve insider, one who subsequently claimed Half-Life 3 would never happen. And as per usual, Half-Life 3 was the topic of many dodged questions, though Newell did say "I personally believe all unidentified anonymous sources on the internet" when asked about the article. Good ol' sarcasm.
Despite the absence of Half-Life 3, Newell did confirm that Valve hasn't abandoned its game development roots, responding to "Is Valve still working on any fully-fledged singleplayer games?" with a simple "Yes." (Via Reddit user Baldemoto )
More clues lie in other posts. Asked about the Source 2 engine (by The_Four_Leaf_Clover), Newell said "We are continuing to use Source 2 as our primary game development environment. Aside from moving Dota 2 to the engine recently, we are are using it as the foundation of some unannounced products."
And when asked by user Air_chandler what direction Newell would like to see Valve go in the future, he replied:
"The big thing right now is broadening the range of options we have in creating experiences. We think investing in hardware will give us those options. The knuckles controller is being designed at the same time as we're designing our own VR games."
Presumably the "knuckles controller" is the Oculus Touch-style prototype Valve demoed at Steam Dev Days in October. And with Valve's in-house project "The Lab" still being one of the most polished and interesting experiences for the HTC Vive, news of other projects is more than welcome. Hopefully we'll see something at the Game Developer's Conference in late February-Valve and the Vive have had a big presence there the last two years.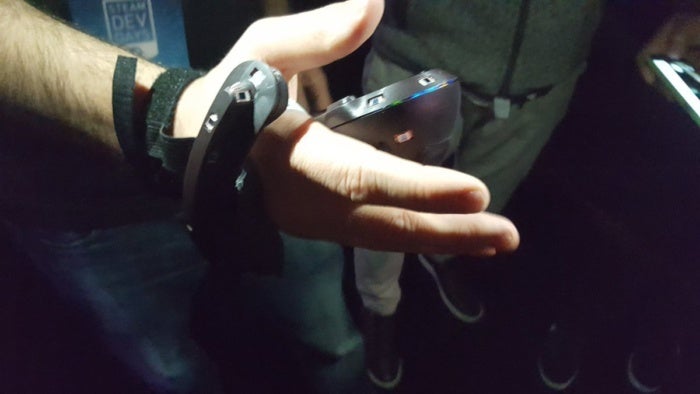 Steam's support and quality control were also hot-button issues. Newell mentioned support numerous times during his hour, though the lengthiest reply (to user rinnagz ) delved into concrete milestones.
"Since the last AMA, we've introduced refunds on Steam, we've grown our Support staff by roughly 5x, and we've shipped a new help site and ticketing system that makes it easier to get help. We've also greatly reduced response times on most types of support tickets and we think we've improved the quality of responses. We definitely don't think we're done though."
Definitely some important changes, though complaints with Steam's support crew (long wait times in particular) have only grown as the store's become more popular.
As for quality control, don't expect the flood of shovelware to stop anytime soon. When asked about it by ImpatientPedant, Newell's response was:
"There's really not a singular definition of quality, and what we've seen is that many different games appeal to different people. So we're trying to support the variety of games that people are interested in playing. We know we still have more work to do in filtering those games so the right games show up to the right customers."
That's not the most encouraging answer considering the amount of low-effort garbage cluttering up Steam these days. On the other hand, the anything-goes approach is probably better (and more sustainable) than Valve's old heavily-curated system. Not only is it less burdensome for Valve employees, there's more chance of something unknown like Stardew Valley breaking through and becoming a surprise hit.
Anyway, those are the salient details, though there's quite a bit more thread to mine. Small things, like Newell saying he's interested in studying "brain-computer interfaces," confirming that the Half-Life and/or Portal movies are still in the works, or discussing his regrets when it comes to the original Half-Life. Conspicuously absent: Any mention of Steam Machines. I recommend browsing through it if you're interested, as it's both an interesting look at a notoriously reclusive company and pretty much all the candid communication we can expect from Valve for the next four years or so.