Websites are more useful than ever in this advanced age of web apps. Unfortunately, they're also getting more annoying, with every site under the sun asking for your location or permission to send you notifications.
Alerts from websites are a great idea in theory, but they can also get redundant. Why get an alert from your PC about a new message when your phone is giving you the same ping? Or, even worse, Cortana may also send the ping to your Windows 10 desktop, giving you triple notifications?
Nobody needs all that noise. Here's how to turn off all notifications in Chrome.
How to turn off Chrome notifications
The process is actually pretty simple. Click on the menu icon (the three vertical dots) in the upper right-hand corner of Chrome. Then from the drop down menu, select Settings.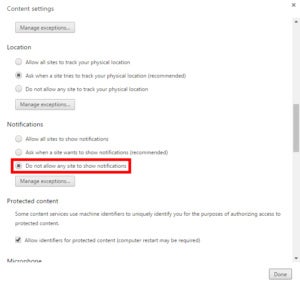 Next, scroll down the settings page and click the link Show advanced settings… at the bottom. Once the page expands scroll down to the "Privacy" section, and then select Content settings…
In the pop-up window that appears, look for the Notifications sub-heading. Now we've come to the meat of the operation.
Here you'll find three radio buttons:
Allow all sites to show notifications
Ask when a site tries to show notifications (recommended)
Do not allow any site to show notifications
By default, Chrome is set to ask when a site wants to deliver notifications. To turn them off completely, select the last option to not allow notifications. Next, click Done and then close the settings tab.
No site will ever beg for your permission again. You're all set for a notifications-free existence—at least on Chrome.