When last we saw Halo Wars 2, it was to take an all-too-brief look at its creative Blitz multiplayer mode—one part deck-building game, one part MOBA, and definitely different than what I've come to expect from the stagnant real-time strategy genre. It got me excited.
The campaign mission I played last week? Not so much—though to be clear it was only a single mission.
First, the good: It's Halo. There's a certain novelty, seeing the Halo universe from a perspective we've only seen once before. You've got miniature Warthogs circling around, chain guns firing at groups of enemy Grunts. A pair of Wraiths strafe in, balls of blue plasma arcing through the air. A Spartan moves in and leaps on the Wraith's back, hijacking it and using it to blow up its former partner.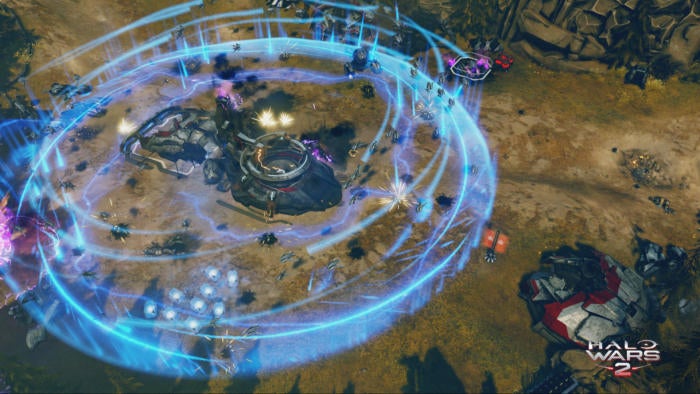 And there you sit above it all, an eye-in-the-sky general. That decades-long familiarity with the units and the universe is cool, and something most real-time strategy games (barring maybe StarCraft, Warcraft, and Command & Conquer) don't get to fall back on.
The problem, at least for me, is that so far—and keep in mind I only played one mission—it's Halo units doing the same ol' RTS mission we've seen a million times.
This actually came up as a topic of conversation during my last demo, though it didn't make it into the eventual article. I talked with 343's Dan Ayoub at length about campaign missions, and how every RTS mission seems to fall into one of a few categories: 1) Defend this point. 2) Escort this MacGuffin. 3) Standard base-building and attack. 4) Limited number of units go through a map. 5) Attack these three points.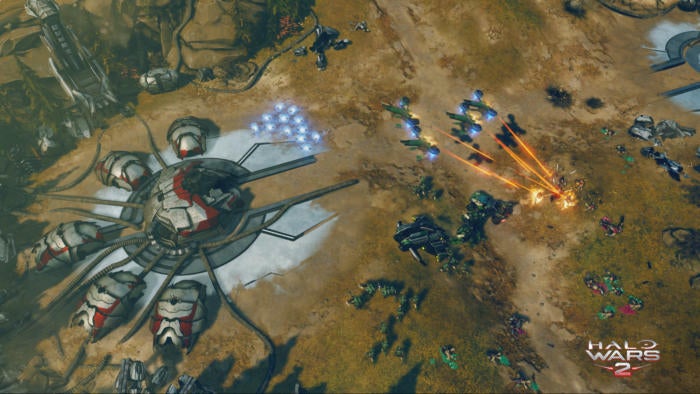 The mission we played last week was a blend of numbers 4 and 5. The first half of the mission involved us investigating some missing units, crawling through the map and taking on isolated groups of enemies. Then after ten or so minutes of that we dug in, built a base, and attacked three towers, trying to hold each to rack up points—or, in-fiction, to establish a comm-link or open a door or something.
It doesn't really matter, does it? And that's sort-of my problem with the way the RTS has gone, and the way we seem to see the same missions over and over again. They're so familiar now, it's hard to get really excited about the context. Halo Wars 2 is a beautifully cinematic game, but the end result is a level I played in StarCraft twenty years ago.
Halo Wars 2 doesn't seem bad. In fact, it has an advantage over some other games because the base building aspect is so quick. The transition from "Follow this handful of units through a canyon" to "Build a base to attack these three points" was a matter of maybe fifteen seconds, my base and barracks and hangar flying in from space. Cool.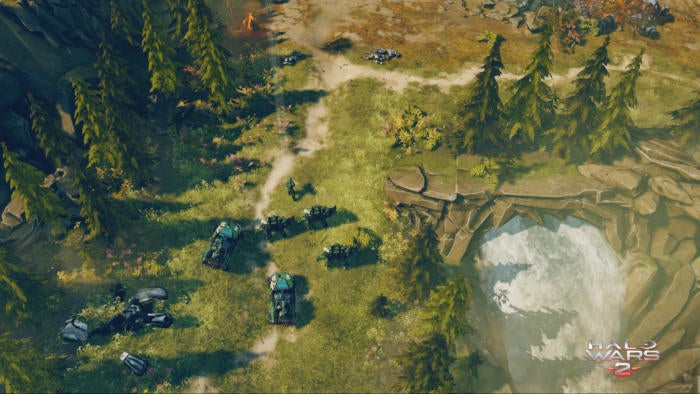 But Blitz Mode felt like a reinvention of the RTS, something that could draw people back in to a genre that's been largely neglected of late. The campaign doesn't. The mission I played is exactly what I'd expect from an RTS, no more and no less. Very polished, very clean, and very familiar. Over-familiar.
Let's end on some good news though, eh? I noticed the controls have changed since I played the game in October. Previously the game used the Function keys for control groups and the number keys for activating cards in Blitz mode. That may still be true—I didn't go back to it. But in the campaign at least, control groups are set using the Control and the number keys, like any other RTS. It feels like a PC-first strategy game, even if its roots are in consoles.
We'll have a lengthier review when Halo Wars 2 launches on February 21. And once again, I only played a single mission and that single mission didn't impress me. That doesn't mean you should write it off though. I'm hoping the full campaign packs in some unique structures and surprises.
And if not? Well, there's still Blitz mode.