Editor's note: This article originally published on January 19, but was updated on January 22 after prices dropped even further on Amazon and Newegg replenished its stocks.
The long, confusing lifecycle of AMD's beastly Radeon Pro Duo is quietly entering its final days as retailers clear the deck for the forthcoming Radeon Vega graphics cards.
The $1,500 MSRP Radeon Pro Duo sits reigns as AMD's graphics champion with not one but two high-end Fiji graphics processors, exotic high-bandwidth memory, and integrated closed-loop water cooling that kept the board running at chilly temperatures. But the timing and messaging around the graphics card just felt wrong from day one.
Further reading: The best graphics cards for PC gaming
AMD first teased a then-unnamed dual-Fiji graphics card at E3 2015—a decidedly consumer-focused gaming event—alongside the Fury, Fury X, and Radeon Nano. While those gamer-focused cards launched in relatively short order, the Radeon Pro Duo languished all the way until March of last year, when it released with a newfound focus on professional users and hellacious GPU compute chops.
That bummed out enthusiasts hoping to unleash the power of two Fury X GPUs in a single card, but it made sense for AMD to focus on development scenarios instead as the effective 4GB capacity of first-gen HBM memory would no doubt hinder gaming performance at the resolutions and detail settings that two Fiji GPUs could push. Plus, multi-GPU gaming has been punched in the gut over the past two years, with few major game releases supporting CrossFire or SLI setups, further diminishing the Radeon Pro Duo's potential effectiveness.
Unfortunately the marketing for the Radeon Pro Duo was muddled and confusing right up until its launch, and once the ferocious GeForce GTX 1080 released a mere two months later there was little reason for many users to consider buying AMD's technological champion no matter how impressive it was on paper. AMD never even sent the Pro Duo to consumer publications for testing.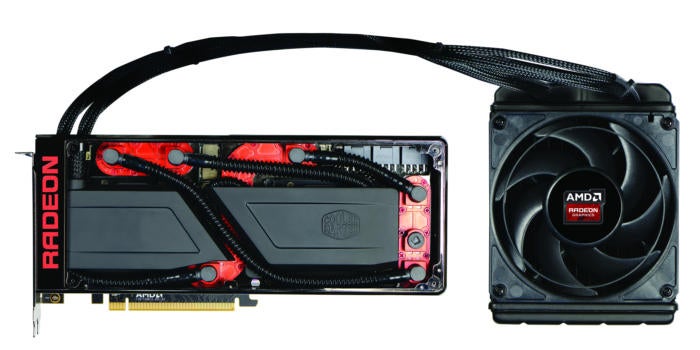 Now that AMD's publicly showing off its high-end Radeon Vega graphics cards, which pack performance upgrades and second-gen HBM memory that ditches the limitations of the initial product, the Radeon Pro's days are numbered, as TechPowerUp pointed out. While Amazon's selling the XFX Radeon Pro Duo for $1150, a $350 discount, Newegg's selling the XFX Radeon Pro for $800, as is Japan's PC4U—nearly half off!
Or at least it was. The remaining stock sold out quickly at that price on Newegg, proving yet again that there's no such thing as bad hardware, only hardware at bad prices. UPDATE: The XFX Radeon Pro is available once again on Newegg, but for $820 now.
If you're curious about what's to come in Vega, Gordon Mah Ung and I recently chatted with Radeon SVP and chief architect Raja Koduri for more than 40 minutes at CES, drilling deep into the details of AMD's next-gen graphics cards. Check out the full interview below.