Asus just jumped into the mini PC game with a solid choice for 4K video-capable entertainment computer.
The company is currently selling the Asus Tinker Board in the UK and Europe with prices starting around 46 pounds—about $57. That's quite a bit more than the top-end Raspberry Pi 3 Model B, which has an MSRP of $35 but usually sells for around $40.
The 4K video support—including H.265 decoding—in Asus' board is thanks to the Mali-T764 GPU lurking inside its quad-core, 1.8GHz Rockchip RK3288 SoC, as first reported by Hexus. In addition to 4K, the board also supports 192kHz/24-bit audio. The PC comes with 2GB of RAM, Bluetooth 4.0, four USB 2.0 ports, 1 HDMI out, microSD port, gigabit ethernet, and 802.11b/g/n Wi-Fi. For hobbyists, the Tinker Board packs a 40-pin internal header with 28 GPIO pins, CSI port for the camera, and DSI port.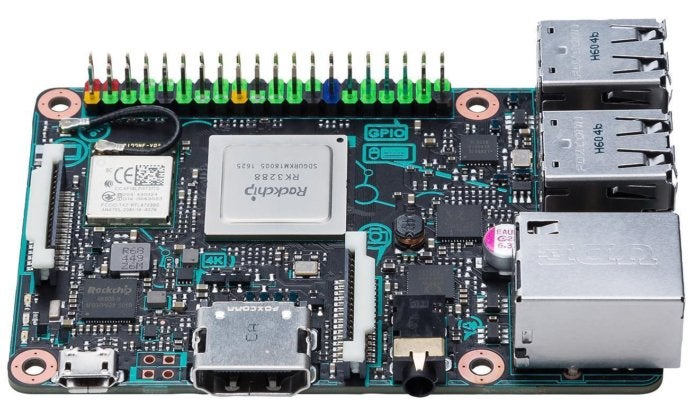 The 2GB RAM is particularly nice considering the Raspberry Pi Model 3 B comes with just 1GB. As for software, the UK sales page says it supports Debian Linux and (conveniently) Kodi—the popular media player. This is no different than the Raspberry Pi, and just like the Pi, it appears you'll have to load the OS onto an SD card yourself. Also similar to the Pi, the Tinker Board requires you to supply your own five volt, two amp power supply, .
The impact on you at home: The Asus Tinker Board appears to be a nice little device though we can't say how well it performs pumping out 4K video as we haven't tested it. Anyone eyeing this device as an import or waiting for it to land in the U.S. should know that it will lack some of the conveniences that have built-up around the Raspberry Pi. The Pi has a wide selection of cases, for example, and you can also buy starter kits from third parties that come with the software pre-loaded on an SD card, power supplies, and everything else you need to get started.
Nevertheless, if you need 4K and want a mini PC there isn't much of an option on the Raspberry Pi side. Though I wouldn't be surprised if that changed within the coming months—that is just speculation, however.