At a Glance
Expert's Rating
Pros
5GHz!
Fairly quiet
Beautiful custom case
Cons
Expensive
Side door can be tricky to reattach
Air cooled GPUs
Our Verdict
Digital Storm's Velox offers head-turning looks and class-leading parts in a gorgeous, custom-designed case.
Best Prices Today: Velox
How long has it been since you could buy an off-the-shelf PC that'll hit 5GHz? Too long. But your wait is finally over. Wrapped in an elegant and truly unique case, the Digital Storm Velox at last gives the consumer a rig that breaks the magical 5GHz barrier right out of the box.
What's inside
Inside are top-of-the-line parts that include a pair of EVGA GeForce GTX 1080 GPUs in SLI mode, 16GB of DDR4 RAM, a ludicrously fast 512GB Samsung 960 Pro M.2 NVMe drive, 3TB Toshiba hard drive, an Asus Maximus IX Hero motherboard and the star: Intel's new Kaby Lake Core i7-7700K CPU.
Mentioned in this article
Samsung 960 PRO Series – 1TB PCIe NVMe – M.2 Internal SSD (MZ-V6P1T0BW)
Price When Reviewed:
$629.99
If you read my review of the Kaby Lake desktop chip, you'll know that it's an unexciting upgrade over Skylake. That, of course, won't be too much of a surprise if you've also read my review of the laptop version that came out first.
However, desktops aren't laptops. And one thing Kaby Lake offers is higher overclocks than Skylake, Haswell, or Ivy Bridge could ever dream of.
Don't believe it? Digital Storm shipped our Velox with the CPU pushed up from its stock base clock of 4.2GHz to 5GHz. That may not sound like much, especially when considering that the top-end Kaby Lake has a Turbo Boost speed of 4.5GHz. But we haven't seen a full-time 5GHz overclock since the days of Intel's Sandy Bridge CPU, introduced in 2011.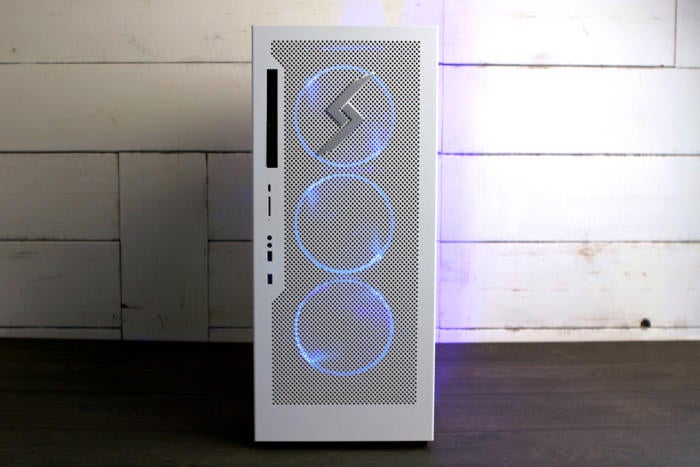 While you might think such a feat requires the use of a pricey custom liquid-cooling setup, Digital Storm wields an off-the-shelf Corsair H115i cooler. Yes, it's a beefy cooler using a pair of 140mm fans on a 240mm radiator, but it's a far cry from custom water cooling in complexity and cost.
Sleek looks
As flashy as its 5GHz CPU and cutting-edge parts are, much of the Velox's charm is actually in its presentation.
For example, you won't be able to buy this mid-tower case anywhere else. It's a custom, in-house design by Digital Storm along the lines of the company's flagship Aventum 3. Rather than pressed out in quantities to fill a container ship, the case is produced in smaller volumes locally. For the time being, anyway: Digital Storm said it's moving production overseas this year.
I do have a few nitpicks about the case. The main one is the plastic case window, which bucks the current fashion trend of tempered glass. I'm a fan of glass, as it's less likely to scratch and is easy to clean to perfection. Plastic just doesn't shine up as well.
In the past, Digital Storm has said it chooses plastic on some cases based on feedback from its own customers. Apparently those customers say they'd rather have a little dust than have their side panel break into smithereens. That's fair, but certainly not as sexy.
The door also can be fussy when reattaching it. While it's easy to remove and doesn't require you to learn the Dragon's Quest secret move to get it back on (it pins in place), sometimes the door's lightweight material doesn't snap back into shape. You may find yourself pounding on each corner to get it to sit flush.
Performance
A pretty case isn't enough when it comes to beefy desktops. You have to back it up with performance.
Cinebench R15 multi-threaded performance
Our first test is Maxon's Cinebench R15. It's a CPU-centric test that renders a 3D image using the same engine as the company's Cinema4D application. Professional 3D rendering has always favored more cores and more threads, so it's no surprise that the top dog here is the Core i7-6950X in the Aventum 3 system. Even at 5GHz, the quad-core Core i7-7700K can't touch the 10 cores in the Core i7-6950X, nor the 8-core chip in the Origin PC Omni all-in-one.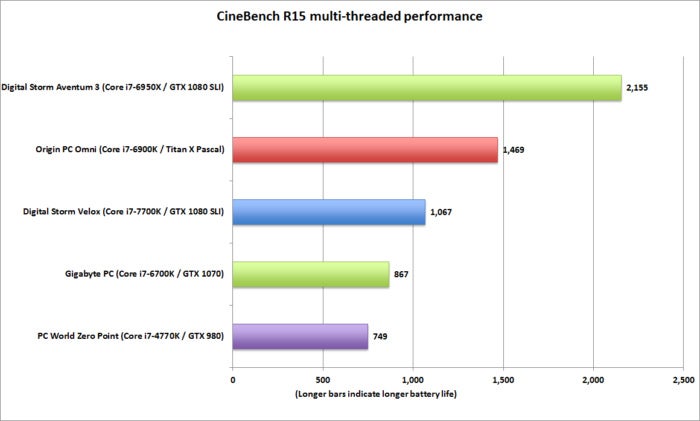 Cinebench R15 single-threaded performance
But remember, the world isn't all about multi-threading performance. In fact, the vast majority of games, applications, and Windows itself doesn't benefit as much from an 8-core or 10-core chip as you'd expect. Once you hit a reasonable number of cores, such as four, the actual clock speed can often matter more.
To see how the Velox would perform in most games and apps, we also ran Cinebench R15 in its single-threaded test mode. This stresses just one CPU core and all but neutralizes that 10-core i7-6950X.
In this mode of use, you can see the Digital Storm Velox and its Kaby Lake chip have a 25-percent performance advantage over the 10-core chip. The hard reality of the PC: These days, this situation applies in the vast majority of applications and games.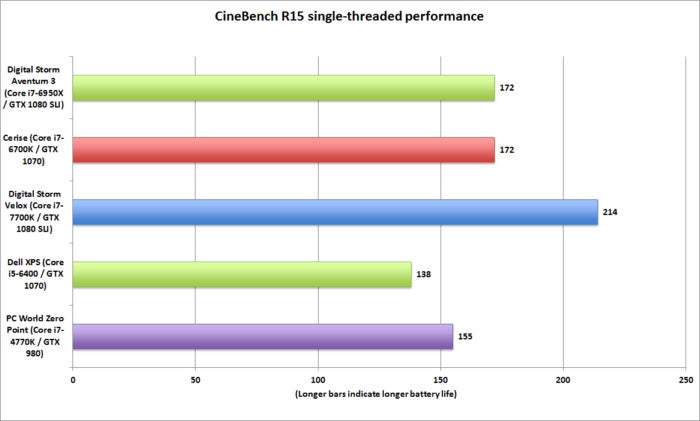 Handbrake encoding performance
The thing is, when multi-threading matters, it matters. Even free and popular encoding applications such as Handbrake clearly show the advantage of a 10-core or 8-core machine. You can expect to see a similar increase in performance with Adobe Premiere Elements and other media-heavy, multi-threaded apps when using a CPU with more than four cores.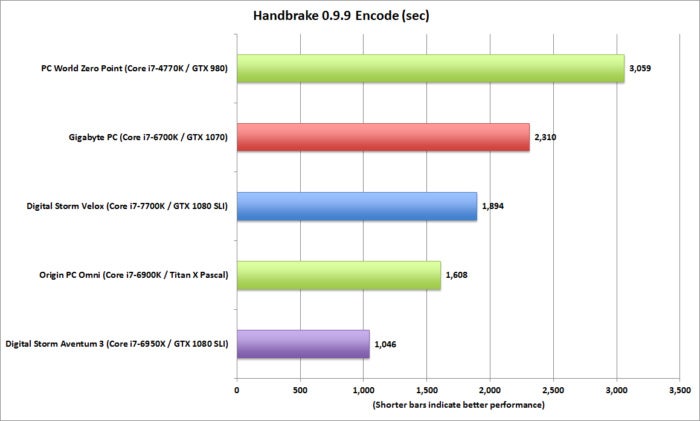 3DMark Fire Strike Extreme graphics performance
You don't buy an elegant box like the Velox to get excited about a video transcode. You want to know how it hammers out frames per second. In this category, the Velox and its pair of air-cooled EVGA GeForce GTX 1080 cards represent well. Using Futuremark's Fire Strike Extreme benchmark, we looked at the graphics subset of the overall score so we could focus just on the performance of the GPUs.
Even without the exotic custom liquid cooling of its larger sibling, the Velox holds its own. Its pair of air-cooled GPUs matches the liquid-cooled cards in the Aventum 3.
It's en vogue to dump on multi-card setups, but the performance you get can't be questioned most of the time. The $1,200 pair of video cards in the Velox bests the single $1,200 Titan X Pascal in the Origin PC Omni. SLI haters, take that! At least until we've seen seen Nvidia's newest Titan Xp Pascal card.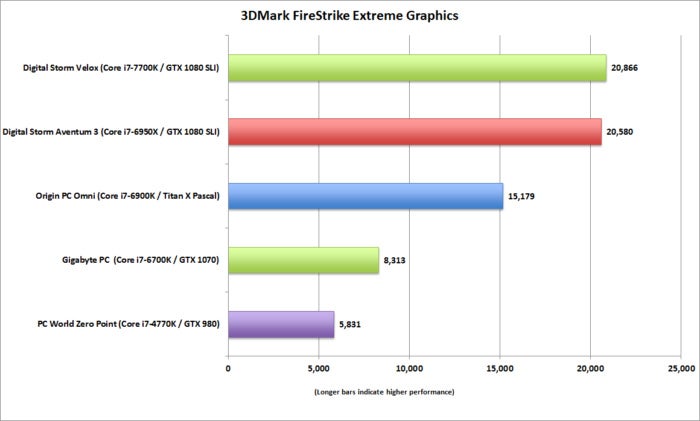 Middle-earth: Shadow of Mordor performance
The Velox cruises along in more than just synthetic benchmarks: When we ran Middle-earth: Shadow of Mordor at 4K UHD resolution with the 4K textures installed, the Velox hammered out 113 fps on average.
Not too shabby, even though the liquid-cooled set of GTX 1080s in the Aventum 3 still pulls out a win. We ran other games as well, but we'll spare you the dirty details and say that the Velox comfortably runs modern games in 4K at high resolution and high settings.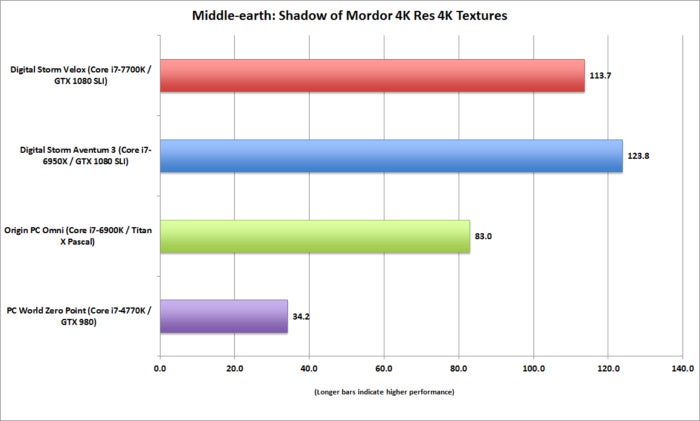 How stable of an overclock is it?
When it comes to overclocking, stability is always a concern. The problem is precisely how to define stable overclocking. Some will call an overclock stable if it can run a game for three hours without crashing, while others will accept only a 24-hour run of Prime95 or another torture test as proof of stability. The first is a fairly easy hurdle, while the second is incredibly brutal.
We typically don't run additional stress tests on overclocked systems, but we did for the Velox. Because it's the first 5GHz PC we've seen in a long while, we wanted to see how stable it was out of the box.
We ran right into the "it depends on what the definition of stable is" debate. The Velox ran all of our standard tests without a hiccup, but running Prime95's Torture Test for about 30 minutes would cause one core to drop out. Fail? Not necessarily.
The Velox passed multiple runs of our multi-threaded Handbrake encoding test without issue, and in an actual use case, I performed a 10-run batch of encoding on the machine without an issue. That's basically an afternoon of pegging all of the CPU cores without a crash or problem. Intel's own XTU stress test also ran just fine.
Perhaps what matters most is Digital Storm's opinion on the matter and how it stands behind the product. Basically, the company's selling it to you at 5GHz and will stand behind it.
That's the key difference. You or I coaxing a chip to 5GHz and calling it a day is one thing. To run a business that sells 5GHz PCs is another thing. Of course, all this hinges on whether Digital Storm—and other PC vendors—will actually be able to get enough chips that can hit 5GHz, but all signs point to that certainty.
It's quiet, too
One thing I should add about the Velox is that it's quiet. I mean essentially dead-silent, even under heavy CPU loads. If you hear someone say that keeping Kaby Lake at high clock speeds will sound like a diesel engine, they're wrong. The Velox proves it.
Conclusion
The Velox isn't cheap, of course. With its custom-designed, damn-near artisanal case, high-gloss paint, and assortment of class-leading parts, the asking price of $4,737, however justified, still isn't easy to swallow. And that's without the custom cooling option, which brings us to the $5,000 range.
The spectre of Ryzen 7 and all of its cores at a lower price does hover in the background, but for gaming (for now), single-threading is still the king. Until we see evidence that a Ryzen rig can ace Kaby Lake, the Velox and its 7th-gen CPU is the one to beat. Especially since you get head-turning looks without the typical "gaming" look of a 1990s Transformer toy.
Best Prices Today: Velox