Reading the description of Ghost Recon: Wildlands, it doesn't sound that different from its predecessors.
Mentioned in this article
Tom Clancy's Ghost Recon Wildlands
"Ghost Recon: Wildlands takes place in the expansive, gritty and vibrant backdrop of Bolivia, South America. You are sent behind the enemy lines as a member of The Ghosts, a legendary US Elite Special Operations team, to create chaos that will destabilize and eventually break the alliance between the Santa Blanca cartel and the corrupted government."
Pretty standard Tom Clancy fare. 2012's Future Soldier had you invading Nicaragua. 2006's Advanced Warfighter had you infiltrating Mexico during a coup. The usual.
But I don't remember taking down an enemy helicopter by landing my helicopter on top of it in any of the earlier Ghost Recon games. Yeah, that's a new one.
Just (be)Cause
Remember when people saw Rainbow Six Siege and complained it didn't look like traditional Rainbow Six? Okay, take that and multiply it by ten and you've got Ghost Recon: Wildlands.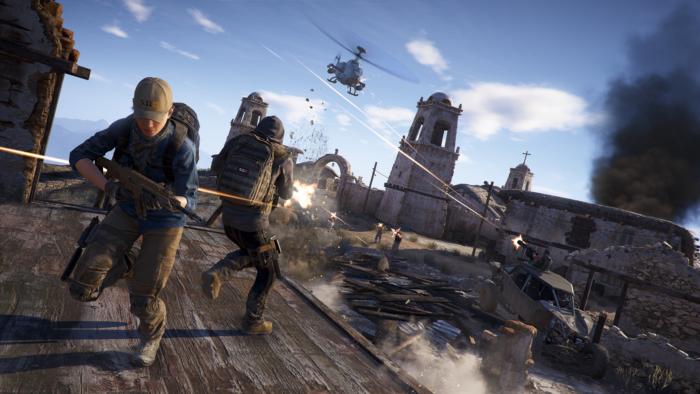 Wildlands isn't a bad game, per se. I just can't imagine the old fans are going to be happy. Myself, I have fond memories of playing the older Ghost Recon games, which presented an interesting and semi-grounded look at war in the 21st century long before Call of Duty went Modern Warfare.
Now? Well, someone spilled a bit of Just Cause into what used to be a very serious military sim.
Just a little. Wildlands pays lip service to its tactical roots by, for example, having a continuous day/night cycle so you can rush in during the day or attempt a mission at night when the guard presence may be lower. It's a bit more self-serious than the over-the-top power fantasy presented by Just Cause nowadays.
But in its move to an "open-world, do anything, hijack anything, kill anything" approach the Ghost Recon series has sort of lost the Tom Clancy vibe it had before. The result is something else entirely. Again, not necessarily a bad game, but certainly different than I expected.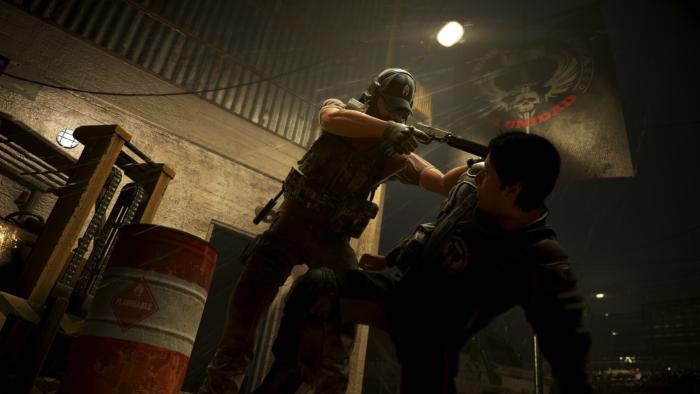 For instance, an early mission requires you to infiltrate an enemy base, break into a cell, and rescue one of the rebel leaders. You can accomplish this in the standard Ghost Recon way—slow and stealthy, silencers equipped, checking your corners, strategically taking out enemies, watching for snipers.
Or you can do what I did: Hop into a tractor (yes, the farm variety), drive it straight into the middle of the compound, kick a guard in his sensitive bits for a "stealth kill," rescue the rebel, put him on the back of the tractor, and hightail it out of there at a zippy ten miles per hour.
It's the sort of silly stunt I'd expect to pull for laughs in Just Cause, but not so much in Ghost Recon. And the problem is that once "Rescuing a rebel with a single tractor" is a possible solution, it's hard to ever return to the slow-and-stealthy formula.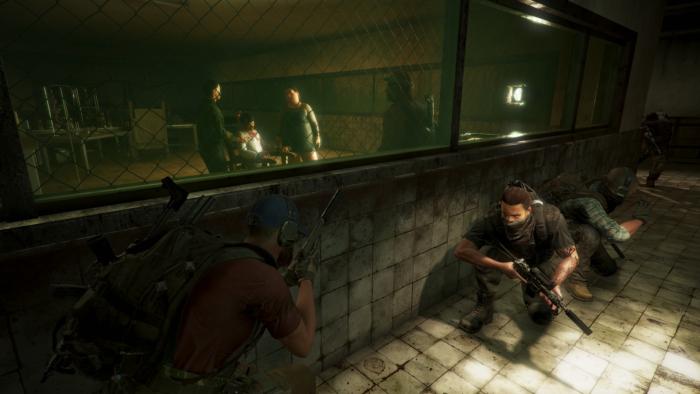 I was playing on Normal difficulty, and only in the earlier (presumably easier) zones, so maybe on harder difficulties and harder missions there's more need for tactical planning. But for my demo, it was way more common to see four of us parachute out of a helicopter and straight into an enemy base than see us Seal Team Six our way through. Judging by the whooping screams and laughter in the demo room, I think it's safe to say other groups felt the same.
The problem as I see it is Ghost Recon isn't really a Just Cause game, or at least not a modern-era one. In fact, it plays like the original Just Cause, saddled with a token sense of "realism" and a self-serious story that's completely at odds with the non-stop action you're engaged in. It's in a weird middle ground, afraid to shirk the baggage of its milsim origins and full-on embrace absurdity, but also too flippant to appease longtime fans.
Rainbow Six Siege may not look much like a traditional Rainbow Six Siege game, but it at least shared core tenets—move slow, watch your corners, death comes quickly and without forgiveness. The portion of Ghost Recon: Wildlands I played feels like a series of Far Cry or Just Cause outposts with the Ghost Recon lore slapped on.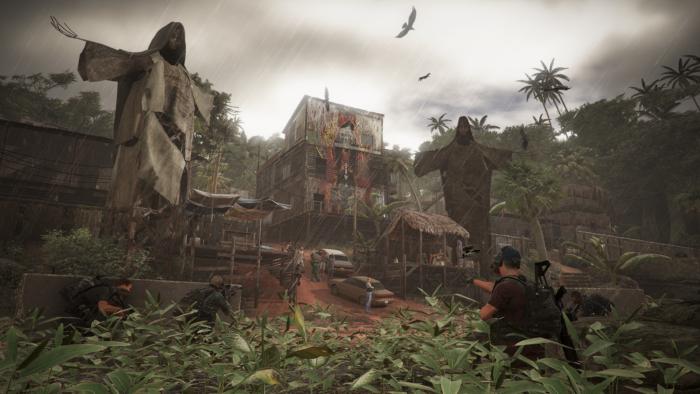 It's a lot of fun, at least for a little while, but might've been better off without the Ghost Recon name involved. Or at least with a story that's not torn-from-the-headlines sadism about cartels and corrupt police torturing citizens while you try to ramp a dirt bike over your friend's helicopter.
And I'm somewhat worried about the game's longevity. In contrast to Watch Dogs 2's surprisingly restrained, stripped down mission structure, Ghost Recon is in the Ubisoft style of old—millions of icons spread across a gigantic map. Supplies to mark, weapons to pick up, outpost missions, it's all there. Ubisoft threw out some numbers for us about its fictional Bolivia: 21 regions, with 26 boss missions, and the whole expanse open to you from the start of the game.
We played two of those regions in our demo and it took us 2-3 hours just to complete the missions. Extrapolate that out and you're talking about 40-50 hours of stuff to do, much of which involves infiltrating a base, killing everyone, and leaving. If you got tired of taking out enemy encampments in Just Cause, I don't think Ghost Recon is going to do you much better.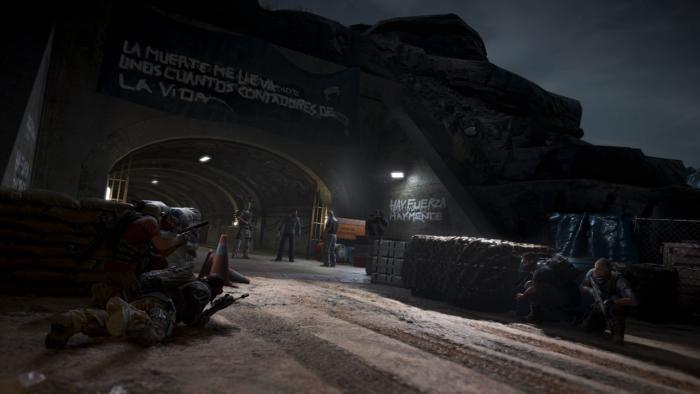 I'm admittedly torn though, because rolling through the Bolivian wilderness in a group of four, one driving while the rest of us hung out the windows guns blazing is fun, in a dumb and mindless way. And I've certainly got plenty of stories to tell from our session, the ones above simply being the most concise and memorable. Whether trying to break a tank through the walls of an enemy base, or using the character creator to make Solid Snake, or flying a helicopter into a flamboyance of flamingos, it was a good time. Like The Division, I think people will particularly enjoy playing this one with friends.
But also like The Division, I'm not convinced yet that Ubisoft's really nailed down this game, nor does what little I played feel like Ghost Recon or even a Tom Clancy title to me. Maybe that's fine. Maybe not.
We'll see, regardless. Ghost Recon: Wildlands releases March 7, and we'll have a better idea how the game progresses once we've explored more of its fictional Bolivia, guns blazing.