Here's the weirdest bit of gaming news I've seen in a while: Francis Ford Coppola's film studio American Zoetrope is making a video game. Weirder: It's a video game based on Coppola's classic 1979 film Apocalypse Now.
A quote from Coppola himself:
"Forty years ago, I set out to make a personal art picture that could hopefully influence generations of viewers for years to come. Today, I'm joined by new daredevils, a team who want to make an interactive version of Apocalypse Now, where you are Captain Benjamin Willard amidst the harsh backdrop of the Vietnam War. I've been watching videogames grow into a meaningful way to tell stories, and I'm excited to explore the possibilities for Apocalypse Now for a new platform and a new generation."
Or if we go by the game's description:
"The game is an interactive recreation of Willard's journey, as seen through a survival horror lens in which players with limited resources face unspeakable terrors. By choosing how to react to these situations, each player molds a unique version of Willard within the loose confines of the film story. You are Willard and your actions will determine his fate."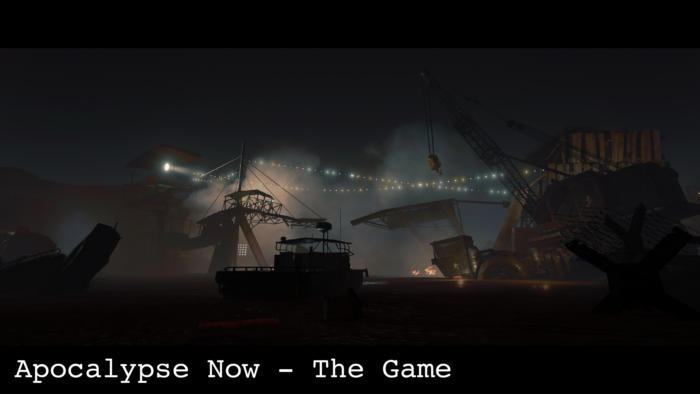 Now, a slow meditation on America's part in the Vietnam War, consisting primarily of shots where a boat slowly churns up the Mekong River, doesn't seem like great fodder for a video game. And usually I'd agree, except Coppola's got a who's-who of industry talent working on this thing. The press release mentions by name Lawrence Liberty, who was lead producer on Fallout: New Vegas, as well as Rob Auten, who co-wrote Gears of War: Judgment.
Even more interesting is the inclusion of Obsidian's Josh Sawyer (lead designer on Fallout: New Vegas and Pillars of Eternity) in some sort of advisory capacity. The extent of that role, I have no idea, but whenever someone starts throwing his name around I take notice.
Anyway, the game's not expected to launch until 2020. As you've probably guessed, the game's being announced now because American Zoetrope's hoping to fund it with a Kickstarter campaign. The team's asking for $900,000, though there's surprisingly little actual game footage to be seen so far. Given people's tepid reaction to Kickstarter campaigns nowadays it's a bit worrisome, though maybe the Apocalypse Now name will carry it through. If you're interested, you have from now until February 23 to toss in some cash.