RPG guru Josh Sawyer is busy these days. Yesterday we wrote about Francis Ford Coppola's studio turning Apocalypse Now into a video game with Sawyer's help. And today? After a week of very obvious teasing, Obsidian's officially announcing a follow-up to its acclaimed Infinity Engine-style CRPG Pillars of Eternity, on which Josh Sawyer served as lead designer.
Titled Pillars of Eternity II: Deadfire, it's also embarking on a crowdfunding campaign today. Obsidian's hoping to raise $1.1 million through Fig—no surprise there, since Obsidian's CEO Feargus Urquhart is involved in Fig's advisory board.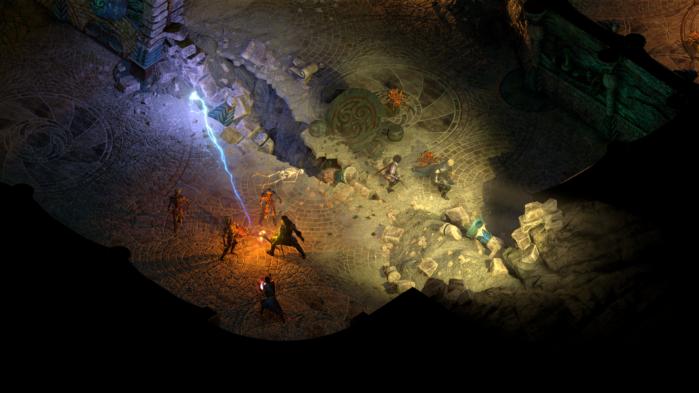 Judging by the description, Pillars of Eternity II will be a direct sequel. The announcement says:
"Eothas has returned. The god of light and rebirth was thought dead, but he now inhabits the stone titan that sat buried under your keep, Caed Nua, for millennia. Ripping his way out of the ground, he destroys your stronghold and leaves you at the brink of death."
Whether you'll be importing your character and his or her stats, I'm not sure. Regardless, looks like it'll dovetail right off the last story, a la Baldur's Gate and its sequel. You'll be exploring the new Deadfire Archipelago, which judging by the screenshots and art features everything from jungle to a Petra/Ellora-like structure embedded in a desert cliff.
The announcement also mentions the return of certain companions from the first game (along with concept art for Pallegina, Eder, and Aloth), and promises new ones along the way.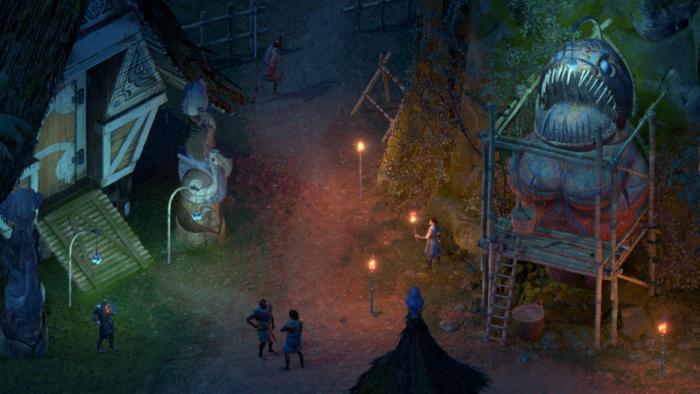 Most interesting is a section that reads "The people of Deadfire have lives of their own, jobs to do, and appointments to keep. They will carry on with their affairs even when you're not watching. Quests may even present different opportunities depending on when and where characters and environments are approached."
This sort of AI modeling has been done in bigger-budget RPGs (think Skyrim) but it's a huge change from the stagnant, always-in-one-place characters in most isometric CRPGs. I'm interested to see how it changes things.
Cue Urquhart himself, who said:
"Our goal for Pillars of Eternity II: Deadfire is to improve on what fans loved about the original while adding features our fans want to see, truly living cities, more freedom to explore the open world, and pushing what we do best at Obsidian—letting players define and play the role they want to play."
People seem to be pretty tepid towards crowdfunding nowadays, but less so when it comes to a studio following up on an earlier title. Hopefully that's the case here and Deadfire gets funded (and then some) because I'd absolutely love another Pillars of Eternity. And hey, another Tyranny while we're at it. Keep 'em coming, Obsidian.