Facebook is taking its Safety Check feature beyond the ability to just mark yourself and others as safe with a new addition called Community Help, which started rolling out Wednesday. Facebook first announced Community Help in November at the company's Social Good Forum.
Community Help allows Facebook users to offer each other assistance for basic needs during a crisis. This can be food, a place to sleep, baby supplies, and other essential goods or services.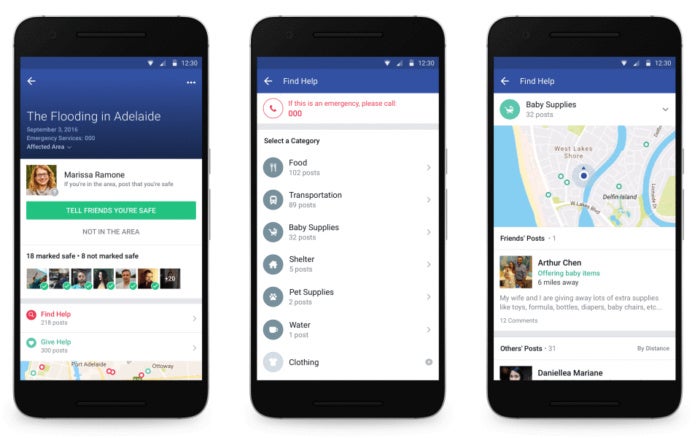 When Community Help is active users in the affected area will see a "Find Help" link on the Safety Check page for their particular crisis. Underneath that will also be a "Give Help" option for those who want to assist their neighbors.
Community Help will initially be available to users in the United States, Canada, Australia, New Zealand, India, and Saudi Arabia.
Community Help was inspired in part by Facebook users who were already banding together to offer each other help in times of need. The company says it also consulted experts and humanitarian relief organizations to develop the new feature.
The impact on you at home: As Community Help is part of Safety Check it will only be available in times of crisis, but the feature won't show up for every emergency. Facebook says that it will only show up for accidental and natural disasters such as a flood or tornado. That may only be the beginning, however. The company says that as it learns from people using Community Help, Facebook will look to expand it to "additional types of incidents."
Note: When you purchase something after clicking links in our articles, we may earn a small commission. Read our affiliate link policy for more details.
Ian is an independent writer based in Israel who has never met a tech subject he didn't like. He primarily covers Windows, PC and gaming hardware, video and music streaming services, social networks, and browsers. When he's not covering the news he's working on how-to tips for PC users, or tuning his eGPU setup.