You know when AMD's Ryzen is launching, how much it'll cost, and you even have a pretty good idea of its performance. But you might not know why AMD dropped the original Zen name for Ryzen, so we asked. And it all begins with what AMD couldn't do with the brand.
As John Taylor, corporate vice president of marketing for AMD, describes it, AMD was between a rock and a hard place. Mike Clark, an engineering fellow at AMD who led the Zen architecture development, had dubbed the architecture "Zen" for the balance it struck between various aspects of the design. Fans who had followed Zen's development would buttonhole AMD execs and rave about the Zen name: "'I love Zen…there's something about it I'm just connecting with,' they'd say," Taylor said.
The problem was that AMD simply couldn't trademark Zen. Under U.S. law, trademarks need to be "strong" and unique, and there was already a wealth of Zen-named products out there, even among AMD's own customers (like Asus and its ZenFone). So AMD had to look elsewhere for inspiration.
Ryzen: Tapping into AMD's inner space geek
Like most major companies, AMD works with specialized naming agencies—yes, they exist—specifically to build a roster of future, trademarkable brand names.
"And so they had some things in the bucket, I guess, one of which was to take the word 'horizon' and remove the 'ho' from 'horizon' and spell it 'rizon,'" Taylor said. "For some reason, that just stuck with people a little bit, but never quite felt right. But we really liked the concept of this as a platform that was designed to take you to the next horizon of computing."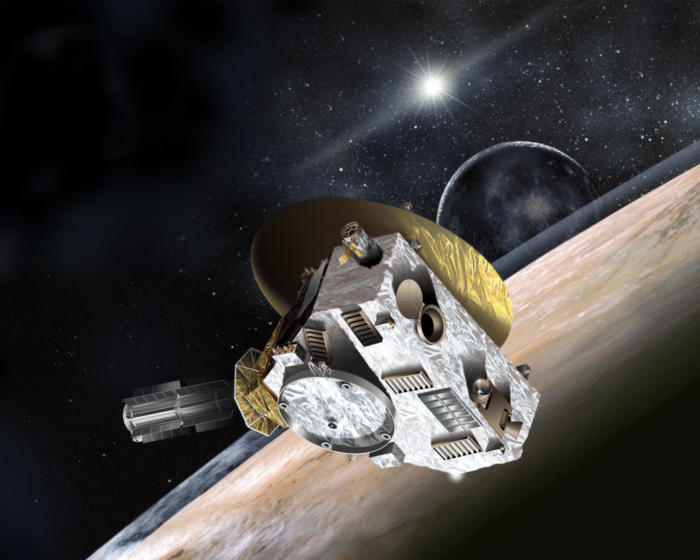 At the same time, a cadre of in-house space fans began thinking in another direction—specifically the New Horizons probe that had flown by Pluto in mid-2015. That inspired AMD to give the slightly different name of "New Horizon" to the December, 2016 webcast where AMD formally unveiled the Zen architecture.
"That's got kind of a cool quality about it, too," Taylor said of the Pluto link. "And so one day, we said, okay, we've got this Zen equity, we've got this word "rizon" that we kind of like, and we started playing with the spelling."
One snag: if AMD stuck with "Rizen," there would be a chance that customers would pronounce it "risen," invalidating "Zen" and "horizon" in one fell swoop. So executives tried swapping the "i" for the "y," mocked it up on packaging, then on a processor "lid."
"And every time we looked at it, we said that word looks fast and it looks like it could be on the side of a spaceship going to Mars," Taylor said. AMD had a winner.
A symbol of perfection: Ryzen's enso
There's more behind Ryzen's name, though—literally. The brushed circle behind the logo is an enso, either a closed or partially open circle in Japanese calligraphy. Naturally, there's a Zen connection: A closed circle represents perfection, while an open circle symbolizes further development and growth.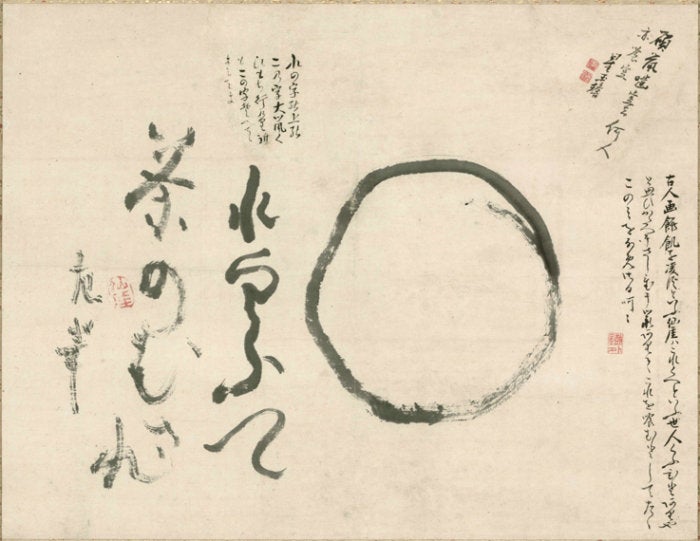 AMD sees the enso, a "single unbroken creative stroke," as representative of the human creative spirit, Taylor said. "There really are tons of people doing amazing things on the Internet every day," he said.
The final element is the font, which you might have thought was simply added to express the brand name. Nope. Even that has a significance, Taylor said.
"The font adheres to Zen principles," Taylor said. "There's utter symmetry throughout this. Our team created this in house. They've done all the mapping to how all the letters follow Zen principles and balance."
Just one more thing
Whether it be Zen's success, its cachet, or just the relief of finally getting some revenge against rival Intel, AMD engineers have latched onto Ryzen like nothing before, Taylor said. That's made Ryzen merchandise a hot ticket even within the company.
"The day after we did the New Horizon event in December, they [the engineers] took the event banner and put it on the top of the parking garage, almost like a protest thing from [the IFC show] Portlandia," Taylor said. "And now that huge banner hangs in the engineering building. They've never been into the marketing like that before. They have to put the posters up, but they're grabbing everything they can that's Ryzen."
Updated the headline at 9:39 AM to clarify that the Ryzen brand is under discussion, not the Zen chip architecture.