Staples has a daily deal that's worth looking at for anyone who's interested in a new family PC: The office retailer is currently offering the HP Pavilion 24-b016 all-in-one for $500.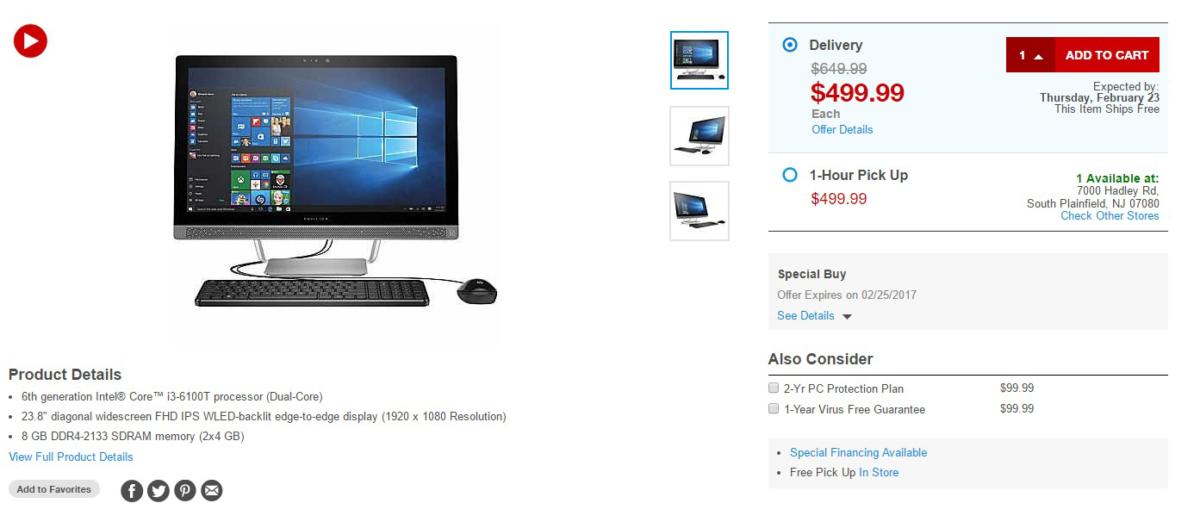 It comes with a dual-core, 3.2GHz Intel "Skylake" Core i3-6100T processor, a 23.8-inch edge-to-edge display with 1080p resolution, 8GB RAM, a 7200 RPM 1TB hard drive, and Windows 10 Home. The PC also has two USB 2.0 ports, two USB 3.0 ports, HDMI out, 802.11 a/b/g/n/ac Wi-Fi, and Bluetooth 4.0.
One note about this model's specs: Staples' website is confusing, but we've confirmed with customer support that this PC does not come with a touchscreen. (The listing says at the top that it doesn't, then says at the bottom that it does.)
Overall, this AIO isn't a tremendously powerful PC, but the processor goes at pretty good clip, even if it is dual-core. If you need a device for the kitchen or den that can do video conferencing, handle browser-based games, run Office, and play video, this system will suit your needs.
If you get to Staples and the daily deal is no longer available, Quill.com is also selling this unit but for $30 more at $530.
Note: When you purchase something after clicking links in our articles, we may earn a small commission. Read our affiliate link policy for more details.
Ian is an independent writer based in Israel who has never met a tech subject he didn't like. He primarily covers Windows, PC and gaming hardware, video and music streaming services, social networks, and browsers. When he's not covering the news he's working on how-to tips for PC users, or tuning his eGPU setup.