While an eager horde of customers marvel at AMD's flashy new Ryzen 7, a more important chip is waiting in the wings: the Ryzen 5. Sizzle, after all, sells the steak.
For all of the Ryzen 7's horsepower, AMD is very aware that the majority of its customers will be buying the less expensive Ryzen 5 and Ryzen 3 processors. Twice as many customers choose CPUs in the sub-$300 range as in the $300-plus range targeted by the Ryzen 7, executives said. That makes the upcoming Ryzen 5 1500X and 1600X, due in the second quarter, even more important. The cheaper, low-end Ryzen 3 will follow in the second half.
AMD revealed more details about how to manage and overclock its new Ryzen chips—and even why the performance might not be as high as you'd like. But it also looked further into the future, with Mark Papermaster, AMD's chief technical officer, saying that AMD is already hard at work developing both the Zen 2 and Zen 3 architectures, the fundamental technology that will form the next-generation Ryzen chips.
Watch PCWorld's Full Nerd crew discuss Ryzen performance, pricing, and YOUR questions about AMD's new chip in the video below.
Why this matters: Gamers, streamers, e-sports enthusiasts: These are all people who AMD is hoping will buy the high-end Ryzen 7—and then influence more mainstream users in AMD adoption. In other words, AMD's strategy appears to be a gradual widening of Ryzen's reach: from premium to mainstream desktops, and then to notebooks later this year.
AMD reveals the Ryzen 5 specs
AMD began shipping the $499 Ryzen 7 1800X, the $399 Ryzen 7 1700X, and the $329 Ryzen 7 1700 today. Unfortunately, we don't know the price of either the Ryzen 5 1500X or the Ryzen 5 1600X, though we do know the specs.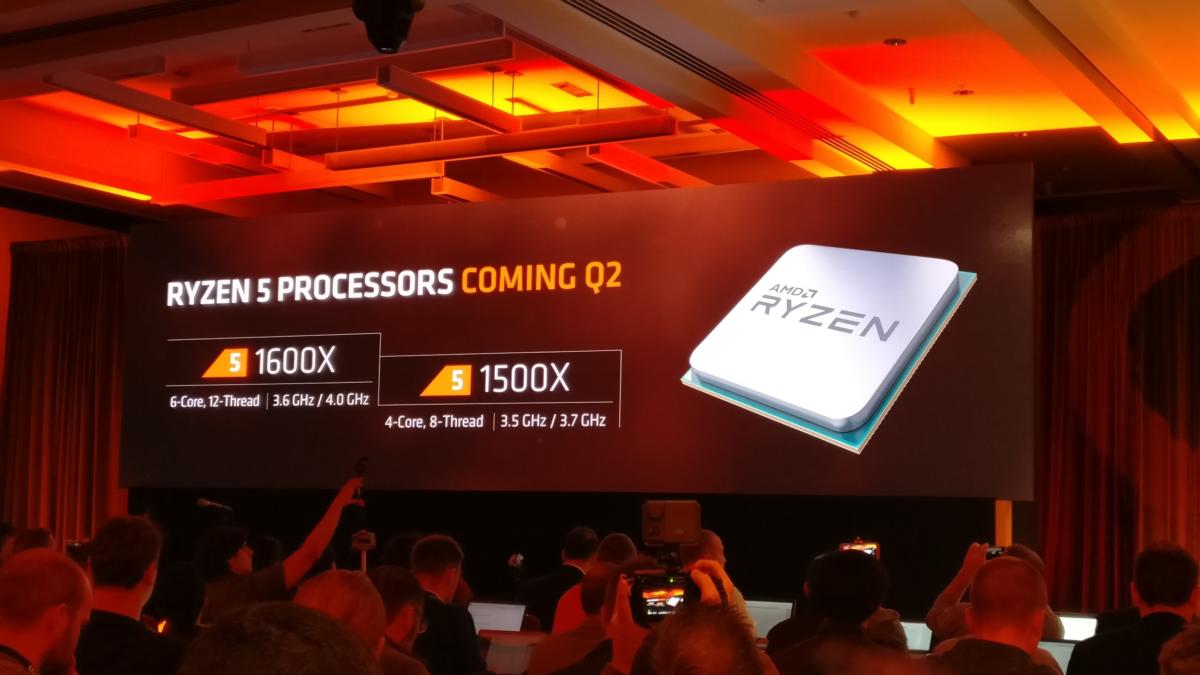 AMD's Ryzen 5 1600X will be a 6-core, 12-thread chip that will run at 3.6GHz and boost to 4.0GHz. As with the Ryzen 7, AMD believes that its 5-series chips will smoke comparable Intel parts in certain benchmarks: For example, using the Cinebench benchmark with all threads enabled, AMD believes that the 1600X will outperform Intel's top Core i5 7600K by 69 percent. (AMD didn't release any comparative benchmarks for the Ryzen 5 1500X.)
Jim Anderson, the senior vice president of AMD's computing and graphics business group, said in an interview that the Ryzen 5 will bring "an amazing level of performance" to the midrange PC market, "with the same disruptive value" as the Ryzen 7.
AMD is saying even less about the Ryzen 3, revealing only that it will release the 3-series parts during the second half of the year. AMD executives have also said previously that its notebook part, Raven Ridge, will ship in the second half of the year, as well. Anderson said both the notebook and the desktop versions of Ryzen "are equally important for us from a business perspective."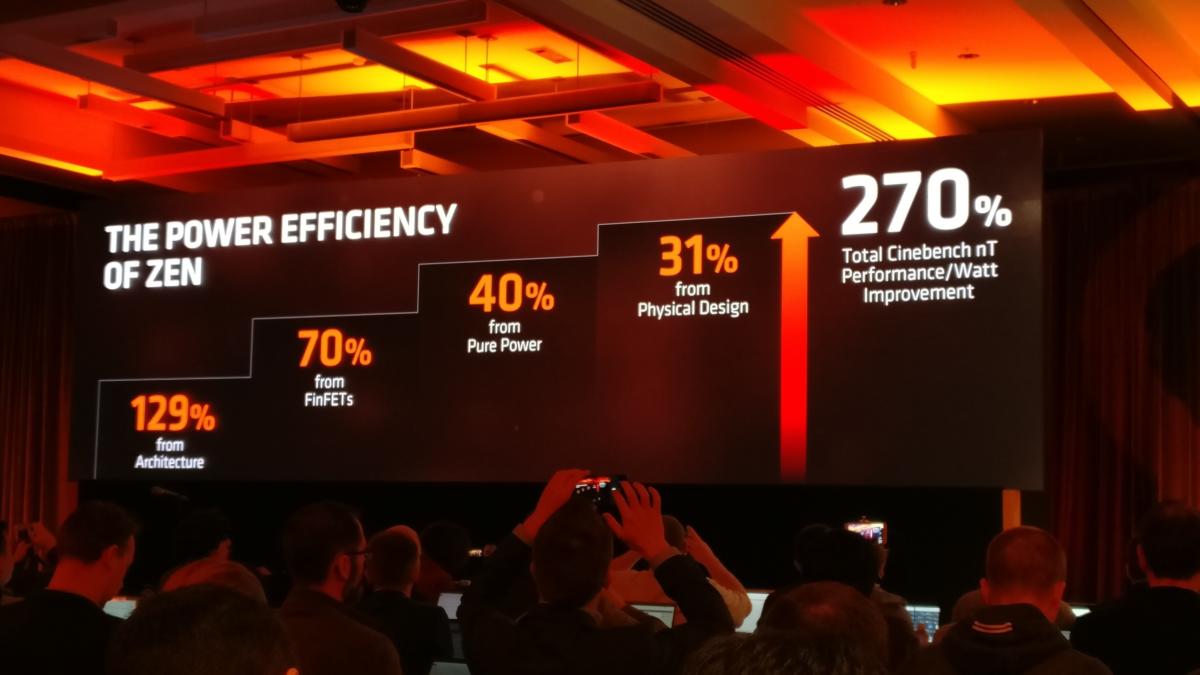 The reason AMD loves the Cinebench benchmark
By now, you've probably already seen our own testing of the Ryzen 7 chips versus the best of what Intel offers. But as even AMD acknowledged, there's a reason the company favors the multicore Cinebench benchmarks: Generally speaking, AMD's Ryzen excels in multicore performance—in part because it physically contains more cores than Intel's current Kaby Lake lineup. When you start running apps that exclusively use a single core, however, Intel's Kaby Lake chips outperform the new Ryzen chips by a small margin. And don't take our word for it, either—that's AMD's assessment.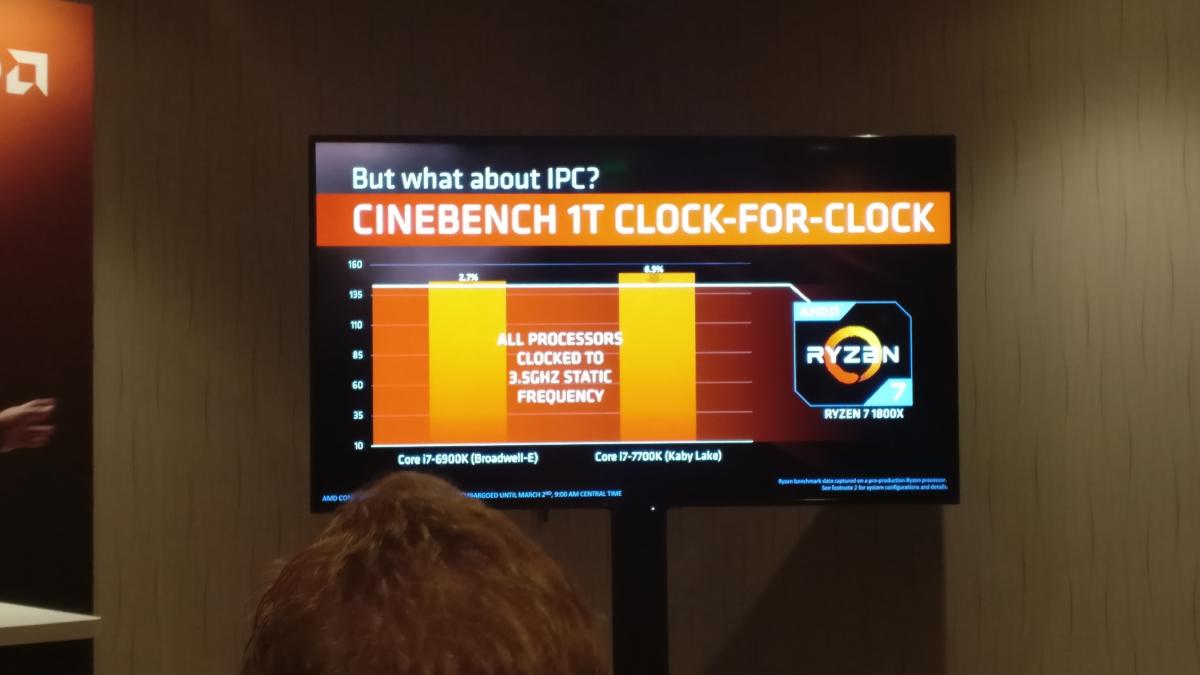 On a single-threaded Cinebench run, the 3.6GHz Ryzen 7 1800X matched the 3.2GHz Core i7-6900K Broadwell chip in terms of performance, but finished 15 percent slower than a 4.2GHz Core i7-7700K Kaby Lake chip. If the Ryzen 7 1800X, i7-6900K, and the i7-7700K were all clocked at 3.5GHz, AMD acknowledged that Ryzen would finish a single-threaded Cinebench benchmark 2.7 percent slower than the 6900K Broadwell chip, and 6.9 percent behind the 7700K Kaby Lake processor.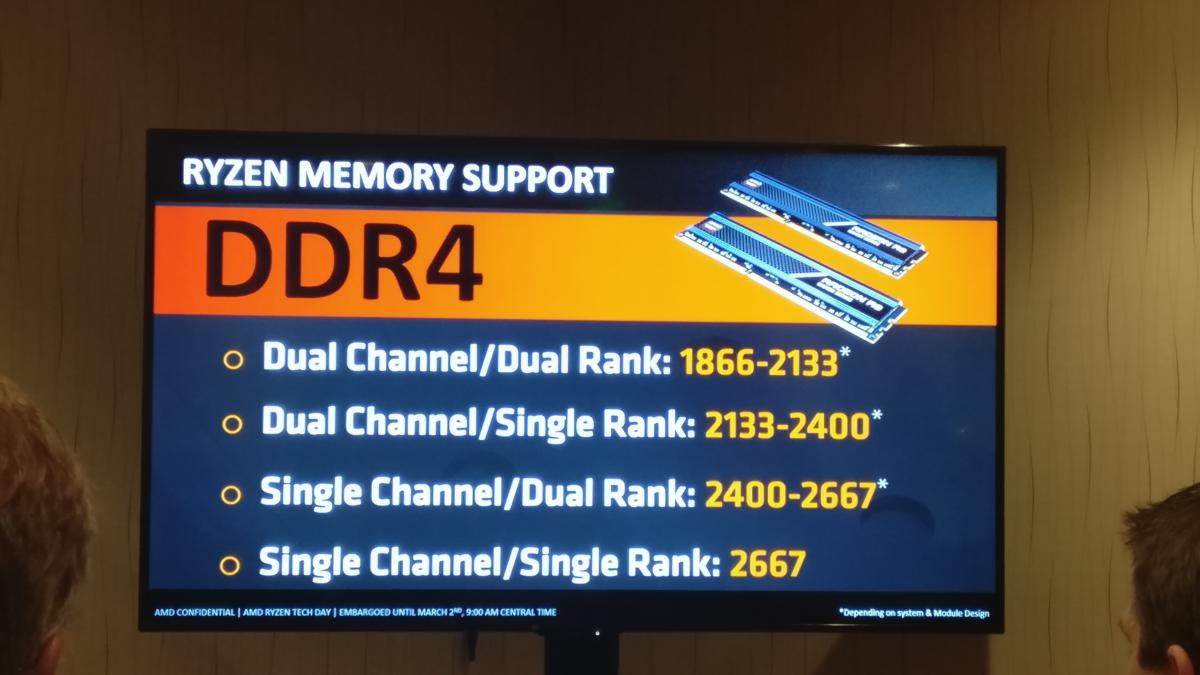 To its credit, AMD isn't trying to spin its deficit. "We're still 15 percent behind on Kaby Lake. We own this stuff, all right? We're still behind on single-threaded performance," said Kevin Lensing, corporate vice president and general manager of AMD's client business unit. "What I'd say about this, though, is that [Intel's] advantage…has been almost exclusively relegated to frequency."
Lensing declined to say what AMD has planned for future versions of its Zen architecture, but pointed to Intel's success in eking out performance gains from its third (and soon to be fourth) generation of 14nm technology. AMD is on its first 14nm iteration. "There's no reason we can't do what they're doing, and get this one-thread performance where we want it," he said.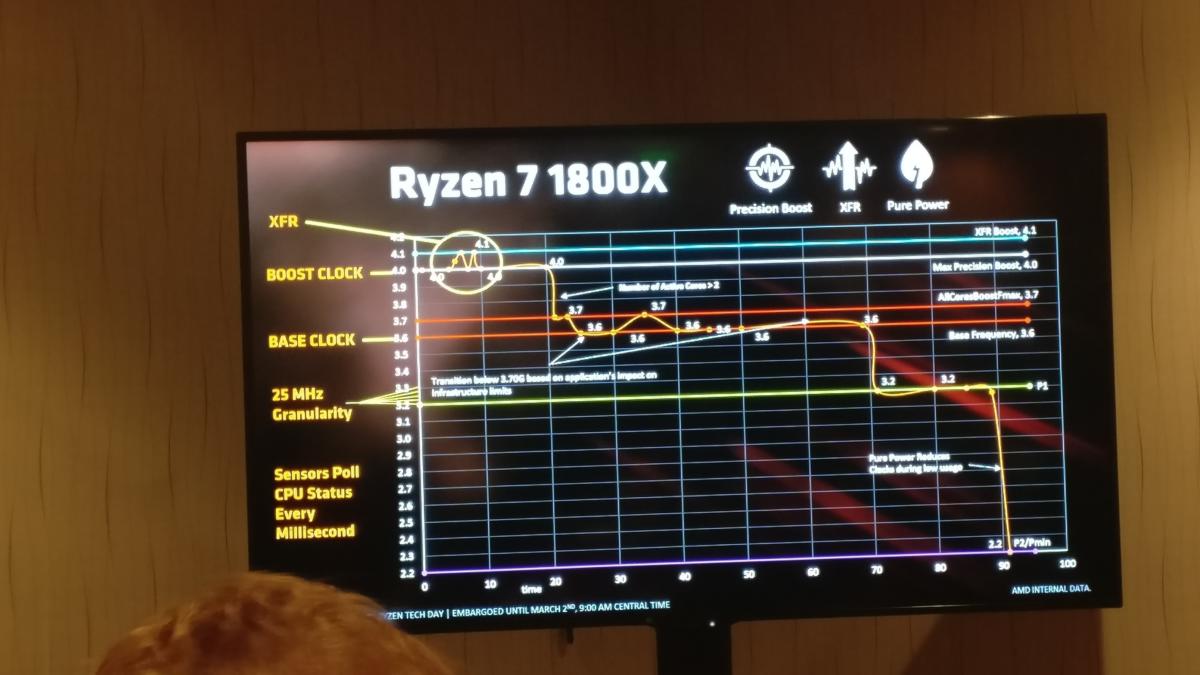 The care and feeding of your Ryzen chip
In the meantime, Ryzen owners do have a few options to increase performance. To manage all of Ryzen's new capabilities, AMD will supply a Ryzen "Master Utility" to control various aspects of the chip, including clock frequency, voltage, memory speed, and more. Every Ryzen chip is also multiplier unlocked, allowing users to overclock it as they wish. (Doing so may void your warranty, however.)
Ryzen chips have a base clock and a "boost" clock rate, which refers to maximum speed of a single core. But there are also two more clock rates that enthusiasts will want to know about: Ryzen's "all cores" boost frequency, or the maximum rate at which all of its cores can simultaneously boost; as well as its XFR boost clock speed. The eXtended Frequency Range is only enabled if the chip's 1,000 on-chip sensors detect the presence of a premium cooling solution. In the Ryzen 7 1800X's case, the XFR is 4.1GHz, versus a boost clock speed of 4GHz. Typically, chips designated with an "X" will have a higher XFR threshold, AMD executives said.
To hit those higher clock rates, you'll need to keep the Ryzen beneath its thermal limits. To achieve this, AMD also announced three new chip coolers: the Wraith Stealth, the Wraith Spire, and the Wraith Max. Interestingly, the Wraith Max is designed for a 125W TDP—a power threshold that Ryzen doesn't yet support, and a hint that unannounced higher-performance Ryzen chips may be on the way.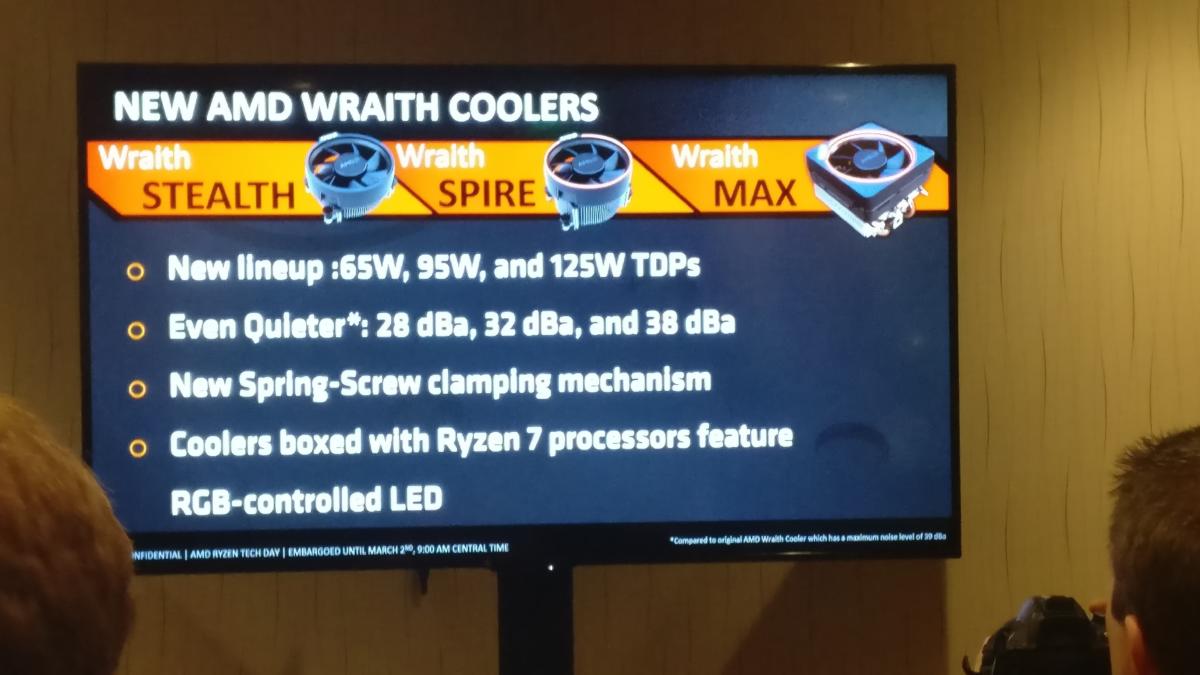 If you want more, well, you'll have to wait for future versions of the Zen architecture. AMD has said previously that the Zen architecture is expected to last for four years, but that didn't stop chief technical officer Mark Papermaster from acknowledging future iterations already in the works. Given that Ryzen has begun shipping, the design work on the underlying Zen architecture was naturally completed long ago. "So they've been well at work on the Zen 2 follow-on," he said.
What's more, AMD's design teams run "leapfrog" roadmaps, so a second team has made good progress on Zen 3, Papermaster added. "I've never been so proud of a CPU roadmap," he said.
That's the future of Zen. Right now, the starting flag is up, and AMD's Ryzen is roaring onto the road. When will we know whether Ryzen is succeeding? May 4, when AMD is scheduled to release its second-quarter earnings and a Ryzen progress report. That will tell us whether AMD is truly in a race with Intel, or if Ryzen needs to head into the pits for a tuneup.