Twitch, the popular live video game streaming site, wants to go head-to-head with digital game stores like Steam and GOG. The company announced Monday that Twitch viewers will soon be able to purchase games and in-game content while watching their favorite streamers.
Sometime this spring, Twitch viewers will start to see "Buy now" buttons underneath the video for the game they're watching. While watching someone play Tom Clancy's The Division, for example, there would be a button right below the stream allowing viewers to purchase it.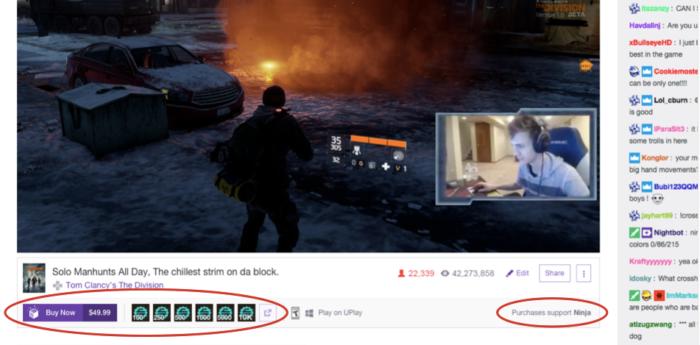 Twitch didn't specify which games will be available at launch, but the company did say its launch partners include companies like Ubisoft,Telltale Games, 11Bit, Blue Mammoth Games, Campo Santo, Devolver Digital, Digital Extremes, Double Fine Games, Fred Wood, Gambitious, Hi Rez Studios, iNK Stories, Jackbox Games, Paradox Interactive, Proletariat, Raw Fury, tinyBuild, Trion Worlds, Versus Evil, and Vlambeer.
Twitch game sales won't only benefit the company. Members of Twitch's Partner Program for broadcasters will be able to get a 5 percent cut of any games sold while buyers are watching their channel.

The Twitch Launcher that provides access to Twitch Prime rewards will also house full games purchased on Twitch, though Twitch will also integrate with third-party launchers such as Ubisoft's Uplay—just as Steam does now.
Purchases will require an Amazon account for payment, but it appears the games will be downloaded directly from Twitch, not Amazon.
To encourage people to try buying on Twitch, each game purchase over $4.99 will come with a Twitch Crate. This is a randomly generated collection of digital add-ons and accessories. Crate goodies could be anything from Bits—a Twitch-only digital currency—or items such as chat badges and game-specific emojis for Twitch chat.
Why this matters: Twitch already has a thriving community of gamers who chat with each other and their favorite streamers on the site. Plus, Twitch is one of the first places gamers go to see what a game is like before plunking down $60 for the next great AAA title. Getting into retail sales is a logical step—especially since Amazon owns Twitch.