AMD's aging FX chips have long been a go-to for PC gamers on a budget, but Intel was the only real option for enthusiasts craving no-compromises performance. That changes today. The hotly anticipated Ryzen processors have finally arrived, and for the first time in a long time, you're able to build a compelling high-end gaming PC using AMD hardware for both the CPU and the GPU.
So let's have some fun and do just that.
Mentioned in this article
AMD Ryzen 7 1800X processor
Price When Reviewed:
$499.00
You'll want to check out PCWorld's comprehensive Ryzen review for the full picture on this chip's capabilities and caveats. This article's much more straightforward: We're building a rig with a Ryzen 7 1800X and Radeon Fury X to see how the liquid-cooled, fire-breathing pinnacle of AMD's PC performance hangs in games. Buckle up.
Watch PCWorld's Full Nerd crew talk about these results, general Ryzen performance, and YOUR questions about AMD's new chip in the video below.
What's inside
This Ryzen 7 1800X build is a bit of a weird one. I didn't realize a kit from AMD was headed my way, so when it appeared on my doorstep mere days before the annual Game Developers Conference kicked off this week, I was forced to scrounge for parts from the PCs I had around my office. The only case I could lay hands on with such short notice was a fairly pint-sized mid-tower, and given the massive closed-loop liquid-cooler AMD sent me, the build design and cable management got… interesting.
But I'm getting ahead of myself! First, here's a look at what's beating inside this beastly rig's heart, starting with the star of the show.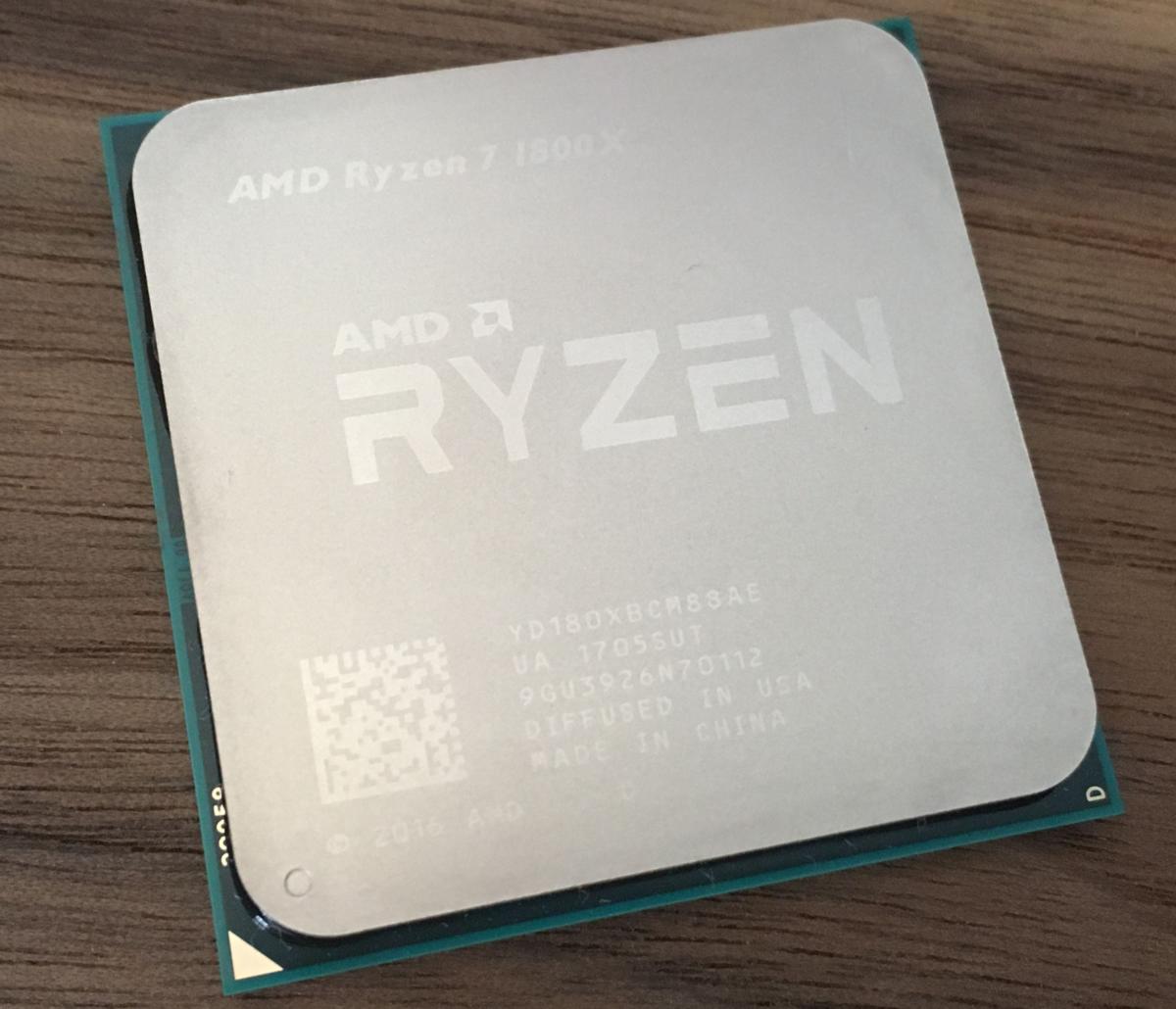 Processor: The Ryzen 7 1800X ($500 on Amazon) is AMD's new flagship processor—an 8-core, 16-thread beast with a mere 95W TDP and a sticker price that's less than half—half—that of a comparable Intel processor, the $1,050 Core i7-6900K. Hot damn.
The Ryzen 7 1800X rocks stock clock speeds of 3.6GHz, ramping up to 4GHz when more oomph is required.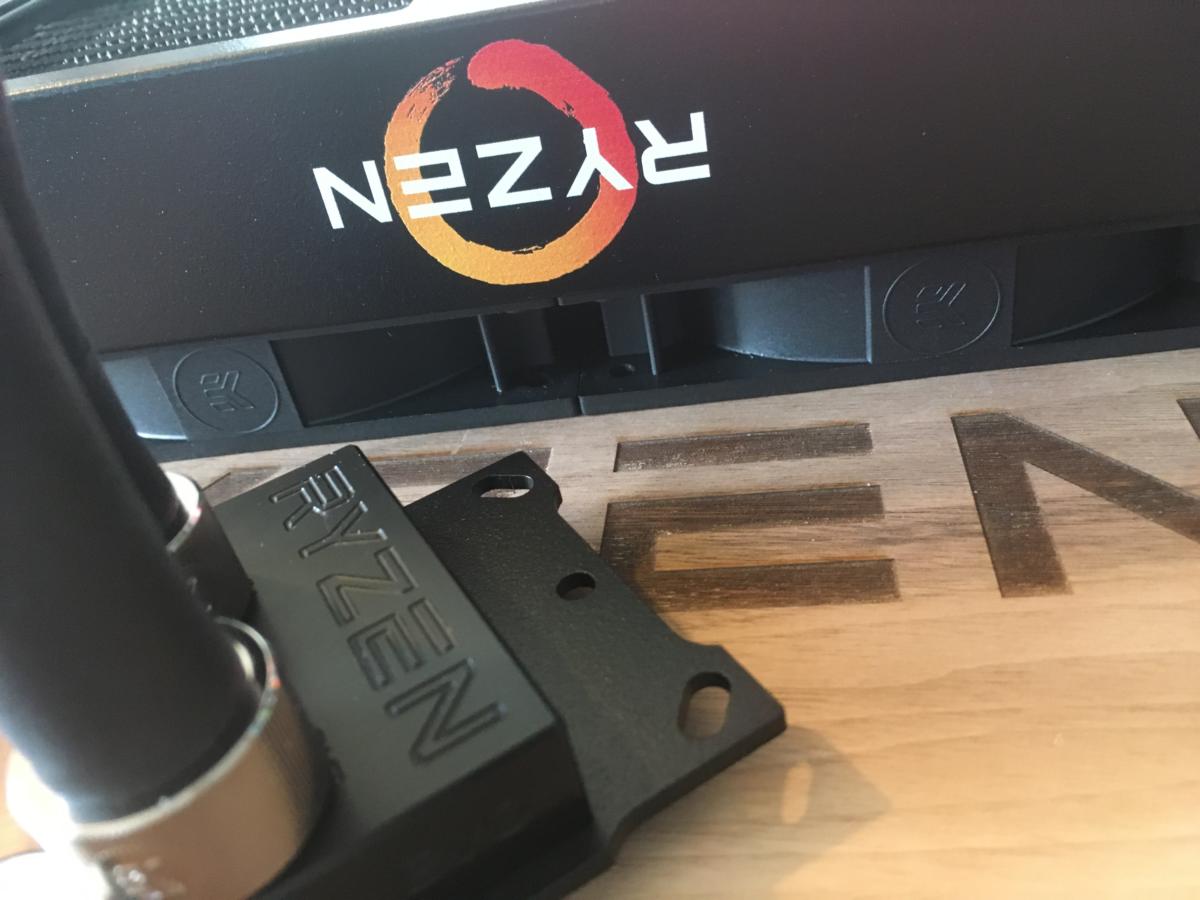 CPU cooler: Did I say the CPU boosts to 4GHz? While that's technically true on the spec sheet, there's more to the story—at least if you're using certain hardware and software configurations. Ryzen chips with the "X" designation at the end of their name tap into AMD's "eXtended Frequency Range" technology, which allows the processor to intelligently ramp up clocks even higher when you're using liquid-cooling—or liquid nitrogen. The results are modest, however, with XFR enabling 4.1GHz speeds on the Ryzen 7 1800X.
AMD sent me the EKWB XLC Predator 240, a ferocious closed-loop water cooler designed by one of the biggest names in hardline water-cooling hardware. The Predator 240 can't be purchased anymore, but this particular model features a bracket compatible with AM4 motherboards, a colorful Ryzen logo on the side of the radiator, and the Ryzen name etched into the waterblock itself. It's seriously sexy—and big. Fingers crossed we might be able to buy it again some day.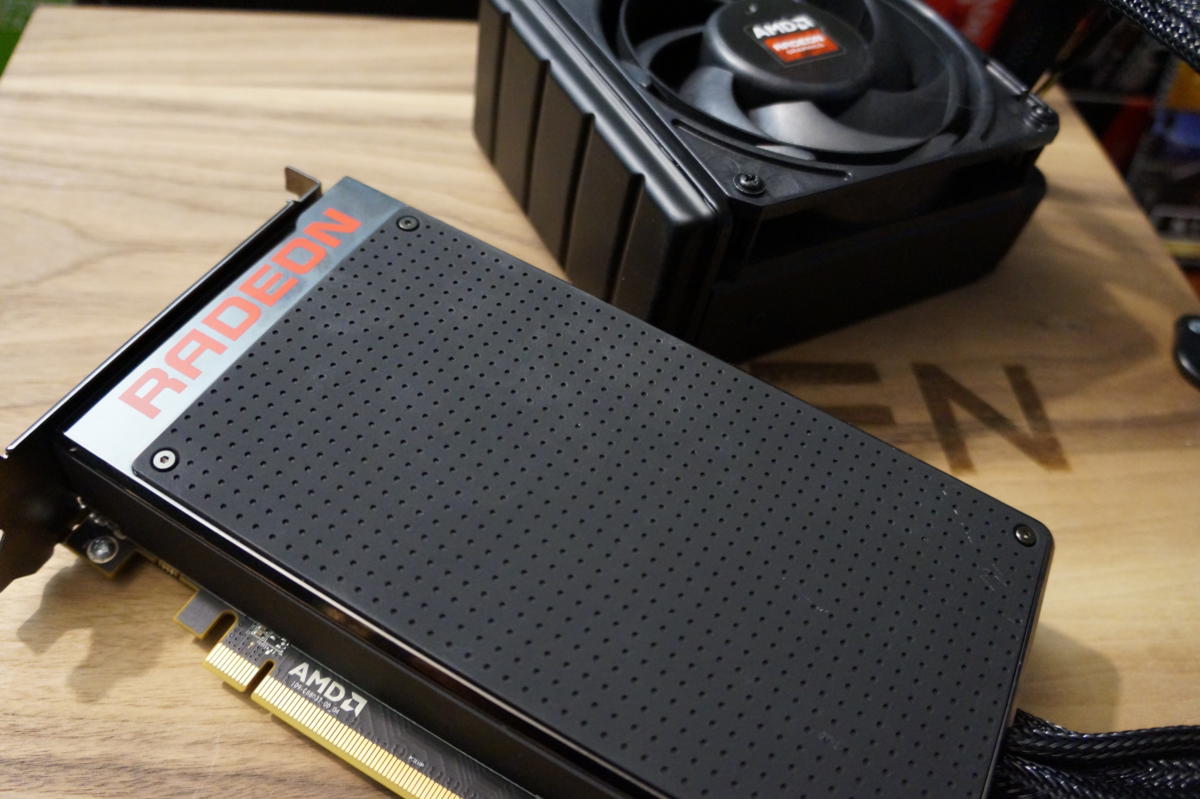 Graphics card: AMD's liquid-cooled flagship CPU begs to be paired with the most powerful AMD graphics card around, so using the Radeon Fury X ($700 on Amazon) was a no-brainer—especially since it features an integrated closed-loop cooler of its own.
The Fury X is teetering on edge-of-life status itself, with the little stock that's available at online retailers typically selling for far more than what the graphics card's worth these days. The shelves are starting to clear for Radeon Vega's arrival next quarter. But while the Fury X has since been surpassed in performance by Nvidia's GeForce GTX 1080, AMD's aging flagship still offers plenty of firepower for kick-ass 1440p and entry-level 4K gaming experiences, as you'll see later. You'll sometimes find the card online for between $300 and $350, which is a much more palatable price for this particular graphics card.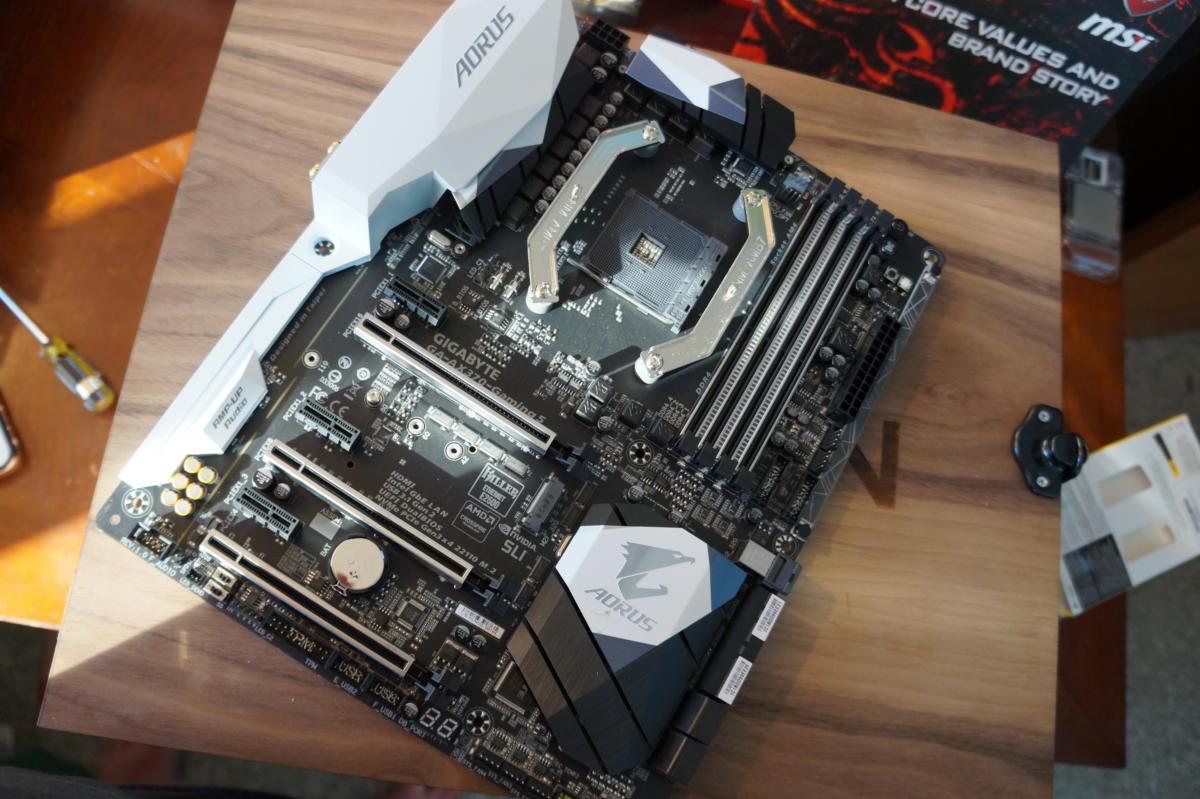 Motherboard: AMD sent along one of its top-end X370 motherboards in my Ryzen kit, Gigabyte's Aorus AX370-Gaming 5, which is theoretically $195 on Amazon and Newegg but out of stock in both stores as I write this. (Demand for Ryzen preorders is high.)
This board's loaded with most every feature you could want: USB and SATA ports galore, integrated "RGB Fusion" lighting, high-end audio chops with dual chips, Smart Fan 5 technology with nine temperature sensors, dual LAN ports powered by Killer ethernet E2500 technology, M.2 and U.2 SSD support—you name it, and the Aorus AX370-Gaming 5's got it. As an AM4 motherboard based around the X370 chipset, it also offers support for multi-GPU SLI/CrossFire setups and CPU overclocking. (Learn more about the crucial differences in every AM4 chipset.)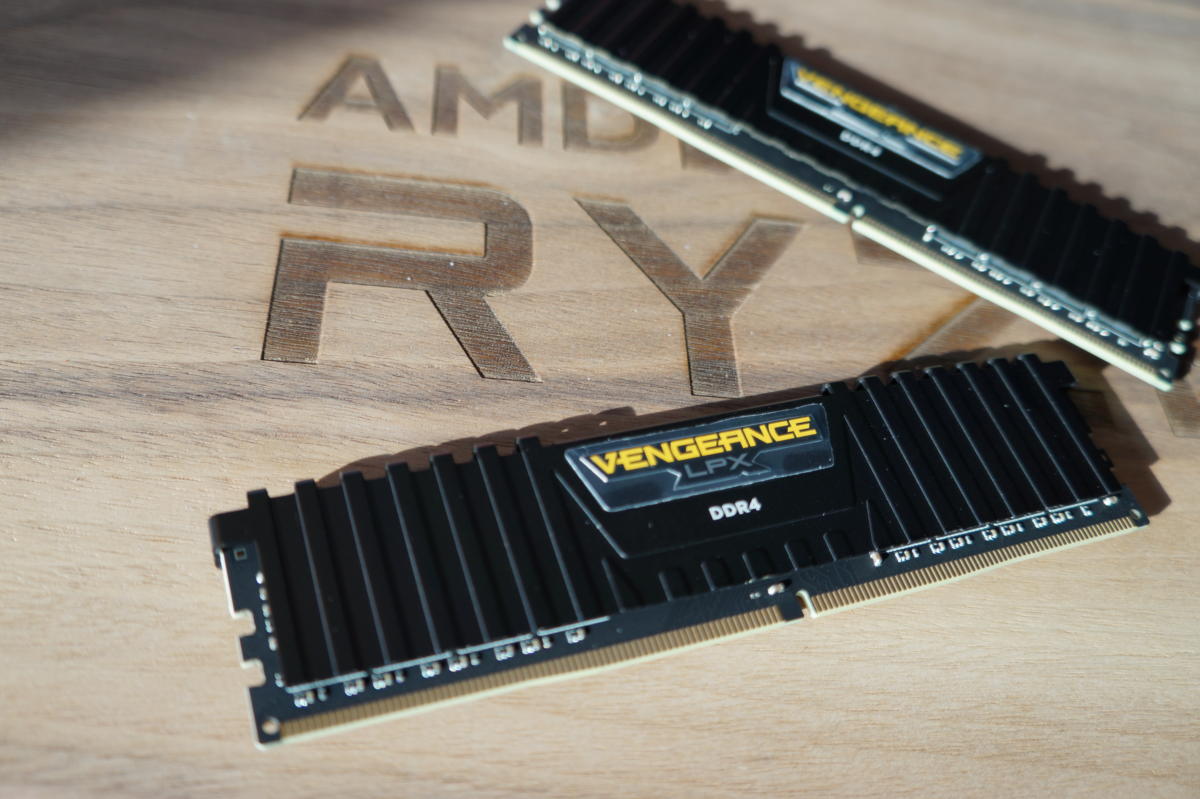 Memory: AMD's Ryzen platform uses DDR4 memory rather than DDR3, so unless you're coming from an Intel Skylake, Kaby Lake, or Haswell-E build, you won't be able to reuse your RAM. Ryzen also favors dual-channel memory configurations. AMD sent along a 16GB (2 x 8GB) kit of Corsair's 3,000MHz Vengeance LPX low-profile DDR4 RAM ($110 on Amazon) in my reviewer's kit.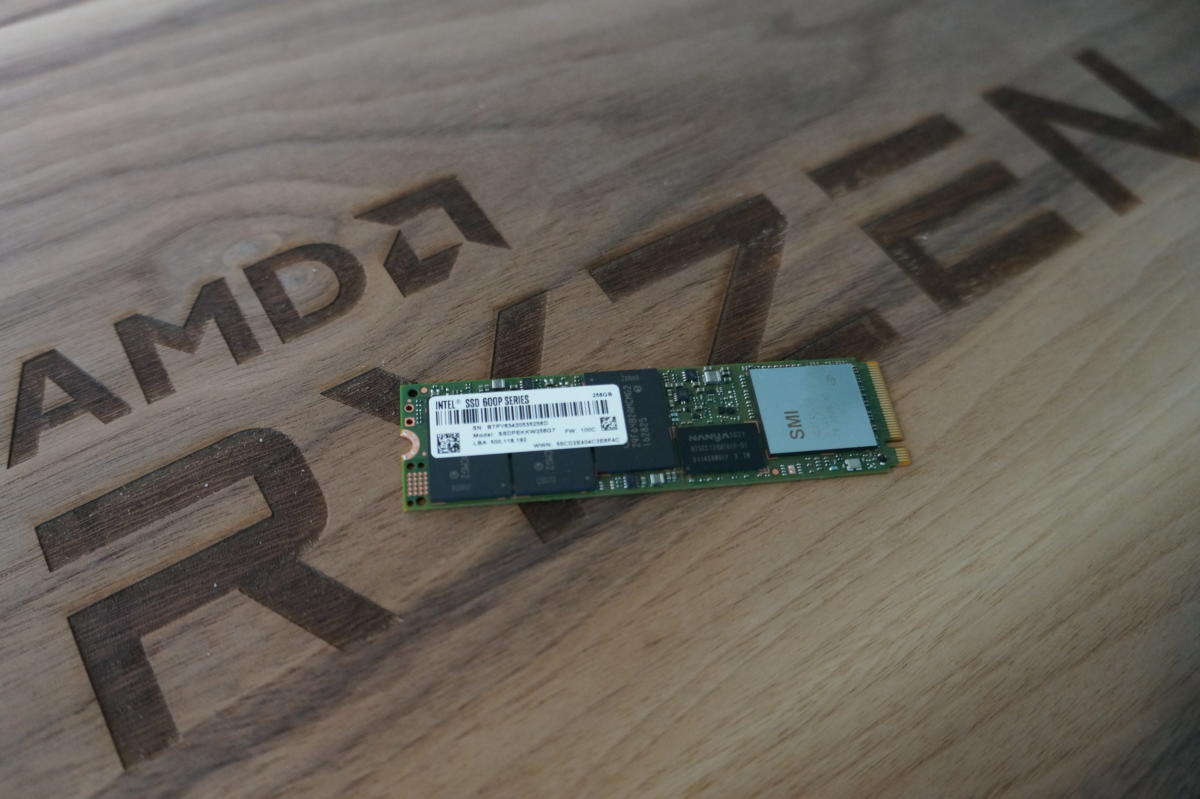 Storage: The first rule of time-sensitive PC builds: Keep it simple, stupid. This rig complies, relying on a single 256GB Intel SSD 600p Series M.2 NVMe SSD ($100 on Newegg) for storage. That turned out to be a blessing, as you'll discover later.
Mentioned in this article
Corsair AX1200i power supply
Power supply: On the flip side, anything worth doing is worth overdoing, so we used Corsair's premium AX1200i power supply with 80 PLUS platinum efficiency ($310 on Amazon) in this build despite it being wildly overkill for the hardware involved. The fact that it was what I had on hand didn't hurt, either. And the first competitive AMD high-end CPU/GPU combo demands a similarly swanky PSU—right?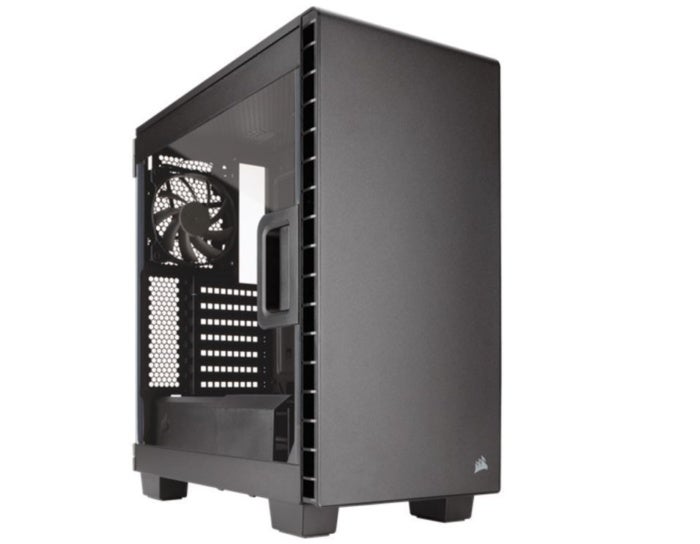 Case: The final hardware component of the build is the part that made it tricky. Corsair's Carbide 400C ($100 on Amazon) is a damned fine, downright-affordable mid-tower case—but one that skews towards the smaller side. It's perfect for traditional PCs built around a single graphics card and an air-cooled CPU. This build, however, not only uses a 240mm liquid cooler, it uses a relatively gigantic 240mm liquid cooler, and the Fury X uses its own liquid cooler with a 120mm radiator—and both coolers feature dual cable loops connecting the water blocks to the radiators.
Operating system: Windows 10 ($120 on Amazon) is the only way to properly game on PCs… at least if you plan on using the DirectX 12 games AMD's been heavily touting for Ryzen CPUs and Radeon graphics cards.
Add it all up—using the original $200 MSRP for the EKWB cooler as well as a sane $350 asking price for the Fury X rather than the current inflated number—and you're looking at a grand total of $1,985. That's not cheap, but remember, a comparable Intel build would cost $550 more.
This is also way more hardware than the modest case was made to accommodate. Let's dig in!
Next page: Building the beast
Building the beast
I started the Ryzen 7 1800X build the same way I assemble all PCs: By building out the motherboard first. That's much easier than slipping the motherboard into your case first, then adding all the components within the confined space.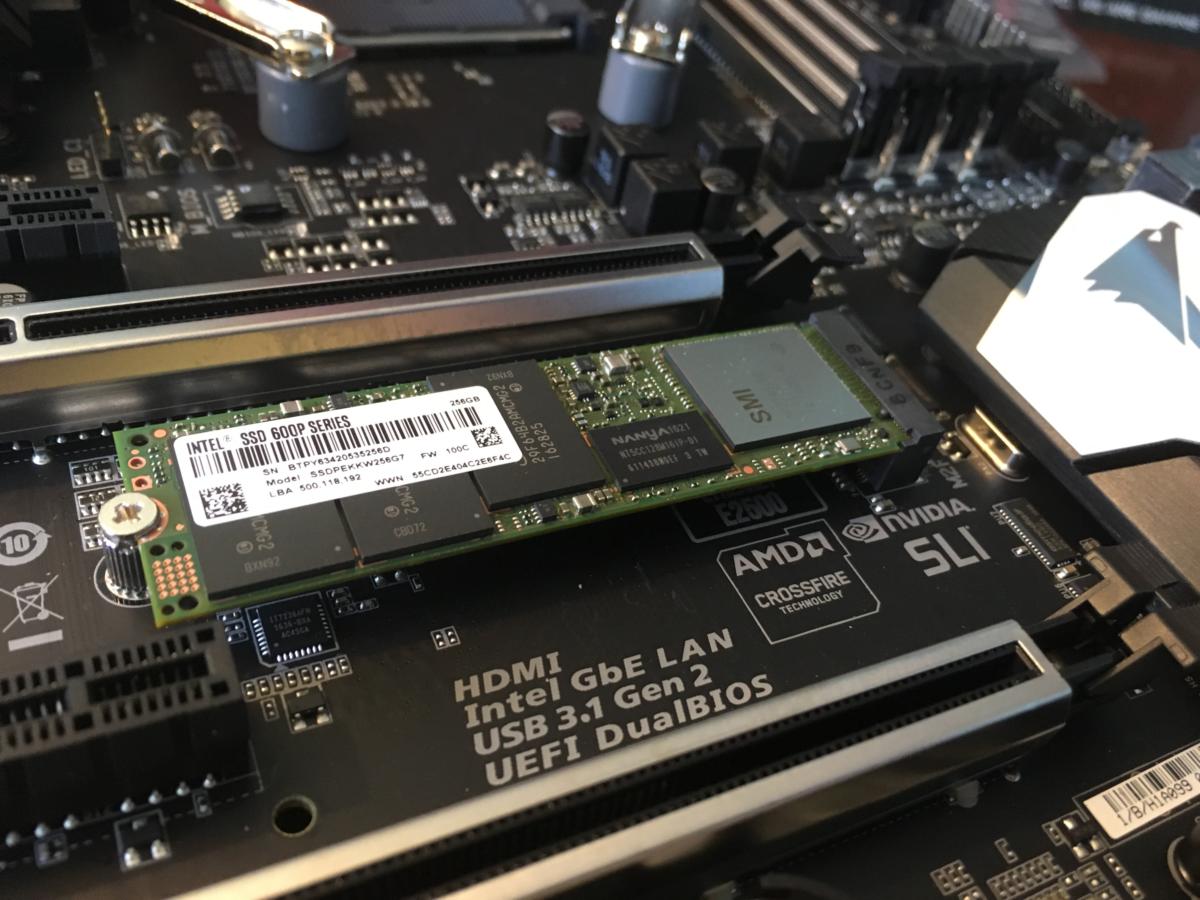 Traditional storage is typically one of the last parts I slot into a DIY computer, but when you're using a tiny M.2 SSD stick, it makes sense to slip it in right up front. Just been sure you don't slam it while you're working on the other hardware!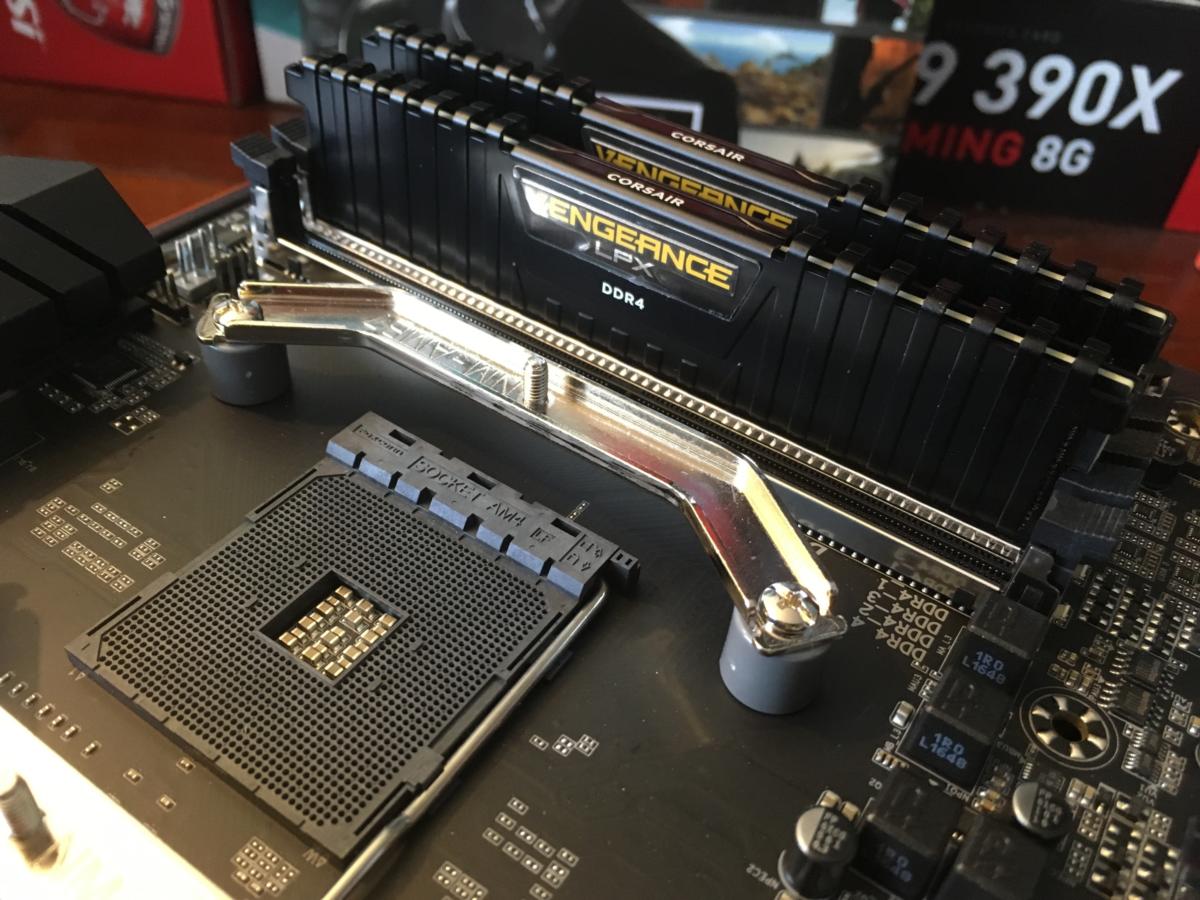 After that, it's time to install the RAM. You always want to read the manual when you're adding memory, as performance can be affected if you don't insert the modules in the correct slots. In this case, reading the manual informed me of the need to insert the Corsair Vengeance LPX modules into the DDR_1 and DDR_2 slots when using two modules. Examining the board itself revealed that the slots weren't labeled in numerical order, however; moving away from the CPU socket, the memory slots were DDR_4, DDR_2, DDR_3, and DDR_1.
Again: Always RTFM when you're building a PC.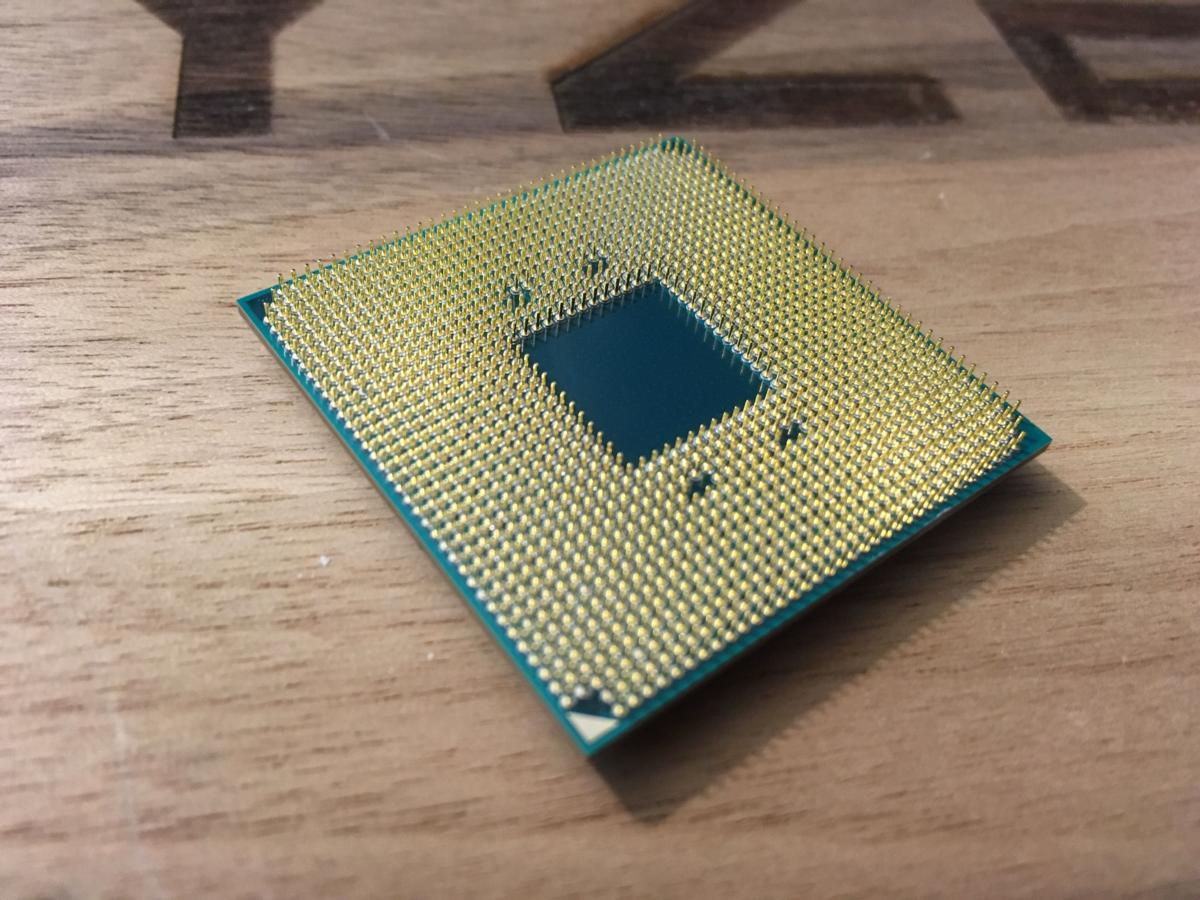 With the memory securely in place, it's time for the star of the build to take its place. The Ryzen 7 1700X, like all AMD processors in recent memory, is riddled with dozens of tiny pins on the underside of the CPU. That's scary! Bending those pins can kill your fancy new processor in a jiffy, so handle it carefully.
If you look at the underside of the Ryzen 7 1800X, one corner features a golden triangle; that matches up with a triangle on the corner of the CPU socket for proper installation of the chip. Do it right and the processor slips right in; do it wrong and the CPU won't fit. Do it right, then lower and secure the retention lever on the side of the socket to hold the chip in place.
Cooler time! The exact procedure here will depend on which cooler you're using; stock coolers install easily, while aftermarket coolers often involve more complicated preparation—liquid coolers doubly so. It's always easier to install your cooler before inserting your motherboard in your case, however.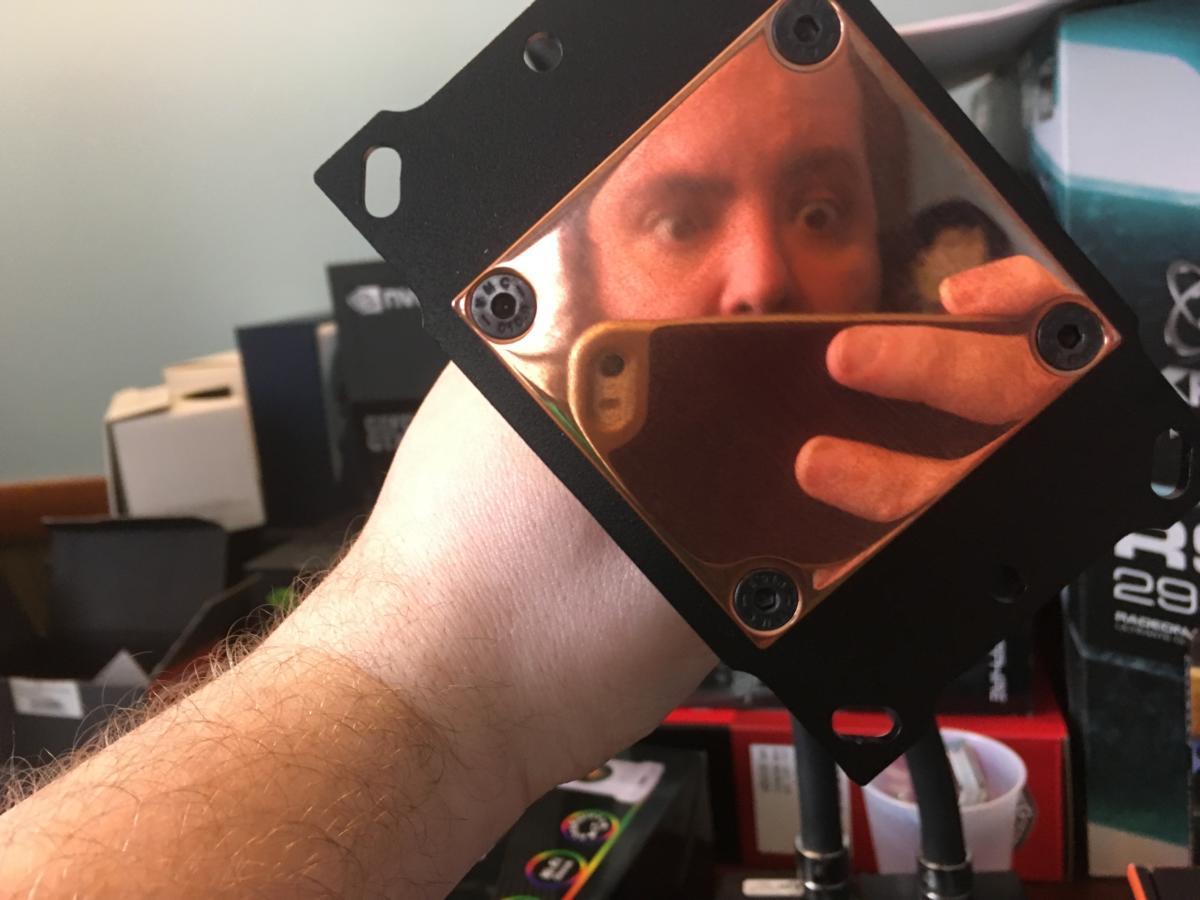 The Ryzen'd-up EKWB XLC Predator 240 came with an AM4-compatible motherboard bracket preinstalled, though I had to remove the existing mounting hardware on the motherboard to install EKWB's custom solution.
Again: Read the manual! There are always unique requirements with custom coolers. In this case, when installing the new backplate on the rear of the motherboard, you need to make sure the Predator 240's full rubber gasket lies between the backplate and the motherboard, and the ribs on the backplate faced outward. You'll also need to make sure that the included PVC washers sit between the metal mounting hardware and the motherboard itself on the front side.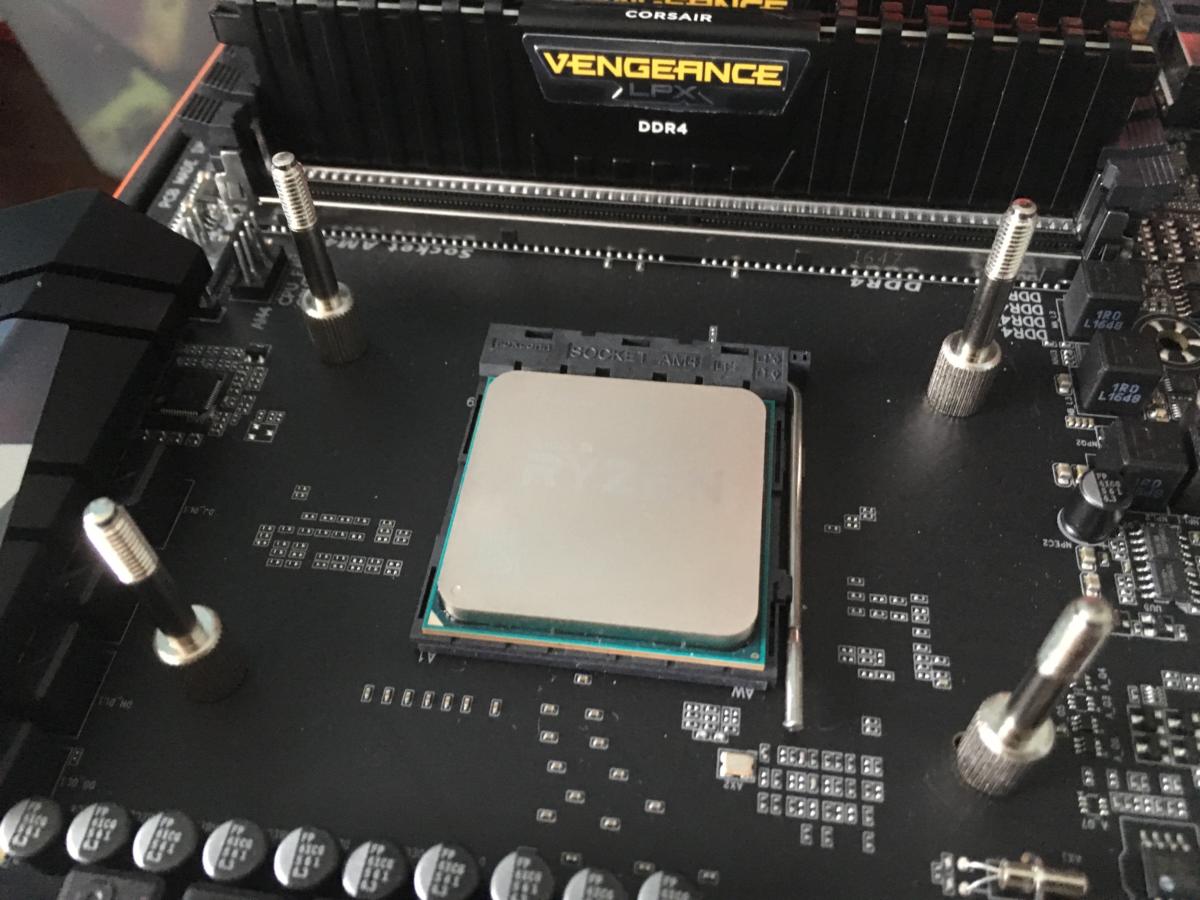 You have a couple of different options when installing a closed-loop liquid cooler. Some people prefer to install the motherboard, then the large radiator, then connect the two. I prefer to install the CLC on the CPU while both are still outside of the case, then install both in the motherboard. It's a bit clunkier to handle while you're slotting the hardware into your case, but it makes installing the cooling block easier—and it prevents the cooling block from potentially flapping around and damaging your precious hardware.
Anyhoo, after the mounting hardware's in place, apply a pea-sized portion of thermal paste to the center of your processor, because that's the only civilized way to apply thermal paste. Yank the protective sticker from the cooler's water block, admire the mirror-finished copper surface, and slowly lower it onto the Ryzen 7 1800X. (The Predator's hoses are stiff, so make sure the radiator is set aside in a safe position during the process.) Once that's done, tighten the screws to secure the cooler to your processor.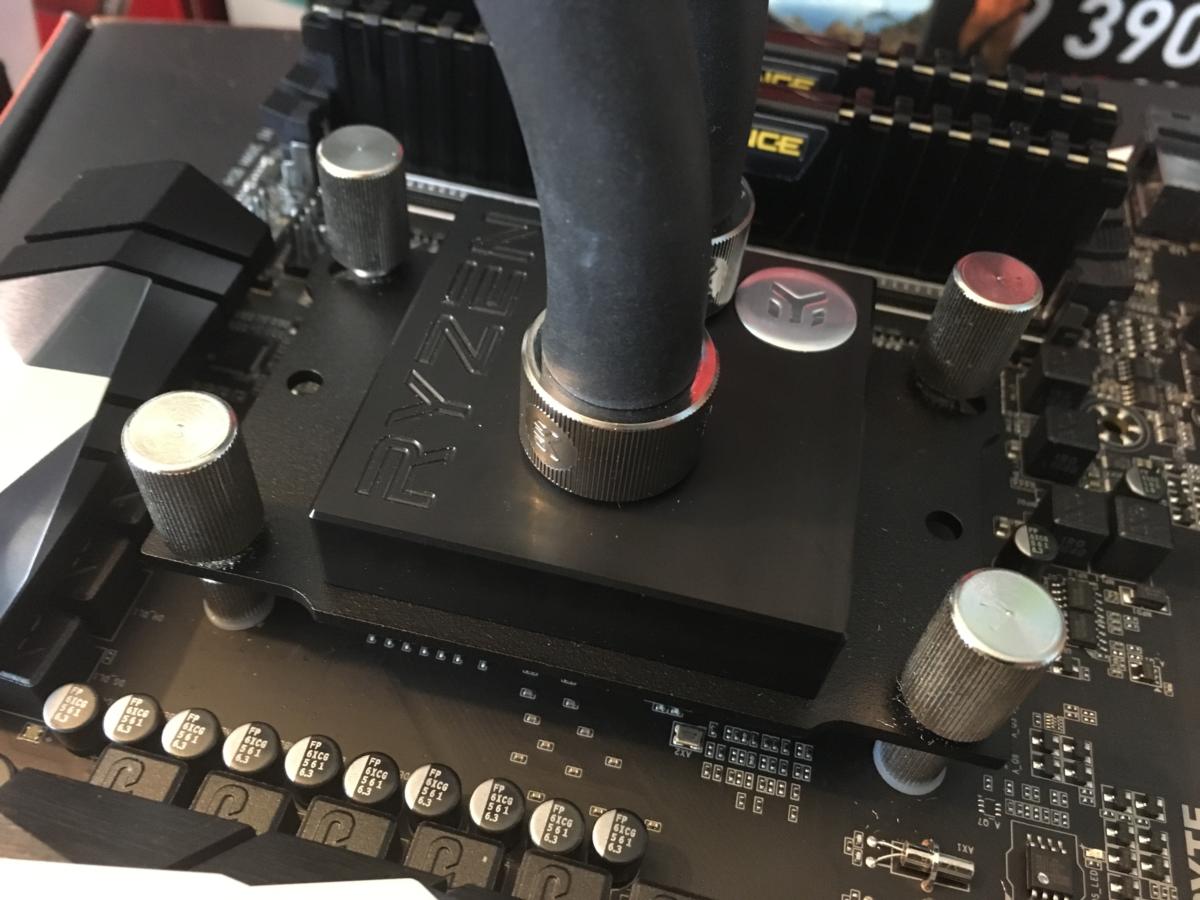 It's time to get this stuff in your case—after you install your motherboard's I/O shield in the rear of the chassis, of course.
This is where the headaches began.
The Corsair Carbide 400C is slightly slimmer than most mid-tower cases, while the XLC Predator 240 is slightly fatter and wider than most closed-loop coolers. I'd intended to mount the CLC's radiator to the top of the case—the usual placement for these—but between those two measurement oddities, the radiator simply wouldn't fit, and it was by the most frustratingly slim of margins. There was simply no wiggle room; the radiator always bumped into the memory and motherboard I/O shield. No bueno.
Back to the drawing board.
After examining the case's available fan placement and reading the EKWB's manual, I quickly realized there was only one place for the Predator to go inside the Carbide 400C: Mounted to the front of the case, with the loops entering at the bottom due to the cooler's water flow needs. Making it happen required ripping out the case's hard drive bay—a potential deal-breaker if you need a mechanical hard drive in your PC, though you likely wouldn't pair this case with all these water coolers in a real-world build. Fortunately, our Ryzen PC relies on that single slim M.2 SSD for storage. K.I.S.S. for the win!
Unfortunately, placing the EKWB cooler in the front also required me to rearrange every fan in the case for proper airflow. The placement requirements for the Radeon Fury X's radiator further constrained the cooling possibilities, as it's an exhaust-only configuration and essentially has to be mounted on the rear of the case, just above the graphics card itself. Also, I discovered that removing the front panel of the Carbide 400C (in order to install the radiator) is a major pain in the butt.
Ugh. I got through it all eventually. Seriously, though, if you're hoping to recreate a build like this, buy a bigger case, like the spacious Corsair Obsidian 750D ($150 on Amazon) PCWorld uses for its dedicated graphics card testing system.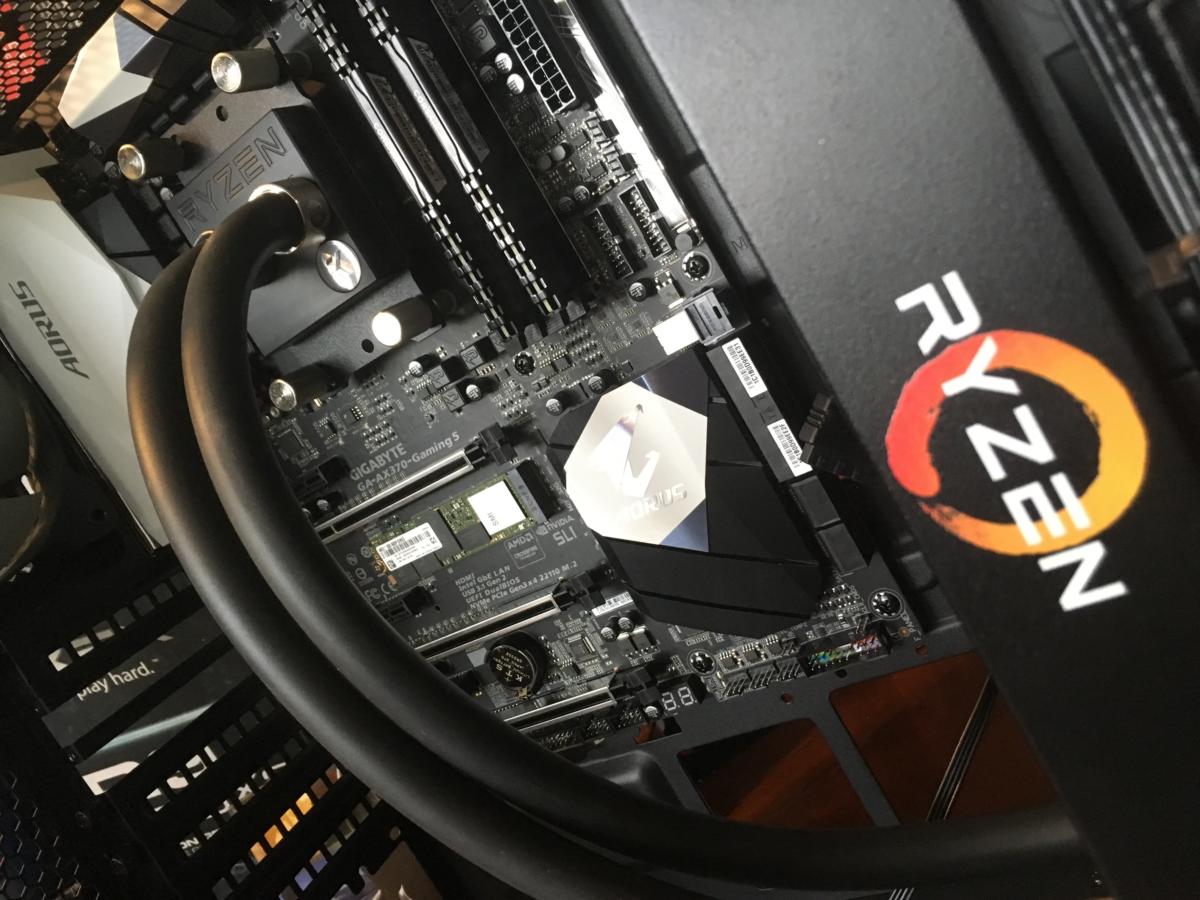 From there, everything's relatively straightforward. I save power supply installation and cable management for the very end of a build, as it's easier to cleanly route your wires after the major hardware's been set into place. It mattered less in this build, since all those liquid-cooling loops in such a confined space make it looked cluttered regardless. Furthermore, the EKWB Predator's loops draping down to the bottom of the case made it impossible to use the Carbide 400C's drive bay cover, making it more difficult to hide the power supply cables at the bottom of the case. Alas.
I didn't let the less-than-optimal cable management get me down, though. This rig is the unabashedly high-end, relentlessly water-cooled apex of AMD's PC performance right now, and while it took some work, all this killer hardware fit into a sleek, small case it was never intended for. Giddy up.
Final page: Brief benchmarks
Performance results
Everything worked just fine when I turned on the Ryzen rig, allowing me a sigh of relief after the most stressful part of any PC build: pressing the power button after assembly.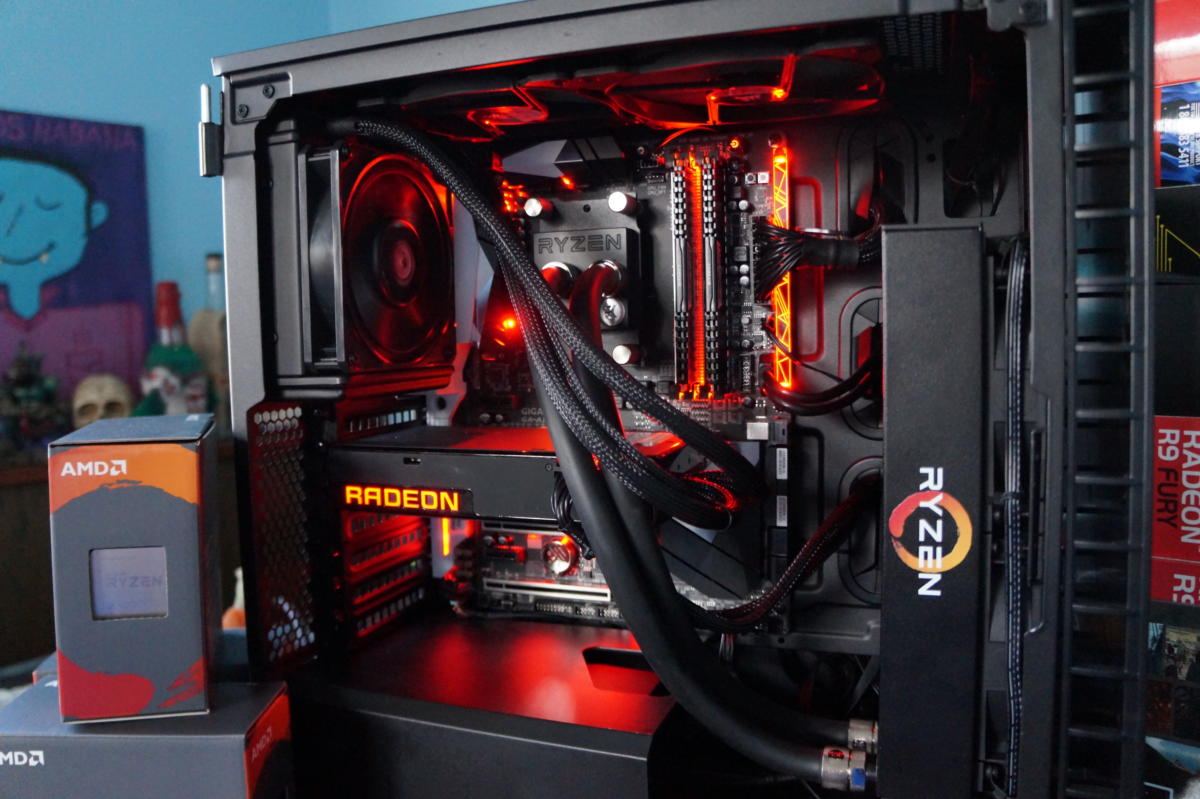 I didn't have much time to put the machine through its paces with everything going on this week (GDC, MWC, a Radeon event, and the GeForce GTX 1080 Ti reveal, oh my!) but I couldn't resist loading up a few games to see how this puppy runs.
Nicely, the configuration wound up being very similar to PCWorld's aforementioned GPU testing system for benchmark comparisons. That rig's built around an 8-core, 16-thread Intel Core i7-5960X that's since been usurped by the newer Core i7-6950X, but the $1,000 processor nevertheless represented the apex of Intel performance when it launched as the first 8-core consumer desktop chip. It's still a very worthy competitor, clocked at 3GHz to 3.5GHz, a bit lower than AMD's chip.
The Intel system packs 16GB of 2,800MHz Vengeance LPX DDR4 quad-channel RAM; a Corsair Hydro Series H100i 240mm closed-loop liquid cooler ($100 on Amazon); and a 480GB Intel 730 series SSD. So it's not quite an apples-to-apples comparison with the Ryzen system, but it's awfully close, especially for the small handful of high-resolution gaming benchmarks we used. We used the same Radeon Fury X in both systems, natch.
For the games themselves, I selected two relatively agnostic titles that don't strongly favor either Radeon or GeForce cards. But I also used Ashes of the Singularity, a game that's heavily associated with AMD and shows incredible performance gains on Radeon cards with DirectX 12 enabled. As far as testing goes, I turned off V-Sync and all proprietary graphics technology like Nvidia's Fast Sync, AMD's FreeSync, et cetera. At AMD's suggestion, the PC's Windows power settings were configured to "Performance" in order to ensure that Ryzen's SenseMI Pure Power and Precision Boost technologies work correctly.
Here's how the Ryzen 7 1800X and Intel 5960X machines compare in The Division at 4K and 2560×1440 resolutions, using the Ultra graphics preset: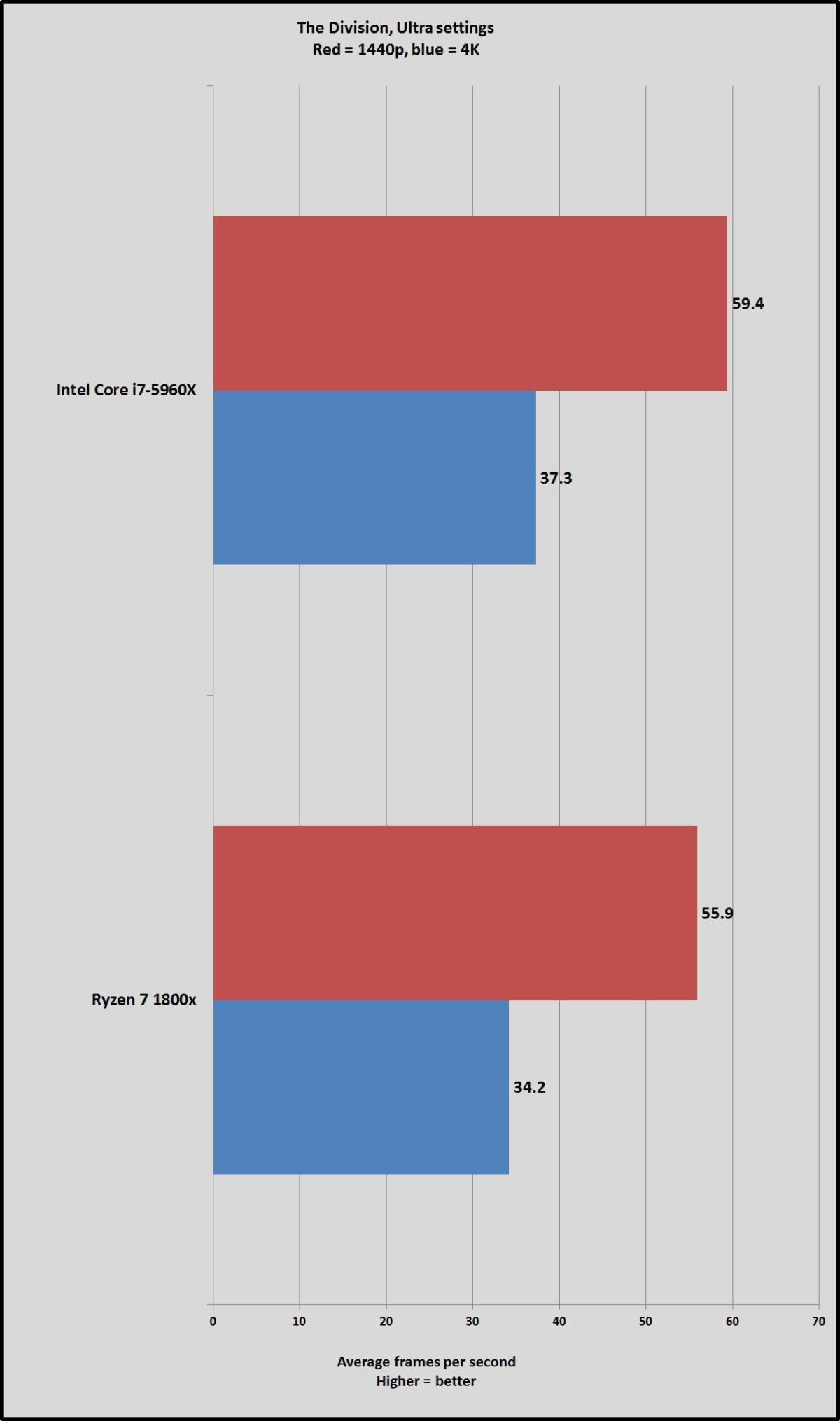 And here's Far Cry Primal with everything cranked and the game's optional HD texture pack installed. Ryzen claims a solid win here.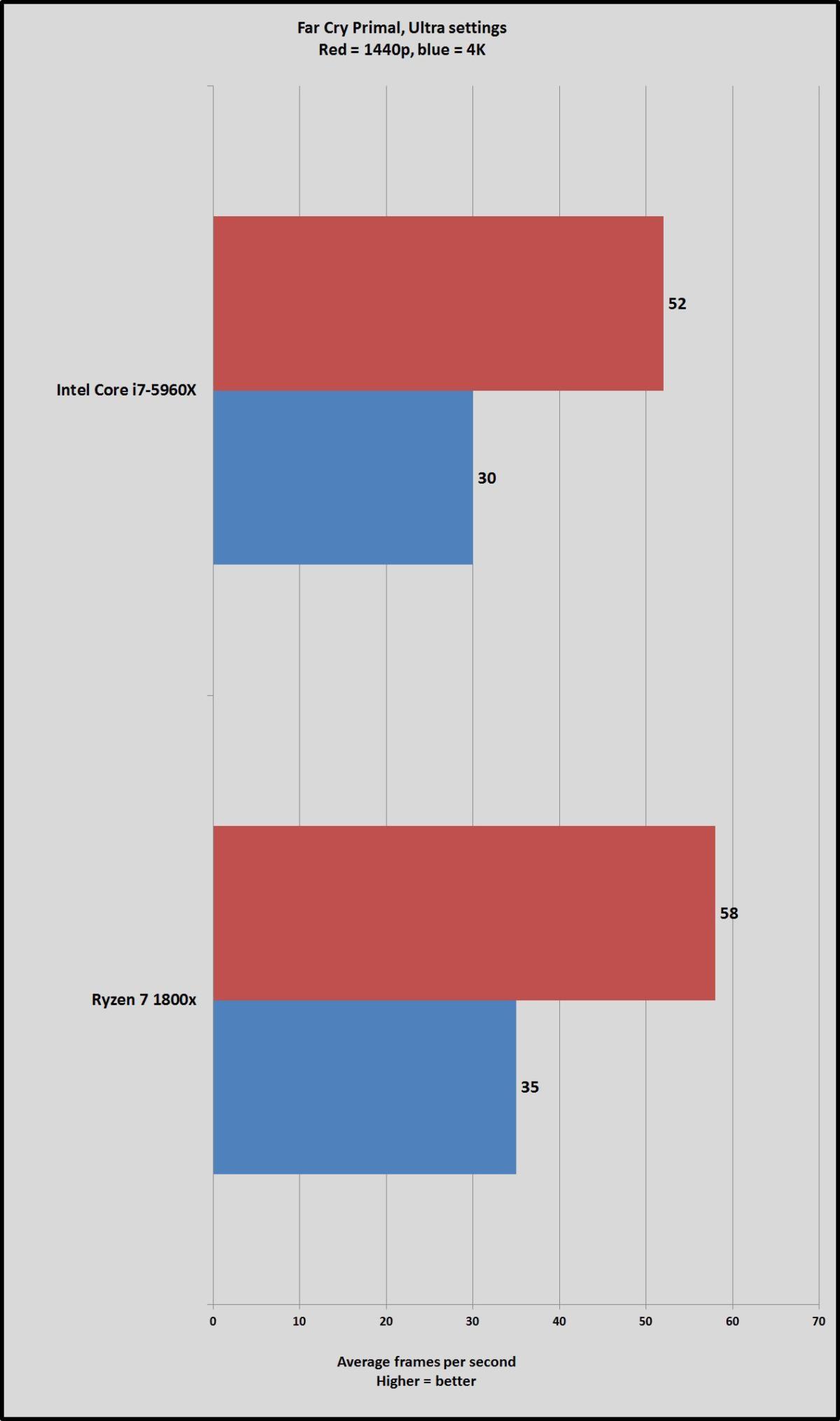 I tested Ashes of the Singularity using the High graphics preset, because the game's "Crazy" preset is, well, crazy. Once again, both 4K and 1440p resolutions were tested, this time in both DirectX 11 and DirectX 12.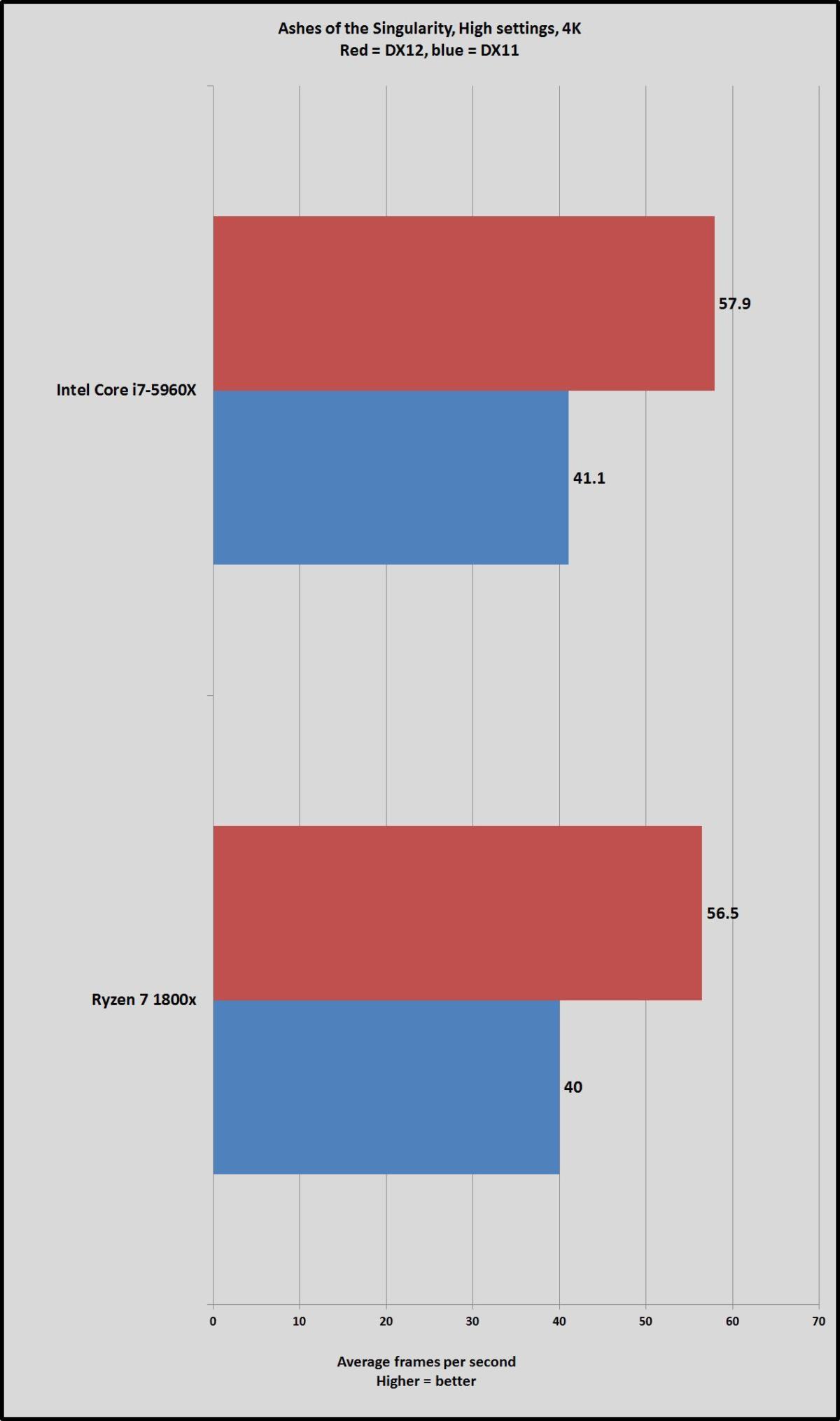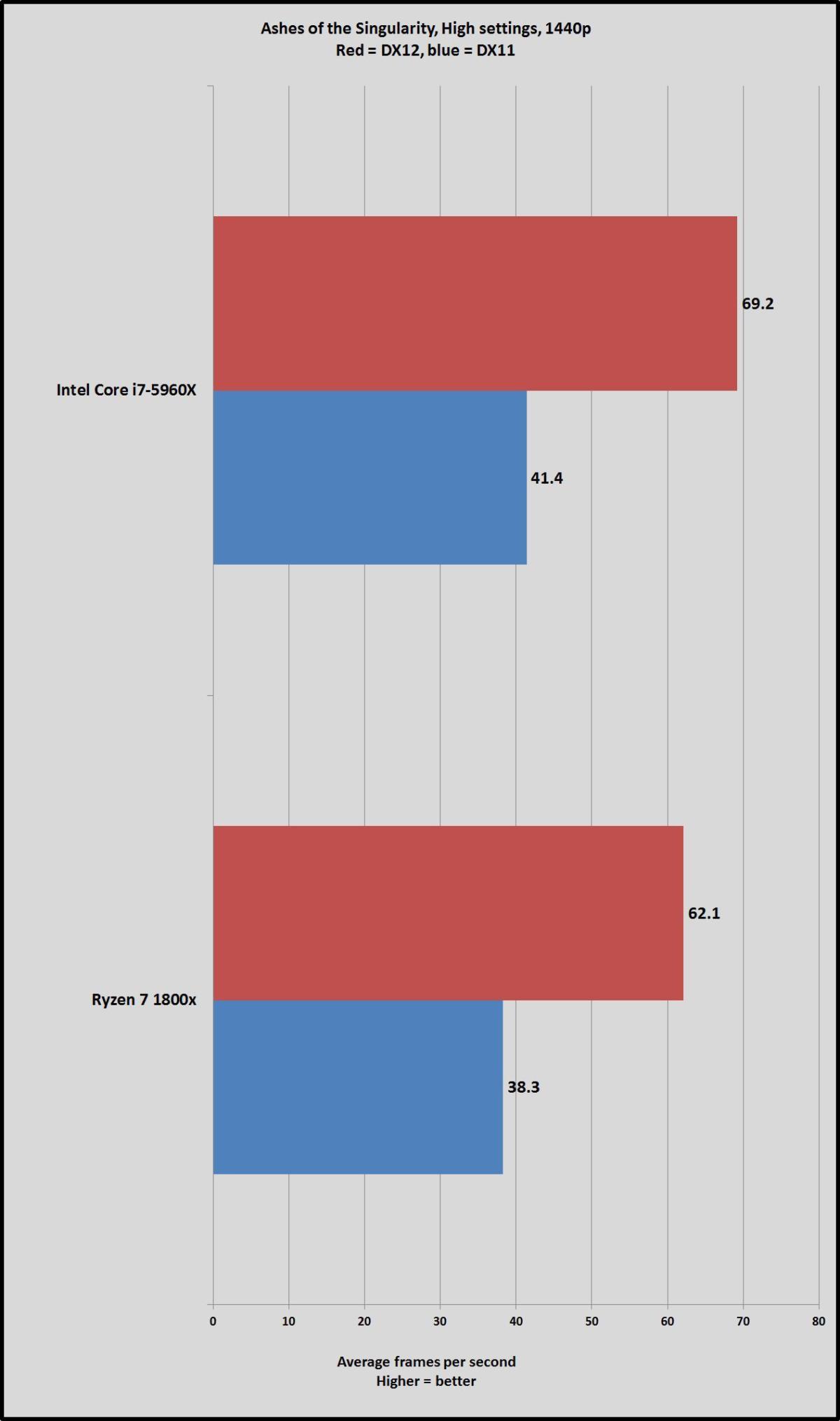 The Ryzen system pulls out a win in Far Cry Primal, but it lags slightly behind the Core i7-5960X machine in the other two games—significantly so at 1440p/DX12 in Ashes of the Singularity. That's in line with what Gordon Ung found in PCWorld's comprehensive Ryzen review: AMD's new chips go toe-to-toe with Intel's best in multithreaded and productivity applications, but tend to be a bit slower in games.
Don't be blinded by the raw numbers in these all-too-brief tests, though. The Ryzen 7 1800X hangs pretty damned well with the Intel processor at the 4K and 1440p resolutions that the Fury X is tuned for—something AMD's aging FX chips could never, ever achieve, and something that's all the more impressive when you remember that the flagship Ryzen costs half as much as a comparable 8-core Intel CPU. A 5fps performance advantage for Intel works out to $100 per frame. Sheesh.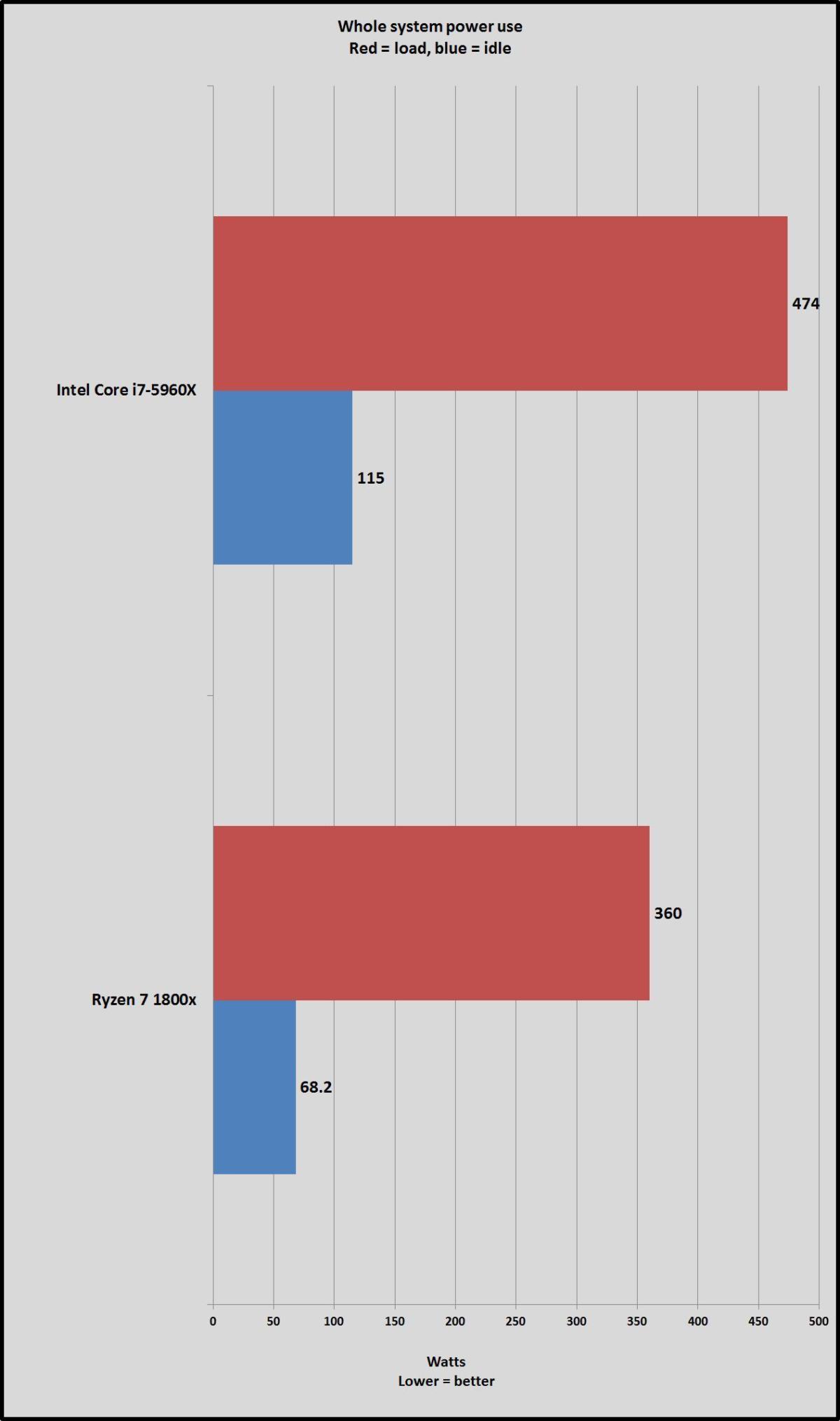 What's more, Ryzen also consumes far less power than the Core i7-5960X. The whole-system power usage when running the Division benchmark at 4K maxes out at 360 watts on the Ryzen 7 1800X, compared to a whopping 474 watts on the Intel system.
The idle power totals are drastically different, too. Ryzen's built using a 14nm process that's more energy efficient than the Core chip's 22nm tech.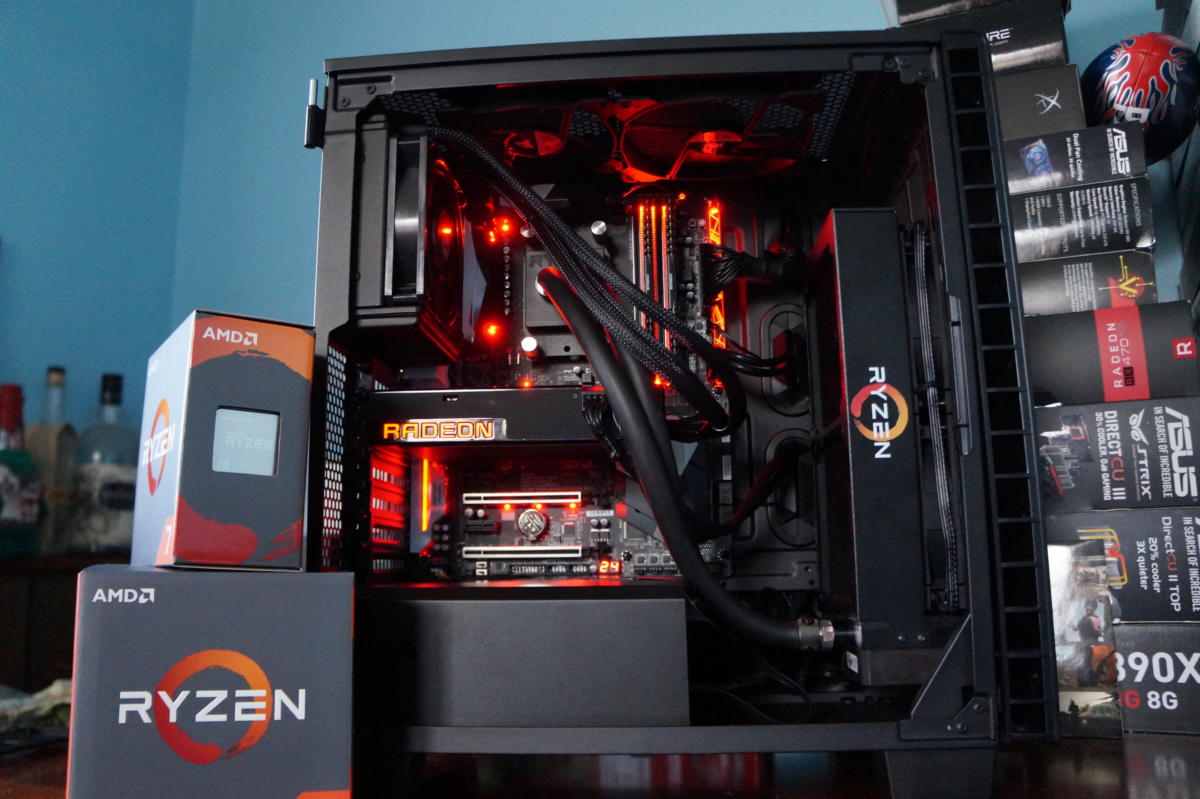 Finally, while all those liquid-cooling loops wreaked havoc on my system's cable management, the hassle paid off. Even running at full load for 15-plus minutes, the Ryzen 7 1800X typically hovered around a downright-chilly 50 degrees Celsius (with occasional spikes up to 56 degrees during particularly demanding scenes) while the Fury X never topped 42 degrees. Water-cooling is a wonderful thing.
Mentioned in this article
AMD Ryzen 7 1800X processor
Price When Reviewed:
$499.00
This build is a wonderful thing, too. While Ryzen and the Intel system trade blows in different ways, there's no question that AMD processors are back and ready to brawl on the high-end. For the first time in ages, it's possible to build a premium gaming PC consisting entirely of AMD hardware—though the scenario gets more muddled when you're using mainstream-class graphics cards at more moderate resolutions. Ryzen's performance story is a complicated one that varies depending on task. Once again, check out PCWorld's exhaustive Ryzen review for a deep-level look at the processor's strengths and weaknesses.