Mozilla recently launched another great experimental feature for Firefox that many users should find helpful. The feature is called Snooze Tabs, and it tells Firefox to stash a tab and bring it back at a set time. This is really helpful for those occasions when you need to close a tab, but don't want to forget about it. It also saves you from cluttering up your bookmarks with temporary saves, or putting URLs into a read-later service such as Pocket—recently acquired by Mozilla.
If you haven't already, start by installing the Test Pilot add-on from Mozilla's site. Once that's done, head back to the same URL to view all the various experiments. At this writing, Snooze Tabs was the first option.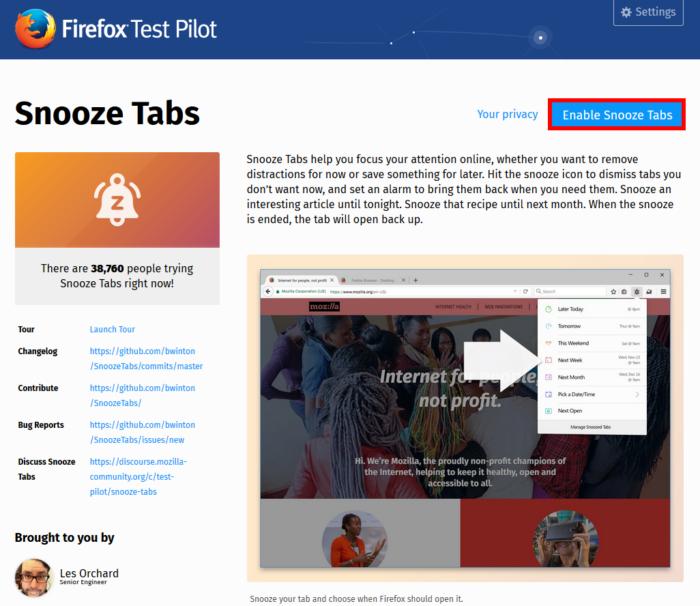 From here, click Get Started on the Snooze Tabs tile, and then on the next page click Enable Snooze Tabs. After it's installed, a bell icon with a "z" will appear to the right of the address bar.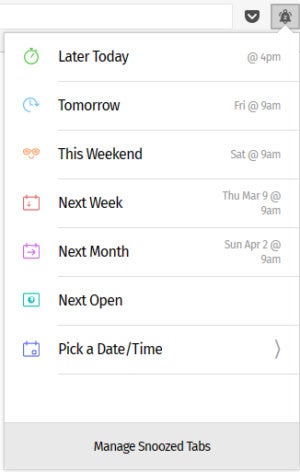 Now, whenever you want to stash a tab for later, click on the Snooze Tabs icon and from the drop-down menu select how long you want the tab to snooze. The feature offers several preset options including Later Today, Tommorrow, Next Week, Next Month—you get the picture.
You can also choose Pick a Date/Time towards the bottom. Then specify your desired date and time on the next screen. Once you tell Firefox to snooze a tab it will disappear until it's scheduled to resurface.
If you ever need to get at your snoozed tabs before they are set to reappear, click the bell icon again, and select Manage Snoozed Tabs from the drop-down menu.
That's all there is to Snooze Tabs. One thing to keep in mind is that while this feature is extremely handy there's no guarantee it will be around forever. One previous experimental feature we looked at, No More 404s, was recently removed.
Nevertheless, it's very handy and worth using while it's around.