Ooh. Shiny. When Porsche Design unveiled its Book One at Mobile World Congress, Microsoft's premium Surface Book finally had a rival for Best Trophy Laptop—the one you buy not because you need it, but because you can afford the best.
We haven't tested the Book One yet—it doesn't ship until April—but we can compare its specs to those of the Surface Book closest in price and specs. Run through the list with us and see if you agree on which device is most drool-worthy.
Price
Both models come in at the high end for a mainstream laptop:
Book One: $2,495
Surface Book: $2,699
Case material, dimensions, and weight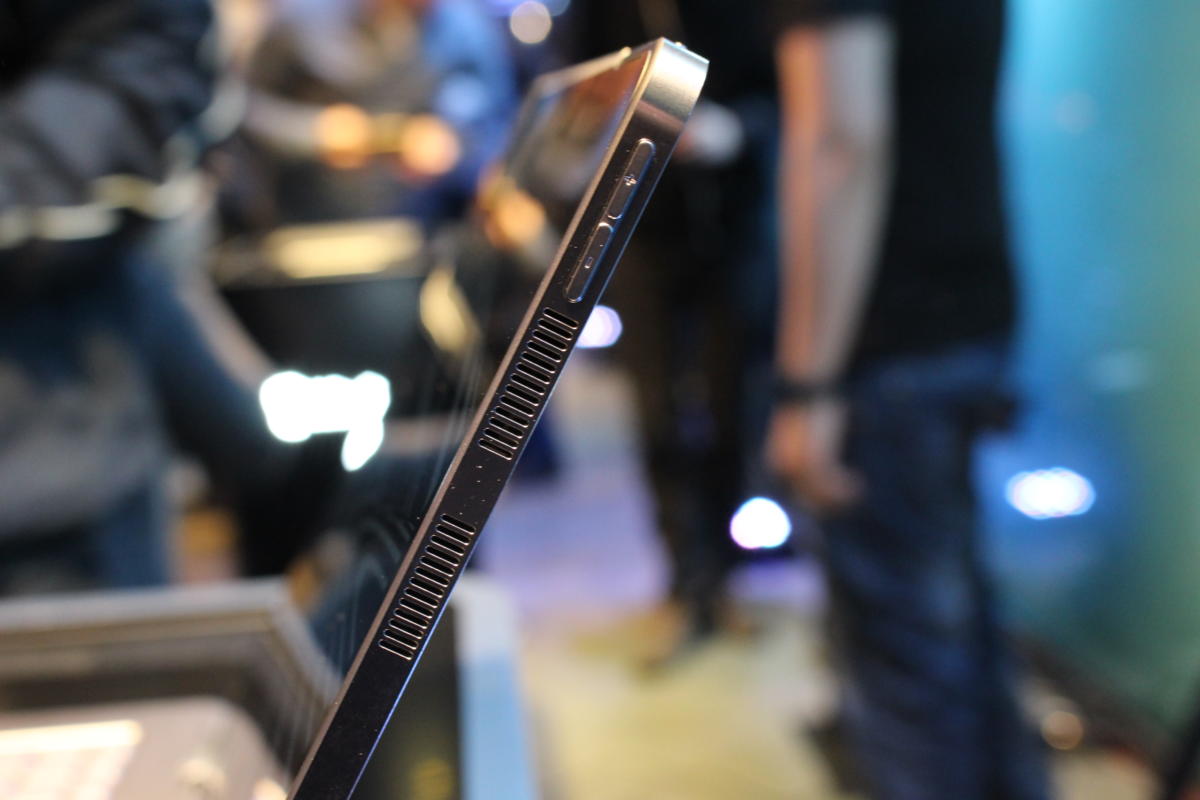 Higher-end laptops eschew plastic for lighter, tougher, and more prestigious materials. The Book One is thinner overall, but not lighter, and not without further compromise.
Book One: Anodized aluminum in a matte, silvery finish. It measures 12.26 x 8.9 x 0.63 inches and weighs 3.77 pounds.
Surface Book: Magnesium in a matte, silvery finish. It measures 12.3 x 9.14 x 0.51-0.9 inches (because of the hinge—more on that later) and weighs 3.63 pounds.
The hinge and display mechanisms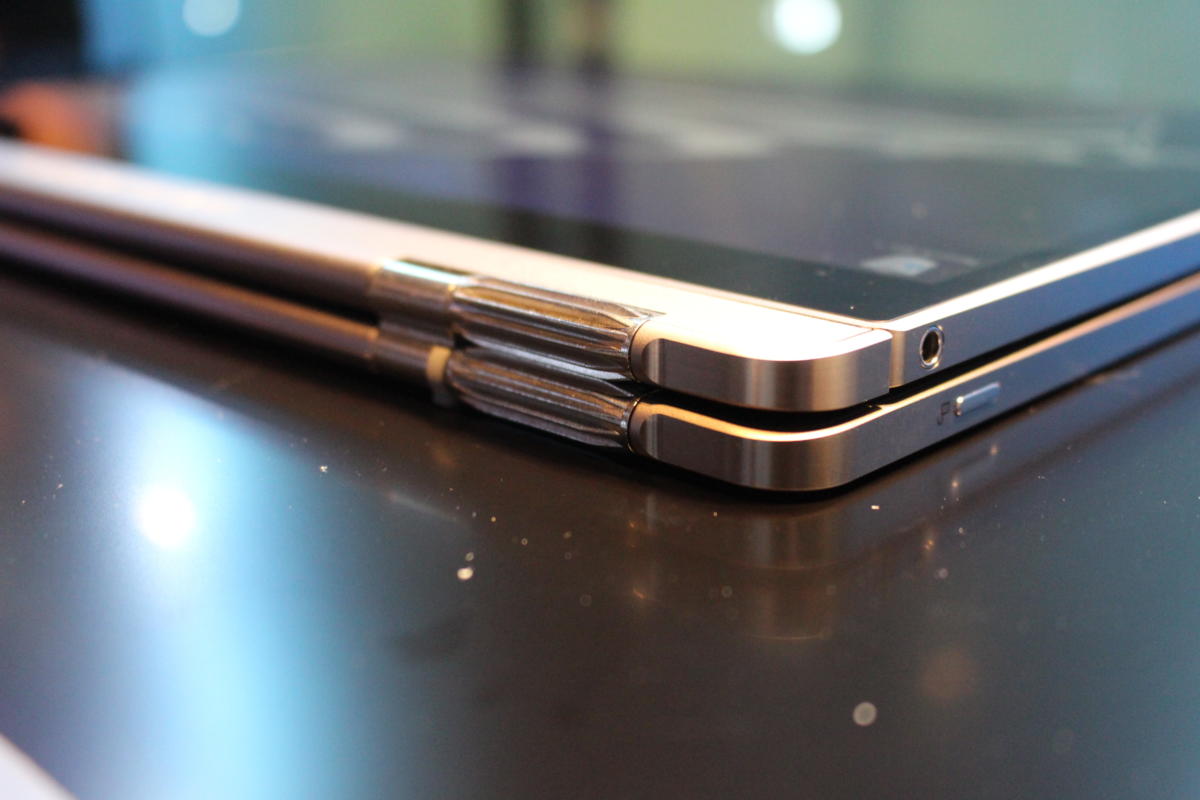 Laptop hinges are a challenge. Most designs have the top half roll a bit behind the bottom half when opened. A piano hinge keeps the display half above the keyboard half. Both the Book One and the Surface Book offer innovative hinges to accommodate their detachable displays—and add to their cachet as premium laptops.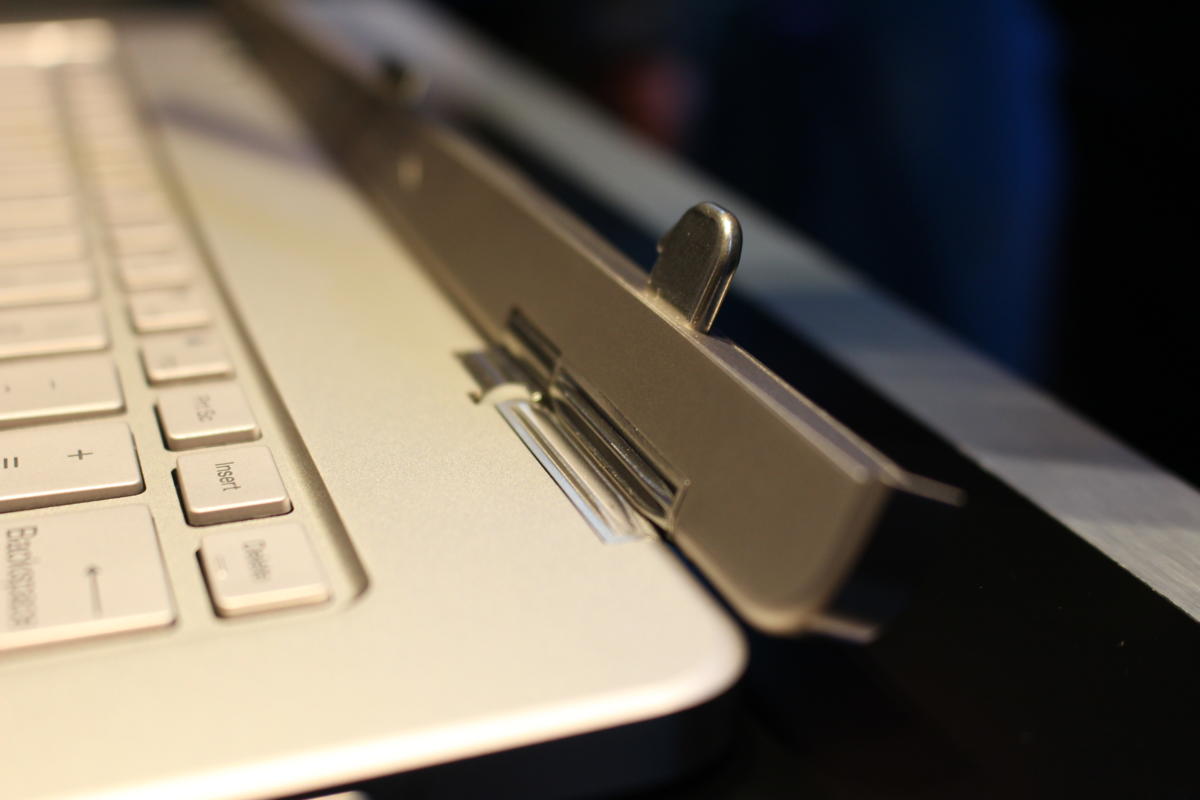 The Book One is the only laptop available with both a 360-degree hinge and a detachable display. Its two VarioGear hinges consist of two stainless steel, gear-like cogs inspired by automotive mechanics. They roll over each other and also tilt to keep the laptop's two halves in smooth contact. A small, plastic part called the "intelligent distance ring" manages the tilt, though aesthetically it seems out of place among these shiny gears. A small button on the laptop's right side detaches the display, leaving behind a slender bar with insertion tabs.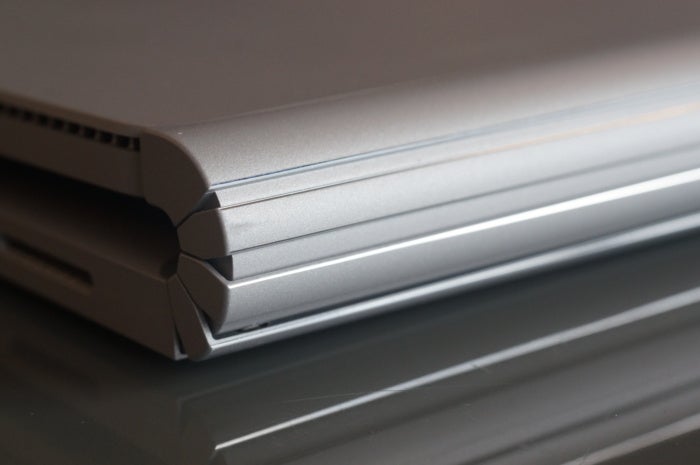 The Surface Book's Dynamic Fulcrum Hinge is even more complicated, with an articulated structure and a Muscle Wire Lock mechanism to release the display (which Microsoft calls the Clipboard). What some people don't like is the hinge's broad bend, which makes the Surface Book nearly an inch thick on that side.
Operating system
Both offer Windows 10 Pro, which is a good thing, as you get more control over system settings.
CPU, RAM, and storage
The Book One has an advantage here. It comes with Intel's 7th-generation (Kaby Lake) Core i7-7500U, a dual-core chip that runs at 2.7GHz up to 3.5GHz. It has 16GB of LPDDR3 memory running at 1,866MHz, and a 512GB PCIe SSD.
The Surface Book line is still on Intel's 6th-generation Skylake CPUs. This model has a dual-core Core i7-6600U that runs at 2.6GHz to 3.4GHz. It comes with 16GB of RAM and a 512GB SSD.
Graphics
This is the one place where the Book One made a hard choice, going with Intel's integrated HD Graphics 620—a solid performer for mainstream use, and probably the only viable choice given how thin the Book One is. It's just that when the Porsche name is attached to something, it's natural to expect speedier discrete graphics to be part of the package.
The Surface Book in this comparison is a fall 2016 refresh using Nvidia's GeForce GTX 965M, which alternates with integrated Intel HD 520 graphics. Of course, including this discrete GPU in the keyboard base (the Intel HD 520 is in the Clipboard) means the Surface Book is thicker and probably runs hotter than the Book One.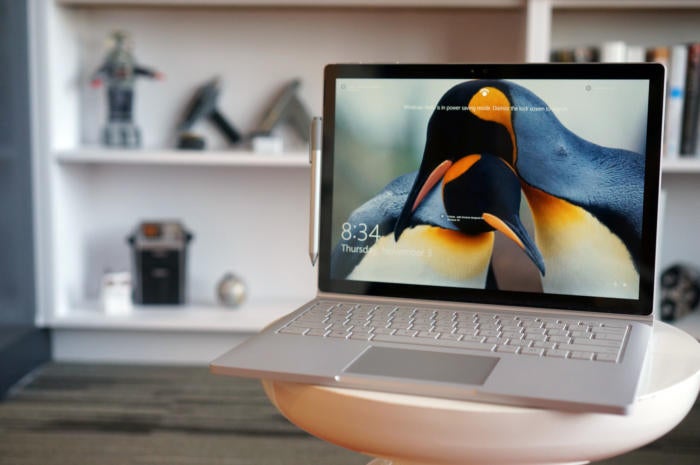 Display
Both of these laptops offer top-notch screens. Just remember that high-resolution displays demand more processing power and battery life.
The Book One has a 13.3-inch QHD+ (3200×1800) IPS display with an LED backlight and a 16:9 aspect ratio. The 10-point multitouch display uses Gorilla Glass 4.
The Surface Book has a 13.5-inch PixelSense IPS display with a 3000×2000 resolution and 3:2 aspect ratio, plus 10-point multitouch.
Keyboard, touchpad, and pen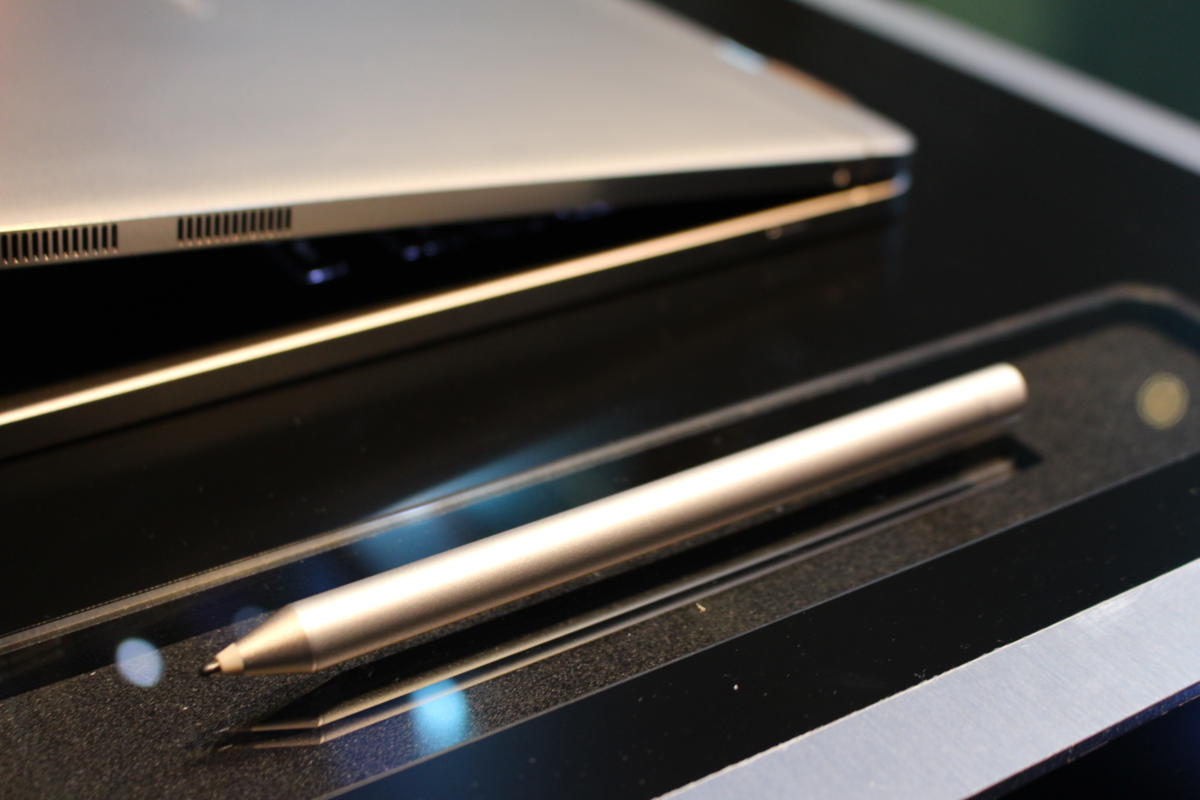 These are the parts you'll use most often. On laptops this expensive, they'd better be good.
The Surface Book's Chiclet-style keyboard features 19mm pitch and 1.6mm of travel, which delivered a pleasant typing experience during our review. We have no specs on the Book One's keyboard. At the press briefing, I typed briefly on one of the demo models and it felt fine, but we'd obviously need to use it more to make a fuller determination.
Both models use Microsoft's Precision Touchpad. Not surprisingly, it's designed to work well with Windows 10 and offers multigesture controls that expand what traditional touchpads can do.
Both models come with aluminum pens that attach magnetically to the side of the display and have one flat side so they won't roll away.
The Book One Pen, which is made by Wacom, has 2,048 levels of pressure sensitivity. It weighs 0.67 ounce (19 grams) with its AAAA battery installed. Porsche Design says the battery should last about 7.5 months, assuming about three hours of use per day.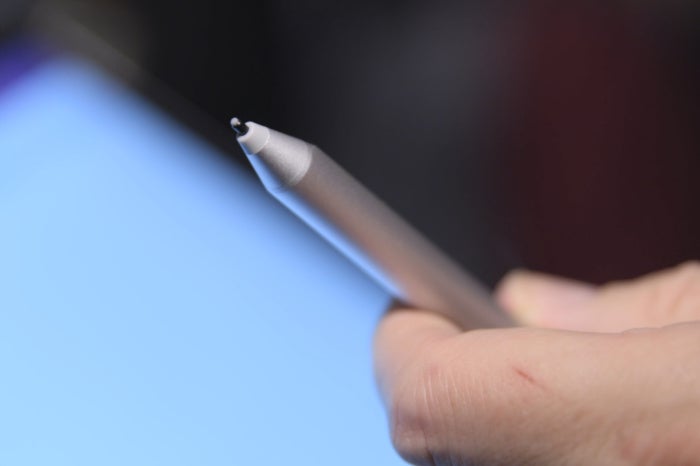 The Surface Book's Surface Pen has been through a few iterations and now offers four different colors, but just 1,024 levels of pressure. It weighs 0.7 ounce (20 grams) with its AAAA battery. It comes with a Pen Tip Kit, making it more customizable than the Book One Pen, and its pen clip also makes it a little more practical.
Camera and audio
Both laptops have dual microphones to optimize voice interaction with Windows 10's Cortana, plus dual speakers. Both have front 5MP cameras and infrared cameras for Windows Hello. The Surface Book also has an 8MP rear-facing camera.
Ports
The Book One has one USB 3.1 Type C port and two USB 3.0 Type A ports in the keyboard dock, plus a microSD card reader. The display has a USB 3.1 Type C Thunderbolt port.
The Surface Book could use an update. Its current model has no USB-C, just two USB 3.0 Type A ports and an SD card slot, plus mini DisplayPort.
Battery
The Book One offers a generous 70Wh total of battery capacity, split between 25Wh in the display and 45Wh in the keyboard dock. The total runtime is up to 14 hours per Porsche Design (your mileage will vary), and it can charge to full in less than two hours.
The Surface Book's battery is even huger, and similarly split: 62Wh in the keyboard base and 18Wh in the Clipboard. It lasts up to 12 hours by Microsoft's account, factoring in, of course, greater battery use by the discrete GPU.
What the specs say
Specs can take us only so far in judging one laptop over another. What we can say is that while the Surface Book's discrete GPU is a compelling part, it's surrounded by an older CPU and a few other aging components. The Book One's integrated graphics is nothing exciting, but it's a fresher build that would probably work fine except for gaming or workstation applications. We'll be able to say for sure once we've tested it.