What's in a name? That which we call a Vive, by any other name would smell as sweet.
Okay, it's not a perfect metaphor—the HTC Vive probably doesn't smell particularly great—but you get the idea. Last week at GDC we got the chance to go hands-on with LG's new SteamVR-powered headset, the first addition to the ecosystem since the HTC Vive's reveal in 2015. And you know what? It's remarkably Vive-like.
VR 2.0
I should caution: What we saw is just a prototype, and everything is subject to change before release—details of which were not forthcoming. No price, no date. It's probably later this year, but who knows? Hell, it doesn't even have a catchy name yet.
If you're wondering "Why LG?" though, the answer probably lies in the fact that LG's manufacturing the display inside. We were told the resolution is 1280×1440 per eye, or 2560×1440 total, with a refresh rate of 90Hz. That's better than both the Oculus Rift and HTC Vive, which each run 1080×1200 per eye.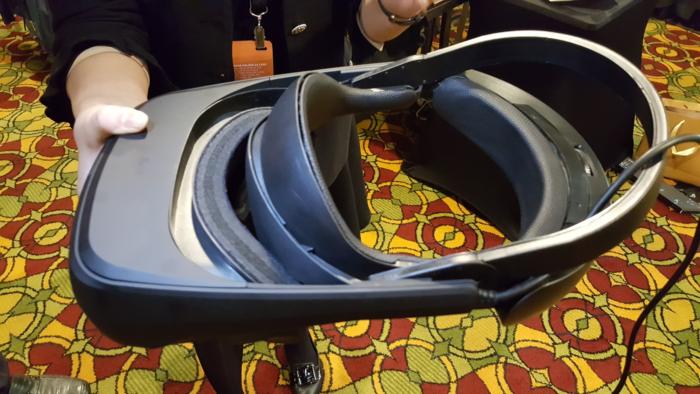 Also better: the field of view, at least on paper. Both the Rift and Vive tout an FOV of 110 degrees. LG's headset goes to 120 degrees, with one caveat—that's only if you puuuuush the headset in until it's 10mm from your eyes. At 12mm, the distance most people will use, it's back down to 110 degrees.
And as far as I can tell, LG's headset eschews the Fresnel lenses used by the Rift and Vive. That's not a huge change, but it should result in fewer of the ray-streaking issues seen on those headsets. That's just based on my brief time with the headset though, so I could be wrong.
Those are the definite improvements over the Vive. LG's VR headset design itself is a more lateral move. Cross the Vive with Sony's PlayStation VR and you'd get something similar to LG's headset. Instead of using elastic straps like the original Vive or rigid plastic like the upcoming Vive Deluxe Audio Strap, LG's headset uses a welding helmet-style design. You rest your forehead against a pad, cinch the back against your head with a button-press, and that's it—you're locked in. From there, you pull the headset down and (as I mentioned above) push it in to the desired distance.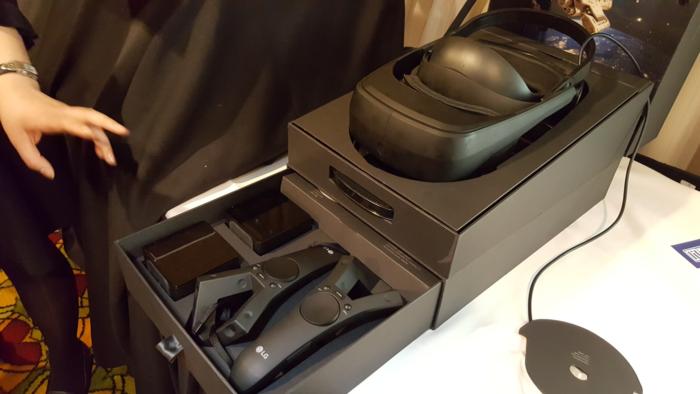 There are a few benefits to this design. People with glasses should have a much easier time with it than they do with either the Vive or Oculus Rift. And if you have to deal with real-world issues, you can easily flip the headset out of the way without removing the entire device. The design also spreads the weight of the headset better than the Vive or Rift.
On the other hand, I'm used to making last-minute alignment adjustments on the Vive and Rift, wiggling the headset up and down until everything is crystal-clear. With LG's headset that process is slightly more laborious, with the headset a bit more resistant to changes once donned. It's certainly more comfortable than the stock Vive, but I think I prefer the Vive's new rigid strap for pure ease of use.
Closing out LG's VR headset, there's a single audio jack built into the right-hand side, in perhaps the most awkward spot imaginable. The Vive has adopted Oculus's built-in headphones design, so I'm a bit disappointed LG's keeping the separate audio jack, and particularly one that seems so cheap. We'll see if that aspect changes before release.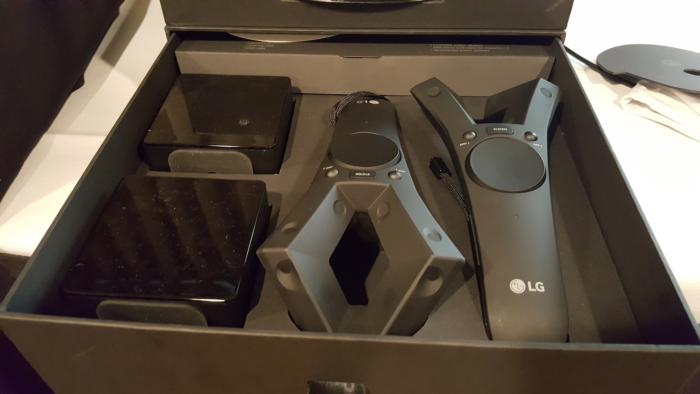 LG VR's Lighthouse and controller
The rest of the hardware is more familiar—almost Bizarro-Vive, if you will. The Lighthouse base stations are small black cubes so similar to the Vive's that I actually thought they were identical, until an LG rep told me they were designed in-house.
The breakout box is smaller than the Vive's, and with a utilitarian all-black design. Noteworthy, though, is the fact it only features DisplayPort to the PC (no HDMI) and USB-C to the headset itself.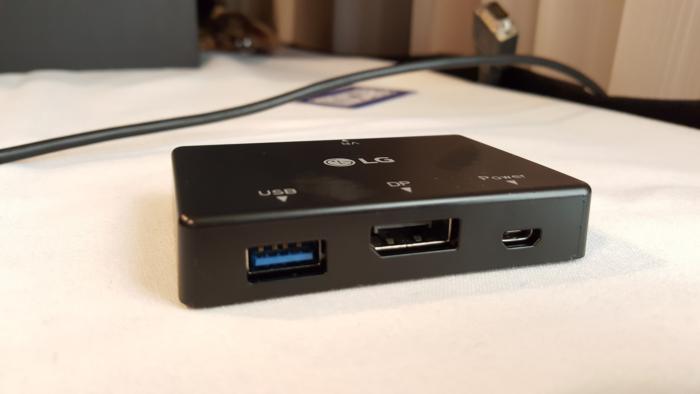 The controllers are just the Vive wands with a slightly different shape—an odd, edgy diamond on the end instead of the smooth circle/hexagon blend I've come to know so well.
LG's triggers feel a bit snappier than the Vive's, and the grip buttons a bit grippier, but otherwise not much has changed. There's a slightly different button layout, with all three populated above the touchpad, but this is still recognizably a Vive-style wand.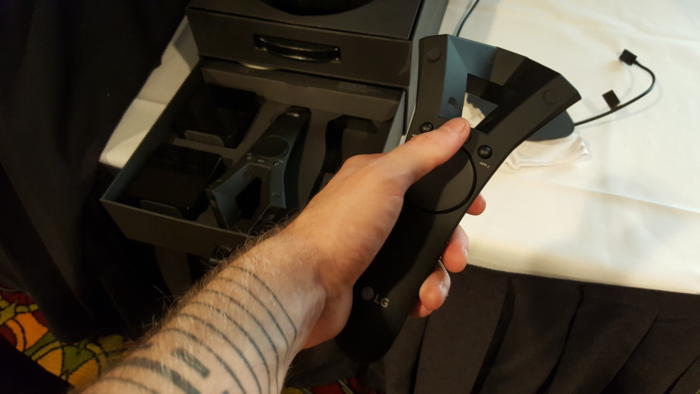 That's a bit of a disappointment, what with Oculus's Touch controllers already released and Valve prototyping the same sort of hand-tracking technoloy. I confirmed with LG that any of its hardware should seamlessly interface with the Vive, so you could, for instance, use a Vive headset with LG's controllers. This was LG's chance to show off a Touch-style controller for the SteamVR ecosystem, but instead we're getting another wand. Not bad, per se, but boring. With no substantial differences between the two, there's no real reason to pick up LG's controllers if you already have a Vive.
Mentioned in this article
HTC Vive
Bottom line
Anyway, I didn't get a ton of time actually wearing LG's headset, nor was the demo I played particularly mind-blowing—it was a somewhat clumsy wave shooter. But it's a nice piece of hardware, with some interesting differences that set it, if not above the Vive, at least on par and with an appeal to a somewhat different audience. I definitely think LG's set will be great for glasses-users, and if the price comes in below the Vive's $800 tag that could give LG even broader reach.
That latter bit is purely hypothetical, perhaps implausible, but LG needs something to stand out. With no set release date, LG's greatest competition is the name cachet HTC's already built with the Vive—it'll be hard for LG to overcome being seen as the "knock-off Vive" even if the headset has better specs.