Razer's branched into some odd niches in the past few years—RGB mousepads, ultrabooks, batteries for those ultrabooks, external graphics amplifiers—but this is the weirdest by far: Virtual currency, or "zVault," to be exact.
According to its press release, Razer aims to "make its zVault virtual currency platform the preferred payment solution for gamers to use online for purchases and in-game transactions," and is rolling out a "proprietary monetary system based on zGold units, with a conversion rate at launch of 100 zGold to US $1."
In other words, you buy some zGold, then use zGold to buy stuff on other sites or within certain games. IndieGala and GamersGate are amongst the participating storefronts, while free-to-play titles Smite and Paladins are in the latter.
But…why?
Well for one, Razer's apparently secured discounts for people who pay with zGold. That means you could potentially use zGold to buy Steam keys through GamersGate for cheaper than what you'd actually pay on Steam.
And where there's zGold, there's got to be zSilver. For every purchase you make with zGold, you'll earn Razer's other virtual currency, zSilver, which can be used for various rewards, including Razer products. "This is much more than a club or credit card perks program or micro-transaction solution. Our ultimate vision is a complete gamer economy expanding from the zVault ecosystem," says Razer's Min-Liang Tan. Cool for fans, I guess.
I still have a bitter taste in my mouth from Microsoft's old Xbox Live "Points" system though—an arbitrary means of obfuscating how much people were spending, and a wholly bizarre way of purchasing things. So bizarre Microsoft eventually ditched it. I guess there's something in it for Razer fans, provided they can build up enough zSilver, but I can't help but think (despite Min-Liang Tan's assurances) that a standard credit card would probably build up much more versatile rewards points at a faster pace.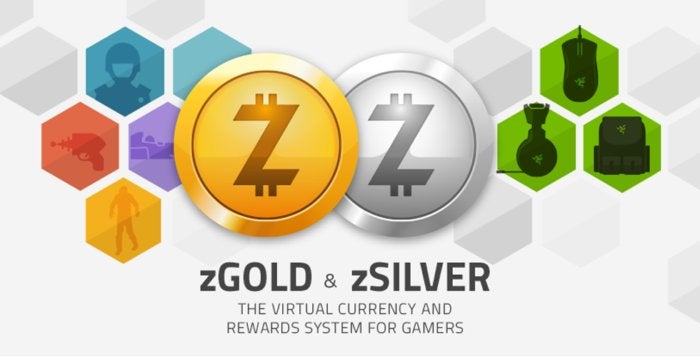 Not helping matters is the zVault/zGold/zSilver naming convention, which comes straight out of a 2009 mobile app pitch. Compared to Razer's usual "Cool Kid At The Nerd Convention" marketing, zVault seems like the weird thing your friend invited you to on Facebook two dozen times.
We'll see, though. Maybe ten years from now I'll look back at this article and laugh, cracking open my zVault to pay for my shiny new Razer keyboard with ten years of accumulated zSilver or something. "It's like Razer's paying me to use the product!" I'll think, lighting an offering to the three-headed snake gods and regretting that time I compared Razer's mousepad to a cardboard box.
*Ahem* I don't know. This whole zVault thing is weird. We'll keep you updated if Razer gives you a good reason to check it out, although you're welcome to head over to the newly-minted zVault page if you've got money burning holes in your pocket.