Are you a fan of Logitech's G810 keyboard design but short on desk space? Or maybe you have some hidden hatred of numpads? Exciting news then, as Logitech today announced a new G Pro Mechanical Gaming Keyboard. I can only assume there's no G810-style numeric designation because the G Pro is a tenkeyless board, keeping the G810's sleek design but ditching a third of its length.
It's a neat little board. Coming in at 14.2 inches wide compared to the G810's 17.5 (currently $114.80 on Amazon), the G Pro is a space saver and a handy travel companion—I was able to stash our review unit in a backpack with room to spare. Logitech's also given the G Pro a detachable micro-USB cable, making it even more mobile-friendly. No more wrap-and-pray. (Though unfortunately the G Pro doesn't come with a handy travel bag like HyperX's FPS Alloy.)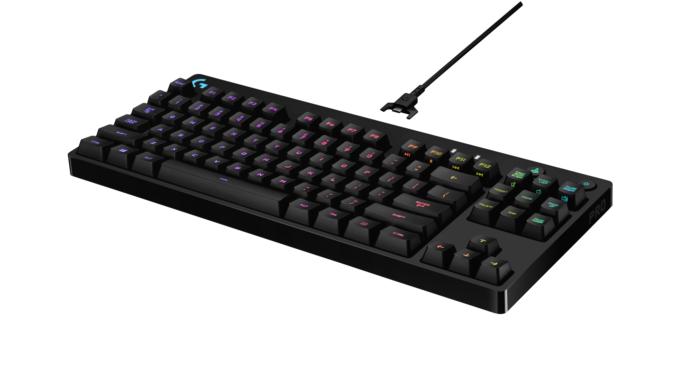 The bad news, at least for some of you: It's only available with Logitech's Romer-G switches. The G810 can be had in a Cherry MX variant known as the G610, but no such concession with the G Pro.
Logitech's also eschewed dedicated media keys on the G Pro. Those functions can still be accessed by way of keyboard shortcuts, but the lack of a separate volume roller/rocker is sorely felt, at least in my day-to-day.
Still, for $130 it's a decent bargain compared to the G810—a $30 discount just for cutting off the numpad. Full RGB lighting, Logitech software integration, steel back plate, the works. We'll have a more in-depth review at some point, but for the Venn Diagram overlap of "Romer-G fans" and "tenkeyless fans," the G Pro looks like a must-have. After all, your only other option is the edgy (I'd say hideous) G410. Hard to go wrong with the G Pro in that case.