At a Glance
Expert's Rating
Pros
The most powerful graphics card ever released
Can power no-compromises 4K gaming
No hotter than vanilla GTX 1080 despite big performance boost
DisplayPort-to-DVI adapter included in box
Cons
Reference-style cooling isn't as efficient as custom coolers
Our Verdict
Nvidia's GeForce GTX 1080 Ti is the most powerful graphics card ever, capable of no-compromises 4K gaming. It's cheaper than expected, too.
Nvidia's mighty Titan has fallen, as it always does.
Jaws dropped when the second-gen Titan X stomped onto the scene in August, and for more reasons than one. The monster graphics card was the first to ever flirt with consistently hitting the hallowed 60-frames-per-second mark at 4K resolution with everything cranked to 11—but that privilege cost a cool $1,200. Fast-forward five months: Nvidia's teasing the GTX 1080 Ti as the "ultimate GeForce" card, with more performance than the Titan X for just—"just"—$700. That's what the GTX 1080 Founders Edition cost at launch, and Nvidia says the Ti stomps the base GTX 1080.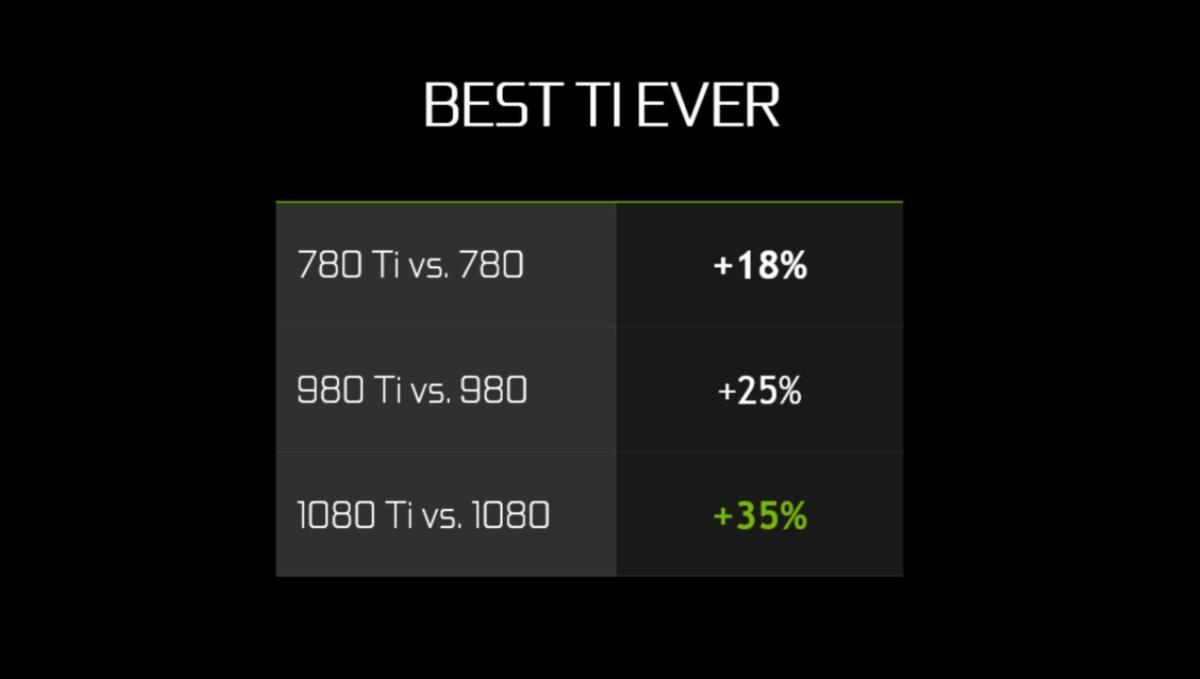 Graphics-card lust truly is the cruelest obsession.
But does the GeForce GTX 1080 Ti live up to Nvidia's hype? Is this the 4K-capable graphics card that gamers flush with tax-return money have been waiting for?
Yes. Oh my, yes. Let's dig in.
Meet the GeForce GTX 1080 Ti
Nvidia's Pascal GPU architecture launched almost 10 months ago, so you won't find many surprises lurking underneath the GeForce GTX 1080 Ti's aluminum Founders Edition shroud. Here's a look at its technical specifications: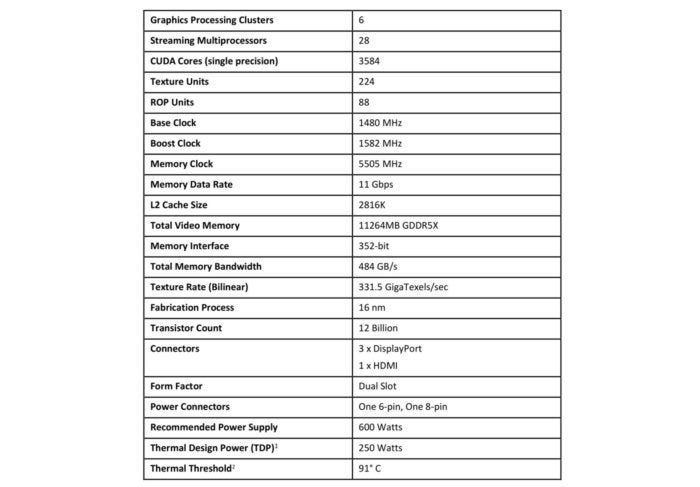 The most eye-opening revelation may be simply how little Nvidia's nerfed the GTX 1080 Ti in comparison to the Titan X. Both are built around on the same GP102 graphics processor; the GTX 1080 Ti drops the render output unit (ROP) count from 96 to 88, as well as a single 32-bit memory controller that results in the card packing 11GB of cutting-edge GDDR5X memory with a 352-bit bus, compared to the Titan X's 12GB and 384-bits, respectively. But that's compensated for by higher GPU and memory clock speeds on the GTX 1080 Ti, which actually result in greater overall memory bandwidth for the $700 board. The two cards are otherwise identical.
Most gamers could never afford the Titan X, however, and the $700 GTX 1080 Ti's firepower vastly outstrips the now-$500 GTX 1080. Nvidia's new card offers over a thousand more CUDA cores than its cousin—3,584 versus 2,560—as well as 24 additional ROPs and 40 percent more texture units. The vanilla GTX 1080 was the most badass graphics card ever created when it launched less than a year ago and the GTX 1080 Ti blows it away on paper.
Needless to say, the generational jump from the GeForce GTX 980 Ti (which is comparable to the newer GTX 1070) to the GTX 1080 Ti is significant as well.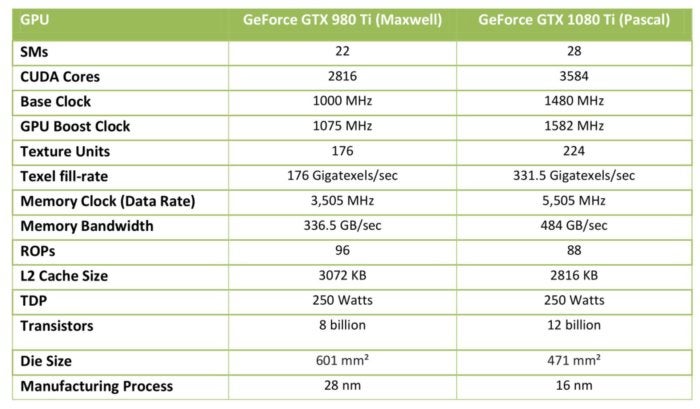 Nvidia sure isn't taking the looming threat of AMD's enthusiast-class Radeon Vega cards lightly.
The GTX 1080 Ti requires the same 250-watt TDP as the Titan X, which means that unlike the vanilla GTX 1080, it can't be powered by a single power pin. Instead, it needs both an 8-pin and 6-pin connector.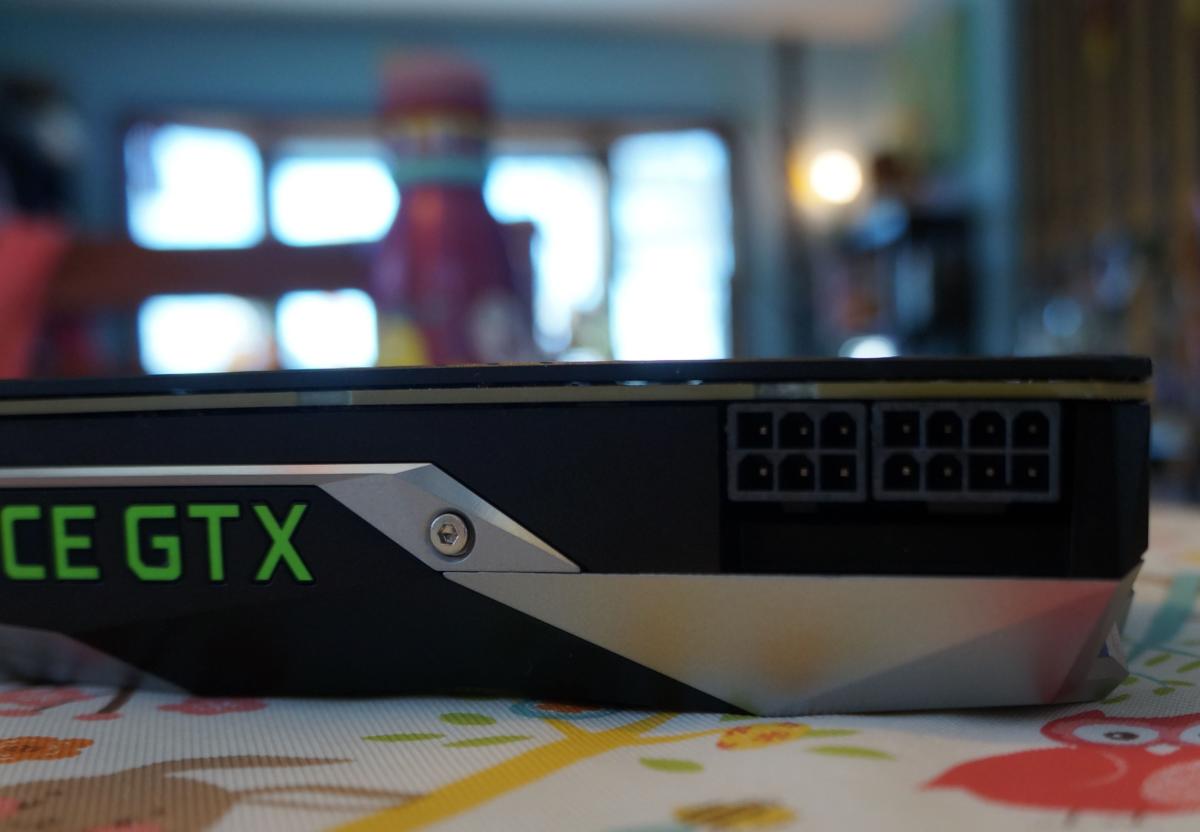 Nvidia's also tweaked the GTX 1080 Ti's power delivery system compared to other GTX 10-series cards, moving to a 7-phase 2x dual-FET power design intended to deliver cleaner power for higher clock speeds. In fact, while many (but not all) GTX 10-series GPUs have been able to hit 2GHz clock speeds with manual tweaking, Nvidia is actively touting 2GHz overclocking speeds with the GTX 1080 Ti—though overclocks can always fall prey to the whims of the silicon lottery.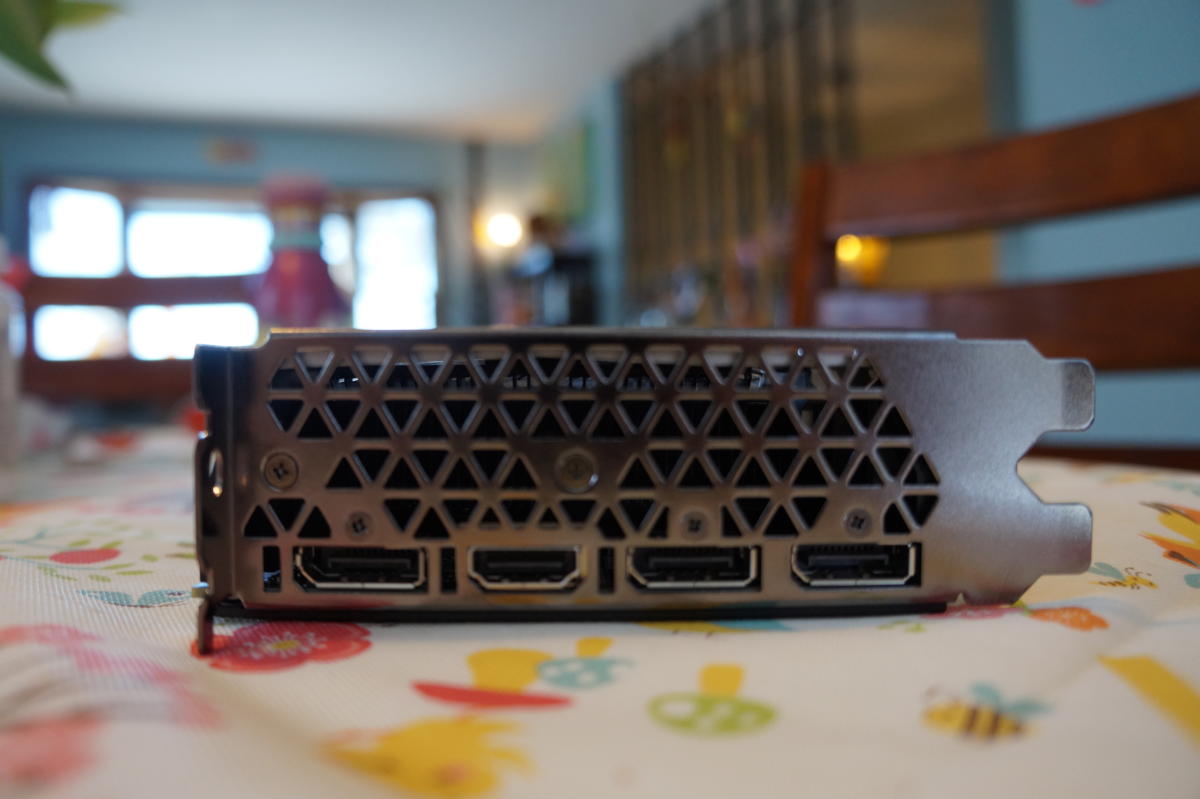 Higher clocks demand better cooling, of course, and Nvidia redesigned the GTX 1080 Ti's cooling system to have twice the airflow of the GTX 1080. Doing so required the removal of the DVI connector found on the other GTX 10-series graphics cards, though Nvidia thoughtfully includes a short DisplayPort-to-DVI cable in the GTX 1080 Ti's box, along with a GeForce sticker you can slap on the outside of your rig. The rest of the GTX 1080 Ti mimics the aesthetics of other Founders Edition cards, complete with a snazzy backplate featuring a removable section for multicard (SLI) setups.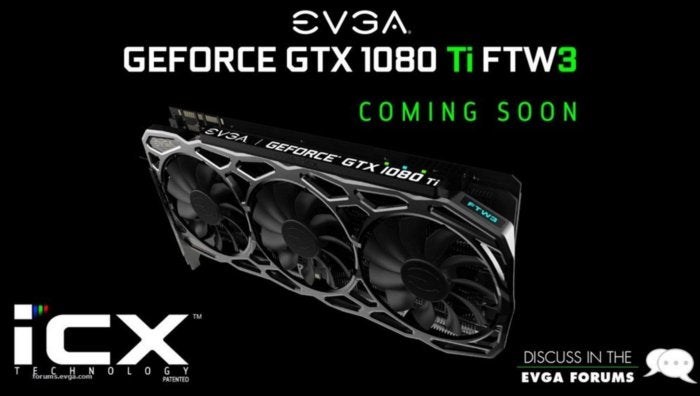 Not a fan (har har) of the blower-style cooler on Nvidia's Founder Edition cards? Fear not: Custom GeForce GTX 1080 Ti variants are on the way from Nvidia partners like EVGA, Zotac, and Asus, though no concrete pricing or release-date information has been revealed yet. (Nvidia says it expects to see custom cards released later in March, however.) And unlike the higher prices of the GTX 1070 and GTX 1080 Founders Edition cards—which many gamers viewed, rightly or wrongly, as an "early-adopter tax"—Nvidia isn't charging a premium for its GTX 1080 Ti.
The GTX 1080 Ti packs all the same underlying features and software niceties as the rest of the GTX 10-series lineup, from enhanced DirectX 12 support to cutting-edge memory compression to those sweet, sweet supercharged Ansel screenshots. We covered all those in-depth in PCWorld's original GTX 1080 review. As a cherry on top, the Game Ready driver Nvidia's releasing for the GTX 1080 Ti's launch also supercharges DX12 performance on all modern GeForce cards, the results of which are present in today's test figures.
Enough blather. Let's benchmark!
Next page: Test system info, performance results
Our test system
We tested Nvidia's GeForce GTX 1080 Ti on PCWorld's dedicated graphics card benchmark system. Our testbed's loaded with high-end components to avoid bottlenecks in other parts of the system and show unfettered graphics performance. Key highlights:
To test the GTX 1080 Ti's mettle, we're comparing it against its natural competitors: Nvidia's own GTX 1070 and GTX 1080 Founders Edition cards. Sadly, we never reviewed the Titan X, so that's not included in the benchmarks. Nor are any AMD cards, as the aging Radeon Fury X delivers GTX 1070-class performance but isn't widely available anymore. We're also including EVGA's custom-cooled, overclocked GTX 1080 FTW to show how the GTX 1080 Ti hangs against an aftermarket GTX 1080.
We benchmark every game using the default graphics settings unless otherwise noted, with all vendor-specific special features—such as Nvidia's GameWorks effects, AMD's TressFX, and FreeSync/G-Sync—as well as VSync and frame-rate caps disabled. Based on the target performance of the GeForce GTX 1080 Ti, we're testing at higher fidelities at 4K and 2560×1440 resolutions. All graphics cards ran the GTX 1080 Ti's 378.78 driver, which was provided by Nvidia.
The Division
We kick things off with The Division, a gorgeous third-person shooter/RPG that mixes elements of Destiny and Gears of War, using Ubisoft's new Snowdrop engine. We test the game in DirectX 11 mode; The Division recently rolled out an update that adds DirectX 12 support, but the performance is virtually identical to the DX11 results.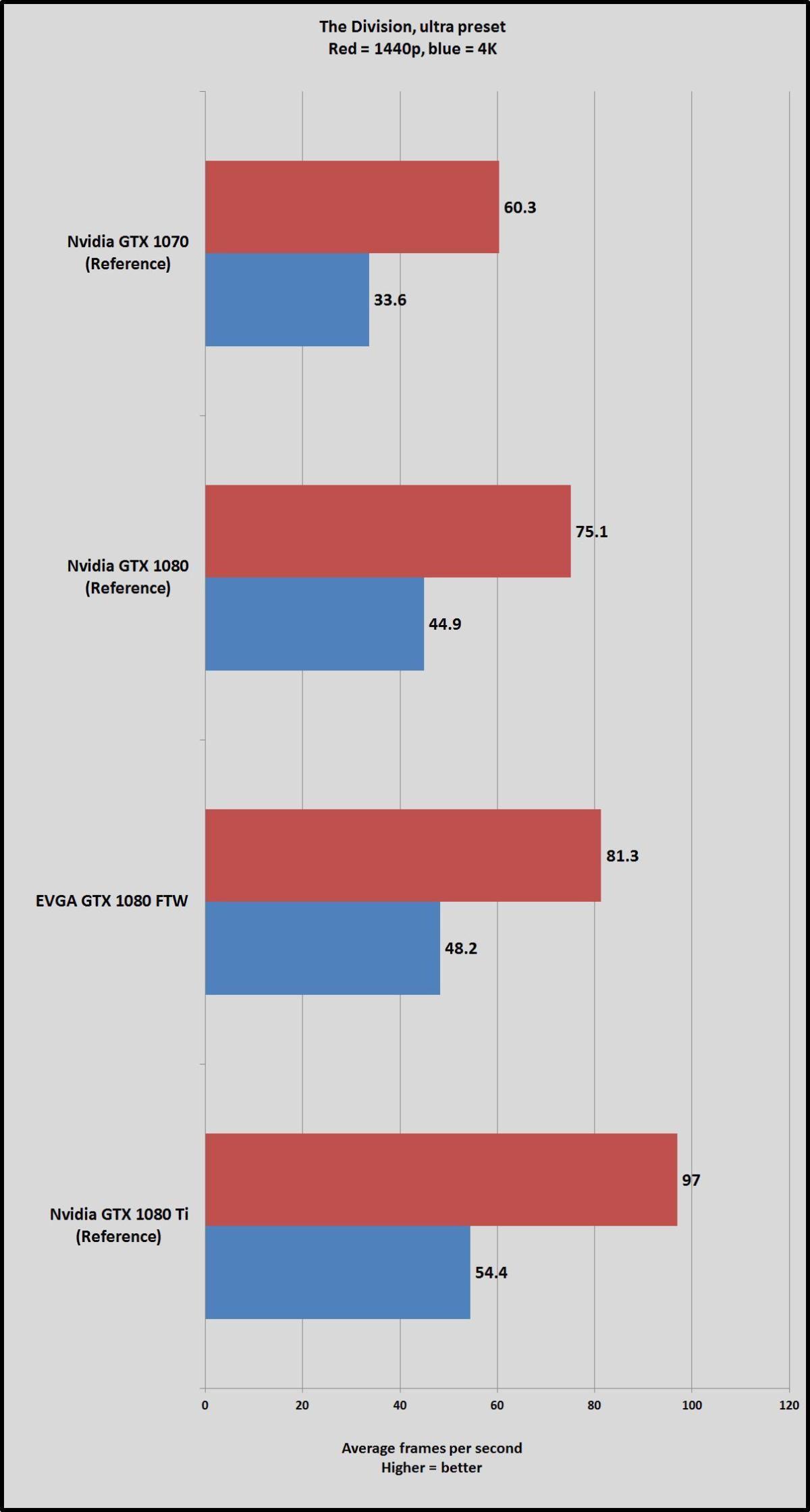 As you can see, the GTX 1080 Ti indeed flirts with 60fps at 4K resolution with everything cranked to 11, and blows past it—and the competition—at 1440p. The GTX 1080 Ti beats the stock GTX 1080 by 21.16 percent at 4K, and 29.16 percent at 1440p.
Simply dropping one or two of the game's numerous graphics settings down a notch would be enough to easily clear 60fps at 4K.
Next page: Hitman
Hitman
Hitman's Glacier engine heavily favors AMD hardware—the game is, after all, a flagship AMD Gaming Evolved title—not that it matters here. That said, GeForce cards themselves hold their own. We test in both DirectX 11 and DirectX 12, with SSAO disabled.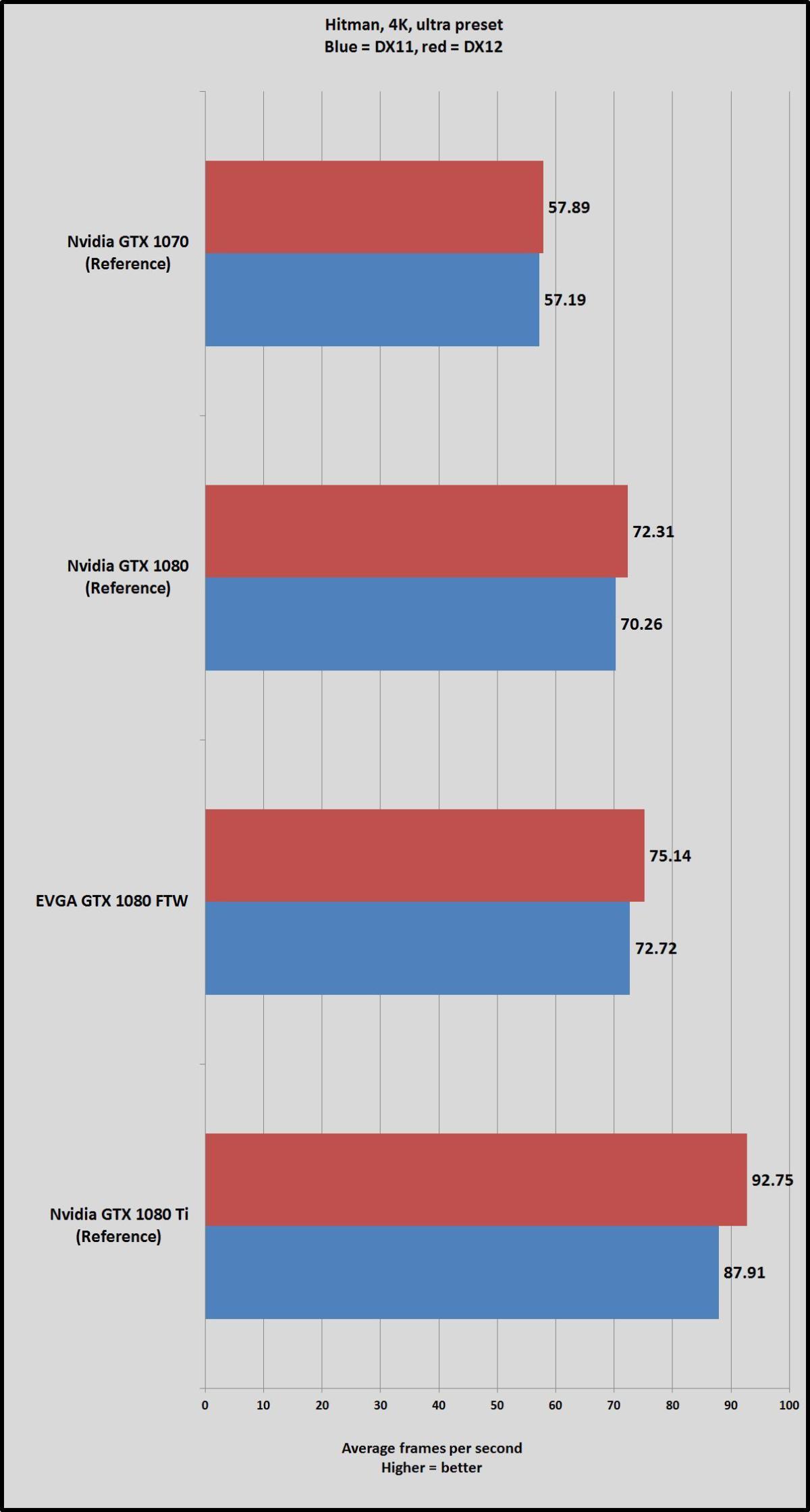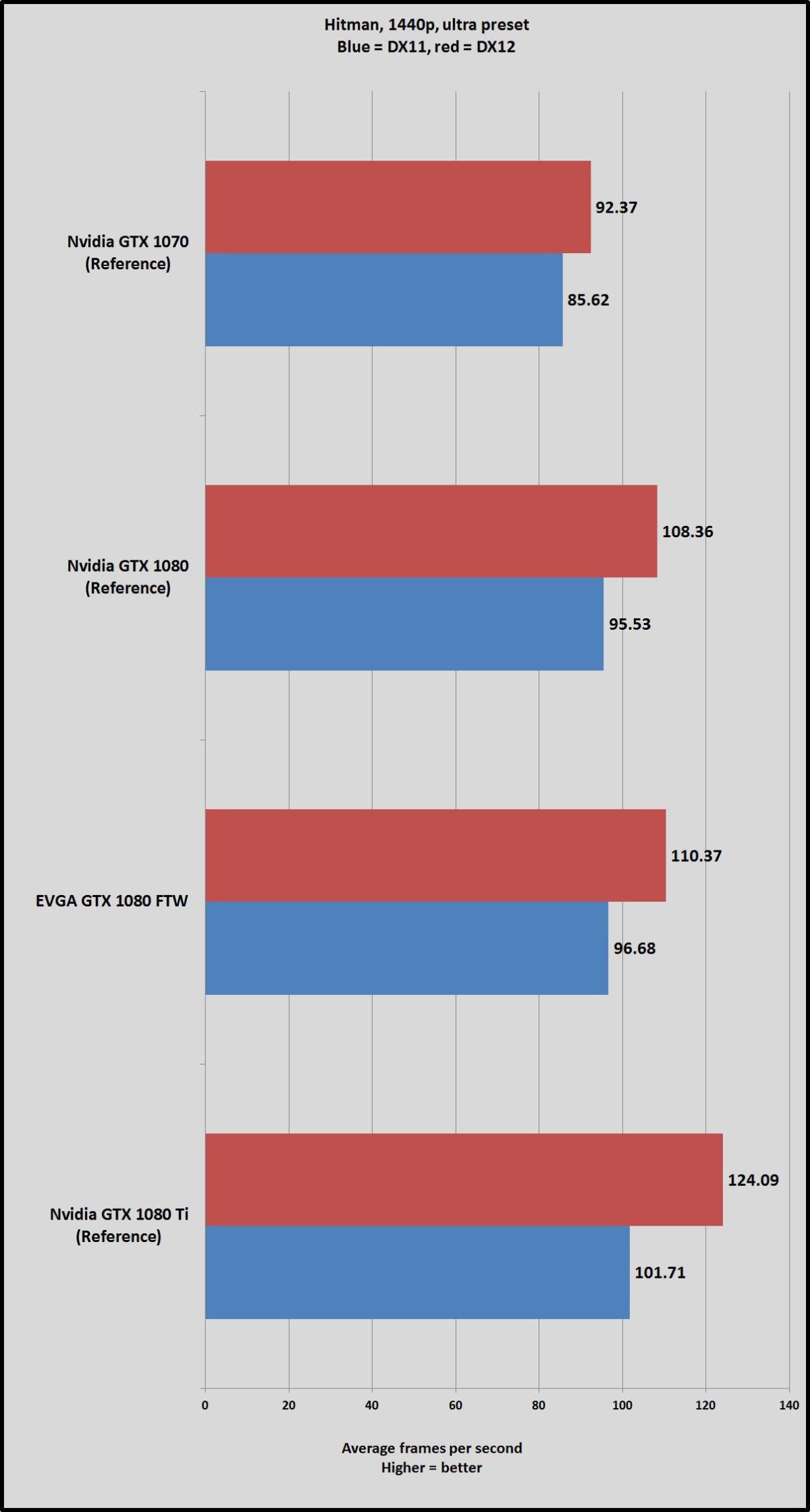 The GTX 1080 Ti handily clears 60fps here as well, with an extra boost in DirectX 12. And look at that: Nvidia's new champion delivers nearly 20 more frames per second than the GTX 1080. That's good for a 25 percent increase over the GTX 1080 at 4K. Hot damn.
Next page: Rise of the Tomb Raider
Rise of the Tomb Raider
Whereas Hitman adores Radeon GPUs, Rise of the Tomb Raider is partial to GeForce cards. It's also the single most drop-dead gorgeous PC game I've ever laid eyes on. We only test the game's DirectX 11 mode as the performance benefits in the patched-in DX12 mode are negligible.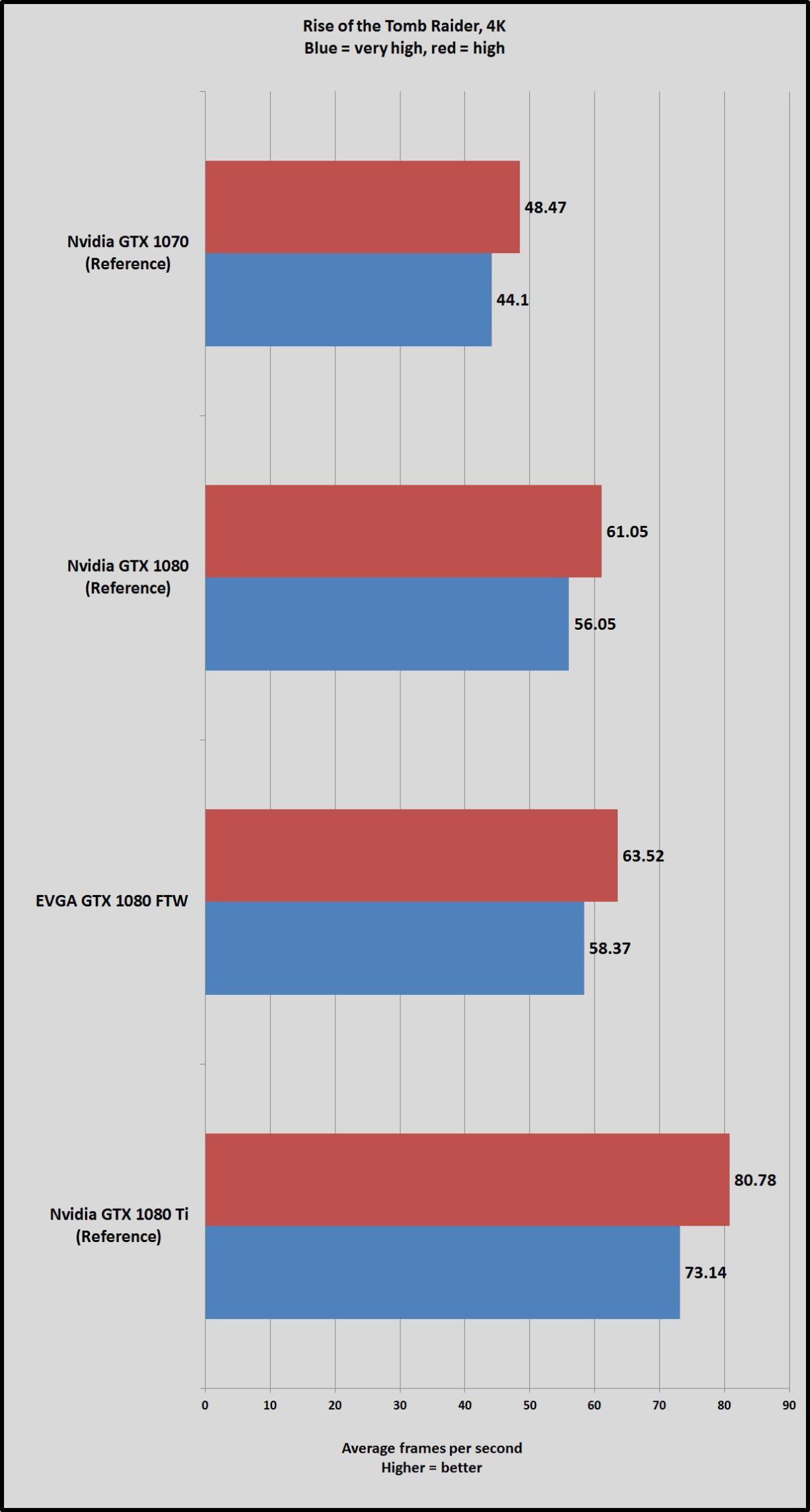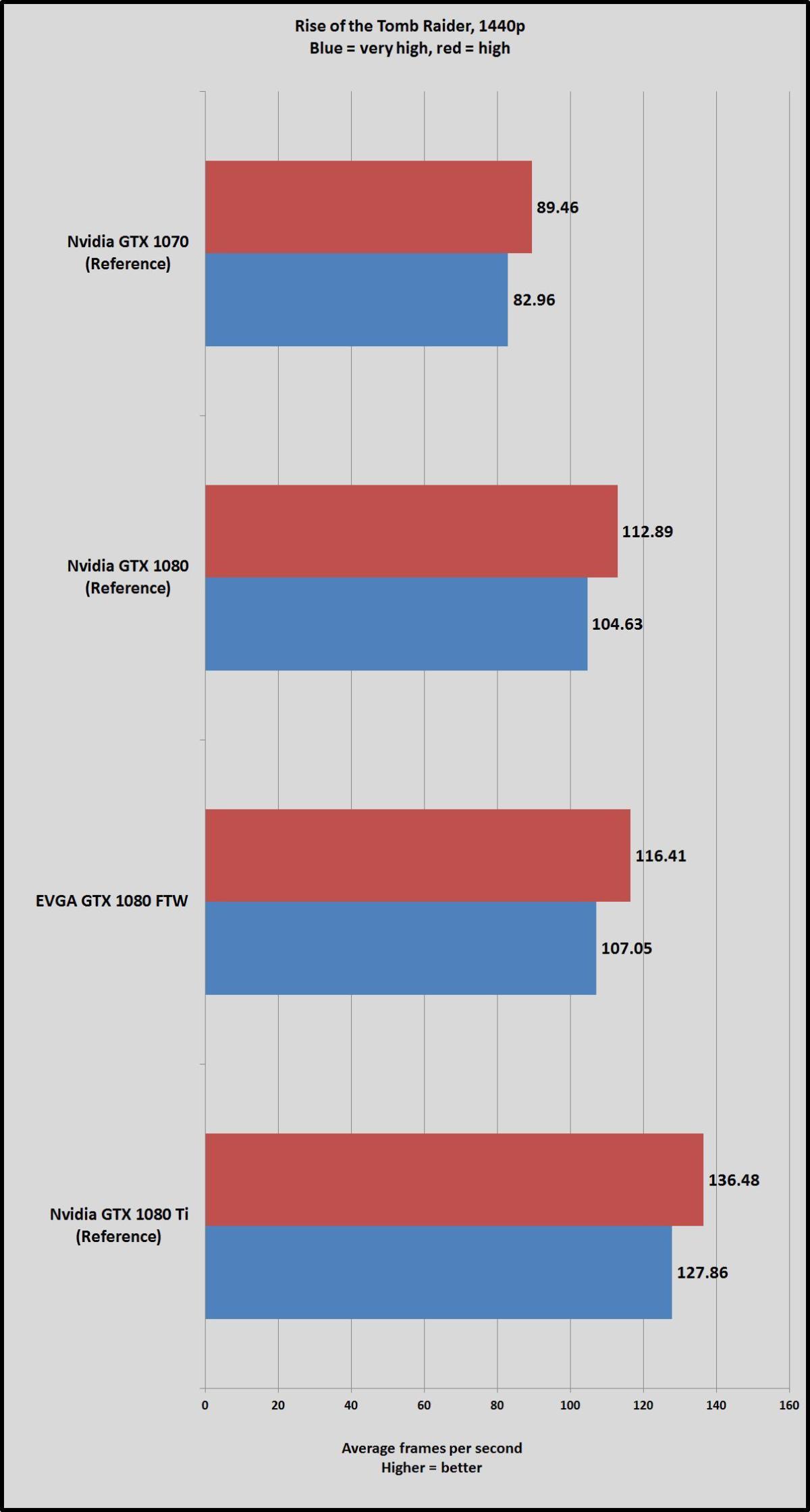 The GTX 1080 Ti is the only card to clear 60fps at 4K here, and by a healthy margin, too. It's a whopping 30 percent faster than the GTX 1080 Founders Edition at that resolution.
Next page: Far Cry Primal
Far Cry Primal
Far Cry Primal is yet another Ubisoft game, but it's powered by a different engine than The Division—the latest version of the long-running and well-respected Dunia engine. We test the game with Primal's free, optional HD texture pack installed.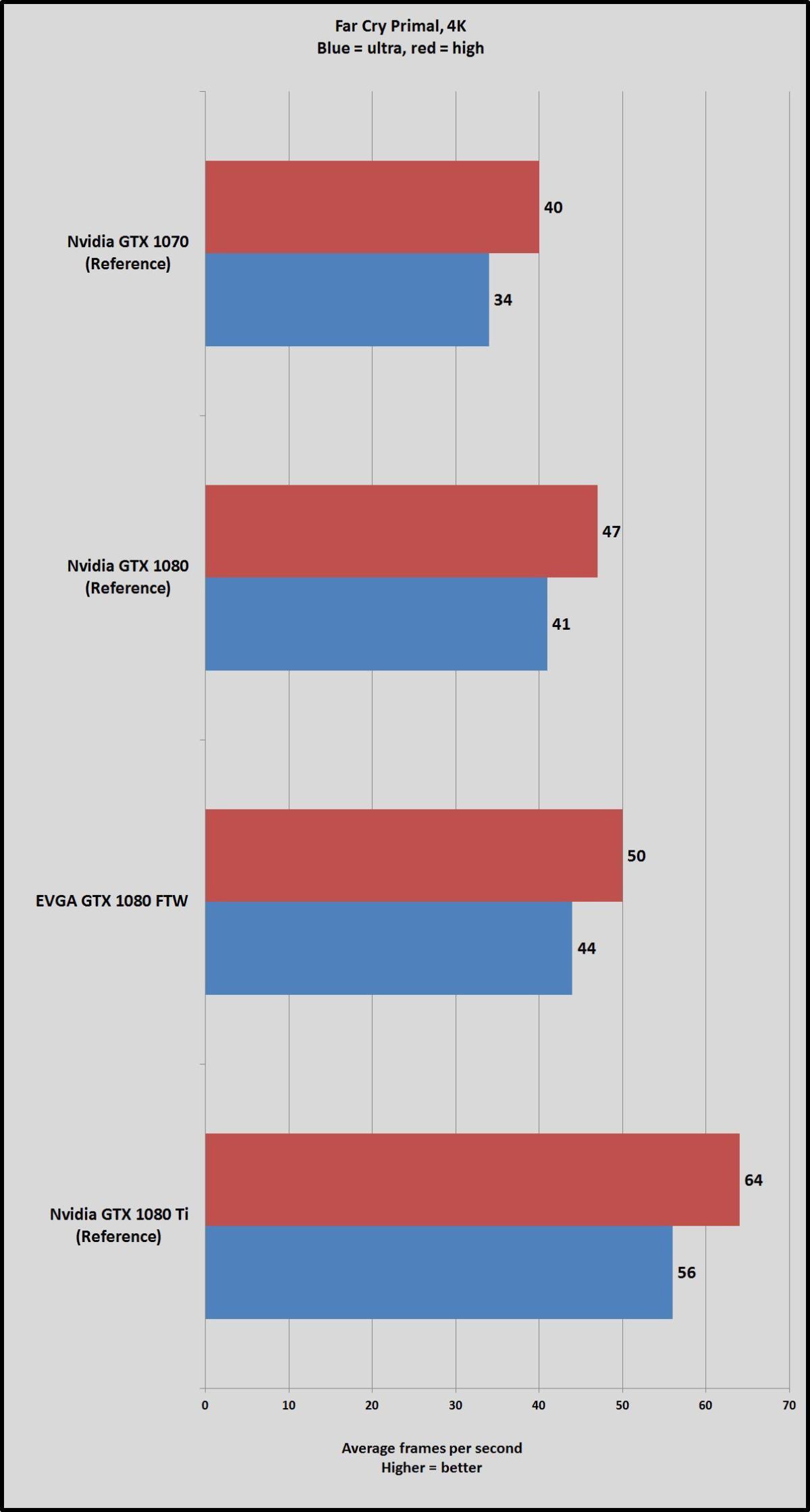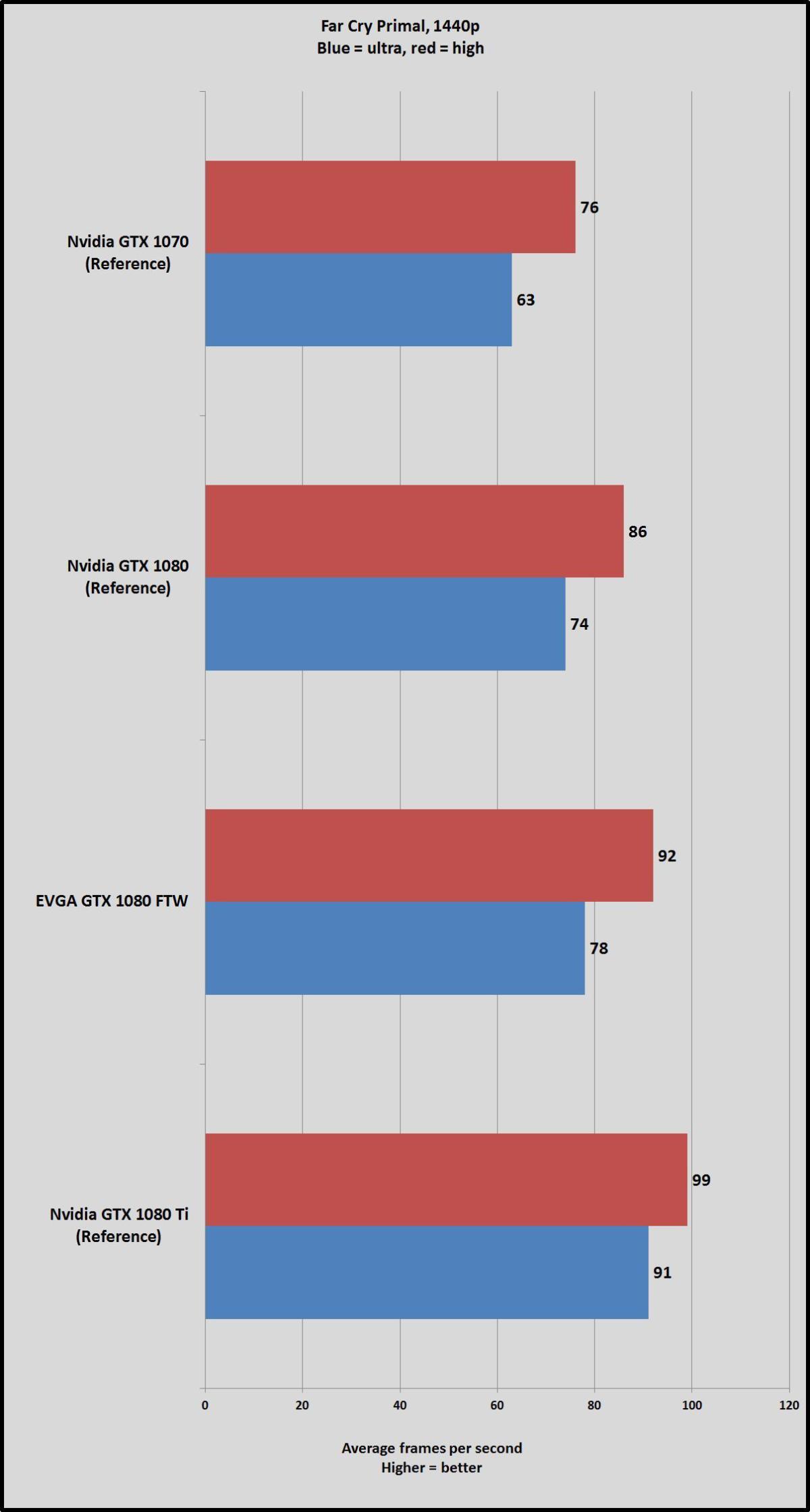 In this instance, Nvidia's claims of the GTX 1080 Ti being 35 percent faster than its cousin hold true—the card commands a 35.59 percent lead at 4K, in fact. It doesn't quite hit 60fps at 4K, but it comes damned close. Dropping a couple of graphics settings, or the overall graphics preset to Very High instead of Ultra, should push you over the hump.
Next page: Ashes of the Singularity
Ashes of the Singularity
Ashes of the Singularity, running on Oxide's custom Nitrous engine, was an early standard-bearer for DirectX 12, and many months later it's still the premier game for seeing what next-gen graphics technologies have to offer. (It's a fun real-time strategy game, too!) The performance gains it offers with DX12 over DX11 can be eye-opening, though those gains tend to be more profound on Radeon cards.
We tested the game using the High graphics setting, as the Crazy and Extreme presets aren't reflective of real-world usage scenarios. They can really bring graphics cards to their knees.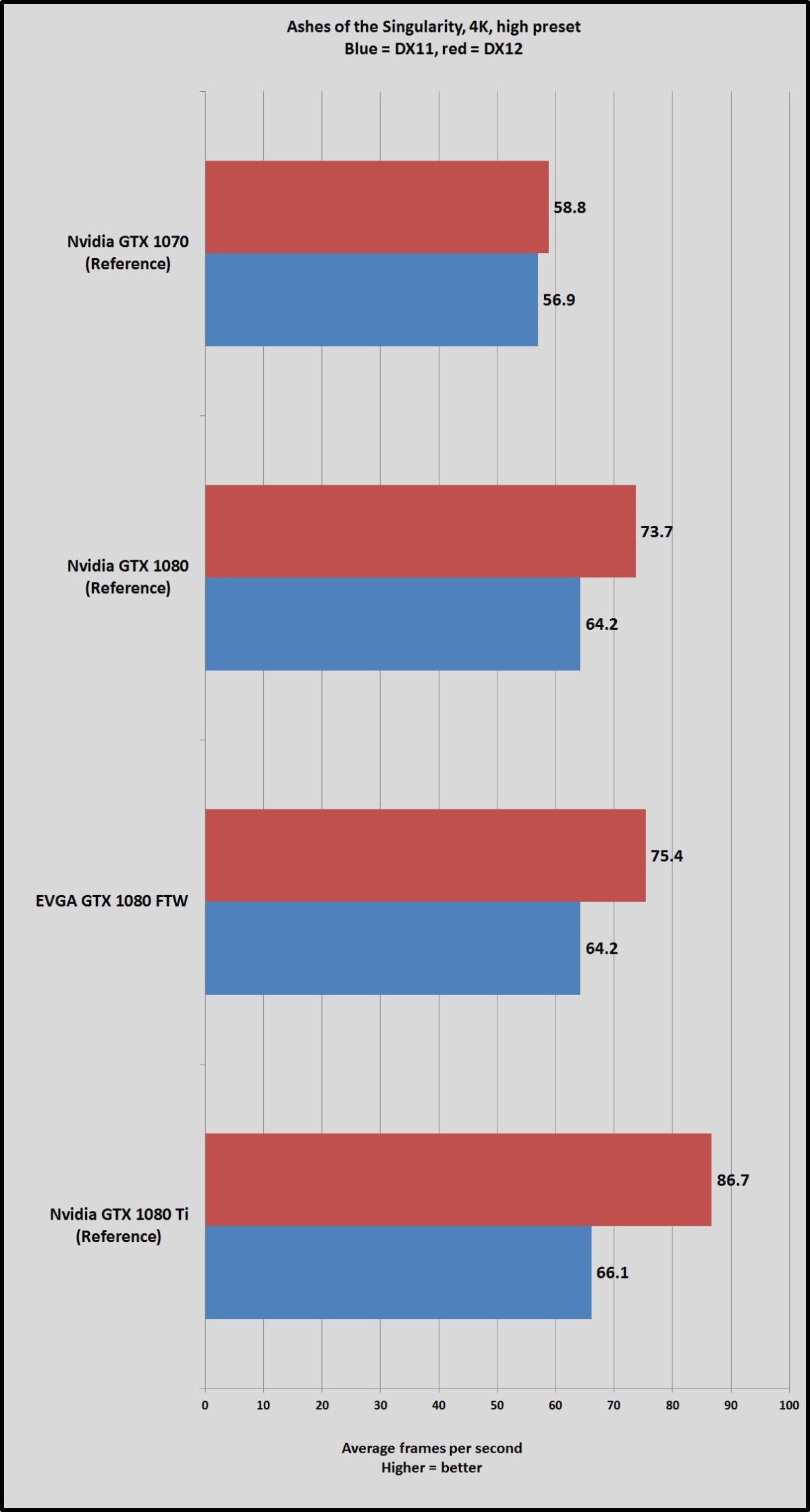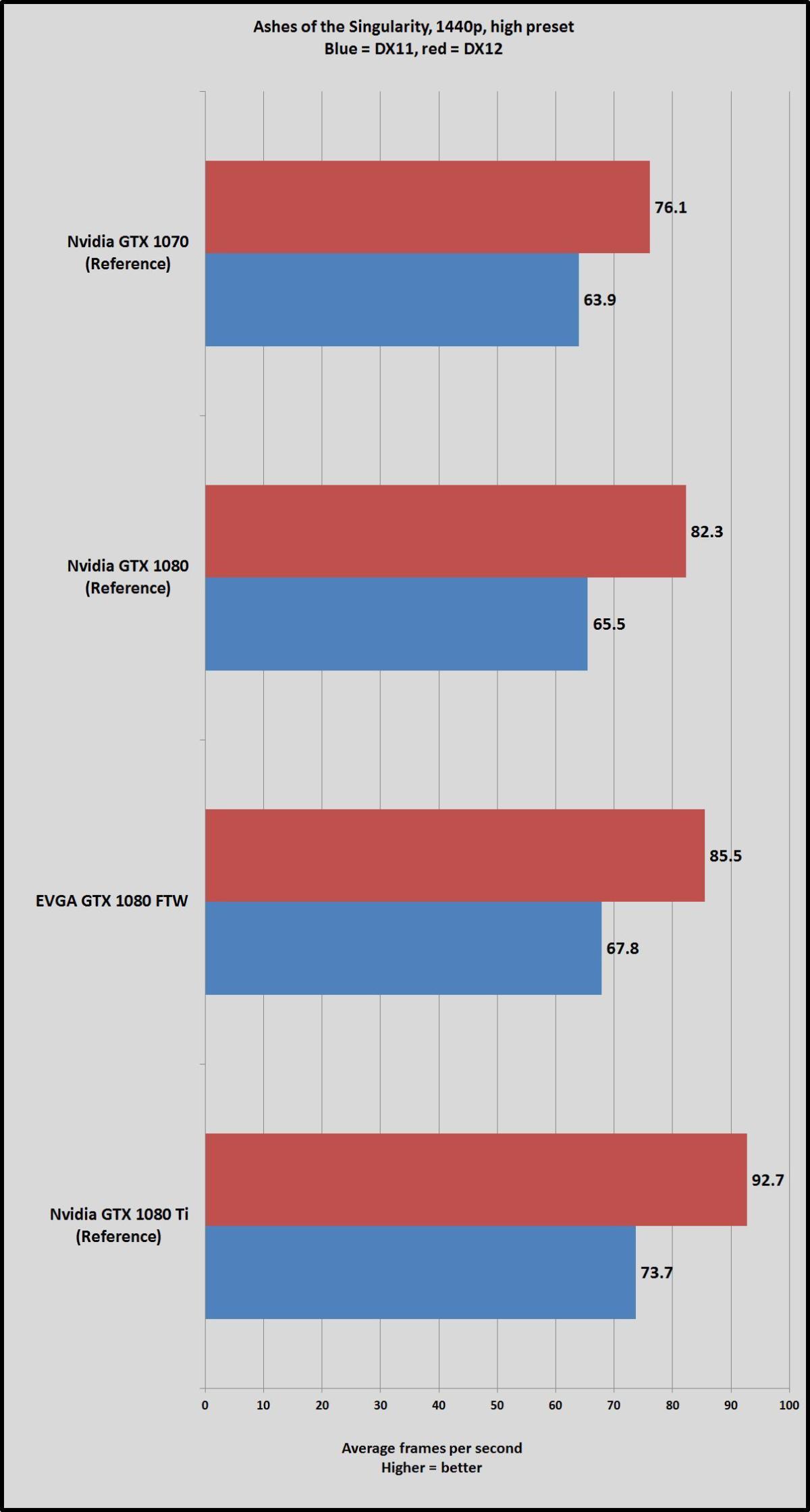 The GTX 1080 Ti's lead over the GTX 1080 is modest at best in DX11, especially at 4K resolution, but that gulf widens greatly when you activate DX12. Even then, Nvidia's new card "only" bests its cousin by a hair over 17 percent.
Next page: Synthetic benchmarks
Synthetic benchmarks, power, and heat
We also tested GeForce GTX 1080 Ti and its rivals using 3DMark's highly respected DX11 Fire Strike Ultra synthetic benchmark, as well as 3DMark's Time Spy benchmark, which tests DirectX 12 performance at 2560×1440 resolution.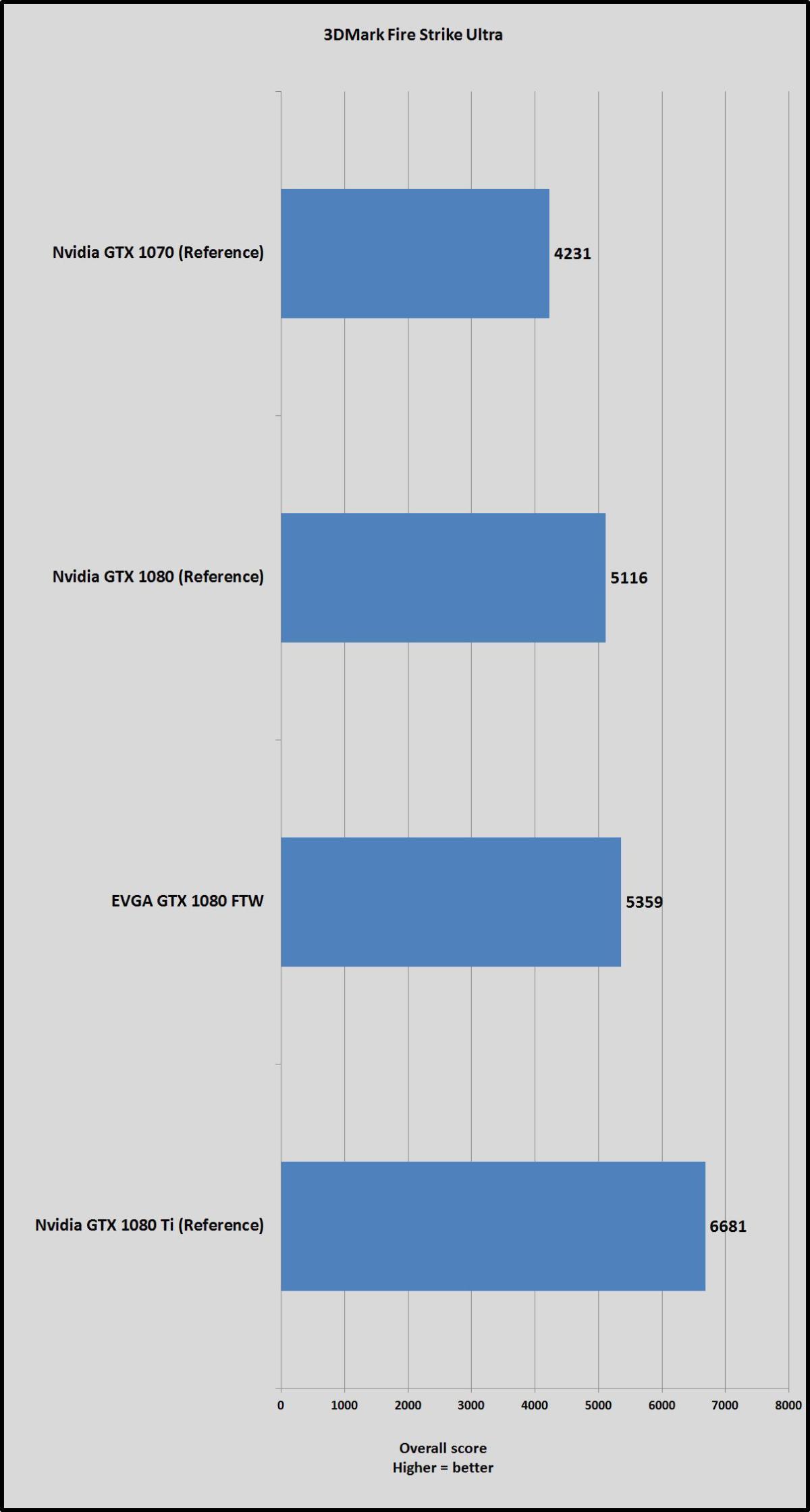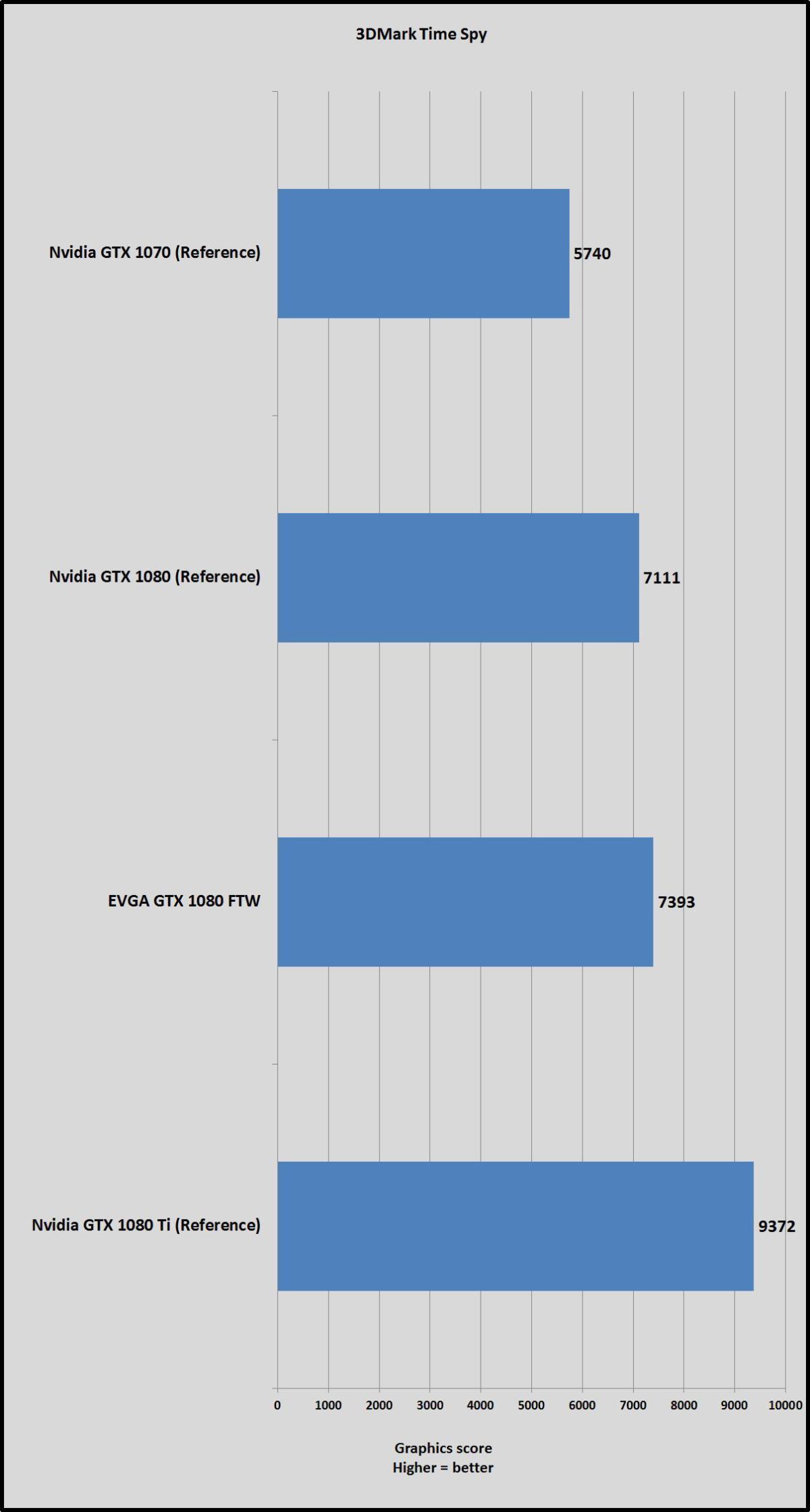 Everything falls about where you'd expect based on prior performance results.
Next page: Power and heat
Power
We test power under load by plugging the entire system into a Watts Up meter, running the intensive Division benchmark at 4K resolution, and noting the peak power draw. Idle power is measured after sitting on the Windows desktop for three minutes with no extra programs or processes running.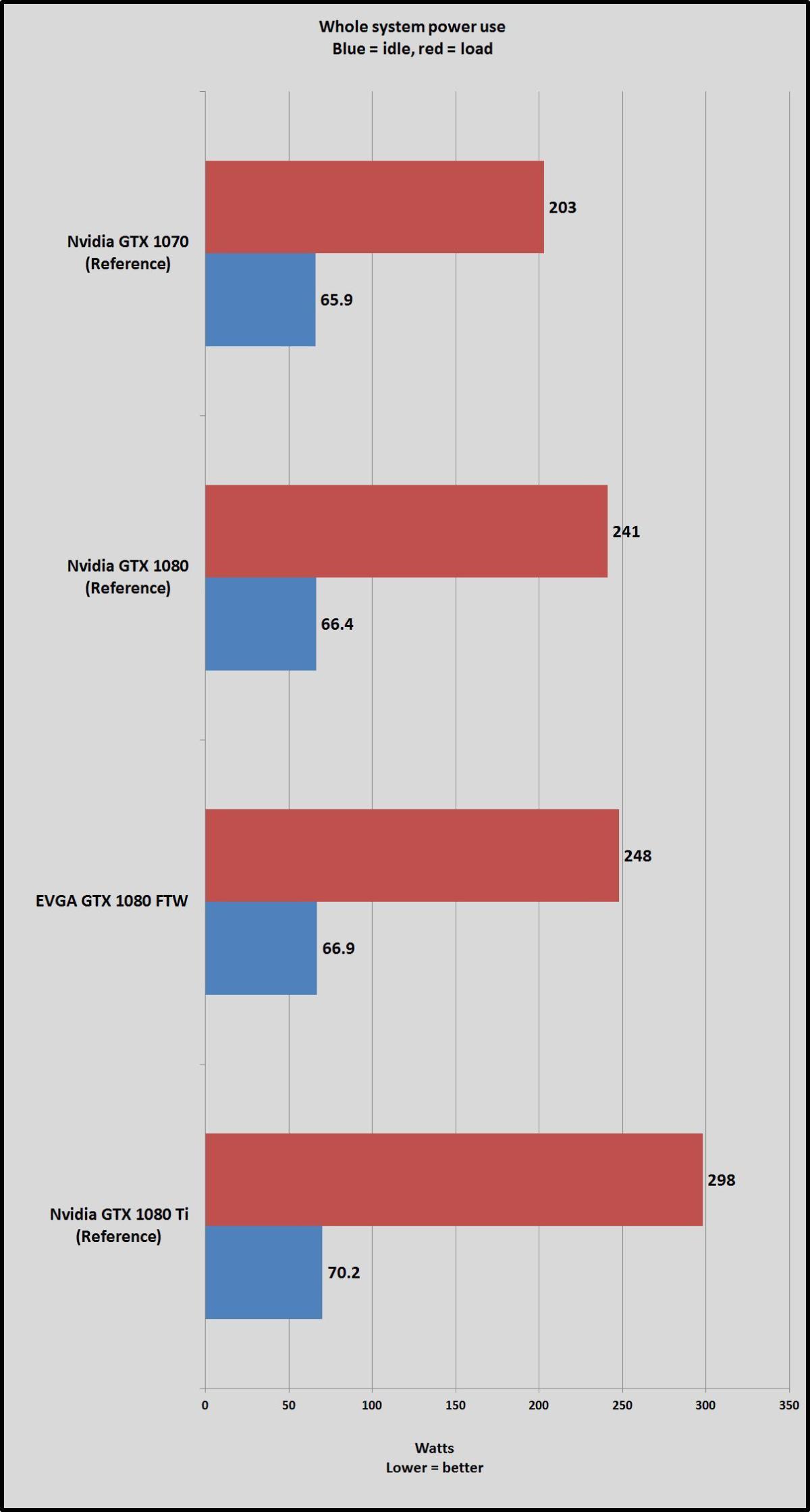 The results confirm what Nvidia's requirements and the card's dual power pins strongly imply: The GTX 1080 Ti consumes more power than the other GTX 10-series cards. Surprise?
Heat
We test heat during the same intensive Division benchmark, by running SpeedFan in the background and noting the maximum GPU temperature once the run is over. The Founders Edition cards all use Nvidia's blower-style cooler, while the GTX 1080 FTW packs EVGA's custom ACX 3.0 cooling solution.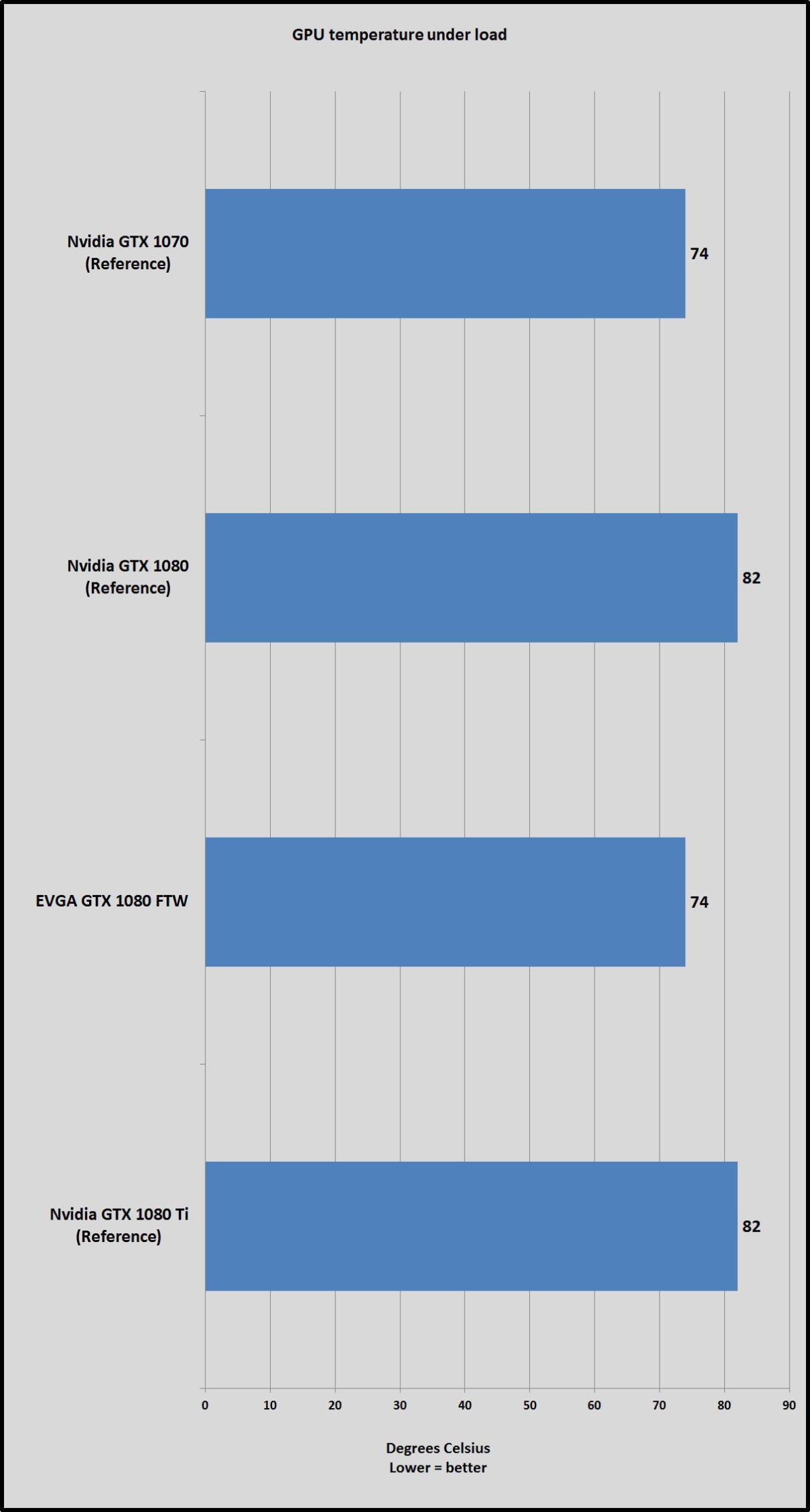 While we didn't see the drastic drop in cooling temperatures that Nvidia showcased in its GTX 1080 Ti reveal, the card doesn't run any hotter than the stock GTX 1080, which is damned impressive when you consider how many more pixels it pushes. EVGA's graphics card runs cooler by a wide margin, which is to be expected from a custom cooling solution.
Next page: Bottom line
Bottom line
The hype is real. The GTX 1080 Ti is indeed the ultimate GeForce card, and easily so.
Nvidia's monstrous graphics card solidly trounces the GTX 1080 by an average of 25.8 percent in our five-game suite, and by more than 30 percent in two of those titles. In its own tests, Nvidia managed to push that to 35 to 40 percent in certain games depending on the settings used. More crucially, this is the first semi-affordable video card capable of hitting the sacred 60fps mark at 4K resolution with all of a game's graphical bells and whistles jacked to the max. (The Titan X did as well, but at $1,200, it's a graphics card for not just the 1 percent, but the 0.1 percent.) The couple of games that clock in just under 60fps at Ultra presets could easily cross the threshold with one or two minor settings tweaks.
We don't cover overclocking in our graphics card reviews since that's not guaranteed performance, but some quick and dirty testing showed that the GTX 1080 Ti indeed clears 2GHz with ease, which also pushes those slightly sub-60fps games to glory. We expect those customized GTX 1080 Ti variants coming from the likes of EVGA and Zotac to push performance even further still. We're really looking forward to seeing what this beastly card can do with beefed-up cooling and factory overclocks.
Adios, graphics compromises for 4K gaming. Adios, fussy multicard setup requirements for top-end UltraHD gaming. Nvidia's GeForce GTX 1080 Ti delivers.
Waiting for Vega?
But the GTX 1080 Ti isn't only the ultimate GeForce card, it's the ultimate graphics card, period.
The Radeon Fury X is showing its age, hard to find, and impossible to recommend at this point unless you scrounge up one hell of a deal. AMD never countered Nvidia's GTX 1070 and GTX 1080 with high-end graphics card, instead focusing on mainstream price points with the likes of the superb Radeon RX 480. With the GTX 1080 Ti, GeForce's performance lead widens.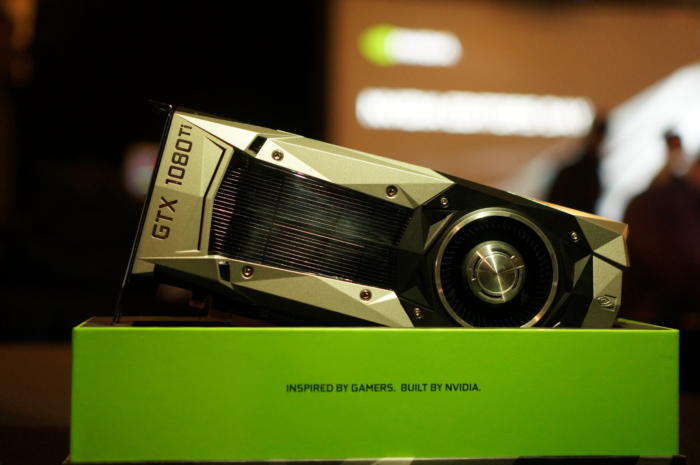 That said, Team Red's finally gearing up its own enthusiast-class graphics cards with Radeon Vega, with product scheduled to launch before the end of June. AMD has only provided high-level previews of Radeon Vega, however. We have no idea how powerful it will be, or how much it will cost; in that preview, Vega beat the GTX 1080 by a slight amount in Doom, but that's a heavily AMD-leaning game that was running on early silicon and unoptimized drivers. Vega truly is a question mark.
The GeForce GTX 1080 Ti isn't.
This video card is tremendous overkill for most 1080p gaming, but if you're shopping around for a no-compromises 4K gaming solution or a premium card capable of pumping out a large amount of frames on a high-refresh 1440p monitor right now, buy the GTX 1080 Ti and don't look back—even with Vega looming. Nvidia's new champion is nothing short of a beast.
Don't buy a Titan X though.