Major Windows 10 updates always mean hours of downloading dozens of gigabytes for every PC you own. That could all change after the Windows 10 Creators Update launches in April—if you take advantage of one of its many new features. (See our full review of the Creators Update here.)
We all live in fear of going over our ISP's data cap, which can result in additional monthly charges depending upon the provider. (Metered connections are even worse.) But a new feature within the Windows 10 Creators Update called Delivery Optimization can help prevent Windows updates or app downloads from pushing you over the edge.
If you're familiar with BitTorrent, then you know how Delivery Optimization works. One PC downloads an app or a Windows 10 update—it works with both—and then that PC passes the files to your other PCs. The idea is that you're performing a one-time download of the app or update from the internet, then distributing it using the "free" bandwidth of your home network. Otherwise, your incoming cable or DSL line would be clogged by repeatedly downloading the same bits onto multiple PCs.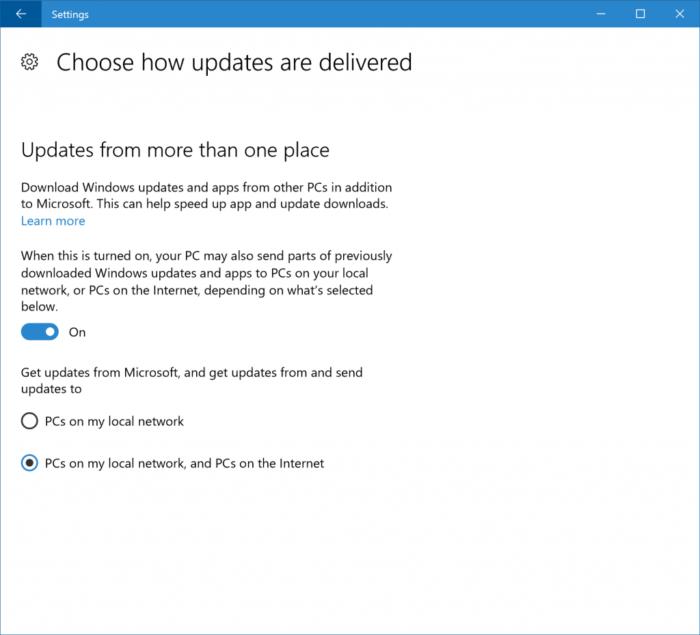 Delivery Optimization should be on by default as part of the initial installation of the Creators Update. But it's worth checking, especially if you want to be especially frugal with your data.
Delivery Optimization isn't easy to find. You'll need to open your Settings menu, then dig into Update & security > Windows Update > Advanced options, and then select the Choose how updates are delivered option. It's probably on by default, but that might not be the case if Microsoft unexpectedly toggles off Delivery Optimization.
Beyond that, there's one option you must pay attention to: Choosing between supplying updates to just your local network, or your network plus other PCs on the internet. If you choose the latter, your PC will helpfully send the Creators Update to your neighbors, speeding up the download process. It's simply not clear, however, how that process will work—how much data your PC ends up providing to other PCs, and when it will be sent. For that reason, you might want to play it safe and only share data among other PCs in your home.
There's just one catch—Delivery Optimization won't work with the Creators Update itself, Microsoft says. That's unfortunate, but it appears that the CU (and Delivery Optimization) needs to be in place before your PCs can take advantage of it. (The Creators Update will total about 3GB, Microsoft says.) Microsoft's also working toward reducing the size of updates by making Windows updates incremental: You'll only need to download the code that's changed, meaning those large "rollup" updates might be smaller than you expect. The bottom line: It appears that updating your PCs will require significantly less bandwidth than before.
Why this matters: With Comcast and other ISPs reportedly cracking down and enforcing data caps, any savings here and there can mean more time for online gaming, Netflix, and backing up photos and documents. You know, the important things.